One Home Depot Product That Increases Curb Appeal Of Your Home Immediately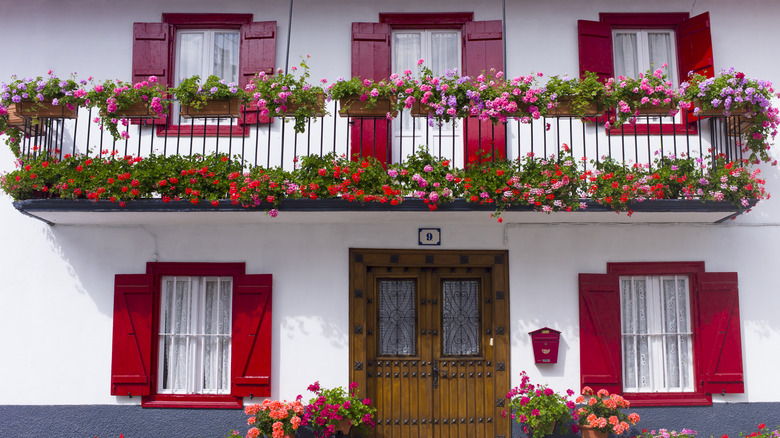 Tim Graham/Getty Images
Investing a little bit of time, effort, and money into the exterior of your home is one of the best and easiest ways to instantly add value to your property and boost its curb appeal. In fact, according to a poll by HomeLight of the company's top agents from all over the country, 76% say that boosting curb appeal is the number one thing homeowners can do to make their house more marketable; while 95% of those agents say that putting time and effort into vamping up the exterior is a great way to add to its value and draw positive attention to it. This is particularly helpful if you are in the process of trying to sell your home in today's competitive market.
Fortunately, there are countless simple and expert-recommended ways to boost the curb appeal of your home. Many of these recommendations can be found right at The Home Depot.
Think outside of the (window) box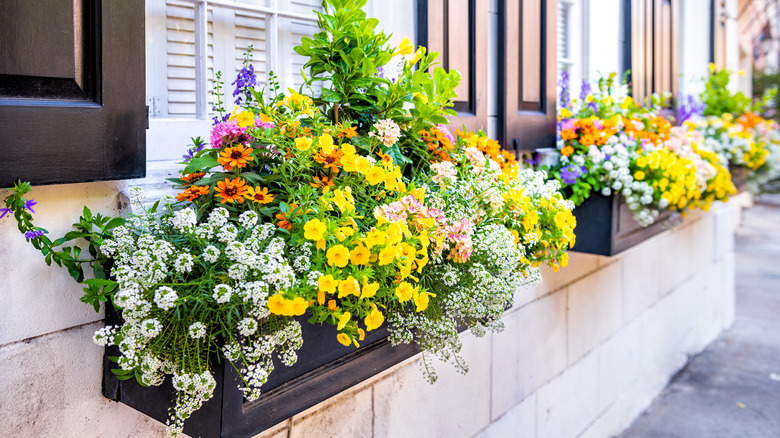 Andriy Blokhin/Shutterstock
Having a well-manicured lawn and being intentional with landscaping is arguably the easiest way to boost your home's curb appeal, though there are plenty of other out-of-the-box ways to display flowers and other plants that go beyond just planting them in your garden bed.
While displaying floral hanging baskets in the front of your property and utilizing planters filled with flowers and greenery on your front porch and on the steps leading up to your front porch is a timeless and foolproof way to add visual interest to your home and make it look extra welcoming –- HGTV notes that displaying flowers via a window box is an excellent option for those looking to add an extra and unexpected pop of color to the exterior of their home.
If the flowers and greenery in your traditional planters and hanging baskets aren't making your property pop and stand out nearly as much as you would like it to, HGTV says you can install window boxes to display plants both below your windows and on the railings of your front porch for an additional splash of color.
Try this self-watering model from The Home Depot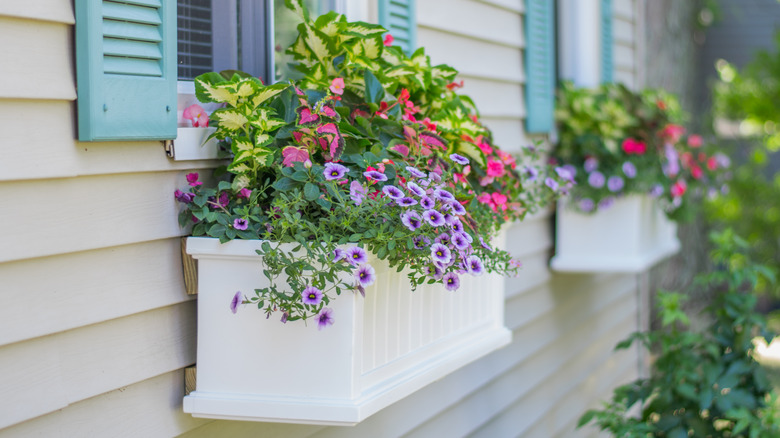 ellieanneimages/Shutterstock
While HGTV says that window boxes are quick and easy to DIY, they can also be purchased relatively inexpensively if you don't have the time (or the craftiness) to create one on your own -– with Bob Villa reiterating that The Home Depot is an excellent place to pick one (or multiple) up for your outdoor display.
This particular window box from The Home Depot is a fan favorite among shoppers, boasting nearly 150 five-star reviews. The stylish design comes in four different colors, so you can choose the one that will best pop and stand out against the exterior of your house and the rest of your landscaping.
The most notable feature of this popular window box from The Home Depot is its built-in water reservoir –- meaning that you can get away with watering your plants less often thanks to the box's self-watering capabilities. The double-wall construction of the window box allows it to hold water in a way that other window boxes don't -– making it a great option for those who simply don't have the time (or the memory) to water their plants every day.