20 Maximalist DIY Ideas To Get Inspired By
Followtheflow/Shutterstock
If the idea of a neutral color scheme, scarce pieces of decor, and super sleek furniture in your home turns you off, then you're definitely not a minimalist. For years, minimalism has ruled the design world, and homeowners filled their spaces with shades of white, grey, and black. But that design tide looks like it's beginning to turn. Some experts believe that minimalism is on its way out, making space for a new design tenant: maximalism.
Many interior designers and homeowners alike are embracing maximalism, a "more is more" approach to decorating homes. Maximalism isn't one style but rather an approach to interior design. This interior style simply embraces more color, texture, and patterns in a design, but focuses on your passions, interior designer Sasha Bikoff tells HuffPost. You'll be able to infuse your home with your own style and personal items to make the space feel highly customized. Maximalism also lends itself well to DIY. If a piece isn't exactly how you'd want it, you can style it in a way that does.
1. Eclectic open kitchen shelving
Open shelving presents an opportunity to show off pretty dishes, glasses, cookbooks, or accessories. You can thrift colorful glasses and vases and show off a rainbow. Or curate baking supplies with colorful spices and cookbooks. Open shelving can be functional or only for aesthetics or some mix of the two.
2. Painted wall mural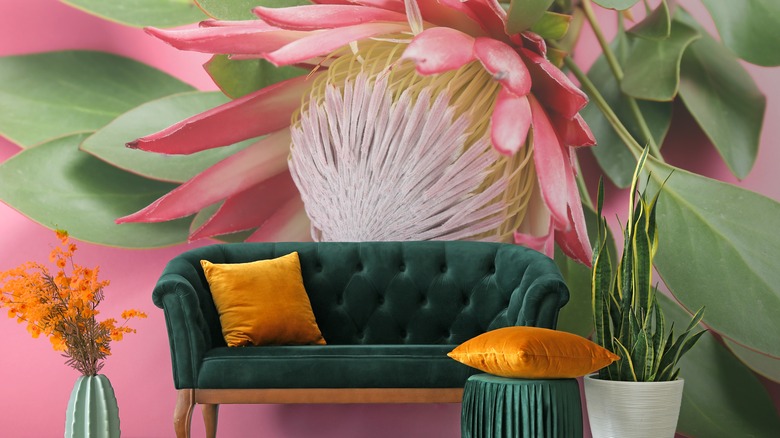 Pixel-Shot/Shutterstock
There's no rule that says your walls have to be one color. An accent wall has been a favorite addition in many homes, but if you're a maximalist, you can take it a step further. Paint a mural on your walls to add a bit of pattern. You can go simplistic with geometric shapes or get detailed with botanicals.
3. Wallpapered bookshelves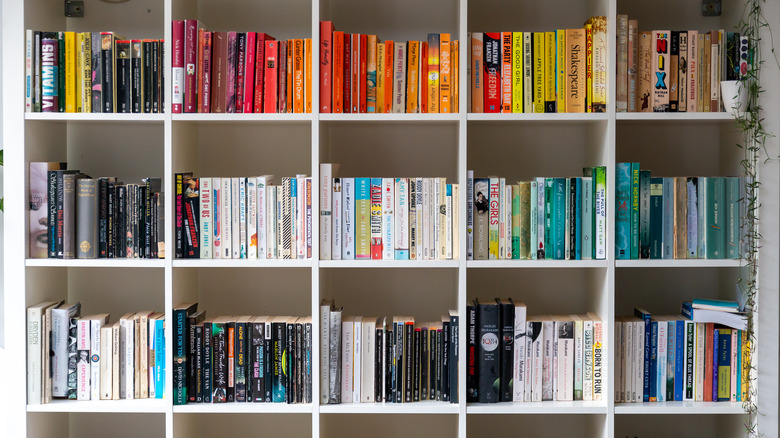 MagicBones/Shutterstock
If you're looking to add a pop of print to your space and your bookshelves are looking kind of bare, just add wallpaper to the back of your bookcases to give your books and decor a fun background.
4. Ceilings are a canvas
Most people leave their ceilings white, but if you're a maximalist, the ceiling is another canvas. Paint your ceilings a bold color or the same color as the walls. Ceilings are also a great place for murals and wallpaper to add a bit of pattern to the space.
5. Curated gallery wall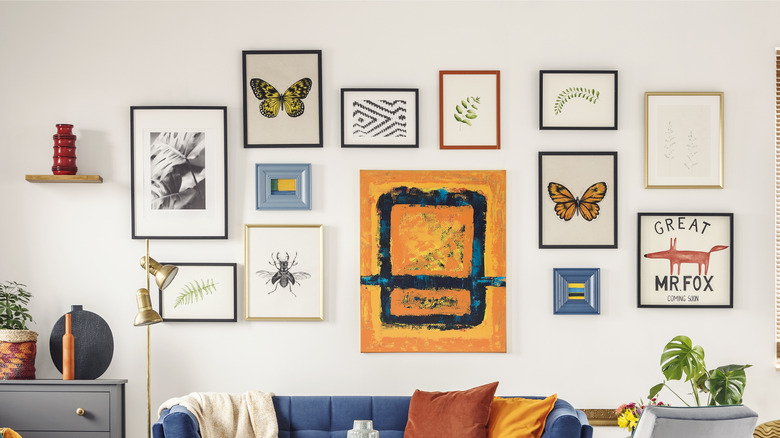 Photographee.eu/Shutterstock
A gallery is a classic decor feature, but it's also a great way to show off items that you love. Gallery walls aren't only a place for photos and art; you can use other decor, like baskets, mirrors, and decorative objects.
6. Refresh old furniture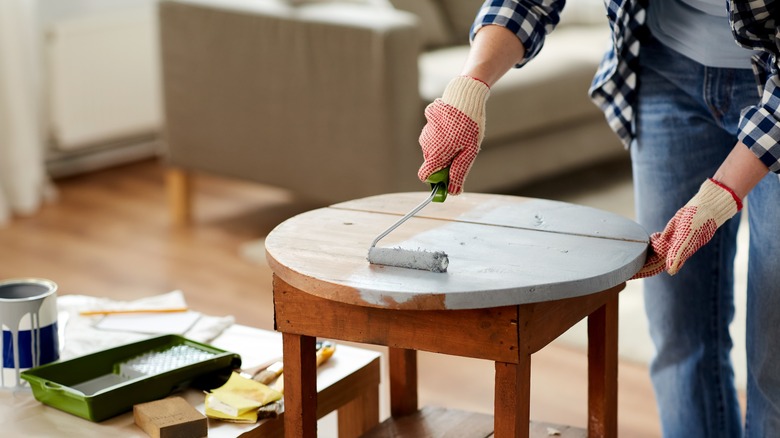 Ground Picture/Shutterstock
If you're wanting to add a maximalist style to your home, there's no need to buy new furniture. Instead, refresh old furniture. Use paint and wallpaper to add color and texture. Ornamental moldings are an easy way to give pieces a new texture.
7. Coffee table collection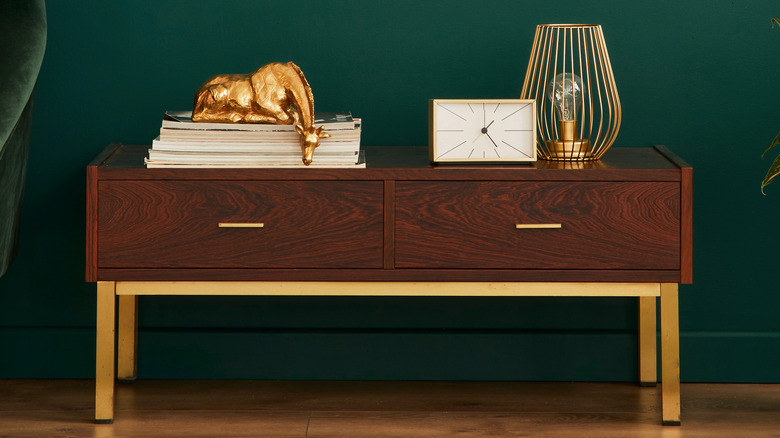 Followtheflow/Shutterstock
Your coffee table can show off your interests in a maximalist way. Curate a collection of coffee table books, candles, and vases to display on your coffee table.
8. Pile on pillow prints
Layer prints on your sofa with a few different pillows. Pillows are incredibly easy to make, even if you have little sewing experience. So you'll be able to choose the fabric that will fit perfectly into your space.
9. Light it up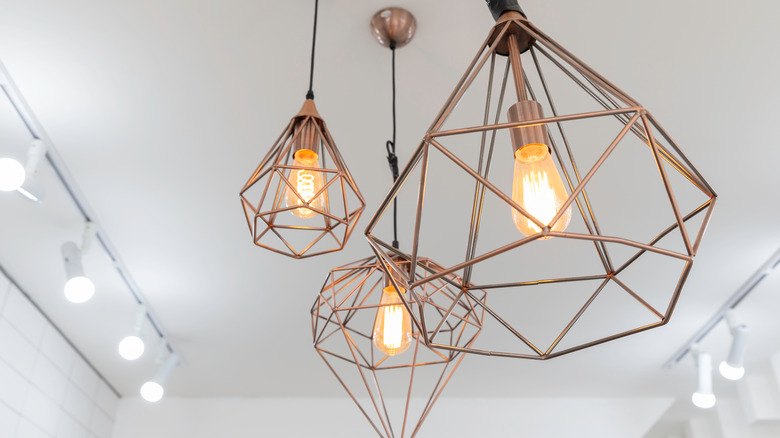 9Air/Shutterstock
A new light fixture can go a long way in your interior design. Swap out plain light fixtures with ones that have more sculptural designs and colorful finishes. Or DIY a lampshade by adding fabric to a styrene base.
10. Playful plants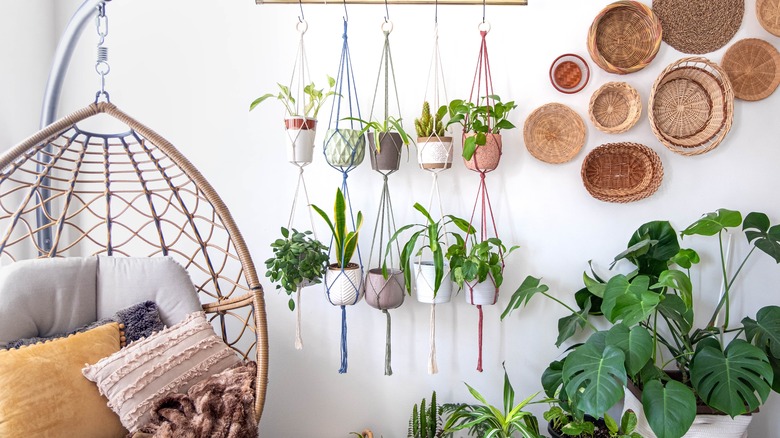 TippyTortue/Shutterstock
Add some life to your space with a few new plants. You can suspend them from the ceiling with hanging baskets or place them around the room on various surfaces.
11. Tiled up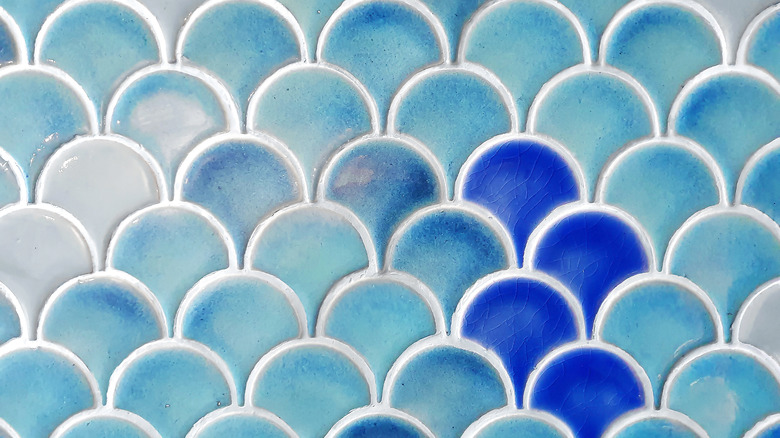 Wongsakorn Dulyavit/Shutterstock
Make a bold statement in bathrooms and kitchens with fun tiles. Instead of plain tile, choose an interesting shape like fish scales, arabesques, or pickets. You can also use bright colors rather than simple black or white.
12. Personality from the start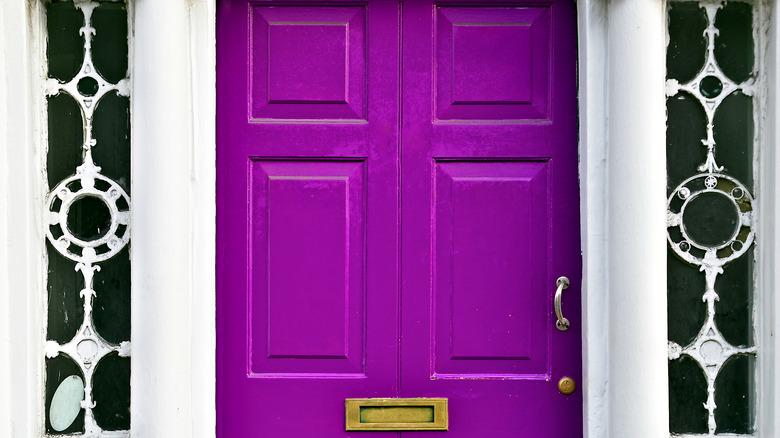 Marco Fine/Shutterstock
Show off your maximalist style from the start by painting your front door a bright color. You can even paint the interior side to give your entryway a pop of color.
13. Panel the wall with color
Add texture to the wall with paneling like board and batten panels, shiplap, beadboard, or wainscoting. Painting these paneling textures will add a modern update to a classic design feature.
14. Line the inside of drawers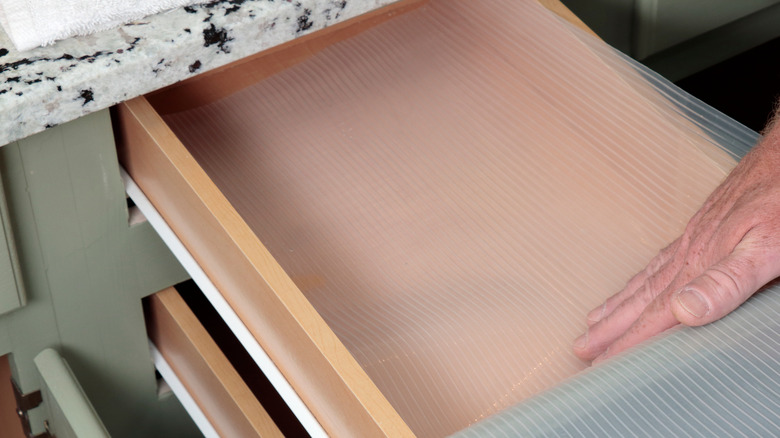 Serenethos/Shutterstock
Just because you can't see it regularly, that doesn't mean you can't maximize it. Use wallpaper to line the inside of drawers to add some color and pattern. Do this with kitchen and dresser drawers for a fun pop.
15. Bold coffee and side tables
puha dorin/Shutterstock
Give your coffee table and side tables some new life. Tiling your coffee and side tables creates a fun and unique piece that'll serve as the centerpiece of your living room. This can add color and texture in a fun and unexpected way.
16. Paint kitchen cabinets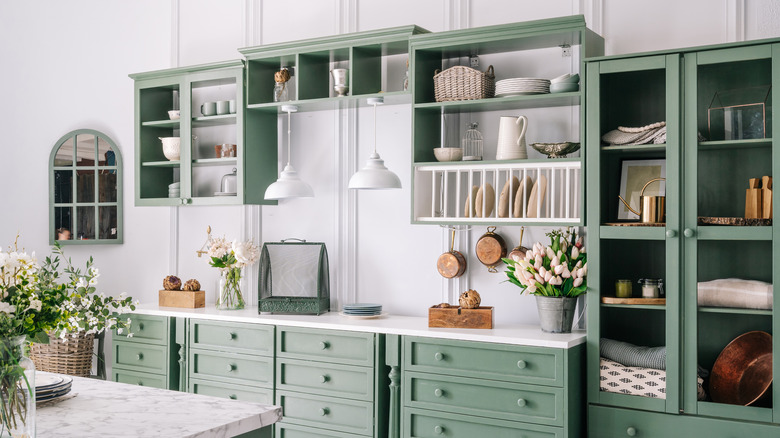 brizmaker/Shutterstock
Colorful cabinets are a major trend even in homes that aren't described as maximalist. Painting kitchen cabinets is an easy undertaking for most homeowners, and it's an easy way to incorporate color into the kitchen.
17. Mirror, mirror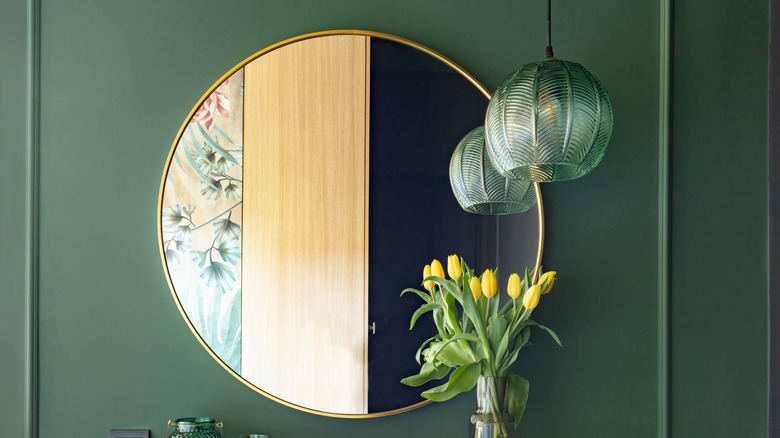 PHOTOCREO Michal Bednarek/Shutterstock
Mirrors are as functional as they are stylish, so they're a must for every home. DIY a mirror to fit your space by tiling a frame or painting a frame to fit your home's color scheme. You can also use mirror pieces to create a disco-ball effect on pieces like side tables and vases.
18. Frame windows with patterns
Curtains are a great way to accent your home with colors and prints. As an easy sewing project for beginners, curtains are also a great way to add a custom touch to your home. Instead of purchasing new curtains, buy fabric that matches your design and make some yourself.
19. Add unexpected color
Give your home an unexpected pop of color by painting the undersides of doorways, window frames, and wall alcoves. These are uncommon places to add an accent, which makes them the perfect canvas for a maximalist.
20. Crafted coasters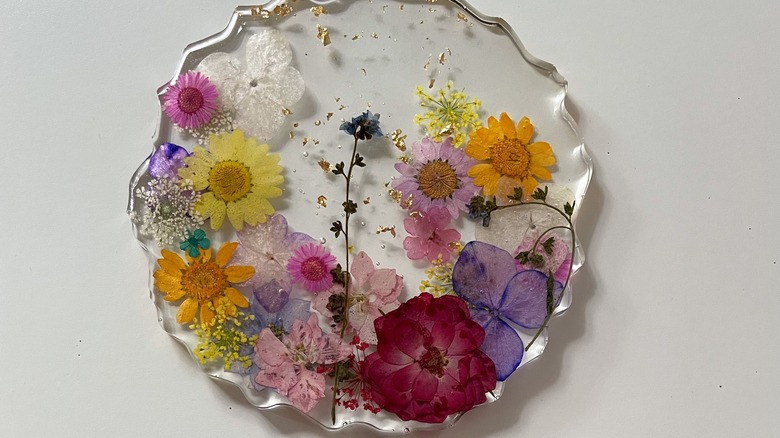 Lapa Smile/Shutterstock
Decor is all in the details, so don't forget to maximize even the smallest items. Coasters can add a small pop of color to any room. Let your creativity run free by painting, making a mosaic, or crafting a coaster out of clay or resin.