What Roofing Materials Will Best Stand The Test Of Time?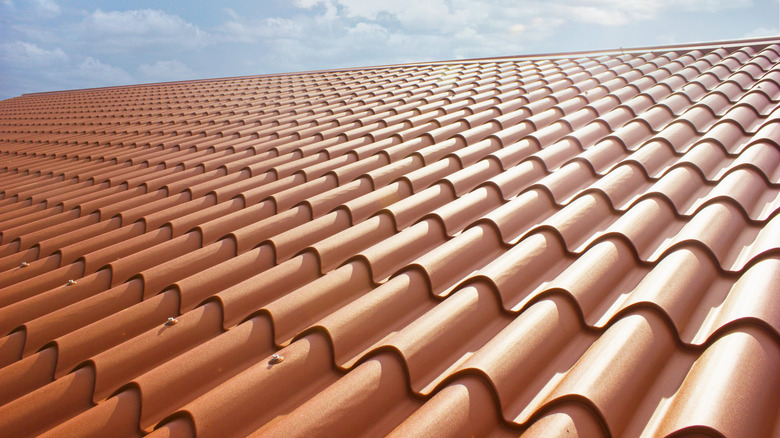 Luca Rani/Shutterstock
When dipping your toes in the market for a new home, chances are you'll see some houses that have a roof that is made out of a material other than asphalt shingles. Although roofs featuring asphalt shingles are incredibly common, noted Eagle Watch Roofing, asphalt is far from the most durable and long-lasting material to protect your home. In fact, roofs with wood or asphalt shingles usually need to be replaced every 20 to 30 years, which is the last thing you'll want to think about when buying a home.
Thankfully, there's a variety of roofing materials that outperform asphalt shingles in terms of longevity. For instance, most metal roofs have an expected lifespan that is twice as long as asphalt, and according to Bob Vila, metal roofs stand out due to their superior durability and weather resistance. As such, most homeowners can expect a metal roof to last 50 years or more when properly installed and maintained.
Slate roofs are built to last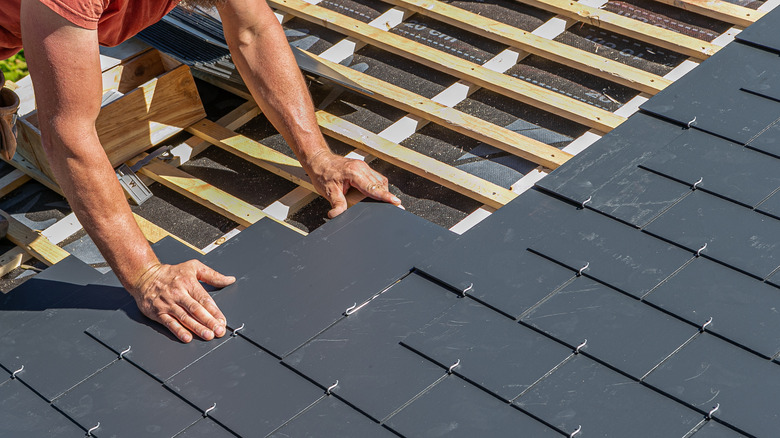 JPC-PROD/Shutterstock
If you want your roof to last, opting for slate tiles is probably your best bet. Aside from being aesthetically pleasing and environmentally friendly, slate roofing tiles are known to last between 75 and 150 years when properly installed, explains RB Farina Roofing. They offer exceptional weather resistance, making them an excellent option for homes located in areas that are known to get extreme weather. According to Eagle Watch Roofing, slate is also resistant to pests and rot, which is why slate roofs outlast wooden roofs, asphalt shingle roofs, and other budget-friendly roofing options.
However, there's a reason most homes don't sport slate tiles. Unfortunately, as Eagle Watch Roofing notes, slate tiles are incredibly expensive and are also much heavier than asphalt shingles. Thus, many homes are ill-equipped for a slate tile roof since they were not constructed to withstand such a heavy load. Also, despite their impressive ability to withstand years of harsh weather, slate tiles are known to crack fairly easily, so replacing one or two periodically is not uncommon.
Concrete and clay tile roofs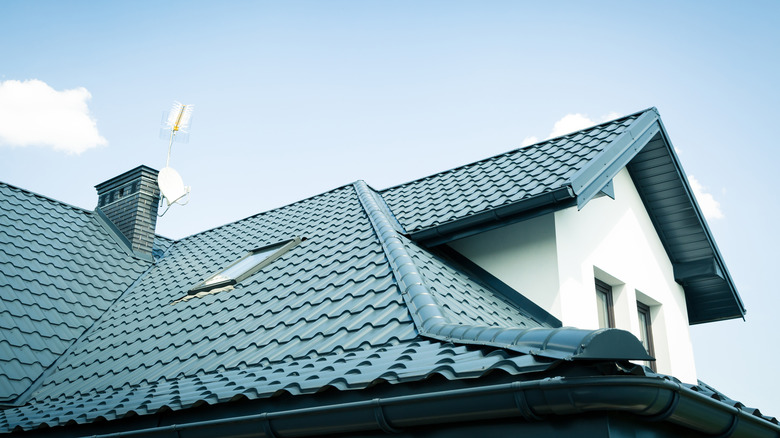 rzoze19/Shutterstock
Concrete has a long history as a roofing material, and it's certainly easy to see why. Concrete tiles are incredibly versatile and can be made in a wide variety of shapes and colors to suit your home. According to RoofCalc, concrete roofs can endure for 50 years or more; up to 100 years if properly cared for. Concrete roof tiles last so long due to their impressive durability and weather resistance and are surprisingly cost-effective when compared to other premium roofing materials. However, concrete can be very heavy, so it's not a suitable option for every home.
Clay is another popular roofing material that stands up well to wear and tear. Unlike wood tiles, which usually need to be replaced within 20 years, clay tiles are known to last up to 80 years when professionally installed (per Azul Roof). They can also be designed to mimic the look of other roofing materials so that your home achieves the aesthetic you'd like.