The Cheap Decor Tricks From Battle On The Beach You'll Be Dying To Replicate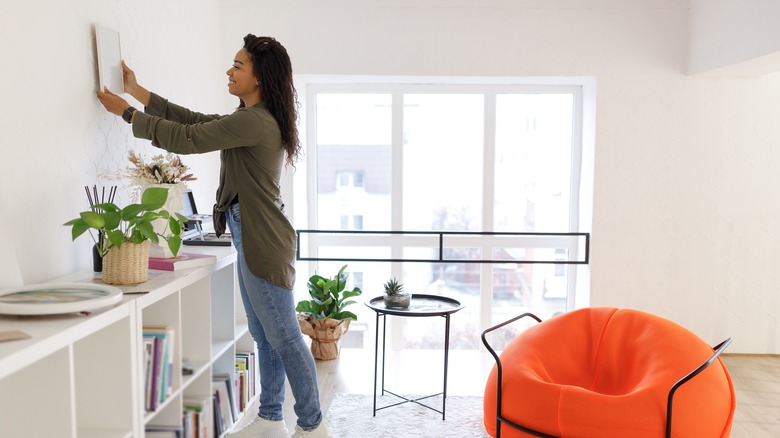 Prostock-studio/Shutterstock
HGTV shows never fail to provide endless inspiration for our homes. There is always a new trend to try or new décor to replicate. This is especially true in "Battle on the Beach" where teams compete to renovate a home for a cash prize. It's always fun to see the way people envision spaces and then watch those designs come to life. The competition aspect and the set budget combine to get contestants thinking creatively about how they can incorporate a big design at a small price.
With celebrity mentors Ty Pennington, Alison Victoria, and Taniya Nayak, up-and-coming house flippers renovated homes in Surfside Beach, Texas. They transformed standard boring living rooms from each of their homes into comfortable vacation spaces with a touch of class, per Realtor. And the best part is that these flippers didn't spend a fortune to do it. By resourcefully reusing items already within their spaces, they were able to give each of their homes a complete refresh. Trust us when we say, you're going to want to use their inexpensive (and ingenious) décor tricks to transform your own home.
Repurpose kitchen cabinets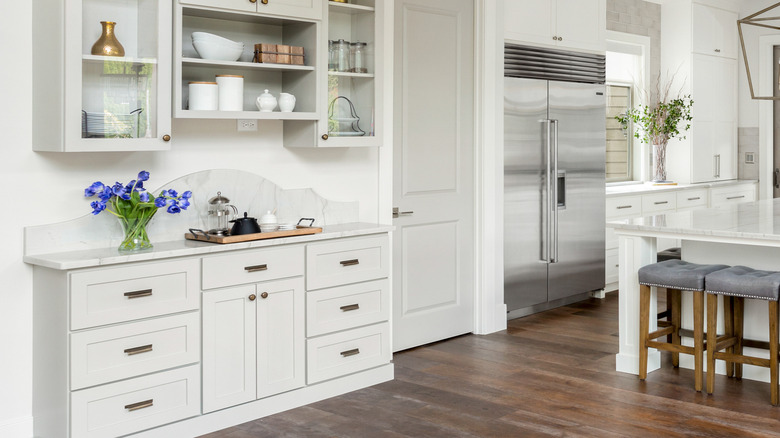 Breadmaker/Shutterstock
A kitchen renovation is one of the most sought-after for many homeowners, and it often means swapping out old kitchen cabinets for new ones. Before you trash those old cabinets, you might want to consider repurposing them in another part of your house. On "Battle on the Beach", Ty Pennington's team transformed kitchen cabinets into living room built-ins. The team painted the cabinets white and attached them to the wall to create storage in the open living room. They also added legs to the cabinets to update and stylize their appearance.
You can repurpose kitchen cabinets in other rooms as well. Impressive Interior Design suggests using them for storage in the garage, in playrooms for kids' toys, in the bathroom, a home office, or even as a unique wine and liquor cabinet. As long as they are in good shape, they're a great option to repurpose and save you some money on expensive built-ins. They're easy to paint and you can replace the hardware so they better match the new room's style.
Transform a shower curtain into art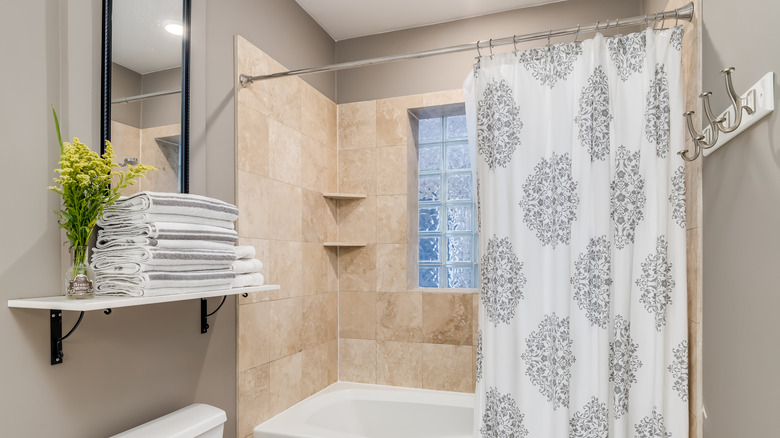 Hendrickson Photography/Shutterstock
Finding unique art for your home can be time-consuming and often expensive. While supporting small and local artists is a wonderful thing to do, filling an entire home with art can start to add up. You don't always have to break the bank with a large statement piece in your home, though. Taniya Nayak's team from "Battle on the Beach" found an original way to make a huge artistic statement for only $75. They used a shower curtain to create instant art. The team found a graphic option to fit in with the décor and stretched it over a frame, which gave it the look of art printed on a canvas.
If you're looking to fill a large blank wall with large art pieces, this is a chic and easy-to-make DIY option. Find a shower curtain you like and a frame that's the size you want the end result to be. Stretch the shower curtain taut and secure it to the back with a staple gun. There are plenty of other items around your home can be repurposed into art for cheap. Bless'er House says calendar images, book illustrations, and maps all make awesome, cheap wall décor. You can often find inexpensive frames at thrift stores and paint them to create a cohesively designed gallery wall.