The Best Time To Shop The Home Section At Costco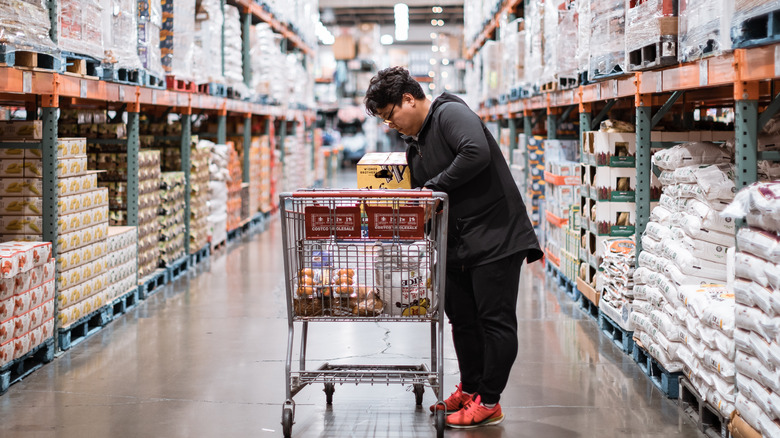 Artyooran/Shutterstock
Love shopping in Costco's home section? You may not be the only one. Known for their vast inventory of food products and home goods, the mega warehouse is a busy place most days of the week. Different locations may vary slightly on times, but the big-box retailer's hours of operation typically run from 10:00 A.M. to 8:30 P.M. With over 800 stores nationwide, the popular retailer holds over 166 million members as of May 2022, per Costco – that's a lot of customers to compete with daily. 
Not only does Costco boast national and regional brands like the signature Kirkland products as well as the well-liked weekend food samples, but they also offer an abundant home section, including house and kitchenware. From lamps, bedding, bath, décor, rugs, and wall art to appliances and furniture, there are plenty of home products to choose from.
With Costco's popularity comes high traffic as well. Whether big or small, purchasing home appliances or furniture can be a big decision and may require more time. So, when is the best time to shop? According to Shop Food, Monday is normally the day when Costco's inventory is restocked for the week. Although this is a decent day to shop for fresh or new items, while avoiding the weekenders, the right time of day to visit the home section is even more crucial. Keep reading to learn more about the best time to shop!
How to budget your time while shopping at Costco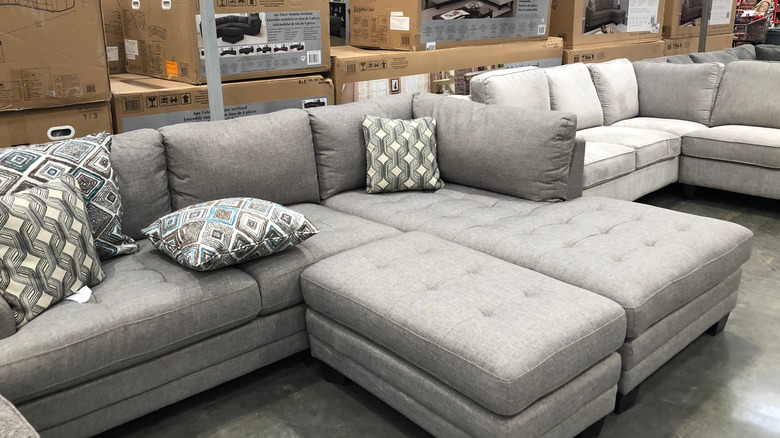 melissamn/Shutterstock
When shopping grocery or large retail stores, it's generally a good idea to shop before the crowds accumulate. Home appliances, including housewares, cookware/bakeware, and other essentials often take time to consider before buying. If you want to have a more peaceful experience while shopping Costco's home section, get there as soon as they open. From deals and discounts to lunchtime, the best time to shop is generally during the weekday mornings before 11:00 A.M. and afternoons between 3:00 P.M. and 5:00 P.M. (especially after the lunch rush). According to Family Handyman, you can also receive the most from your visit by skipping a weekend run when most people are off from work. The weekend is also a congested time with the free food sample lines.
Mondays are not advisable as well, including weeknights, per FinanceBuzz. After the weekend, many minds think alike when it comes for the need to return or exchange merchandise that was purchased the week or Friday before. Another time to avoid is after work or on the way home during weeknights, with several other customers trying to get in and out quickly just like you with last-minute dinner options or other urgent odds and ends. Overall, opting to shop between Tuesdays and Thursdays might be the most productive timeframe.
Benefit from sales and off-season shopping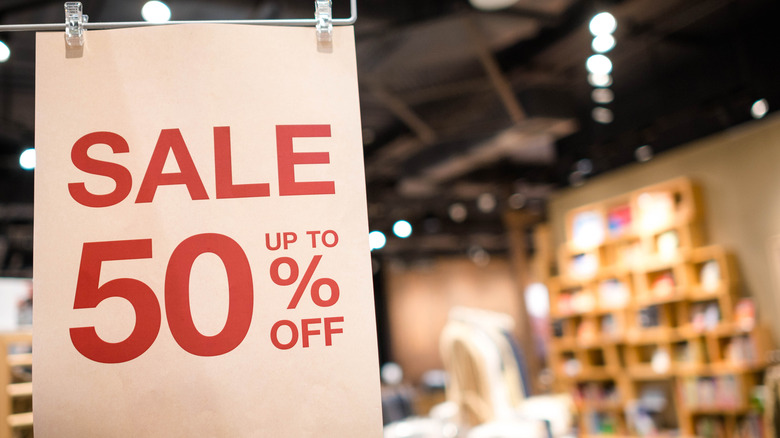 Lin Xiu Xiu/Shutterstock
With the best and worst times to shop at Costco, opportunities are available within various off-seasonal sale periods. Although tempting, one of the most undesirable times to shop Costco's home section is in December. With more holiday merchandise on the floor like gifts, toys, decorations, and wrapping paper, including entertaining food platters, they can often be a distraction as well as more sought-after by everyone. Also, as your selections are valuable, the holiday busyness may affect your decisions. To maximize precious time, you might want to get proactive with your holiday shopping before Thanksgiving even arrives. With retail marketing making an appearance in what seems to be earlier each year, you may be able to capitalize on pre-holiday sales before regularly priced items emerge once again when closer to the actual holiday, per CNBC.
Another way to profit from Costco's home section is to shop their annual seasonal markdowns, which occur after Christmas and the summer months. According to 5 Dollar Dinners, depending on the individual store and manager, post-holiday deals may not last long, so it's important to look for these discounts during that interval. The Costco Insider is also a reliable source for information regarding upcoming promotions and coupons, including product reviews. Don't lose sight of the numerous possibilities to save on both money and time when shopping for your home goods at Costco.