Good Bones Star Mina Starsiak Hawk Shares Her Best Furniture Thrifting Tips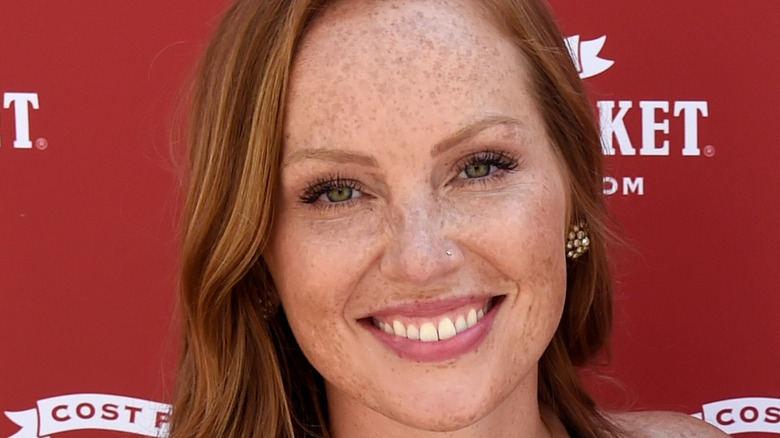 Michael Kovac/Getty Images
Mina Starsiak Hawk has a whole host of projects going on. She's the co-star and co-designer of HGTV's program "Good Bones," which premieres its seventh season this month. The series follows Mina and her mother, Karen E. Laine, as they purchase and rehabilitate old homes in their Indianapolis neighborhood (via HGTV). Their practice began with Mina's first fixer-upper as the duo revitalized her house together. The success of both the renovation and their working relationship prompted them to start a flipping business. However, the two bring more than a hammer to the table — Karen is a lawyer and Mina is a licensed real estate agent, per The List. 
According to People, Mina is also the proprietor of a destination home shop, with a wine bar and bistro, called Two Chicks District Co. She said it's wonderful to think fans come from all parts of the country to visit the store, per House Beautiful. Mina recently shared her favorite goods on offer, including pieces from a summer line that features organic texture punctuated with vibrant color. Another of her picks is a children's short set from her own kids' collection, Jack and Drew — named after her two little boys. 
On the shop's official website, available products consist of furniture, home decor, small grab-and-go pieces, and clothing. But it's clear from the boutique's old warehouse-turned-storefront (via Realtor) and the homes in her HGTV series that Mina believes everything doesn't have to be new to be enjoyed.
Don't forsake a freebie
Mina Starsiak Hawk is scheduled to appear as a guest speaker at the Indianapolis Home Show next winter. The venue conducted a Q&A session with her and asked her to share some furniture thrifting tips. Mina acknowledged that it could be challenging to wait out the current delays affecting furniture retailers and recommended online platforms such as the social media app Nextdoor and FaceBook Marketplace for used items as an alternative. According to Brandastic, one in three U.S. households use the community-focused Nextdoor; along with Crime & Safety and Lost & Found, the app lists Classifieds and Free Items categories. Neighbors can post photographs, location, and cost of items for sale and set up direct messaging and text notifications with interested parties. Not only is upcycling great for the wallet, but Brock University also explains that it reduces waste, thereby helping the planet, and what's more, it allows us to practice creativity. 
Chicago-based MegMade started their home decor and furniture company by way of a neighbor's cast-off dresser and later with Craigslist inventory (via their official website at MegMade). What began as a small furniture-refinishing business has grown into brick-and-mortar and online shops, a design consultancy, and a line of furniture paint. HGTV announced that the couple behind the company, Meg and Joe Piercy, have joined the ranks with Mina and Karen to star in their series called none other than "Renovation Goldmine." Once you start thrifting, you never know what you'll find. 
Upcycle and upgrade
According to LeadsBridge, Facebook Marketplace boasts one million active monthly users — that's a bewildering amount of people and even more stuff. The outlet says the function of the online space is quick and effortless, with communication supported via an in-app messenger. It's a hot spot to thrift and can be competitive; umpteen blog posts are written to help people navigate the morass. The Painted Hinge shared five tips for successful scoring. The outlet suggests keyword searches, using the Buy Now option, saving time by having items delivered, and purchasing items in lots, among others. 
Jennifer Harrison of Flea Market Fab is a Facebook Marketplace devotee. The style maven and design consultant finds a creative outlet and some fantastic deals through the activity of thrifting. She seeks furniture, home decor, art, and vintage clothing as her canvas from various venues, such as vintage shops, flea markets, and event antique shows like Round Top. As you can see from the photograph of her living room above, the result of reimagining something is that it will be truly unique to you.