Syd And Shea McGee Reveal How To Make The Most Of Your Small Spaces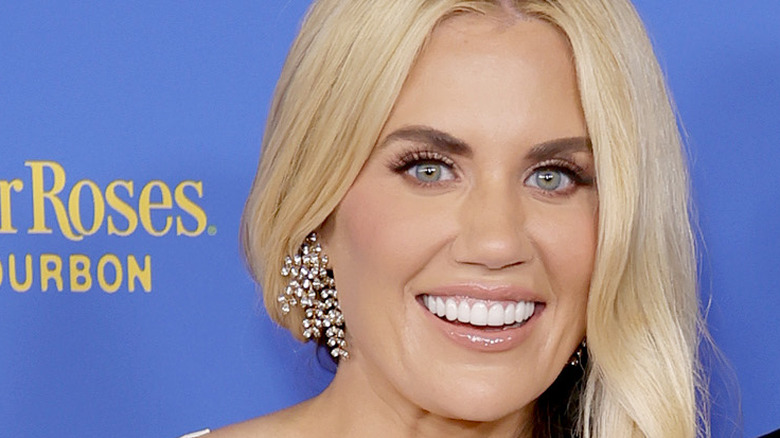 Frazer Harrison/Getty Images
Most people want their homes to feel wide open with lots of natural light to make them airy, but this isn't always an option. Whether you're living in a tight apartment or a starter home, small spaces can feel confining if you don't know how to utilize them. Designers are always ready to give tips on how to make small spaces feel open and airy without losing their coziness.
Syd and Shea McGee from "Dream Home Makeover" on Netflix share on Studio McGee that making the most of a small space is about planning. Most designers suggest using light colors and neutral tones to make a space feel more open. And while Syd and Shae McGee certainly agree, all light interiors aren't a possibility for everyone. The couple gives some useful tips to make the most of any small space, no matter what your decorating style or color palette may be.
Create zones and multi function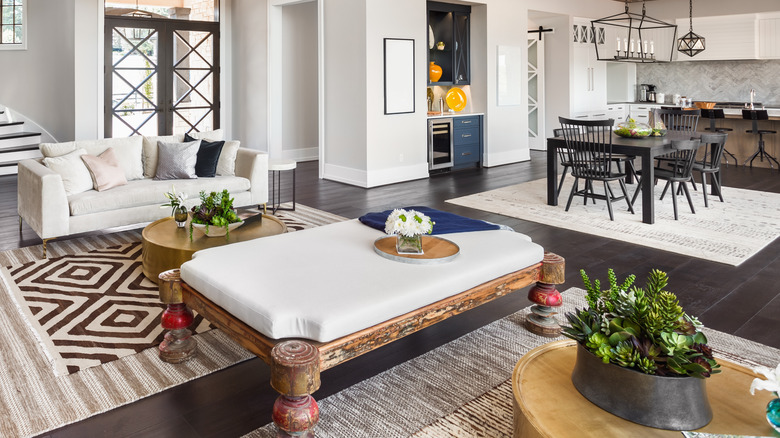 Breadmaker/Shutterstock
No matter how small the space, you can create zones to allow for distinct areas that still feel like they're part of a cohesive design. The McGees love using this strategy when planning how to design small spaces. Designating areas in a room creates more functional space and can provide you with separation if you're sharing your space with another person. Use your furniture and decor to zone out your space. Home in Awe says area rugs can define floor plans into a smaller zone. Anchor furniture around the rug like your living room sofa and chairs or your dining room set to create functional zones.
On "Dream Home Makeover", the McGees also advocate for creating multi-functional spaces. Having a space play double duty maximizes the livable area with half of the furniture and decor. A desk built into the kitchen gives you a dedicated workspace without needing an office. Or a seating area in the bedroom provides a space to relax and read without needing a formal living room. Furniture should also be multi-functional — look for pieces with hidden storage to stash away blankets, books, or cleaning supplies when not in use.
Choose furniture with legs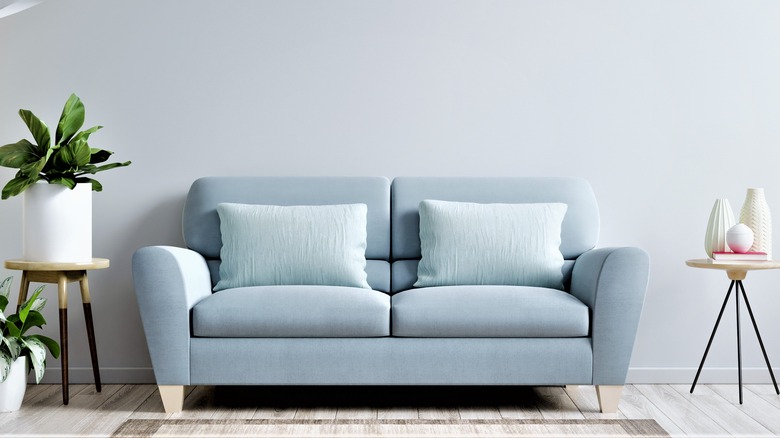 fazilran1234/Shutterstock
Designing a small space requires strategy down to the smallest detail. When working with small spaces, the McGees always think about balancing the distribution of the weight of all the decor, accent, and furniture pieces. The goal is to make the room feel light and open by choosing pieces that aren't too visually heavy. Bulky pieces can weigh down the room visually as well as take up much-needed space in the floor plan. One go-to of the pair is to choose furniture pieces with visible legs. Instead of having pieces that have a solid base, choose pieces where you can see the legs to create a more open space.
When decorating, you should also consider the height, shape, and material of the leg to ensure the pieces work well together, according to McCabe House. You want your space to feel balanced and visually interesting by mixing these three categories. Mixing things up within this category will also prevent your home from looking too matchy or like you bought a full furniture collection rather than sourcing pieces from different places and creating a cohesive design.