Dream Home Makeover's Shea McGee Shares Her Best Lighting Advice
Frazer Harrison/Getty Images
By now, most homeowners know that lighting is a crucial design element for any home. Whether it's natural or artificial — getting lighting right can immensely elevate your home. However, perfecting the lighting in your home can still be quite difficult — even with the plethora of advice out there. Then again, giving up and living in a drab home is not the best option. Shea McGee gave some great lighting advice earlier this year that shouldn't be overlooked, and it may help solve the light design issues you've been having, according to Studio McGee.
McGee may have the lighting answers you're looking for, as she has some major design experience, per MyDomaine. She is an interior designer who has not only had a home collection sell out at Target in less than a week, but she also has her own Netflix show, "Dream Home Makeover," where she consistently shows off her talents. Many design fans follow her for advice, as she has over three million followers on Instagram. If her impressive resume has given you a boost of confidence, then take a look at some of her advice you may not have seen before.
Size matters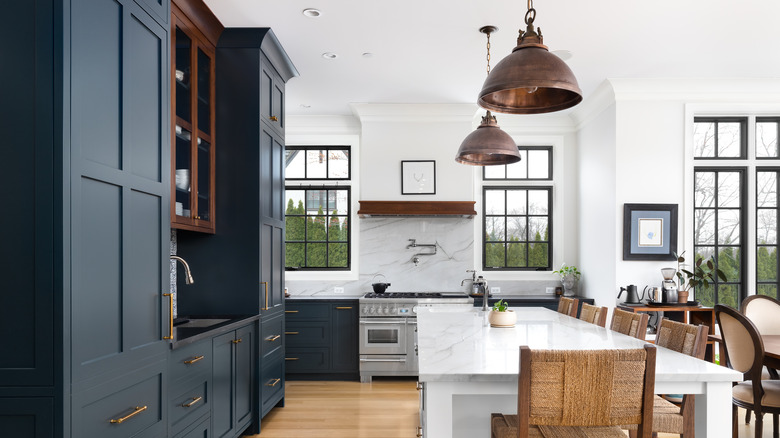 Hendrickson Photography/Shutterstock
Shea McGee believes the size of your light fixture is determined by what you would like as a focal point, according to Studio McGee. She advises playing with different sizes of light fixtures to make them the focal point of the space you're working in. Adding a rather large light fixture over the kitchen island may be unconventional, but it may create a beautiful visual that is unique from other kitchens.
You can also use scale to allow other design elements in your space to shine. If there is another decor piece you wish to emphasize, you can always choose a smaller and more subtle light fixture that won't take the spotlight away. McGee says you can do this by choosing lighting that blends with other design elements, such as blending it with the colors of its background. She showed examples of small chandeliers and pendants that not only were subtle but also didn't take away from the overall beauty of the space. Subtly should never risk the overall design result.
Illumination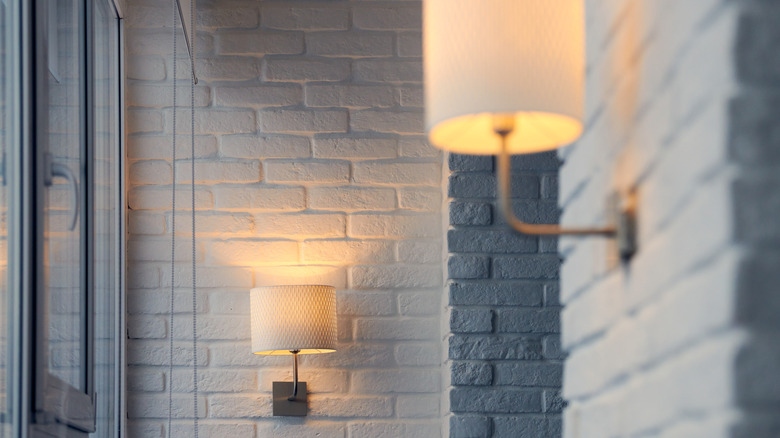 travelarium.ph/Shutterstock
Adding lighting in areas you didn't think of before could have a stunning impact, according to Studio McGee. The designer believes that adding light fixtures, such as a wall sconce, will help brighten up corners of your home to accentuate the details you're missing out on. Her examples included adding a reading light next to a bunk bed, lights to brighten up a bookcase, and a single wall sconce to brighten up the corner of an entryway. Housing says you can also use floor lamps to brighten up spaces in your home as an easier fix.
If your home is designed with cooler undertones for a bright and airy design, you can use light fixtures to add some warmth. Shea McGee previously used light fixtures made of brass and wood to create a harmonious look as it contrasted against the cool elements but also complemented the warm tones seen in the wooden flooring. This can be a great idea for those who believe their current design seems a bit stale. Mixing cool and warm tones is typically seen as a no-no, but if mixed correctly, it can have a great outcome, according to Stone Gable. Ensuring the differing tones don't butt heads but instead create a seamless rhythm is crucial for creating a beautiful outcome.