Over 21% Of People Would Love To Paint Their Front Door This Unexpected Color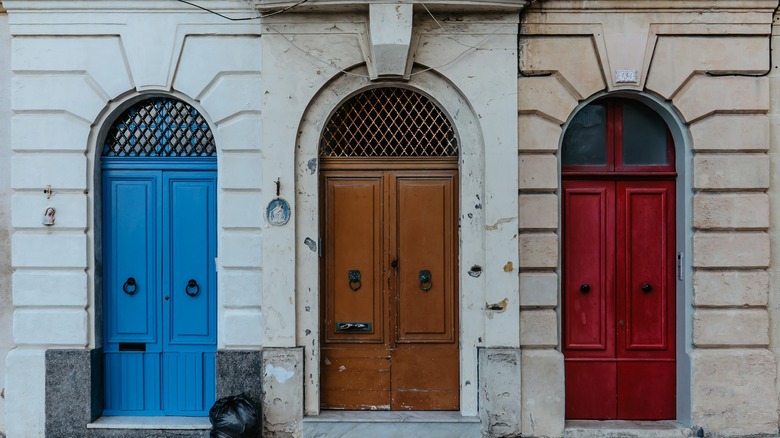 Eva Pruchova/Shutterstock
Splashing your front door with a fresh coat of paint in a bright and fun color is one of the best and easiest ways to freshen up a dated or otherwise lackluster home. In fact, HGTV says that giving your front door a second life with a bold paint color is one of most tried and true methods of instantly boosting the curb appeal of your property. Just make sure the color you choose still coordinates with the rest of your house, and for just roughly $35 dollars, you can make your abode pop like never before in just a single afternoon.
Choosing the perfect hue for your front door is no small task -– after all, it's the first thing to welcome you back into your space after a long day and it's the first thing guests notice upon entering your home. That's why Quality Overhead Door says the color of your front door should reflect your personality and be in a unique shade that simply makes you happy when you look at it (without being too gaudy).
With your local hardware store filled wall-to-wall with hundreds of paint samples in every imaginable color, it can be difficult to decide exactly which option to choose. Plus, there is no right answer given that everyone's personalities and tastes are uniquely their own. To that end, House Digest asked 596 people what color they would be most likely to paint their front door, and there was one clear winner.
The most popular color choice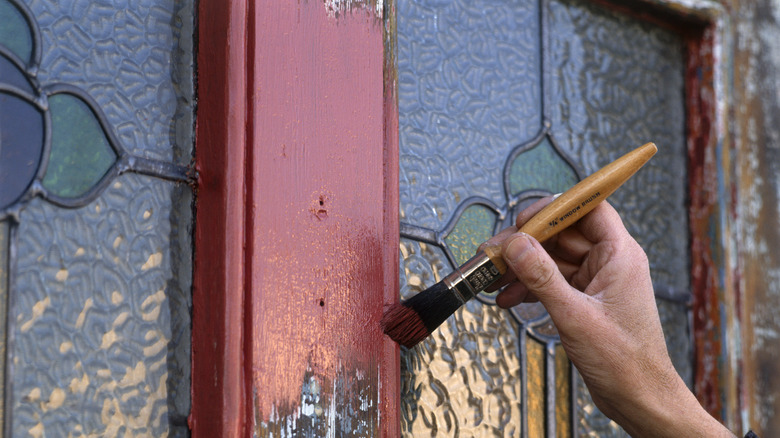 Construction Photography/avalon/Getty Images
Of the 596 total people that House Digest polled, 21.64% of them said they would love to paint their door a deep red color -– making that the most popular answer of all those who responded. Red doors have been popular throughout all of history, and have been utilized for centuries to add a touch of instant elegance and drama to a home. Red is also a popular color choice among those who practice feng shui, the ancient Chinese philosophy where the arrangement and color scheme of a room impacts energy levels and more. According to Grove City Realty, a red front door is said to create a warm and welcoming vibe.
Following closely behind the number one spot was white, with 18.79% of respondents saying they would love to paint their front door the timeless and classic hue. Coming in third place was navy blue with 17.62% of the votes, with black trailing behind at the number four spot with 15.77% of the total vote. Emerald green and teal round out the rest of the responses, with 13.26% and 12.92% of the votes, respectively.