The Best Way To Make The Most Of A Small Closet
Africa Studio/Shutterstock
When your closet is a mess, it can feel like your whole life is disorganized. And if you have a small closet, chances are you've struggled to find room for all your belongings. Whether it's a bedroom, linen, or coat closet, sometimes there's just not enough room. According to Clutter, many small closets are a disaster because people try to fit too many items into a compact space. If this is the case for you, decluttering may be the only solution. Other times, people don't have the right organizational tools or aren't using all space in their closet efficiently.
There are some tips you'll need to know on how to make the most out of your limited space. You'll first need to know how to create some much-needed space in your closet. Then, you'll need to know how to organize your closet to make it the most functional for you.
Creating more space in a small closet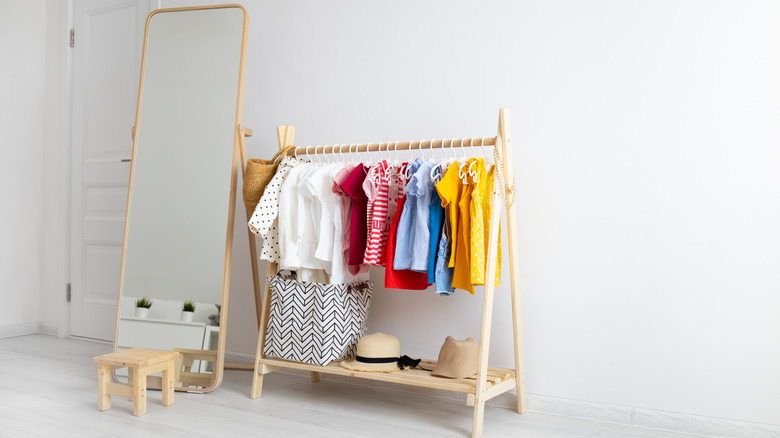 Ellona Kritskaya/Shutterstock
The easiest and most obvious way to create more space in a small closet is by decluttering. While it's not the most fun task, going through all of your clothes and discarding things you no longer wear will clear up space in your closet and make it easier when choosing your outfits in the morning.
However, sometimes even after you've decluttered, there's still not enough space. If this is the case, you should consider relocating some of your possessions. If your bedroom closet is completely full, you could add a rolling rack to your bedroom, per My Sister's Closet Boutique. A rolling rack will give you more space to hang clothes outside your closet. And, you could treat the rack like an art piece by only hanging clothes that match. Another tip is to move around the items in all of your closets. For instance, if your outerwear is currently in your bedroom closet, maybe consider putting it in your coat closet instead. Or, if your shoes aren't fitting in your coat closet, you could relocate them to your entryway or your bedroom closet.
Using space efficiently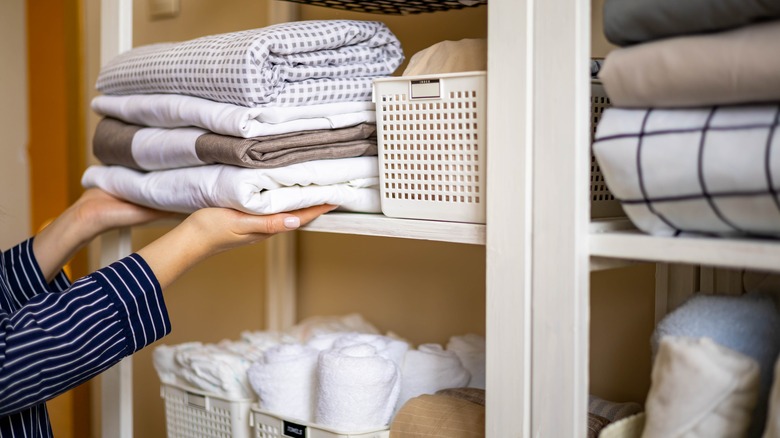 Kostikova Natalia/Shutterstock
Another way to make the most of a small closet is through strategic organization. The Container Store suggests some ways to make use of space you may not already be using. If you're not utilizing the space inside your door, purchase an over-the-door hanger. This could hold anything from shoes or accessories in your bedroom closet to cleaning supplies or mail in your coat closet. You could also add another hanging rod to your closet if you need more space to hang clothes. Finally, adding hooks to your walls for accessories like hats, belts, or jewelry can help you use all your wall space. When organizing a linen closet, Family Handyman says to focus on folding towels and sheets in a way that makes the most sense for your closet space. Folding your towels into a skinny rectangle can save some much-needed closet space. Also, for convenience, keep your sheet sets together in the closet.
However, utilizing different baskets and bins is the best way to make the most out of a small closet. Using baskets and containers will force you to fold your items more compactly, and they can be a great way to use floor space beneath shelves. Finally, you can try vacuum-seal bags when storing bulky items like comforters and jackets.