The Best Roof Color If You Have A Beige House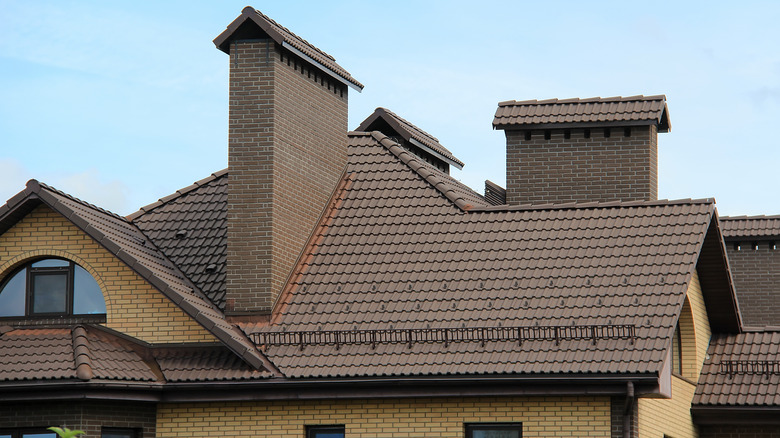 Studio MDF/Shutterstock
White may be the most popular house color, but cream, tan, khaki, and beige are particularly loved by those who are after the warmth provided by a subtle neutral. Beige is a mixture of gray, brown, and yellow that is best known as a calm, relaxing background color that provides comfort and stability. According to Color Meanings, beige is a French word that has been used since the 19th century to represent the color of wood. Those looking for coziness usually turn to this color, which is why it is a popular choice for house paint.
When it comes to complementing a beige house, you need to think of other warm, neutral colors. It's common to find roofs in shades of black, gray, blue, green, and brown, but going neutral can actually add to the resale value of your home. This is because neutrals are seen as classics that will always be appealing, explains Apple Roofing. Brown is the best option for a beige house because it is in the same family of warm colors and matches the beige in terms of being understated and reliable.
Color combinations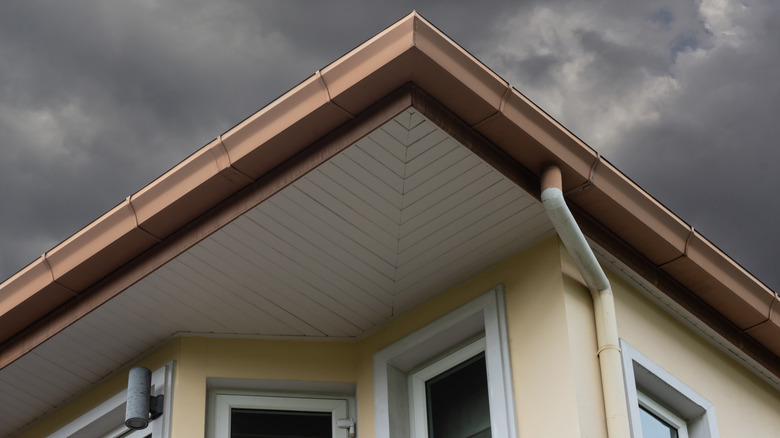 Ratchat/Shutterstock
One practical benefit of having brown roofing is that its natural look can hide signs of damage. Roof discoloration, for example, is an annoying thing to deal with since it negatively affects the curb appeal of your home. Usually caused by algae stains, rust stains, or other factors, discoloration can appear in various dark shades like black or brown. A brown roof is more likely to hide such stains and maintain the aesthetic!
While it can be tempting to try different things in order to stand out, Roofing Calculator explains that for colors to be appealing they must be coordinated. They don't have to match, but your color choices should complement each other and show intentionality. One way to get this right is by identifying the undertones. Brown can have red, orange, or yellow undertones — knowing which undertones your home has helps when choosing the other colors and accents. An expert at Sherwin-Williams suggests thinking about the mood you want to set. Then, see if you're feeling that mood from the colors you're considering.
Apple Roofing recommends the shades of shadow brown and brownstone for your roof shingles as they harmonize with other browns, cream, gray, and natural building materials. For a stronger contrast, you can choose white for the siding or other supplementary colors. For some variety, consider multi-colored shingles, but opt for close shades of brown instead of completely different colors.
How to make it work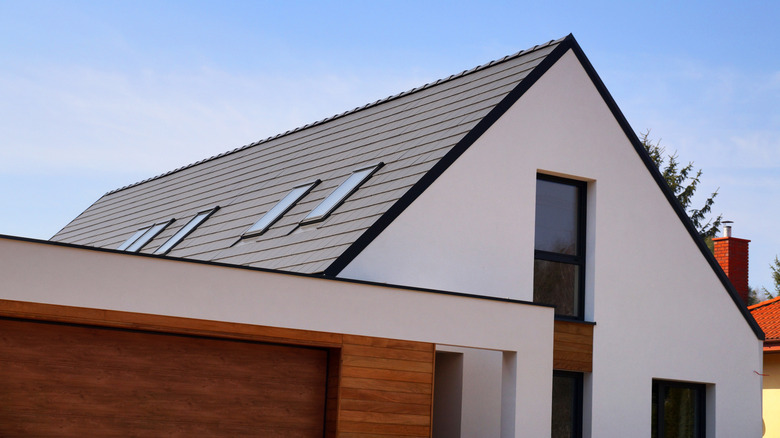 vladdon/Shutterstock
According to Setting for Four Interiors, some of the most popular asphalt shingles colors currently are autumnal brown, tree bark, and weathered wood on the dark side, and sand, taupe, or desert on the lighter side. Depending on the overall style you're going for with your beige house, you might decide on a light or dark brown for the roof shingles. This decision can be influenced by the color of the material for the structure if you're doing something special like brick or stone. After, you can choose colors for the trim and siding.
A nice way to tie things together is to use beige again for either the trim or siding because it is common for these two to be different. Then, you can choose a color that is darker than the trim but lighter than the roof for the siding. This is because the trim is usually lighter than the siding since it emphasizes the lines and makes the house pop more. When it comes to the shutters and doors, you can stick to the brown family of colors or be a bit more creative with another warm, neutral color.