The Best Way To Get The Most Out Of Your Small Cabinet Space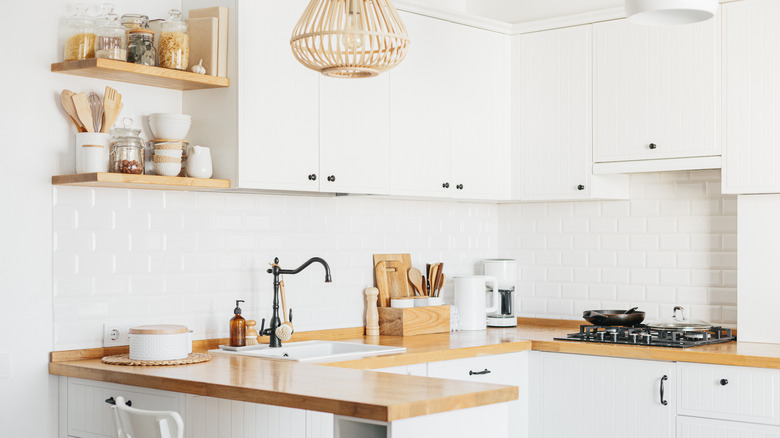 Switlana Sonyashna/Shutterstock
If you have limited space in your cabinets, organizing your kitchen will require some creative solutions. Many people struggle to organize their cabinets because of the design of their kitchen. Perhaps your cabinets are too tall or even too deep, which could make your items inaccessible. One way to create more storage space is by adding open shelving. These could be installed in an open corner of your kitchen, above your sink or window, or next to your cabinets. According to Kitchen Cabinet Refacing, open shelves are easy to organize and can make a kitchen space feel wider. They can also fix the accessibility problem because you'll be able to see the items in your kitchen with just one glance.
However, open shelving may not be a feasible option for you, especially if your kitchen is so limited in space that adding another shelf just seems impossible. If that's the case, there are a number of other ways to maximize the storage space inside your kitchen cabinets simply through organization.
Organizational tips for limited cabinet space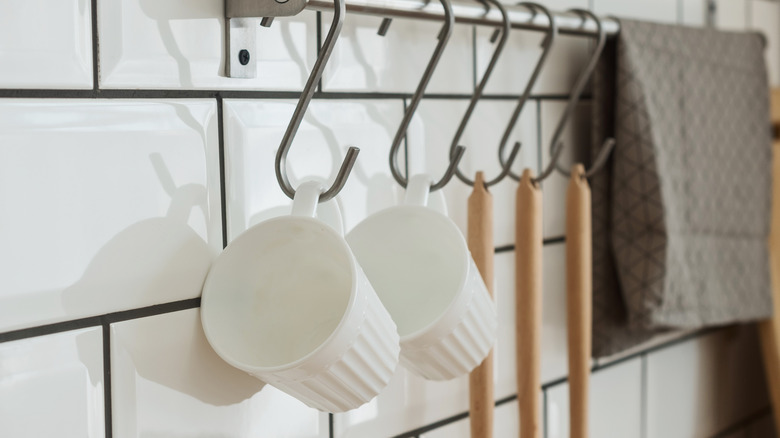 gostua/Shutterstock
If you feel limited by cabinet space, the first thing to do is take inventory on everything you store in your kitchen. The Container Store says to take it all out of your cabinets and then separate your belongings based on what cabinets they should go in. In this process, you can also get rid of things you no longer use or need. Clean and Scentsible adds that organizing your kitchen into different zones can make your space much more practical for you. For instance, placing your mugs in the cabinet above your coffee maker will create a functional beverage station in your kitchen.
The second thing you'll need to do is make things as accessible as possible. This means putting your most frequently used items at the front of your cabinets and the least used items further back. You could also hang coffee mugs on hooks to clear up storage space inside your cabinets. If you just have too many items, consider moving some of them out of the kitchen with the intention of rotating them later. An example of this would be moving seasonal items like holiday or fall themed dish towels into temporary storage.
The best way to make the most out of small cabinets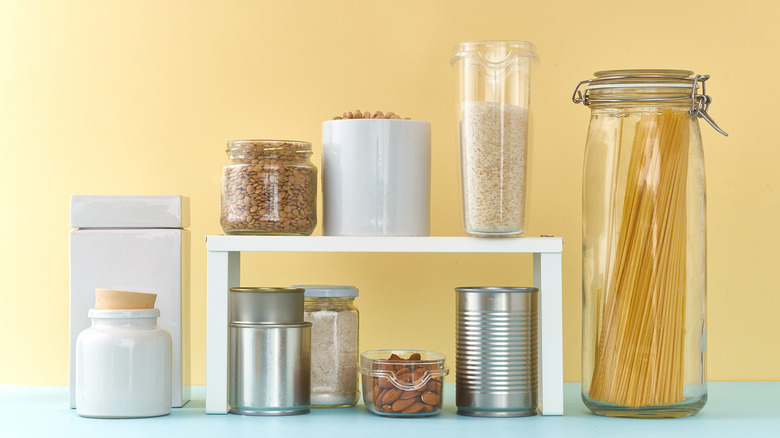 Asya Nurullina/Shutterstock
All of the above are great ideas, but there's one more that's even better. According to the Container Store, the best way to make the most out of small cabinets is to invest in interior cabinet shelving. This will allow you to utilize the unused vertical space within your cabinets. It also makes your items more accessible, because you won't have to stack items inside one another to make them more compact. Cabinet shelves help you organize your kitchen and give you more surface area to lay out your items so everything looks clean and streamlined.
Similarly, you could purchase pull out organizers for your lower cabinet shelves. These are great tools for organizing things like pots, pans, lids, cutting boards, and baking sheets as they make your items much more convenient to get to and store back away. Finally, if you have extra space on the inside of your cabinet doors, add some over the door organizers. These can hold everything from shopping bags to water bottles to resealable plastic bags.