These Are The Best Tips From David Bromstad's Old Show Color Splash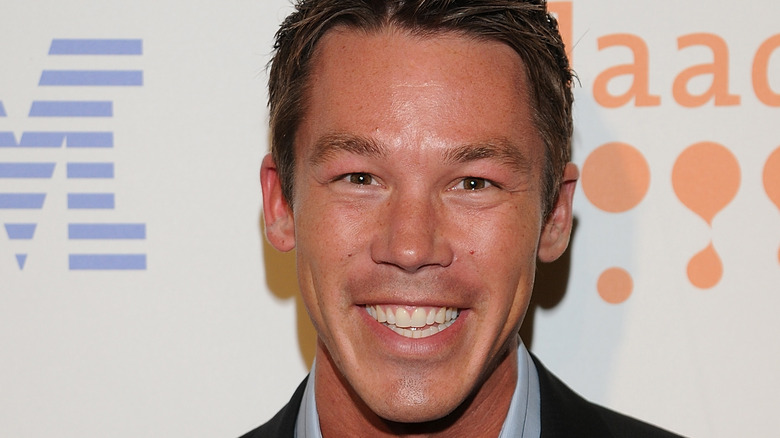 C Flanigan/Getty Images
David Bromstad made a splash into home renovation and DIY TV fandom as a fearless contestant on HGTV's premiere season of "Design Star," per HGTV. The designer laid his acid yellow brick path with bold ideas and gleefully rendered artwork the opposite of black and white, clicked his rolls of painter's tape together three times, and went home with a win. Bromstad soon became the host of a series created just for him, "Color Splash," where he and his team revitalized dull and dated spaces with an unapologetic use of color. Bromstad's energy, large art pieces, and tattoos were the stars of the show as much as himself or the design transformations. HGTV calls him a daredevil with a paintbrush. 
Yet, in an interview with Pretty Handy Girl, Bromstad revealed that the walls in his own home were white — he explained that it allows a more effortless switch up of accessories and accents to a favored hue of the moment. Of course, it's an optimal background for art. In contrast to a spirited facade, Bromstad is a measured designer, suggesting that homeowners wanting to change their decor should consider and plan thoughtfully before beginning. His tips include recording dimensions accurately, creating a functional layout, and purchasing the biggest investment piece of furniture first; he added that the wall color selection should be last. 
Throughout his tenure on "Color Splash," Bromstad learned what makes a house a dream home. We've compiled some of his top recommendations for creating a livable and unique space.
Create budget-friendly drama with DIY artwork
Though David Bromstad is a former Disney illustrator with an art school education, he's not snobby or exclusive; according to HGTV, he has encouraged others to pick up a brush and try painting. His bold pieces often became a focal point or helped tie the palette together in the renovations on "Color Splash," and he thinks anyone can accomplish these essential design elements with some color or simple pattern on canvas. Plus, Bromstad gives us permission to have fun in the creation, suggesting add-ons such as crystals or glitter. He's a devotee of painter's tape and ran through a few rolls per show; not only is it a practical tool for interior renovation, but it makes interesting edges and textures when used in artwork. Large wall decor pieces can be expensive and heavy; therefore, a lightweight hand-painted canvas is an excellent and budget-friendly way to fill some wall space. 
While artwork adds pop and color to a room, Bromstad has a trick for introducing a neutral and refined detail on a limited budget; he falls back on readily available polyester sheers for window treatments. They soften the light and make a space look finished. They can also create the illusion of a bigger window by hanging them higher and wider than the window frame — Bromstad chooses curtains that reach from ceiling to floor. Any printed fabric in the side drapery won't compete with plain sheers; in one episode, Bromstad flanked sheers with bold paintings as an alternative to pricey drapes. 
Don't be afraid of color
While David Bromstad's new Orlando home has five bedrooms and an open concept kitchen and living room area, per Realtor, the star was used to making the most with the square footage of the series' renovations. Acrylic furniture is one of his preferred methods for keeping smaller rooms airy and open in feel. Once a rare thing of high design, acrylic pieces are much more affordable and available than in the past. See-through chairs are a fantastic complement to a wooden table or desk, while a cocktail table allows a rug's beautiful pattern and color to be seen rather than obstructed. Bromstad mentions transparent nightstands, too, but that would require a degree of organization most of us don't possess (And this time, he can't convince us with glitter).
Acrylic furniture may be subtle, yet Bromstad embraces drama when it comes to color. He loves bright and acid tones and has even combined them in one space; lime green and hot pink are favorites. However, he realizes that many people find the boldness of these shades too overwhelming. He told Pretty Handy Girl that toss pillows are an excellent avenue for strong color and a good compromise to color fear — offering impact without commitment.