The Easiest Way To Save Cash On Your Heating That You May Not Know About
Yevhen Prozhyrko/Shutterstock
Picture yourself waking up to a perfect day. The sun is shining and the birds are singing, but when you head to your mailbox, you notice your heating bill has arrived and it's a hefty one. If you happen to live in an area that often experiences colder weather, you know just how expensive heating a home can be. According to Rocket HQ, the typical American family spends an average of $55 per month to heat their homes, which adds about an extra $660 to their total annual household costs.
On top of other loans and mortgages, car payments, and utility bills, a costly heating bill can cause unnecessary and unwanted stress, especially when the price of everything else continues to rise; but what if we were to tell you there's an easy way to save cash on your heating bill, and you may have never thought about it before?
Go green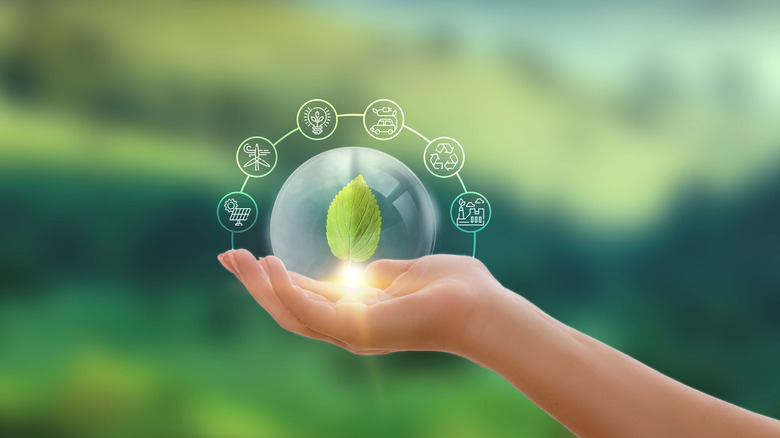 SAHAN1_1/Shutterstock
You may have heard of the term, going green, but what does that really mean? Going green means learning and adopting environmentally conscious practices to help preserve our planet, Green Coast explains. By going green, you're reducing pollution, conserving natural resources and wildlife, and preserving the natural ecological balance of the earth. Energy Sage says that people who choose to go green save about 30% on their heating bills. One specific practice that many eco-conscious homeowners adopt is selecting an energy-saving program with their electric or gas company.
Billry further suggests updating your HVAC system to an energy-efficient model as another means of saving money. According to Berico, older HVAC systems have an older SEER rating, which means they're significantly less efficient than those with a high rating. Choosing to update your heating system is a bit pricey, but you'll end up saving a lot more money on your monthly heating bill, which helps even the cost.
Window curtains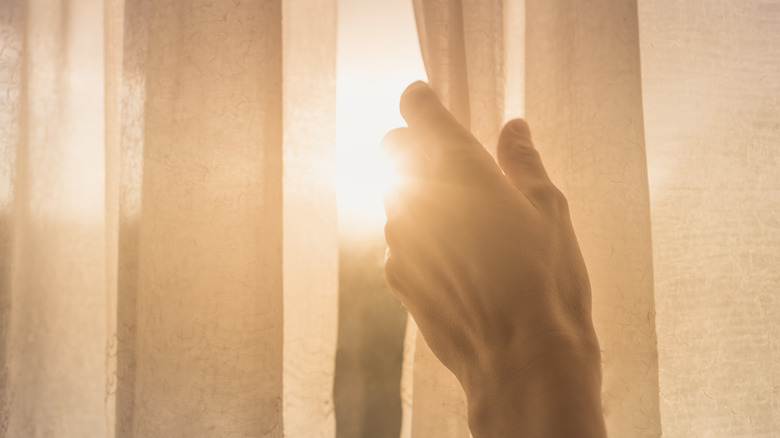 KieferPix/Shutterstock
You can lower the cost of your heating bill by just drawing your blinds and opening up your curtains. Yep, it's that simple. You're probably thinking... how? Well, according to The Conversation, keeping your curtains open allows sunlight to enter through the window, which significantly warms your home. Therefore, you can lower your thermostat, and instantly save yourself some money. Choosing dark-colored curtains or drapes will help warm a room as well. Dark colors absorb more heat, so consider purchasing darker drapery if you don't have some already.
To conserve all of that warmth, BBC news recommends shutting your blinds and closing your curtains at dusk (or as soon as the sun begins to set). This will increase the chances of your home trapping the heat, so you don't need to crank the heat up before you go to sleep. When your next heating bill comes, check out the difference simply opening and shutting your curtains can make.