35 DIY Greenhouse Ideas That Will Transform Your Backyard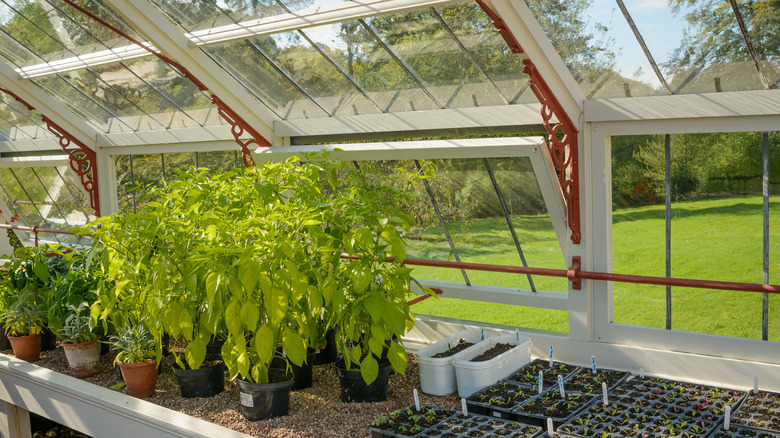 Steve Buckley/Shutterstock
For most gardeners, growing and cultivating plants year-round is difficult, especially if you live in a place with different climates throughout the year. According to Real Homes, greenhouses make it possible for gardeners to grow their favorite produce all year round and are one of the most valuable items in your backyard that can make this happen. The outlet notes that there is a style for every budget and to suit every need. You can even DIY your greenhouse and create them out of reclaimed materials such as old windows, make miniature versions out of sustainable wood, and create similar options in a raised bed garden style.
Per Hartley Botanic, gardening expert and writer Jean Vernon explains how important a greenhouse is for a gardener, saying, "A gardener without a greenhouse is a bit like a cook without a stove," since you can nurture your plants in this divine situation. Not only do greenhouses look chic, but imagine growing everything from your favorite flowers to succulent vegetables no matter what time of year it is! Keep scrolling to get inspired by these backyard greenhouses that will transform your backyard in no time.
1. A true classic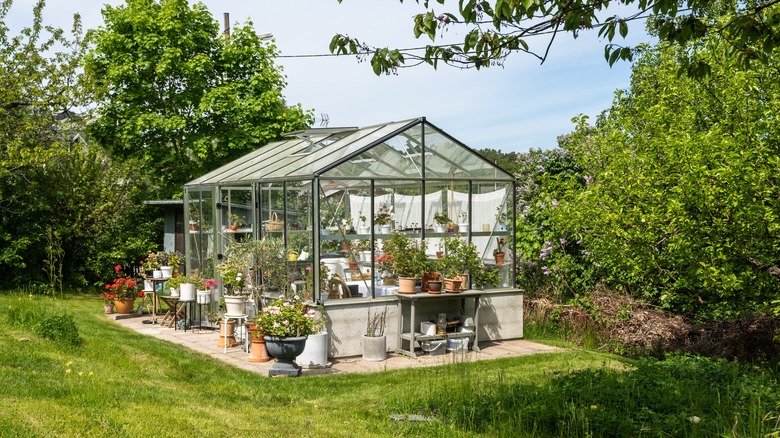 GenOMart/Shutterstock
This glass and metal greenhouse is the classic style we dream of! If you have a larger backyard, this glass and metal option is perfect for housing your favorite greenery in pretty pots.
2. Create a stunning castle for your veggies and plants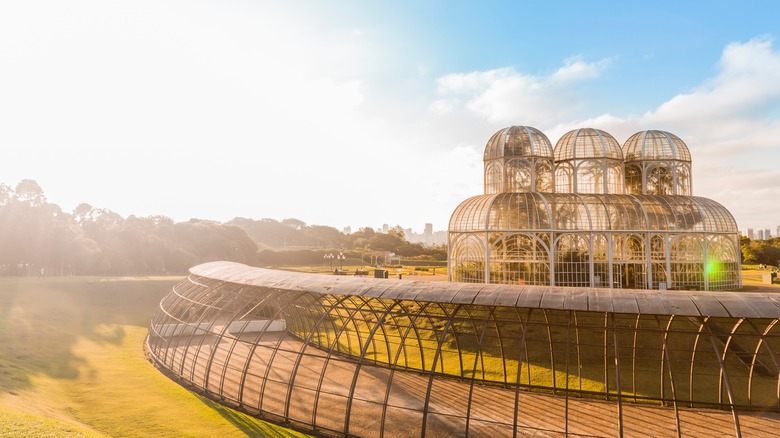 Fagner Martins/Shutterstock
Your vegetables and plants deserve a castle-style abode, wouldn't you say? So consider building an epic palatial greenhouse so that they can truly thrive in their star-studded environment. Not only is it impressive to look at, but those second-floor cylinders can hold even more lush greenery.
3. Sit and watch your garden grow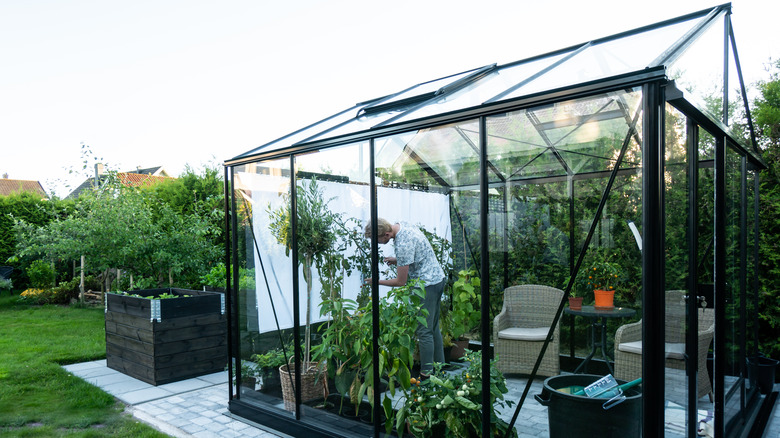 Snorre Roberg/Shutterstock
A luxe greenhouse is a perfect opportunity to create a comfortable environment for you and your herbs. Bring in the outdoor seating for two in your very own glass oasis, which will be an ideal spot to spend your relaxing mornings.
4. A rustic retreat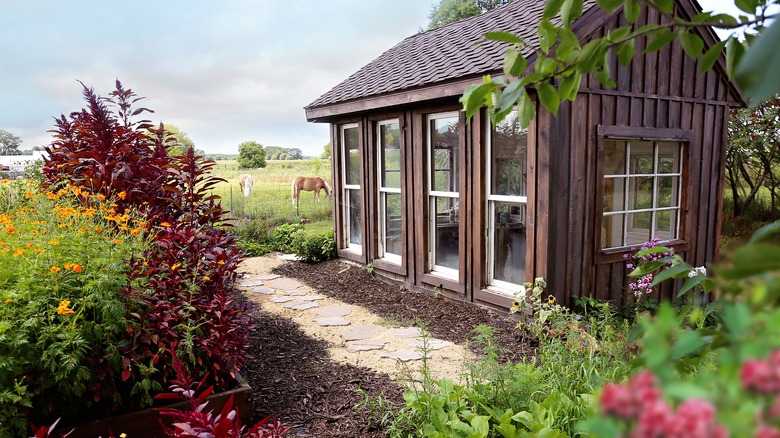 Christin Lola/Shutterstock
This wooden greenhouse with plenty of windows is the best escape we can think of for a day of gardening. It's the perfect perch to watch the nearby animals, and you create an inviting atmosphere for your plants to thrive.
5. Seeing multiples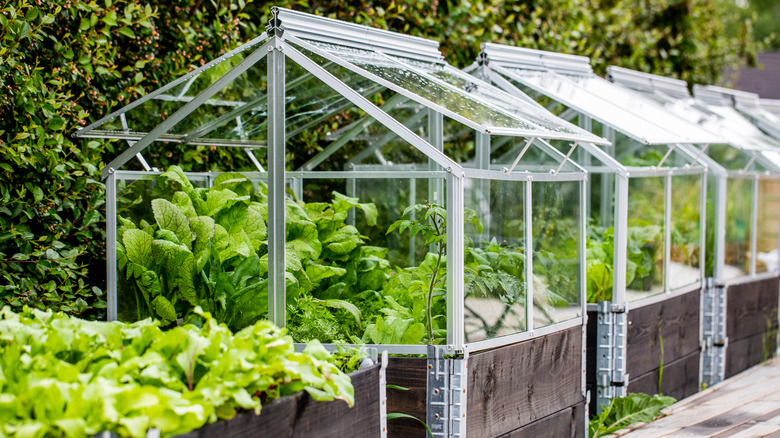 Angela Kotsell/Shutterstock
If you have the space, raised vegetable gardens fitted with a traditional glass greenhouse are ideal for growing everything from tomato plants to carrots. Having multiple small greenhouses would be an excellent way to get creative with how you organize the vegetables you plan to grow.
6. DIY a sturdy polycarbonate greenhouse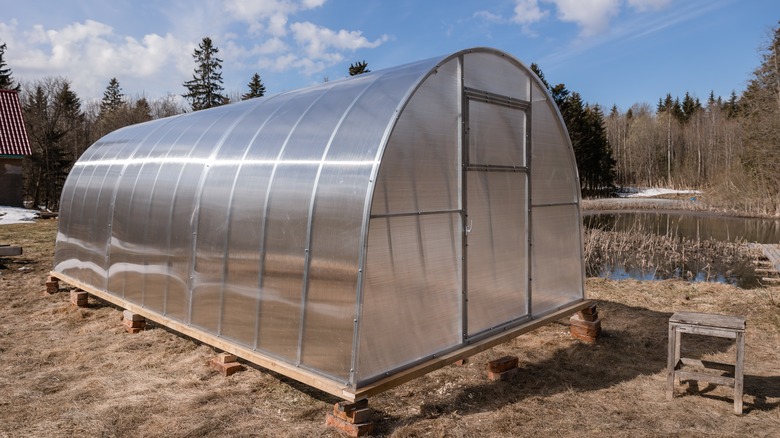 Nikiforova Viktoria/Shutterstock
This transparent polycarbonate greenhouse is solid and sturdy and an excellent choice if you're looking to create a home for your plants to keep them safe through harsher elements. We love the oval shape too, which makes for a unique look.
7. For city dwellers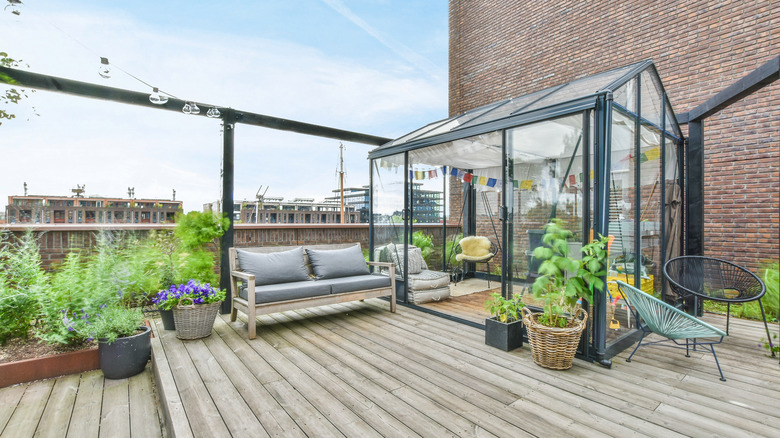 Procreators/Shutterstock
If you don't have a backyard but boast a rooftop terrace atop your small city apartment, this counts! Consider adding a portable greenhouse to your terrace, so you can tend to your plants as you take in those spectacular city sunrises and sunsets.
8. Ain't life grand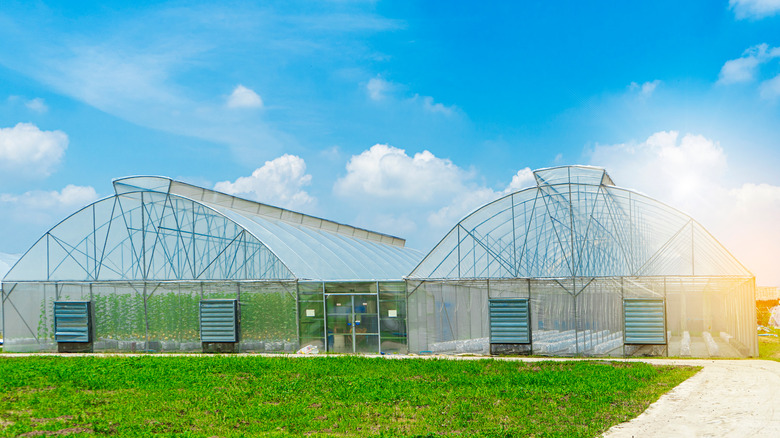 R.NITHAT/Shutterstock
If you have plenty of acres on your property, consider placing two large agricultural greenhouses, making it easy to grow an enormous amount of vegetables. We love the idea of just roaming to the backyard daily for fresh produce!
9. Dining room in a greenhouse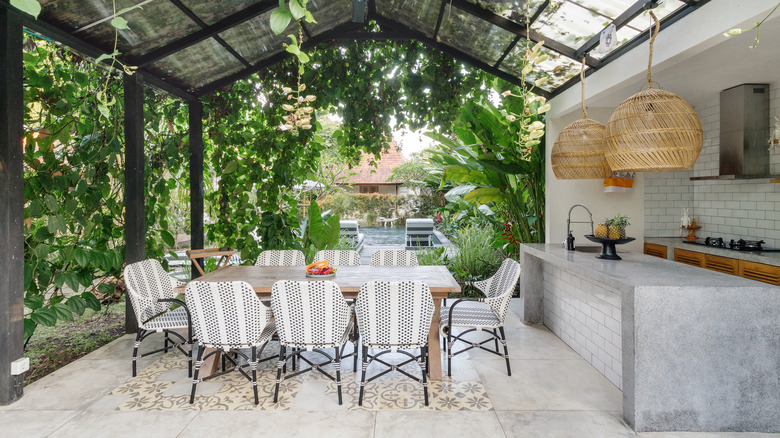 brizmaker/Shutterstock
Consider enclosing your glam outdoor kitchen and dining area with a glass greenhouse that takes outdoor dining to the next level. The luxe kitchen features subway tile and luxe marble, rattan lighting, and a wooden dining table with attractive black and white chairs. It would be the perfect spot for upscale dinner parties during the summer.
10. A backyard oasis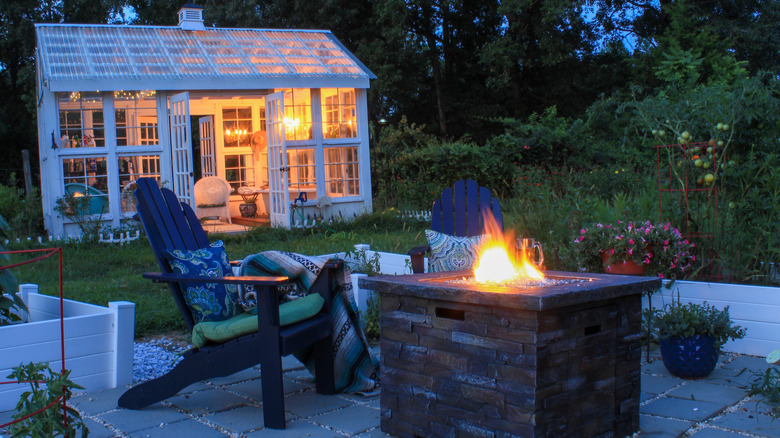 ButtermilkgirlVirginia/Shutterstock
This dreamy backyard retreat has it all! In the distance sits the beautiful white and glass rustic greenhouse, while in the forefront, there's a lovely fire pit and comfy Adirondack chairs to make it the perfect spot to relax after a long day.
11. A quaint backyard greenhouse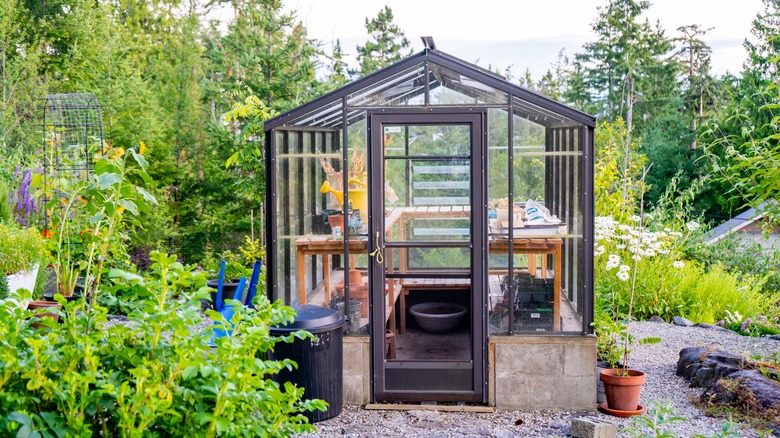 thoughtsofjoyce/Shutterstock
If beautiful evergreen trees surround your backyard, a small, quaint greenhouse can make all the difference in making it a gorgeous oasis to tend to your small potted plants.
12. Falling for this small glass greenhouse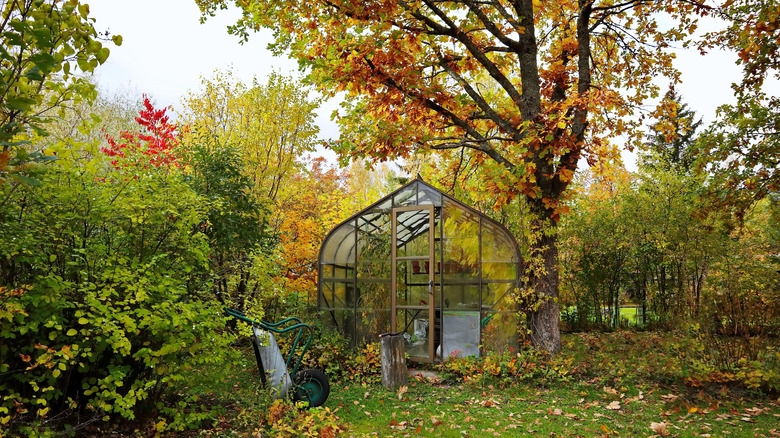 SariMe/Shutterstock
This tiny greenhouse is uniquely shaped and positioned right under a tree. We imagine creating a seating area to take in this view every fall when the leaves start to change color!
13. Style your greenhouse with DIY flower beds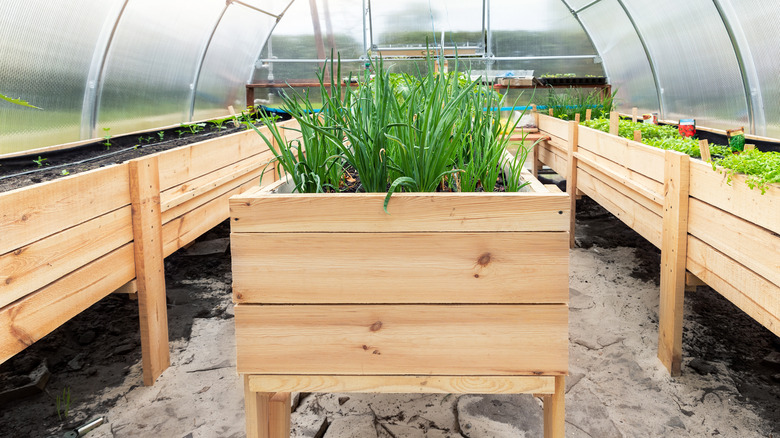 Gorloff-KV/Shutterstock
Once you DIY your greenhouse, don't stop there! Consider making raised garden beds with light tan wood, which makes growing organic veggies more than just a hobby.
14. Ideal for citrus trees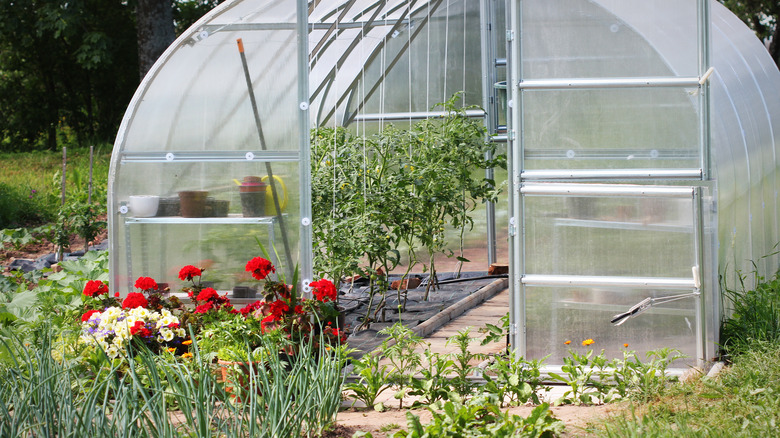 vaivirga/Shutterstock
According to greenhouse gardener Roger Marshall, a greenhouse is ideal for growing citrus trees. He explains in Hartley Botanic that he quickly grows ​​lemons, limes, and oranges during the winter in his greenhouse.
15. A greenhouse with incredible light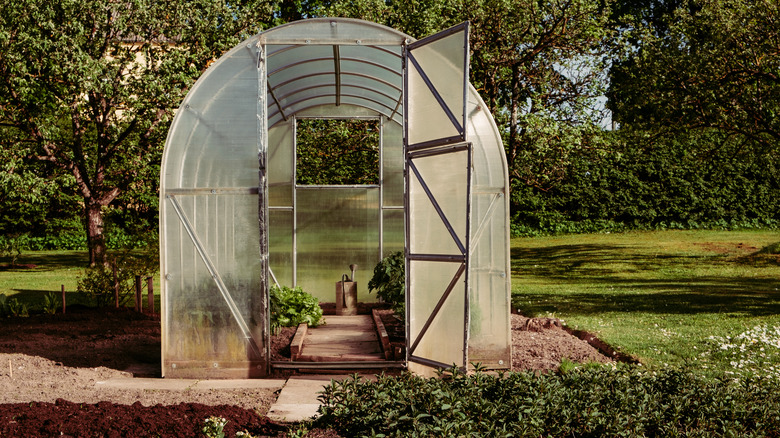 Grundsteins/Shutterstock
According to Greenhouse Info, putting it in the right setting is crucial once you assemble your greenhouse. The outlet says it's essential to place it so that it sits north to south to get optimal light for growing your plants, which is necessary!
16. An apple a day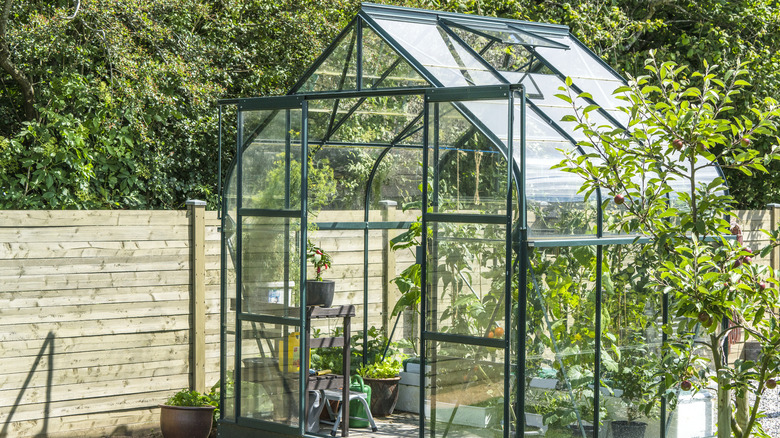 Polarpx/Shutterstock
This tiny glass greenhouse looks stunning in the corner of this backyard, holding lush greenery, but it's that apple tree that is the true inspiration, and we wouldn't mind looking at that every day.
17. A greenhouse with a view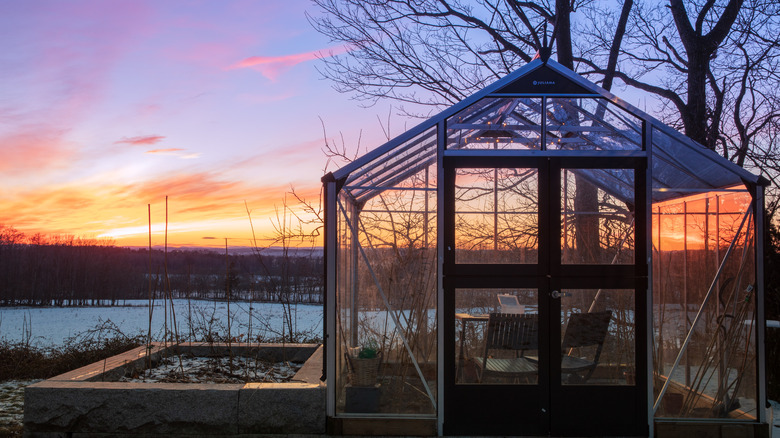 flora Asadi/Shutterstock
This greenhouse has a stunning water view, perfect for enjoying a sunset at the end of the day, surrounded by the plants you love. We also suggest setting up a makeshift home office, which would be an excellent place to work if you ask us!
18. Tiny, but mighty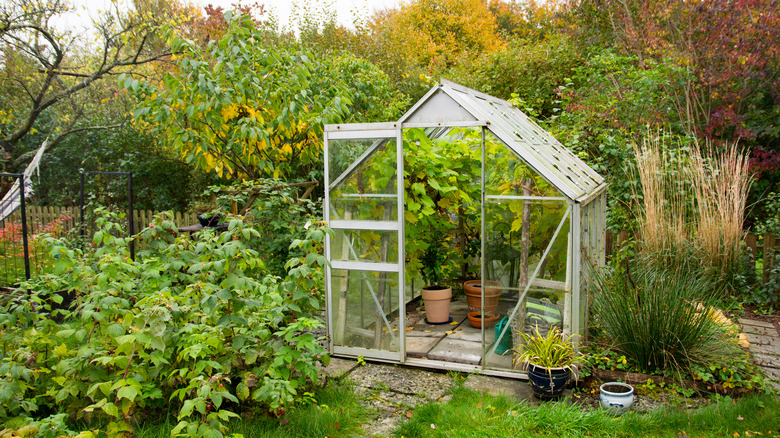 Jon Naustdalslid/Shutterstock
This small greenhouse packs a lot of punch in a backyard filled with plants. It's a beautiful home for your potted trees that will undoubtedly make them thrive.
19. An English rose garden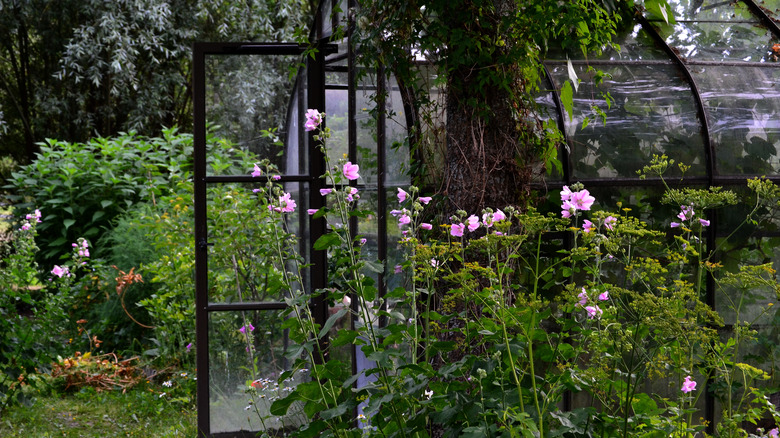 SariMe/Shutterstock
This English rose garden is even more beautiful with a DIY glass greenhouse with chic black trim. It would make tending to your rose bushes more enjoyable.
20. A cabin with a greenhouse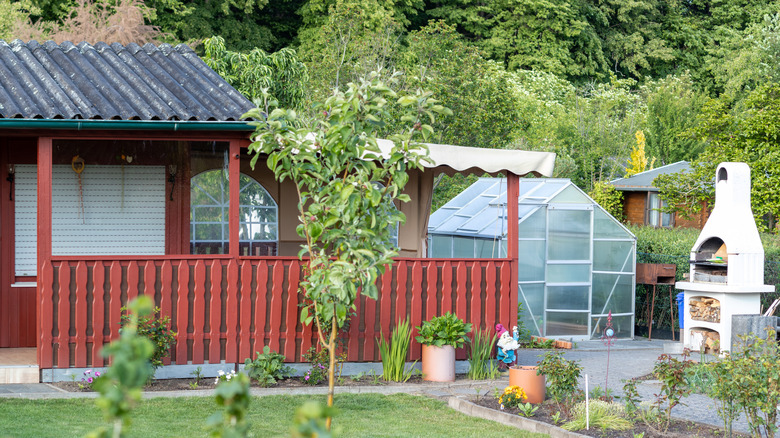 StockTom/Shutterstock
If you are lucky enough to have a weekend getaway like a cabin, think about starting a garden there and growing your produce year-round by placing a portable greenhouse on the property.
21. A portable green greenhouse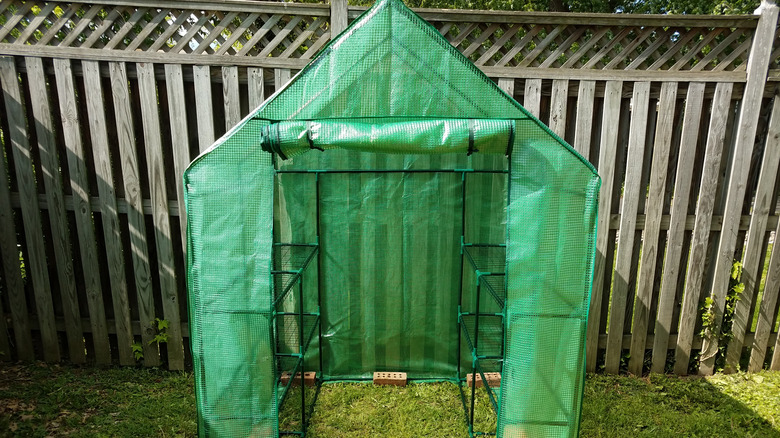 stockphotofan1/Shutterstock
This portable greenhouse in a Kelly shade of green is an ideal option for gardeners that don't want something permanent. It has a steel frame and a mesh cover, making it an easy choice to move around your backyard.
22. Reclaimed and fabulous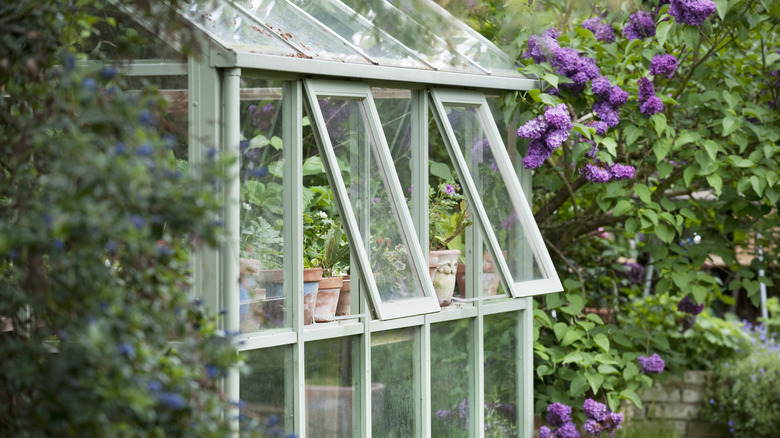 sirtravelalot/Shutterstock
This DIY greenhouse is made from reclaimed materials, old windows, to be exact! It's an excellent way to use materials over again, plus they can provide plenty of ventilation for the greenhouse.
23. DIY wooden planter boxes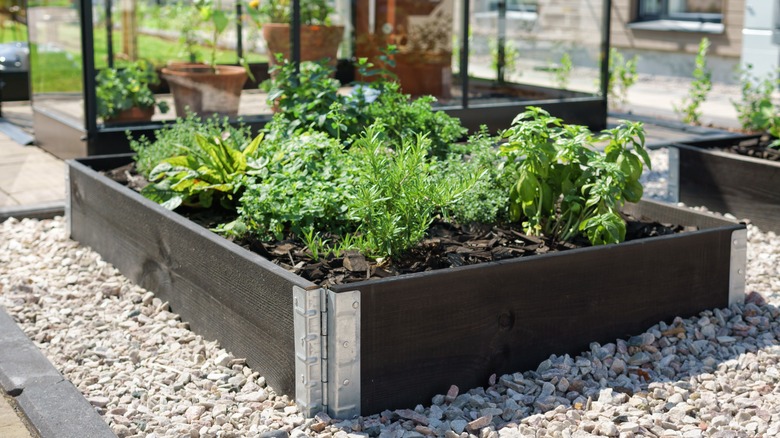 Finmiki/Shutterstock
Once you've created your glorious greenhouse, don't forget the details. These wooden planter boxes are the perfect spot to grow your favorite herbs, from mint to basil.
24. A classic style with white trim
Tom Gowanlock/Shutterstock
We love the black trim, but we also think the glass greenhouse with a white frame looks fresh and crisp. With plenty of shelving, you'll have lots of room to store your favorite herbs, plants, and vegetables.
25. A sage green stunner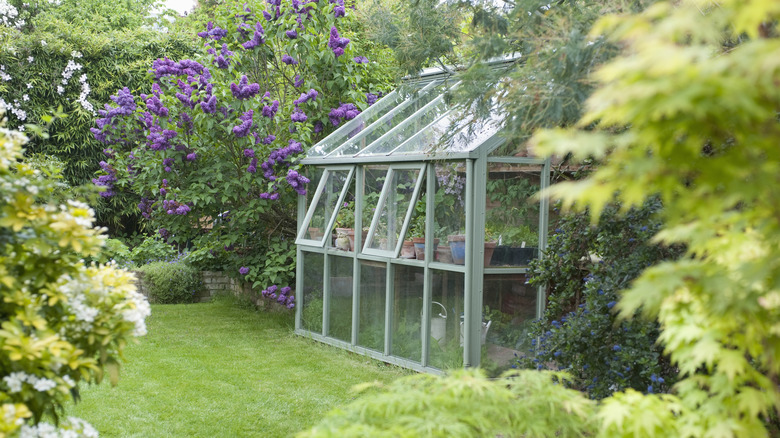 sirtravelalot/Shutterstock
Sage green is a well-known soothing color. In fact, Interior Designer Charles Almonte tells the Washingtonian that it's an organic outdoor color that people adore, which is why we love this classic greenhouse trimmed in the stunning hue.
26. Bring in interesting pots for your plants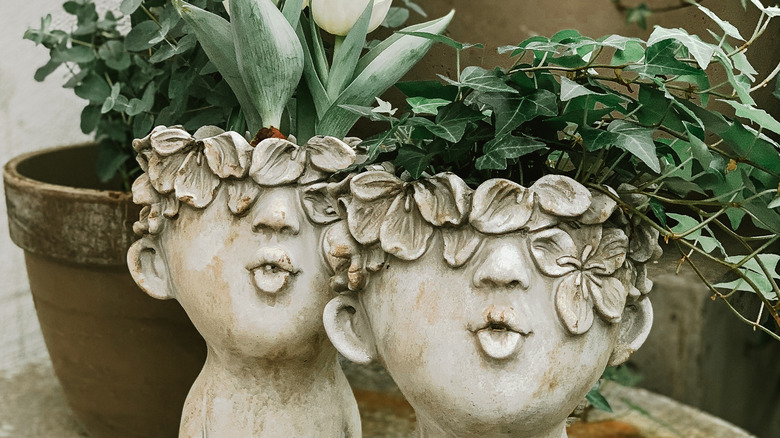 tayaphotolab/Shutterstock
These are great pots for planting microgreens. There's no need to keep your pots basic in your greenhouse! Have fun with it by bringing unique pots into the space, which will be a total conversation starter!
27. Add plenty of lush greenery
DimaBerlin/Shutterstock
This snazzy greenhouse is a luxurious spot filled to the brim with lush plants and is perfect for garden lovers to spend the day.
28. A lush garden needs a little greenhouse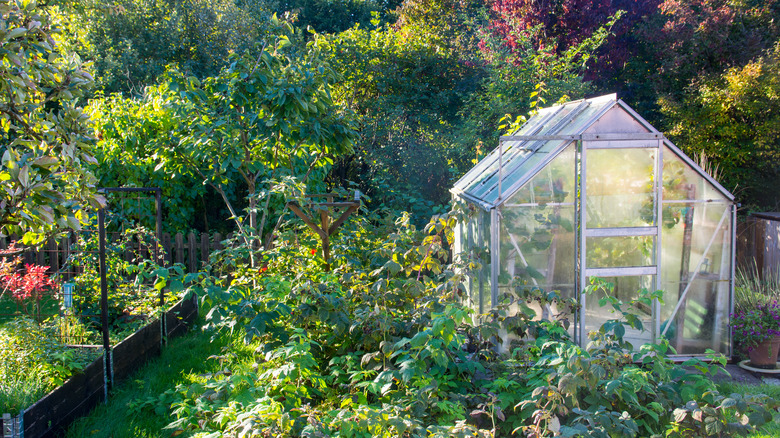 Jon Naustdalslid/Shutterstock
You can tell that this garden is loved, and this tiny greenhouse creates a beautiful and lush area for this backyard oasis.
29. Shelving is key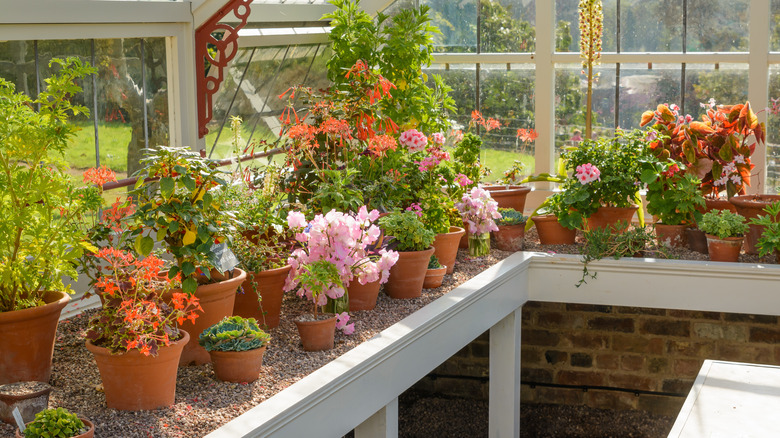 Steve Buckley/Shutterstock
A functional greenhouse isn't complete without optimal shelving for all of your potted flowers and plants in hues of pinks and oranges to thrive.
30. It's all about placement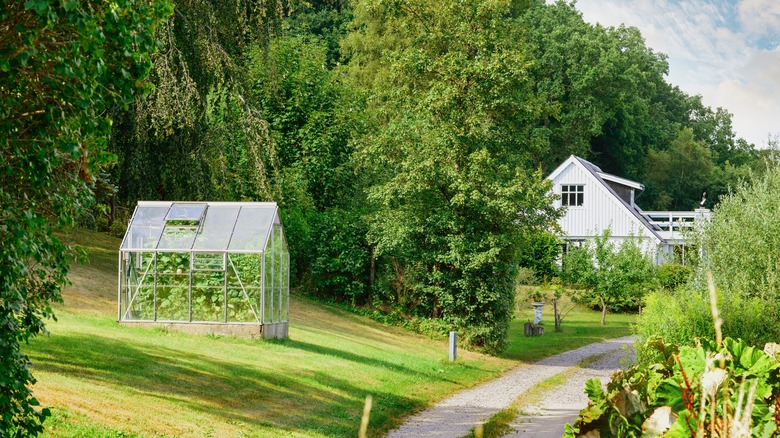 PeopleImages.com - Yuri A/Shutterstock
Getting the proper lighting is essential, but so is setting the mood, and we love how the homeowner placed their greenhouse along the winding road to their home. It's set on a small hill which is so picturesque and just a short walk to the main house.
31. Small potted plants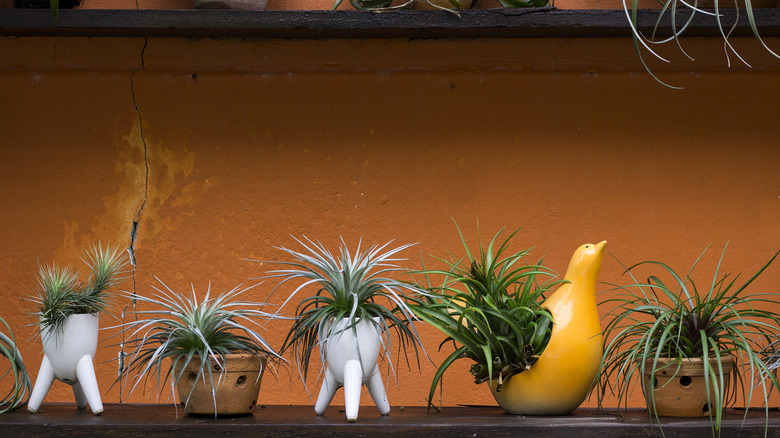 songpholt/Shutterstock
If you brought in larger, unique potted plants, don't forget to do the same on your shelves with small pots in different shapes. We love the bright yellow bird style mixed with the white and brown pots.
32. A wooden and glass dream
MAXSHOT.PL/Shutterstock
An excellent idea for your DIY greenhouse would be to mix wood and glass for a style that looks exquisite with lots of fresh food growing inside. The homeowner made a small shelf, ideal for placing your vegetable picks and any small tools you need.
33. A gorgeous wooden retreat with vertical storage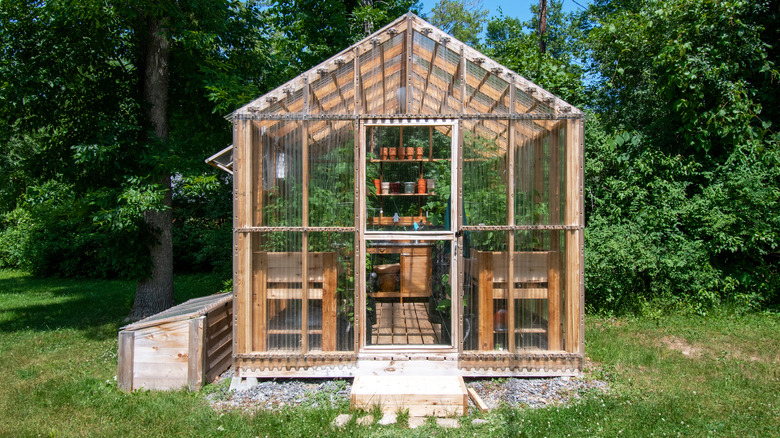 Guy Banville/Shutterstock
This beautiful wooden greenhouse mixes the natural light wood with glass and looks divine in the backyard. It has two large wooden DIY planters ideal for lots of veggies and vertical shelving in the center for all your small potted plants.
34. Split decisions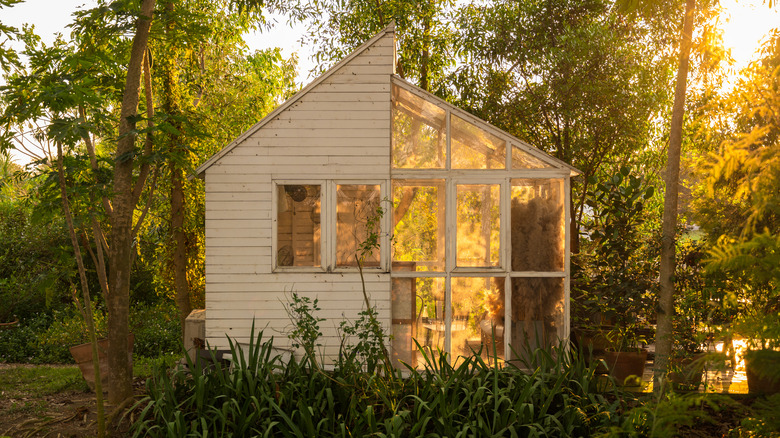 Adcharin Chitthammachuk/Shutterstock
This DIY greenhouse is stunning. It has siding on one side and nothing but windows on the other, which is perfect for your plants to thrive! We can't help but notice it would be the ideal spot to watch a sunset, too.
35. A greenhouse within a greenhouse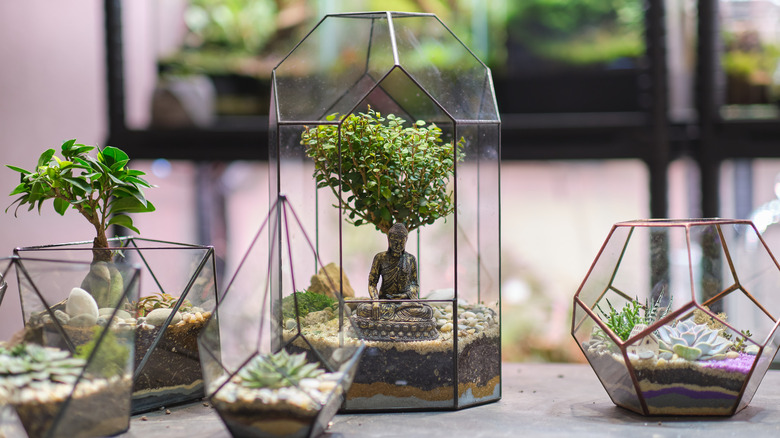 Yavdat/Shutterstock
Consider adding several terrariums on your shelf in your greenhouse! You can choose from several styles and sizes, and it's so serene.