The Best Bedding Colors To Pair With A Metal Headboard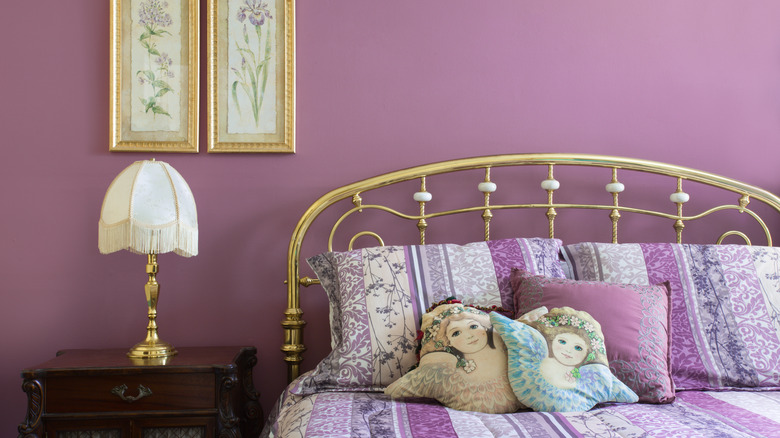 littlenySTOCK/Shutterstock
There's something to be said about metal headboards. They're incredibly lavish and will add a touch of luxury to any bedroom. Wooden and upholstered bedheads are nice, but those made of metal are fabulously chic. In addition, metal headboards require less maintenance than wooden options and are significantly more durable, Quagga Designs states. These are a few reasons to keep metal in the back of your mind while shopping for a new headboard. According to Wayfair, the most common metals for interior furniture include stainless steel, copper, brass, and wrought iron.
Each metal has unique characteristics, which should be considered when choosing duvets, sheets, and pillows. Remember, certain colors and shades complement different metals. While there are no rules when it comes to deciding on bedding, we'd like to offer you suggestions to really pull the room together, so we've compiled a short list of the best bedding colors to pair with gold-plated brass and copper headboards.
Gold-plated brass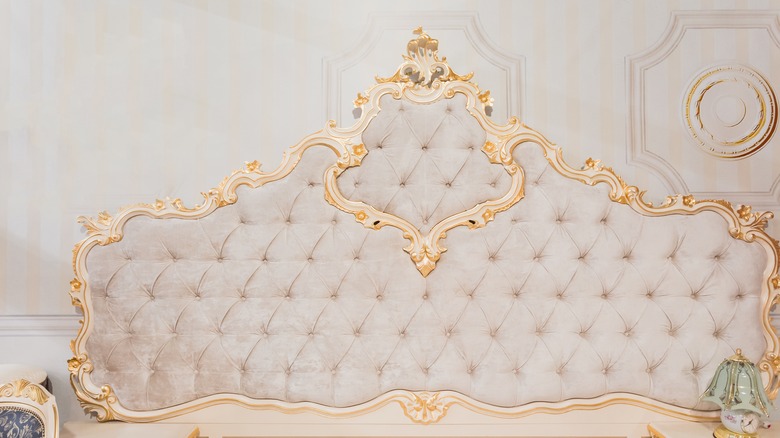 Little honey/Shutterstock
What was once considered outdated, matte brass has made an epic comeback in the world of interior décor — including bedheads, Wayfair states. While this material comes in a variety of colors, gold-plated brass has become the standard for indoor furniture. That being said, if you choose gold for your headboard, Domino recommends cool colors for the bedding, such as deep blue, green, and gray. For a sophisticated, lush vibe, opt for jeweled tones, namely sapphire or emerald.
Better Homes & Gardens explains that neutral colors pair well with metallic headboards; because a metallic finish is significantly different from a matte finish, you need to keep this advice in mind when deciding on bedding. For metallic gold headboards, steer toward warmer colors, but lean into deeper-toned shades, such as chocolate brown or dark beige. Charcoal or slate gray are excellent options as well. Ultimately, it all depends on your preference and the room's aesthetic.
Copper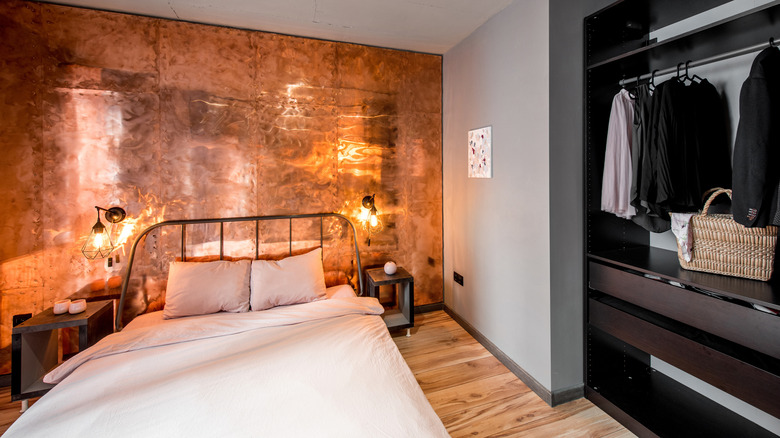 RossHelen/iStock
Some may consider copper and brass the same metal because of their similar shades; however, they are nothing like one another. Copper is much more durable than brass, which is why it's typically used for plumbing and electrical work around the house, Roane Metals Group states. In addition, because of its durability and rustic appeal, copper is commonly used for indoor furniture and accent hardware, Wayfair explains. If you have a copper bedhead or are considering purchasing one, here are a few color choices for bed linen.
As you search for the right bedding, you'll find most colors pair well with copper hardware. ArtRadarJournal recommends checking out reddish-brown or orange. These colors are known to complement copper's metallic finish; however, copper allows for many other color options, including dusty pink, turquoise, and green. For a chic and sleek vibe, think about black bedding instead. Your copper headboard will definitely make a statement no matter which color you choose.