The Return Policy At Lowe's Explained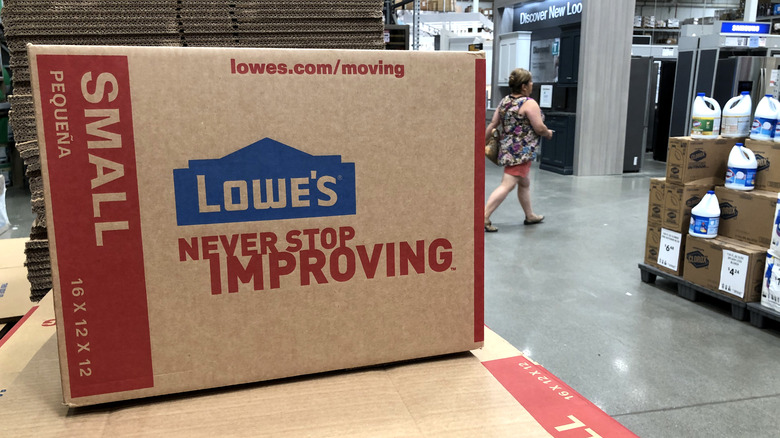 Justin Sullivan/Getty Images
Because every store has a different return policy, it can be hard to remember the details of each one. Many times, retailers have pretty lengthy policies with lots of fine print and complicated rules. Luckily, Lowe's has a pretty straightforward return policy. According to Lowe's, you can return most items in-store at the customer service desk. If you purchased an item online, you can mail it back for free. To do this, you'll first print a slip to go inside the box as well as a shipping label. Then you can just seal the item inside the box it was delivered in and bring it to a mail carrier.
If you're looking to return a recently purchased item to Lowe's, you'll first need to understand their return policy rules. It will be helpful to understand how long you have to return the item after purchase and the exceptions to the rules.
Lowe's return policy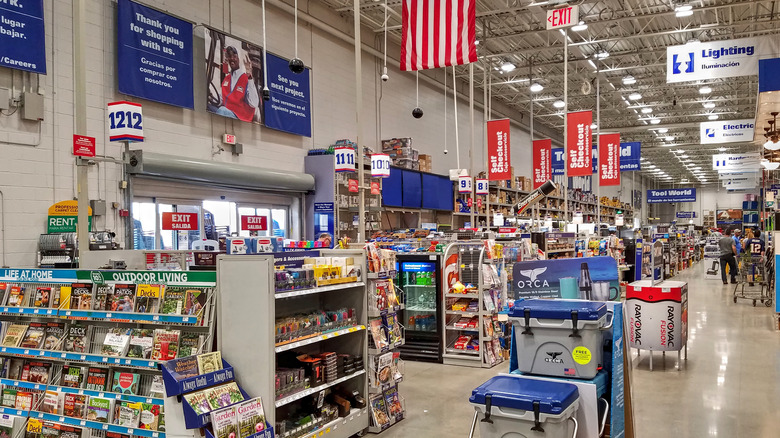 QualityHD/Shutterstock
According to Lowe's, most items can be returned 90 days after being purchased. To return in-store, you'll need the receipt and identification, like a valid driver's license. If you ordered the item online, you could also look up your Order Details and find a barcode to make returning easier. You will get store credit for any purchase using a gift card or something similar. If you bought the item with cash or a card, you can get the refund in cash or on the card you used to purchase. For debit card returns, it may take over two weeks to see the money back in your account.
However, even if you don't have your receipt, you can still most likely return the item, assuming it's in near new conditions. To return without proof of purchase, you will need the card you used to purchase, your checking account number, or the phone number used when you purchased the item. Or, if you have a MyLowe's card or loyalty account, the purchase can be found in the system. The Krazy Coupon Lady says that even without any of these items, you may still be able to get store credit. However, returning too many items without a receipt may result in Lowe's keeping you from returning items without proof of purchase in the future.
Exceptions to the rule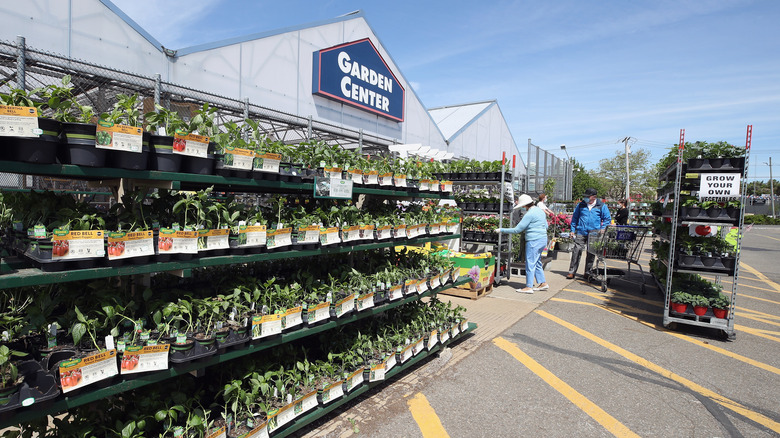 Bruce Bennett/Getty Images
There are a few exceptions to the 90-day return policy, per Lowe's. Major appliances must be returned within two days of purchase if they have been opened. If unopened, or if the major appliance was purchased with a MyLowe's card, you have a month to return it. Other items, such as TVs, electronics, liquid paint, outdoor power tools, plumbing, air conditioners, and highway trailers, must be returned within a month of purchase. If an item arrives at your home damaged or incomplete, you have three days to report it to Lowe's.
Some plants from Lowe's also have an interesting return policy. Trees, shrubs, and perennials can be replaced or refunded within one year of purchasing. All other plants must be returned within the 90-day return policy. Also, according to Lowe's Employees, you may need to bring in the plant you want a refund for, even if it is dead.