Home Depot's Return Policy Explained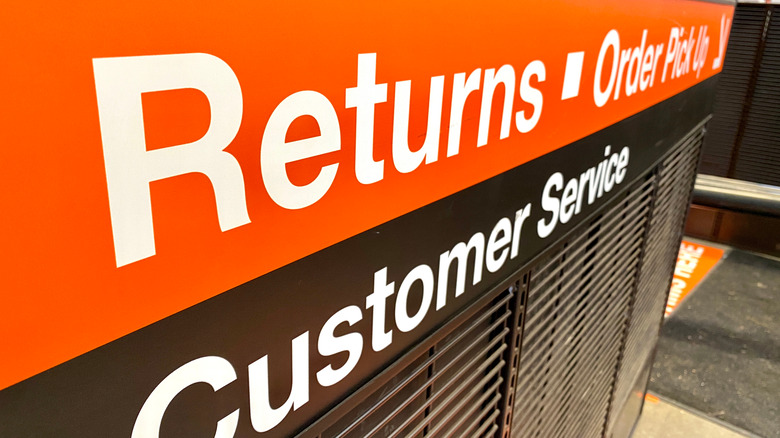 ZikG/Shutterstock
It's frustrating when you buy something for it not to work. The product was either packaged defective, broke after you opened it, or doesn't serve your intended purpose. Now you have to determine the return policy of the seller. For some stores, this is pretty easy and hassle-free; others have a lengthy process that may not even be worth your time. Fortunately, if you bought this product from The Home Depot, its retail return process is straightforward. According to Taste of Home, the retailer accepts purchased items without asking questions. If you didn't like the product or no longer need it, you wouldn't have to go through the trouble of explaining.
This also creates even more convenience and flexibility for the shopper. If you require a particular item of a specific size but don't know the variety to opt for, you could always buy a few and take back the ones that don't fit. However, the return policy and a few other factors, are a bit more complex. Retailers typically only accept some returns for a certain amount of time. This is why it's best to understand their store policy through and through. We broke it down for you, offering the relevant information you need to know as a consumer of The Home Depot.
The basics you should know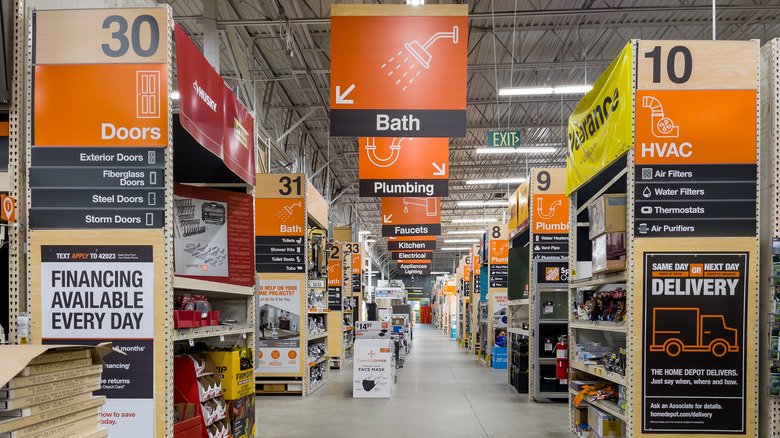 The Toidi/Shutterstock
According to The Home Depot, most products purchased, either online or in-store, can be returned within 90 days from the purchase date. Of course, there are certain exceptions for specific products. To return an item, you must have proof of purchase. The receipt best does this, but the retailer will also accept a valid driver's license. Once everything has been approved, the refund will be issued through your original payment method. 
You can take back purchased items in a few ways: in-store, online, and at the Home Depot Design Center, though each medium has its own policy when accepting returns. The best method, of course, is in-store, where the receipt or valid license must be presented. You can also consider an online retail return via UPS, where someone will pick up your package for the retailer. Note that the Home Depot Design Center only accepts returns if the purchase was initially made through them.
A few notable exceptions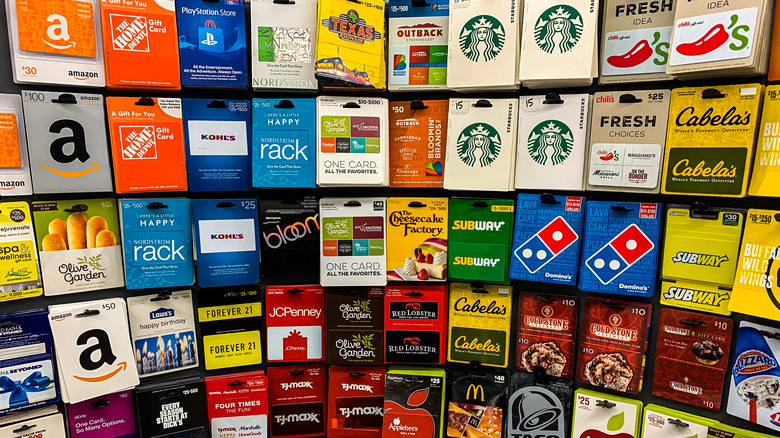 NYC Russ/Shutterstock
Like with any retail store, Home Depot has a few exceptions when it comes to returning items. Per The Home Depot, each type of product has a time limit on returns, with most being 90 days, some 30, but others are ineligible for takebacks. Items such as furniture, rugs, electronics, gas-powered equipment, and generators can all be returned within 30 days of purchase. Additionally, major appliances such as refrigerators or washing machines must be inspected before the customer accepts the product. If the product is damaged, the shopper should call the customer service line within 48 hours. Most paints also have a 30-day return window.
Any item purchased at the Home Depot Design Center is eligible for return within 90 days, no matter the payment method used. Hazardous materials such as lawn mowers, leaf blowers, or other items that use flammable gasses and liquids must be taken to a Home Depot store. Most plants have a one-year return policy depending on the species. Items that cannot be returned or refunded for any reason include gift cards, product samples, custom products, cut flowers and floral arrangements, utility trailers, generators, and labor services. To learn more, request a copy of The Home Depot's return policy in-store or online.