25 Fixer Upper-Inspired Design Tricks To Live By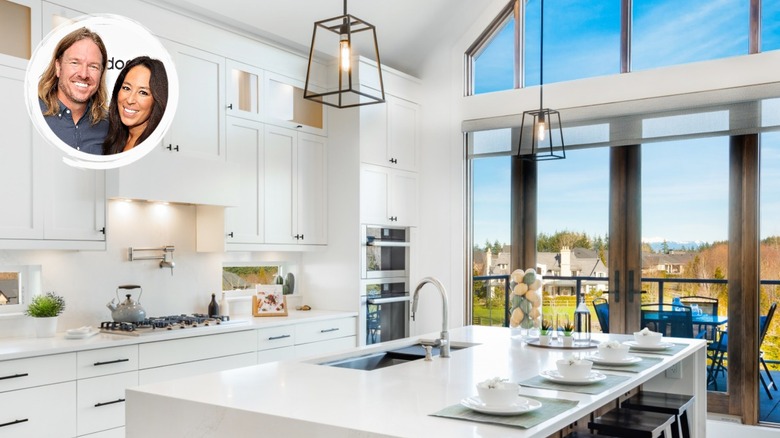 Cindy Ord/Getty & Sheila Say/Static Media/Shutterstock
Looking for design inspiration? Former hosts of HGTV's "Fixer Upper," Chip and Joanna Gaines have some tricks up their sleeves worth discovering. From a successful home renovation show to online home/design store, including various publications, the husband-and-wife team have built a foundation through the success of their Magnolia conglomerate. Since 2003, the home reno-design duo has achieved the professional know-how when it comes to both home makeovers and interior design. Made famous from their former home renovation show, which aired for five years (2013 to 2018), Joanna and her husband Chip have helped clients fix up their old houses into new dream homes. Coming from Texas, much of the couple's style is modern farmhouse focused with their ability to combine both chic and vintage pieces using a variety of textures, wood, and décor, per Decorilla Design.
A fixer-upper is generally a property that needs improvement either by reconstruction or redesign. Sustaining their belief in home, the Gaines have founded contemporary design from fundamental pieces to antique finds, while they showcase their talents to help others. If you want to incorporate quality interior design in your everyday living, explore these 25 design tricks inspired by the original fixer uppers.
1. Timeless touches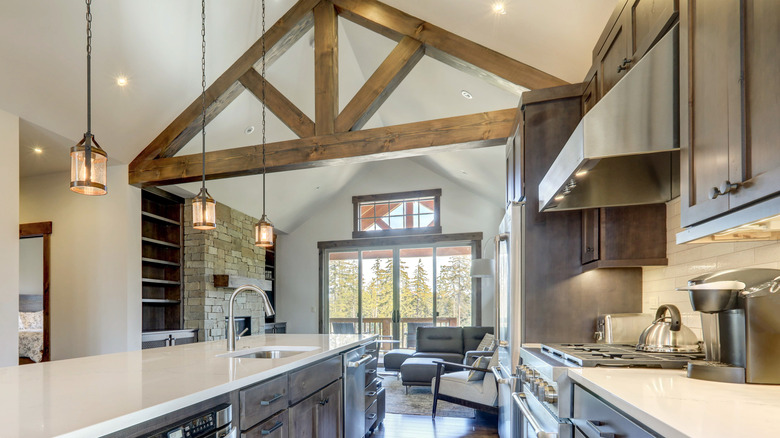 Shutterstock
Whether it's a bright pop of color, an essential piece of furniture, or enhancing the original details of your home, it's completely up to you which element might best bring out your story. These authentic gable-style wood beams make a statement over the neutral palette within this kitchen and living space.
2. Build with shiplap
Hendrickson Photography/Shutterstock
Commonly used in traditional farmhouses, shiplap is often a white wooden board style siding that can be installed to brighten spaces like a mud room, entryway, kitchen backsplash, or accent wall. Originally used to build barns or sheds, the technique also works well on interior walls and ceilings. See it here on the back wall and staircase.
3. Wrought-iron fixtures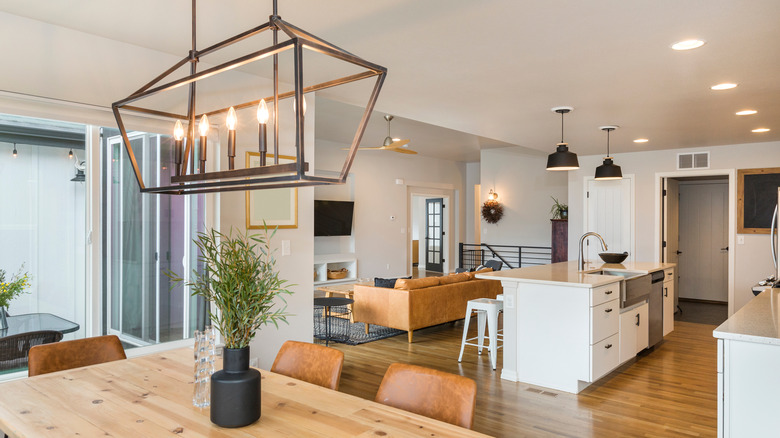 Neil Podoll/Shutterstock
Decorating your home with industrial, wrought-iron light fixtures is a Gaines staple. There are two different types within this image, a simple farmhouse style with a candlelight row in the foreground and two industrial dome lights in the background. Their dark features contrast well with white as they reflect both a modern and old farmhouse appeal.
4. Dressed in white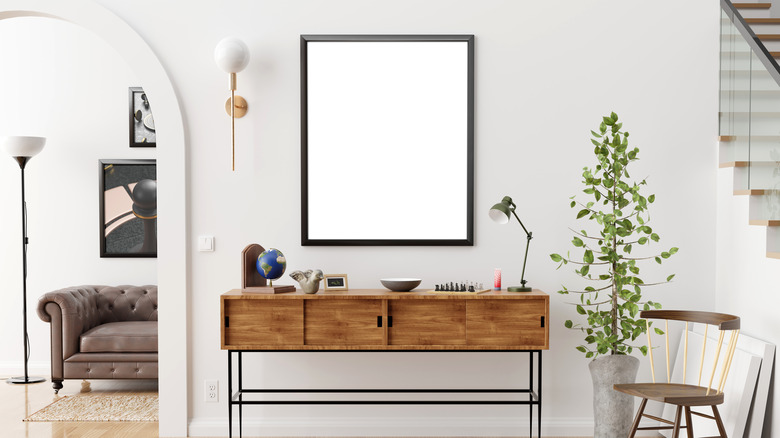 ezps/Shutterstock
Pure and clean, paint your interior walls white. An elegant whitewash throughout the home balances a classic Gaines-inspired look. Although there are many colors of white to choose from, you can see in this photo how all the other pieces of the home contrast well with the plain walls and stairwell.
5. Restore original elements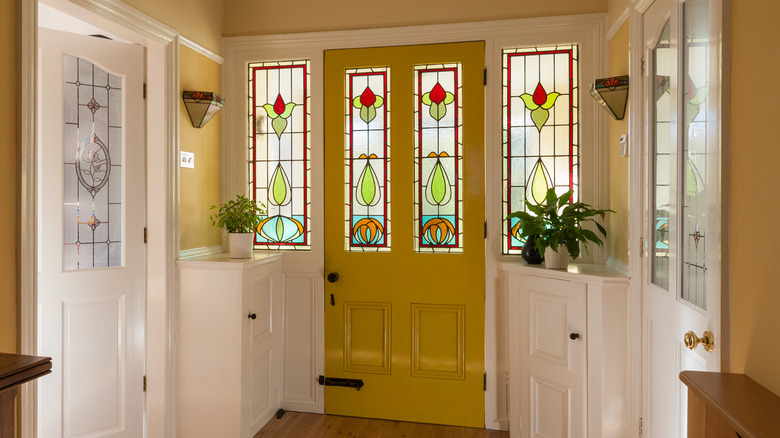 JSvideos/Shutterstock
What gives your home character? It might be a stained-glass window, antique fireplace, or unique doorway or railing. Whatever it is, these kinds of features are worth salvaging, as they evoke a focal point and personality within your home. Pictured here, the enchanting stained-glass pieces displayed throughout the doors and windows are both fascinating and charming.
6. An inviting porch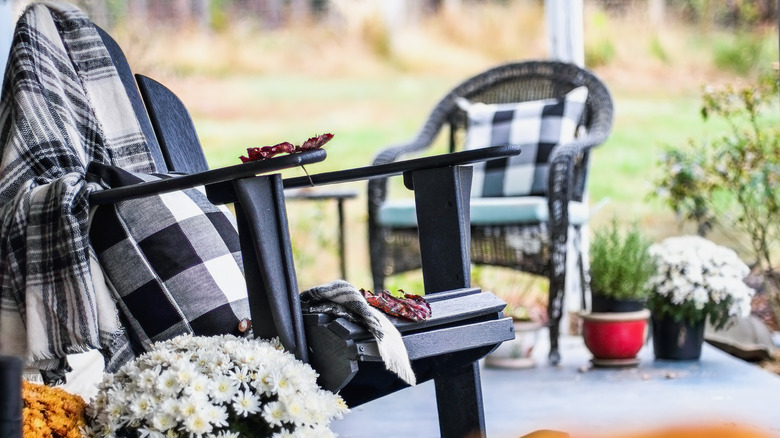 Stephanie Frey/Shutterstock
There are many ways you can spruce up the entrance to your home. Doing it "Fixer-Upper" style you might add flower boxes, give the front door a fresh color (like red), or establish an inviting sitting area with a porch swing or chairs. This porch appears cozy and inviting by the choices of chairs and friendly plants. 
7. Buy more antiques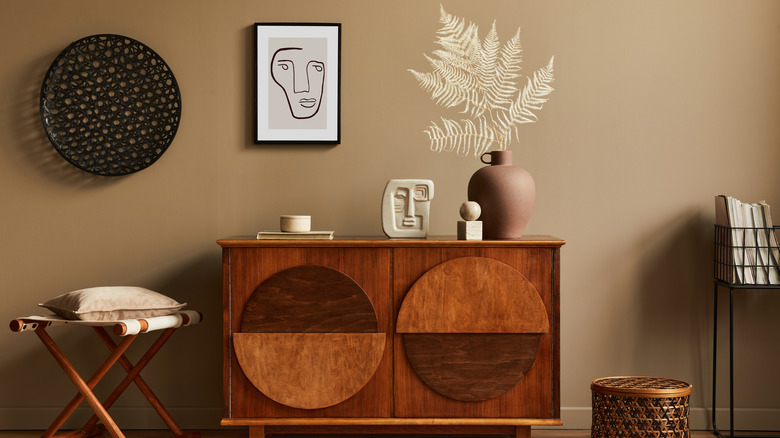 Followtheflow/Shutterstock
Implement old, one-of-a-kind flea market finds into your spaces like artwork, a rustic candelabra, a piece of furniture, or décor items like a clock or picture frames. Discover the object's story, as it can inspire an entire room like this wooden commode-style dresser that appears both vintage and contemporary.
8. Exhibit your books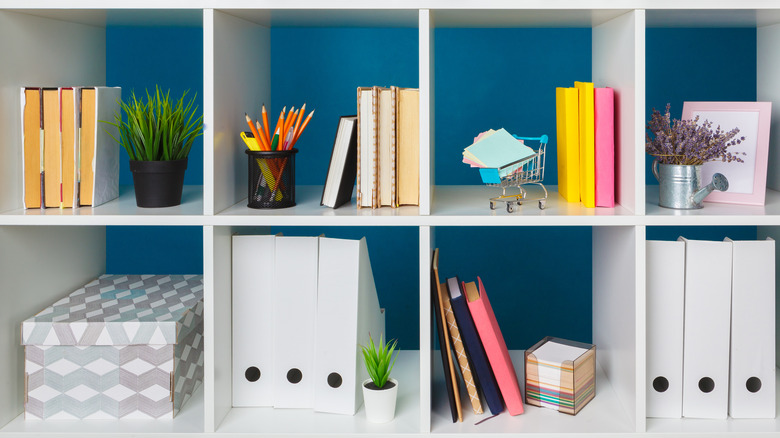 united photo studio/Shutterstock
Books aren't just for reading; stories excite our imaginations and remind us of who we are just by looking at them. Whether vibrant or neutral, old or new, you can arrange a particular set of books in various decorative ways and places. A few books are neatly displayed here in a home office with built-in shelving.
9. Sleek subway tiles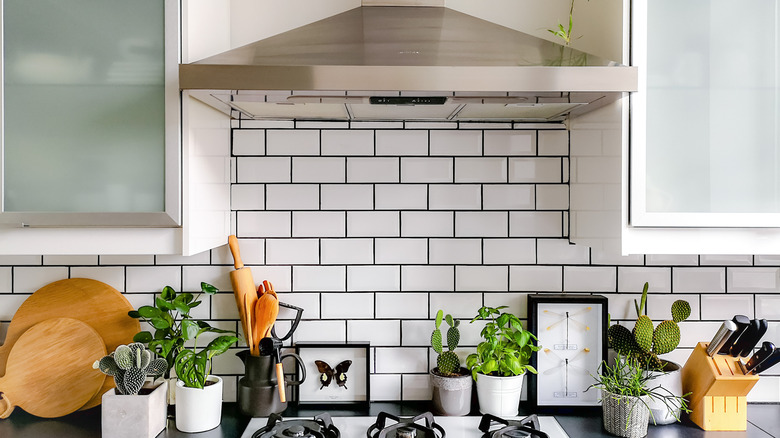 Luoxi/Shutterstock
Known as easy to clean, white subway tiles offer a fresh and sleek look for your kitchen or bathroom. Originally implemented in the early 20th century's rail system, the immaculate look is often associated with modern farmhouse designs. This classic backsplash features dark grout for a crisp contrast, though you might experiment with other colored tiles or grout.
10. Dining room chandeliers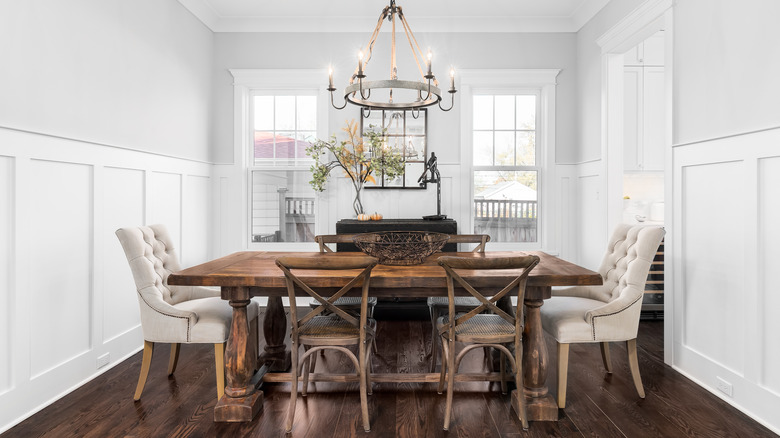 Hendrickson Photography/Shutterstock
You'll see many of the Gaines' interior designs feature an eye-catching chandelier in the dining room, as the light naturally draws focus to the table. This candelabra style is fixated straight above the wooden table while complementing mismatched chairs for a chic and rustic aura. Wrought-iron pieces would define it as farmhouse while crystal is more fanciful.
11. Black adds drama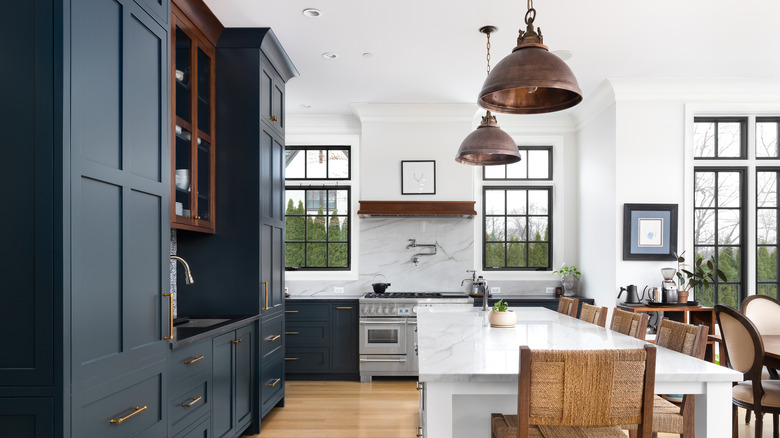 Hendrickson Photography/Shutterstock
Add depth without going overboard. Black adorns various pieces or walls well if the room remains light and open. While sometimes using other black accents, this "Fixer-Upper" style offers both a clean look and an undeniable focal point amidst a modern farmhouse style.
12. Discover authentic pieces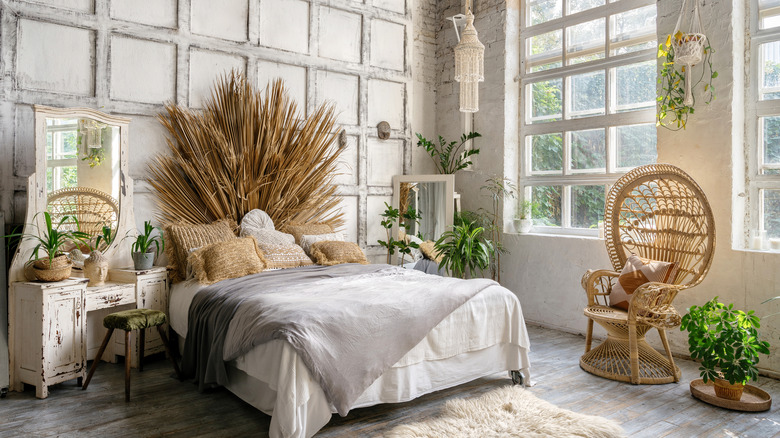 brizmaker/Shutterstock
When decorating your home, it's best to leave spaces be until something feels right to fill them. Wait for it and let decorating become an organic experience in the process of establishing your sense of style. While this bedroom appears eclectic, it still resembles a similar sense of design within the neutral palette and décor.
13. Vibrant accent walls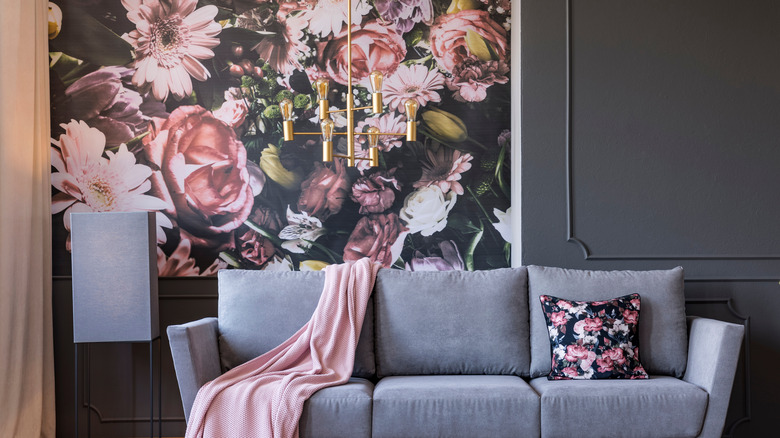 Photographee.eu/Shutterstock
Sometimes prints that appear too busy or intense may stand out better on an accent wall or space. Whether it's papered, painted, or stick-on, your favorite images can be showcased in a particular area while the adjacent portions are kept basic. This gorgeous floral pattern enhances the colors and tone of the aesthetics in the room.
14. Powder room wallpaper
The key to utilizing wallpaper is to display big and bold patterns within smaller rooms and spaces like a bathroom, powder room, or closet. The Gaines' method also emphasizes that the large images should exist within the design to graphically magnify the space. Seen above is a lovely Moroccan-style motif that decorates the vanity backsplash.
15. Floor coverings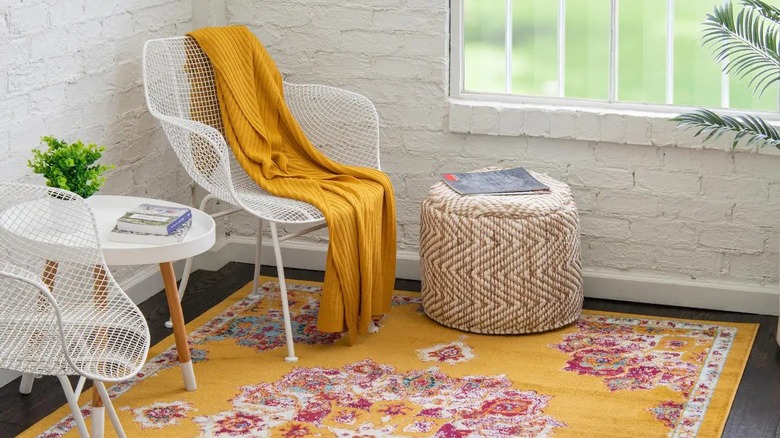 DesignStock09/Shutterstock
When it comes to area rugs, runners, and other floor coverings, consider your personal style before you begin. From colors to designs, decide on something that corresponds with the rest of the intended space while still motivating you. You might consider bohemian, modern, traditional, or geometric which appears above in a lovely yellow Indian-style design. 
16. Alternate your accessories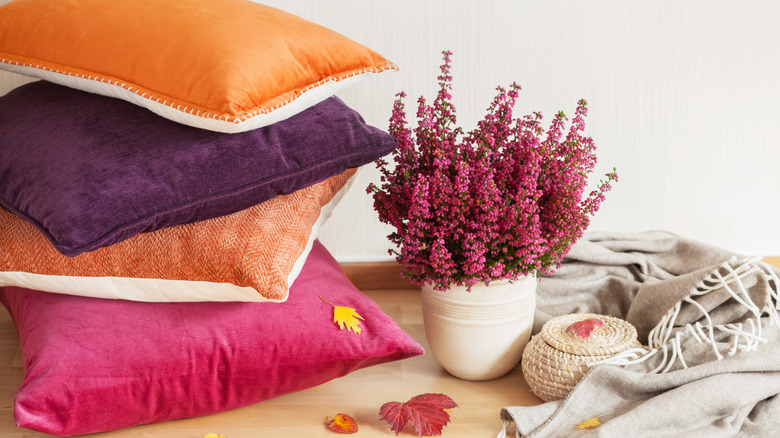 Olga Miltsova/Shutterstock
Change out accent pieces that coincide with your evergreen furniture and décor like pillows, rugs, throws, or other decorative items. As seen in this picture, you might enrich the autumnal season with these inspirational colors of magenta, orange, purple, and red. Keep them on through the fall or change out when you're ready to retire them.
17. Church pew benches
A superb area to rest yourself while you take your boots on and off, a church pew poses as a spacious family-sized bench. In pure Gaines' fashion, wooden pews are the perfect size and length to place in an entryway, foyer, or even alongside a table. This wooden church pew is handcrafted with simple and rustic charm.
18. Exposed shelves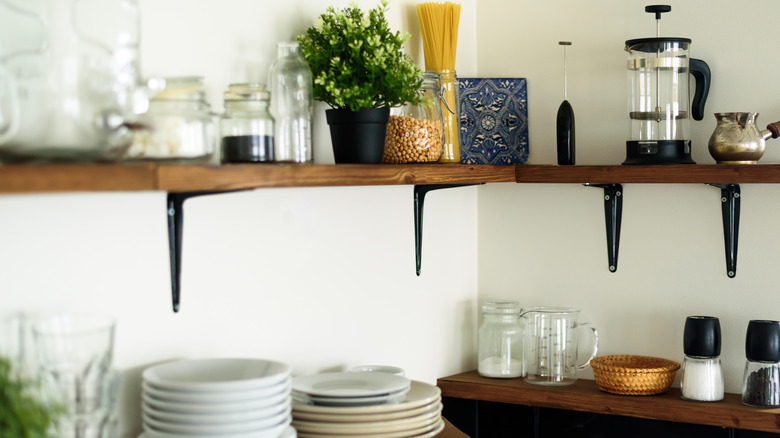 Tatyana Aksenova/Shutterstock
Open shelving may force you to stay organized, but it's also a great way to keep the fundamentals handy, especially in the kitchen. While opening your interior setting, exposed shelves can showcase your finest pieces. Benefits also include not having to repeatedly open and close those cabinet doors as seen here with daily essentials at the ready.
19. Create focal points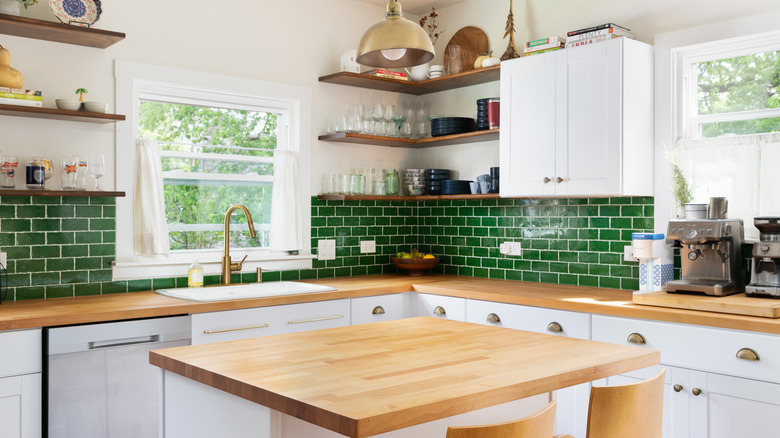 Hendrickson Photography/Shutterstock
With large spaces like the kitchen or living room, a "Fixer-Upper" staple is to create a focal point. Whether it's a stimulating wallpaper, a wood-beamed mantel, or show-stopping décor, don't be afraid to center it. Color can enhance this technique like the vibrant green subway tile seen above, which takes full precedence in this kitchen's backsplash.
20. Define open concepts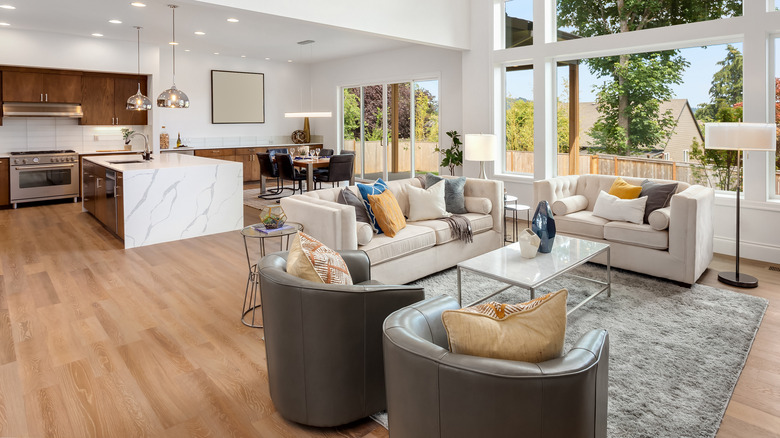 Breadmaker/Shutterstock
It's important to divide and conquer large yet separate living spaces such as the kitchen, living, and dining areas. Distinguish these zones better by utilizing light fixtures and rugs for one big floor plan. Here is an open concept with rugs situated in the living and dining rooms with specified dome and recessed lighting in the kitchen.
21. Decorate with greenery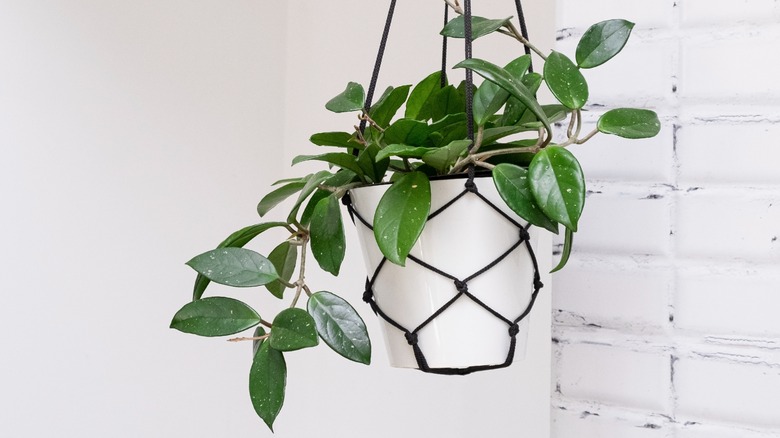 Irina Zharkova31/Shutterstock
While plants add life to your home, keep it simple. Some of Joanna Gaines' favorites are hoya, olive trees, and the low-maintenance snake plant. While olive trees are modest and green, this hoya houseplant has a running vine that may bloom lovely clusters of with pink flowers.
22. Inspiring floral arrangements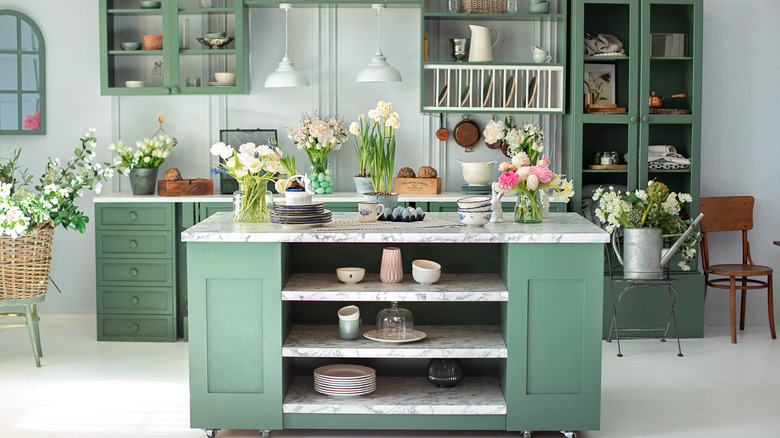 stock_studio/Shutterstock
Inspiration can start with a freshly cut bouquet of flowers. From roses to succulents, you'll find a variety of lovely floral arrangements inside a "Fixer-Upper" home. Whether minimal or robust, from your own garden or a local florist, you can bring a variety of floral arrangements together as seen in this rustic farmhouse kitchen.
23. Incorporate natural light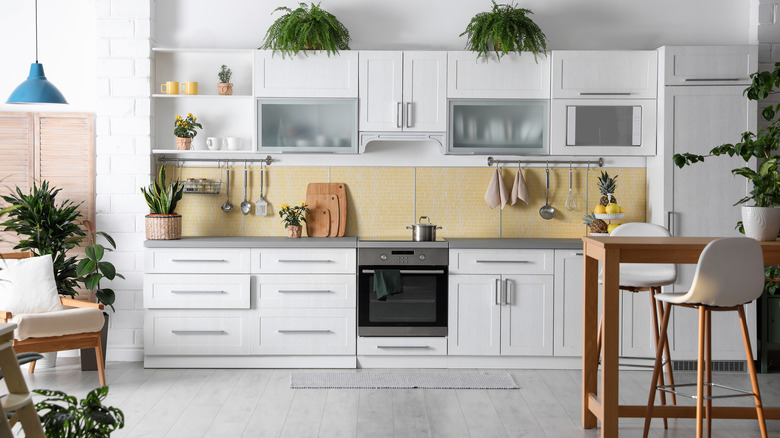 New Africa/Shutterstock
Not only does applying natural light save on energy costs, but it can also lift your mood, while keeping you productive and content. In the past, the Gaines have gone to great lengths to install new windows where more natural light was needed. This kitchen looks bright and airy with the outside light coming through the windows.
24. Sophisticated playrooms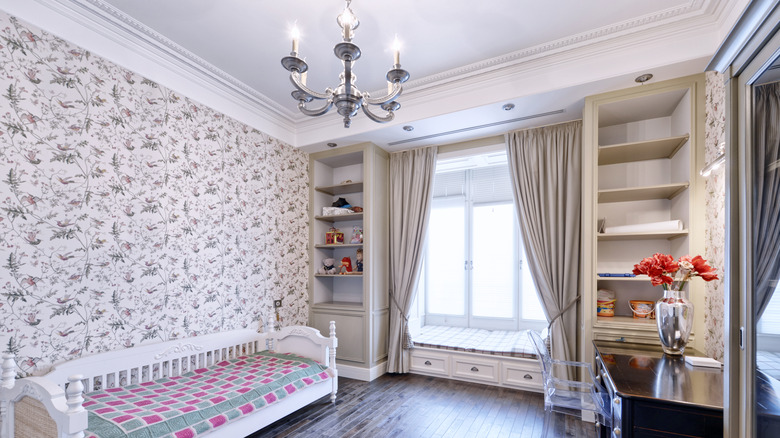 Vadim Ovchinnikov/Shutterstock
Don't shy away from the idea of refined décor for your kids' game or playrooms like with Joanna Gaines' love for stylish chandeliers. The furniture should change as your children grow from baby to adolescence. Here's a toddler's room with chic potential with a gothic-style chandelier and elegant curtains. 
25. An ideal workspace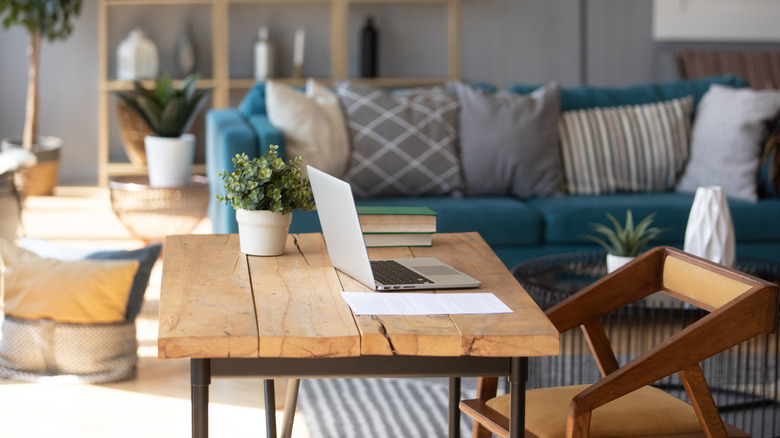 fizkes/Shutterstock
With many people working remotely these days, it's important to designate a space or room for an at home office that displays your personal style and comfort. Surround yourself with décor, furniture, and plants that support your daily work routine, including plenty of natural light like this quaint work space.