20 Ideas To Transform Your Outdated Basement Ceiling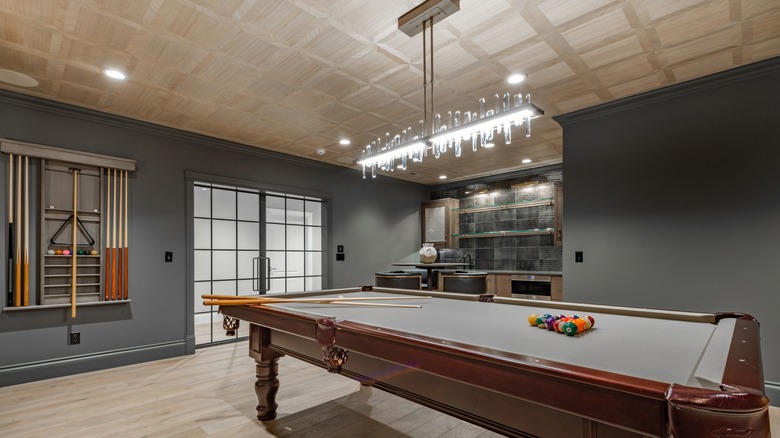 Sheila Say/Shutterstock
The basement is the perfect space to add a game room, family room, home theater, or home gym. Unfortunately, many people overlook this space for a number of reasons. Maybe the basement isn't finished, doesn't have adequate lighting, or houses a spooky story. Some may feel that theirs is too cold or induces claustrophobia. For others, their basement may be outdated and in desperate need of a refresh.
If you're not using your basement space, you may want to think about why. Do any of the above reasons apply to you? If the area is dark, cold, or outdated, updating your ceiling may be the transformation that your basement needs. According to Matrix Basement Systems Inc., revamping your basement ceiling can cause it to be brighter and more attractive while potentially making it soundproof and easier to clean cobwebs. Here are many ways you could transform your outdated basement ceiling.
1. Add a fresh coat of paint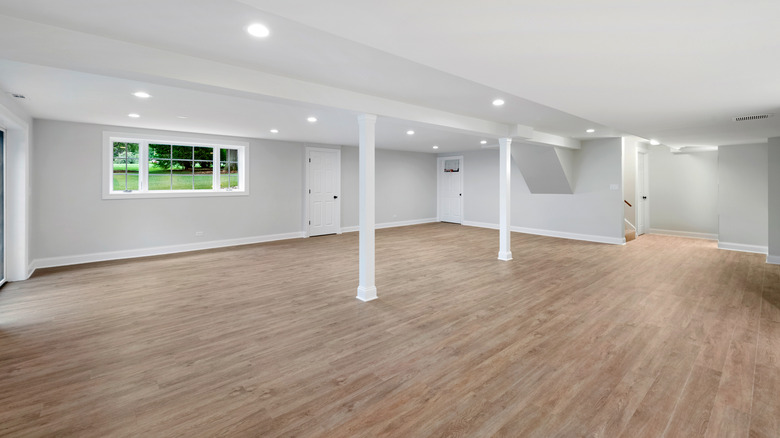 Rob Painter/Shutterstock
Adding a fresh coat of paint to your basement ceiling can do more than you might think. Roof leaks can cause your ceiling to become discolored, so regularly adding a new coat of paint can keep your space looking clean and fresh. Most ceilings are painted white because white makes a room feel larger.
2. Give it bold color
However, you could also choose to paint your basement ceiling a bold color. To create a cohesive look, paint it the same color as the walls. Or, you can add contrast by giving the ceiling a darker color than the walls, though such shades will make the space feel smaller. However, if you want your basement to feel cozy, maybe for a home theater or a game room, a bold ceiling can make it feel more inviting and warm.
3. Remove the popcorn ceiling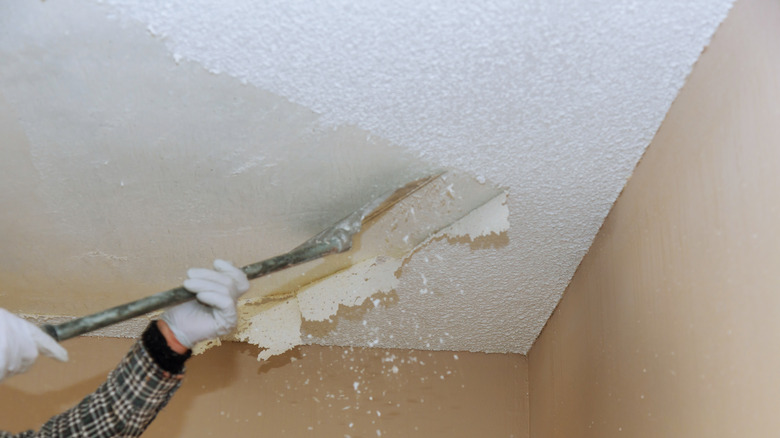 ungvar/Shutterstock
Another way to update your basement ceiling is by removing the popcorn ceiling. Popcorn ceilings were popular a number of years ago but have now gone out of style. These textured ceilings can significantly age your basement space. If removing your popcorn ceiling sounds like a nightmare, you could also cover it with wooden beams or tiles.
4. Install crown molding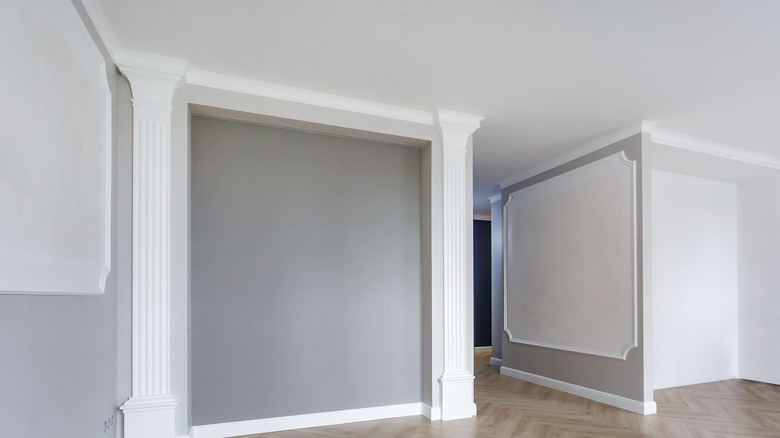 jantsarik/Shutterstock
To give your basement a luxurious and classic makeover, you could install crown molding around the ceiling. This small detail in your basement will make the room appear complete since modern crown moldings typically elevate spaces. Also, painting your crown molding a bright and fresh white color will make the area feel clean and new.
5. Update the ceiling fan
Ursula Page/Shutterstock
An old ceiling fan will also considerably age a basement space. If you have an older fan, consider replacing it with one in a modern style. If you don't currently have a ceiling fan in your basement, you may want to think about installing one. Not only will a ceiling fan transform the appearance of the space, but it will also allow for better airflow and less humidity. 
6. Replace the light bulbs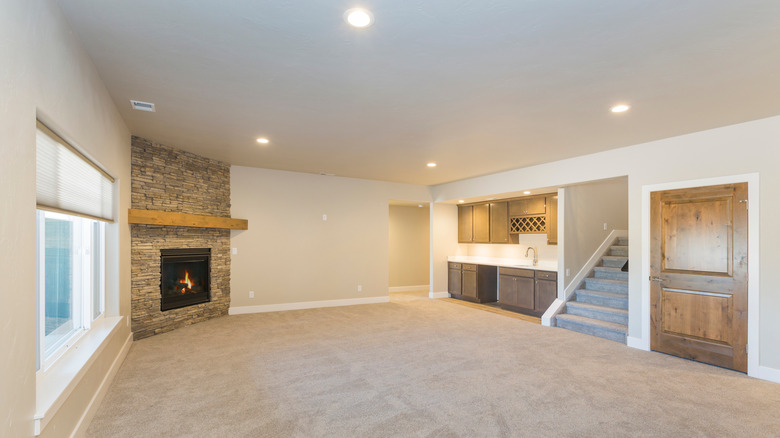 Neil Podoll/Shutterstock
An easy way to refresh your basement ceiling is by replacing the light bulbs in recessed light fixtures. The light bulbs you choose can greatly impact your basement. A cooler, blue light bulb will add lots of light to your space and make it feel clean. A warmer, yellow light will make the area feel more inviting and comfortable. The purpose of your basement will also impact what light bulbs you choose to install.
7. Add exposed wooden beams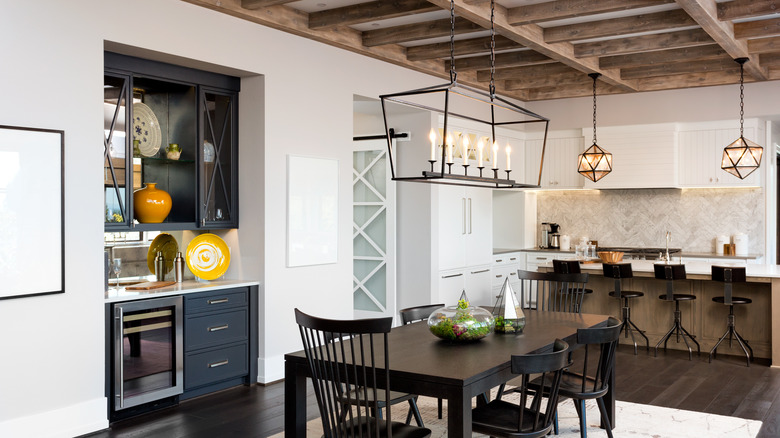 Breadmaker/Shutterstock
If you want to elevate your basic white basement ceiling, you could think about adding exposed wooden beams. Wooden beams will carry the eye up and add interest to your ceiling. Lighter wood beams, like in the case above, are great in modern-style homes. You could use a darker wood tone to add extra warmth and a rustic feel.
8. Update drop ceiling panels
If you want to freshen your basement space and you have drop ceiling panels, consider updating them. Drop ceilings are common in basement spaces and are a safe choice of ceiling material. However, the panels can become stained from leaks or mold over time. Replacing aged-looking panels in your drop ceiling will make your space appear cleaner.
9. Create a coffered ceiling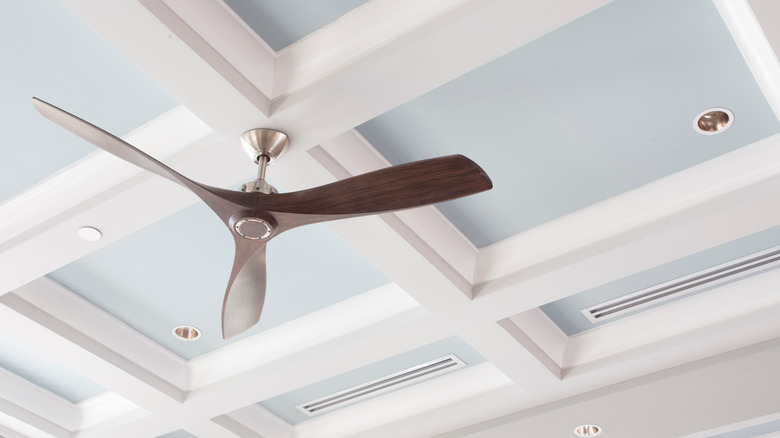 PabloOrtega09/Shutterstock
Coffered ceilings have a classic look and feel, and they also draw the eye up because they create lots of interest in the ceiling. Adding a coffered ceiling to your basement will really transform the space. To add an extra personal touch, you could paint the panels between the beams differently, as in the case above.
10. Install warm wood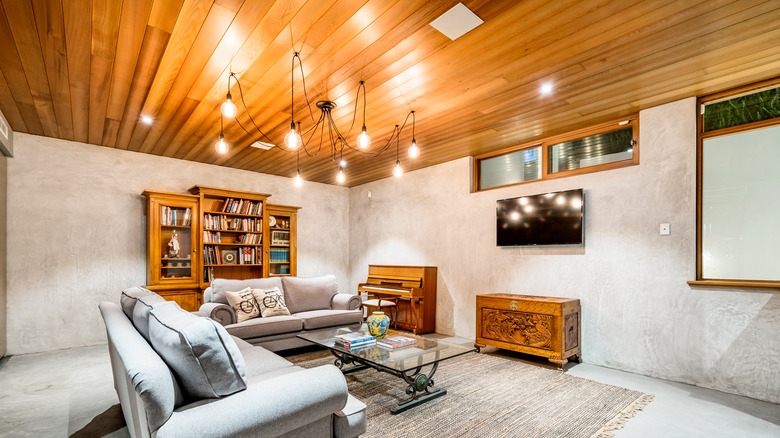 bmphotographer/Shutterstock
For a unique basement ceiling, you could install warm wood panels. This may make your space feel smaller, but it will also create an inviting and snug feeling. A warm wood ceiling would be great in a farmhouse, rustic, or cabin-style home. Adding warm wood furniture that matches the updated ceiling will also make the space more cohesive.
11. Embrace a light-wood tone
You could add a wooden ceiling using light-toned wood planks for a more modern look. This will still add lots of interest to your space but less warmth because the wood is of a cooler tone. This style would be great in an industrial-style home — as pictured above — because it looks fantastic with exposed bricks and dark walls.
12. Add a dark beam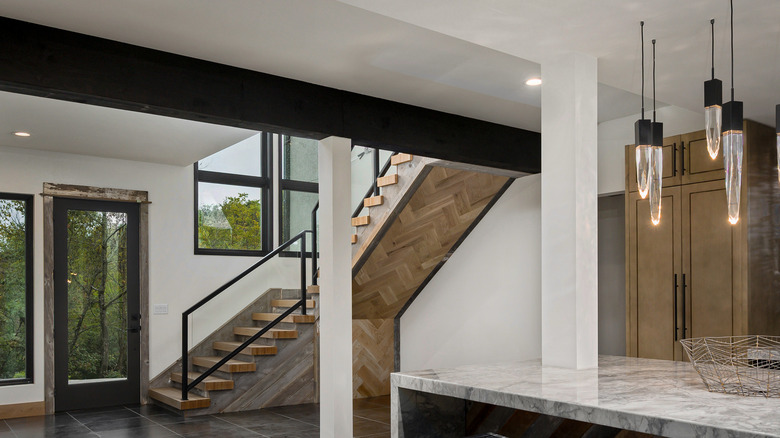 Samantha Ward/iStock
If you are looking for an easy way to add more interest to a white basement ceiling, think about adding one long dark beam to your space. The dark beam will create a nice contrast with the white ceiling. It can also separate an open floor plan if you want to create different zones in your basement space.
13. Transform the space with pendant lighting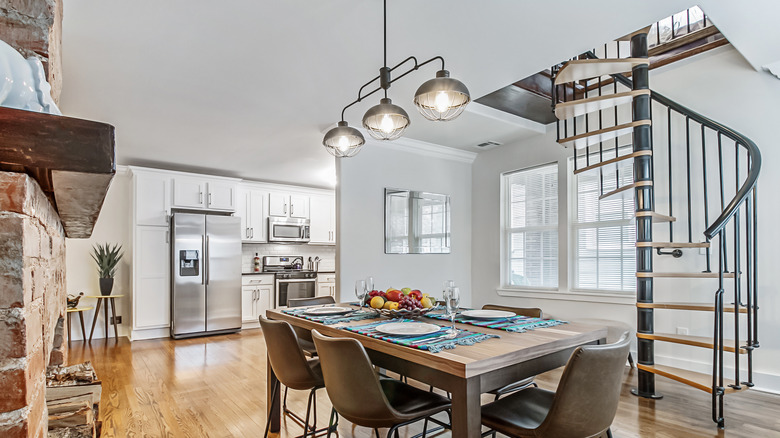 C Woods Photography/Shutterstock
Suspending pendant lighting from the basement ceiling will transform your basement. This industrial-looking pendant lighting hangs over a dining room table in the area. Pendant lighting could still be a great idea even if you already have recessed light fixtures in your basement ceiling, and it will add extra light and character to the space. 
14. Add unique lighting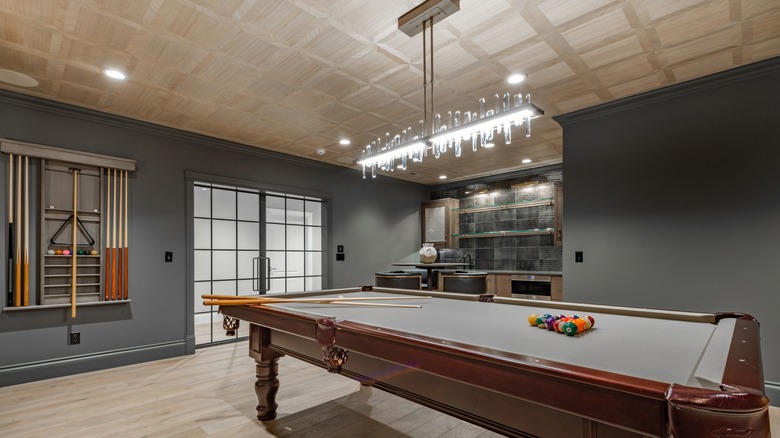 Sheila Say/Shutterstock
Instead of opting for pendant lighting, you could add an attractive light fixture to your space, like a unique chandelier or other light fixture. This basement game room has a distinctive glass light fixture suspended over a pool table, acting as the room's main focal point. It also adds a much–needed light and character to the space.
15. Update bar lighting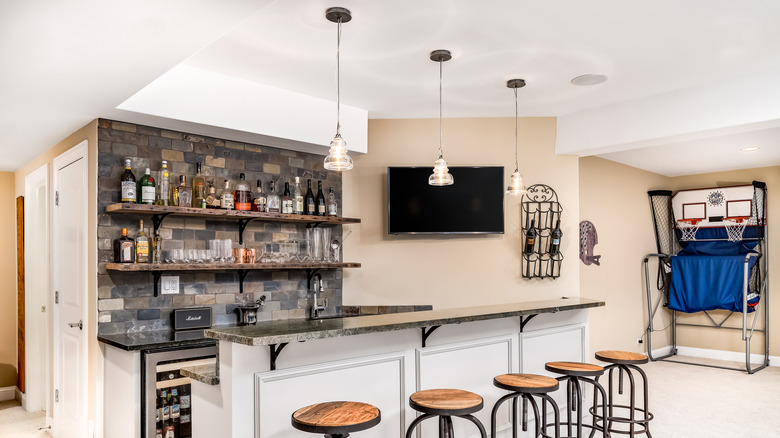 Hendrickson Photography/Shutterstock
If you're fortunate enough to have a kitchen or bar area in your basement, updating the lighting above the island can also be a great way to transform your basement ceiling. Many times, lighting in the basement is overlooked, and it typically consists of basic recessed light fixtures. Add pendant lights above your basement island or bar area to add more visual interest to the space.
16. Add two wooden beams and posts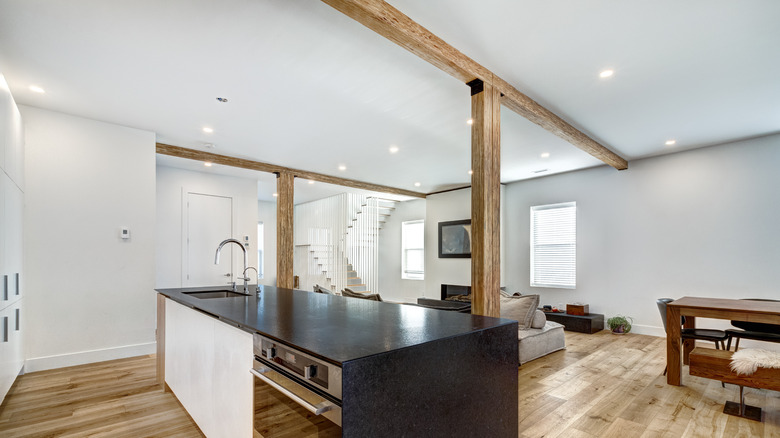 Anatoli Igolkin/Shutterstock
Instead of completely covering your ceiling with wooden planks, you could add only two beams and posts. Installing two beams will make them the focal point of the ceiling and make your space less cluttered since it won't be covered entirely in wood. It is also a great way to add warmth to your basement space without making it feel smaller.
17. Add a suspended ceiling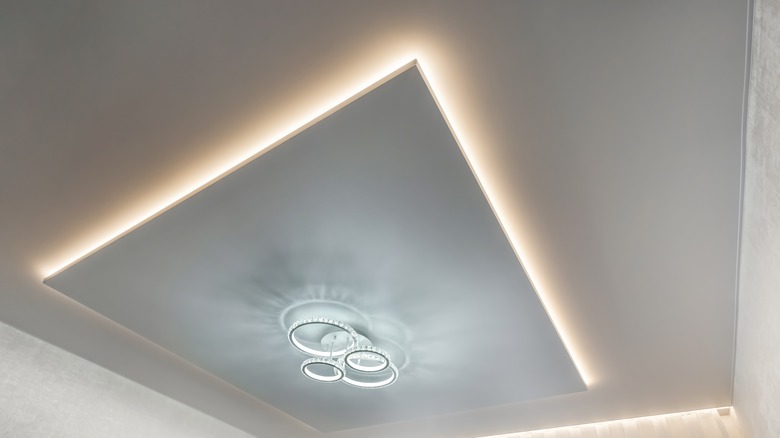 jantsarik/Shutterstock
A suspended ceiling can be added to a basement space where one portion of the ceiling is lower than the rest. This is an excellent idea for those who want to add an interesting light feature to their space, as you can have light radiate out from the suspended ceiling panel. This ceiling looks modern and would be great for a home theater.
18. Paint the trim a darker color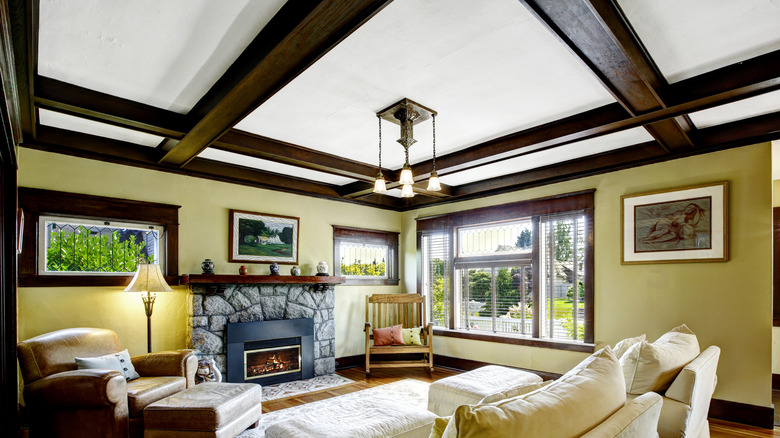 Artazum/Shutterstock
Painting the trim on your ceiling a darker color can make a white or light-colored ceiling pop. This space has a coffered ceiling with dark wooden beams. Painting the frame with a dark tint and leaving the rest of the ceiling white can create an interesting contrast. Dark trim adds character to a space without overwhelming or making a room feel smaller.
19. Install a tray ceiling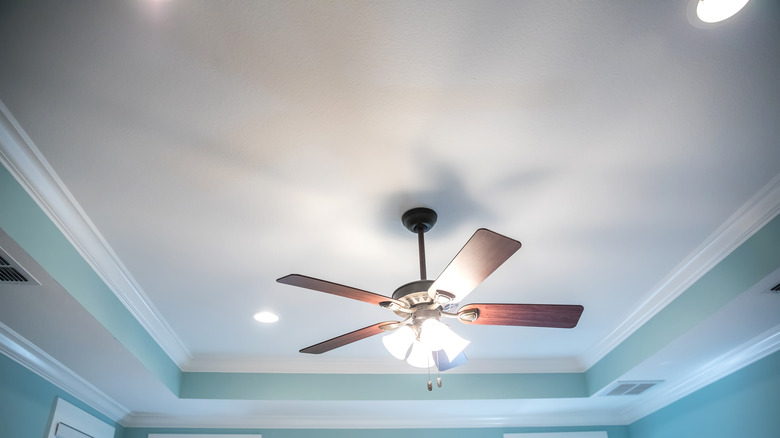 Ursula Page/Shutterstock
The opposite of a suspended ceiling, a tray ceiling, is when a portion of the ceiling goes inward. A tray ceiling may make the space feel larger and more open when added to a basement. You can personalize a tray ceiling by painting the area around the base a different color, as in the image above. Or, add strip lights to the sides of a tray ceiling for more fun lighting.
20. Add lighting to a cement ceiling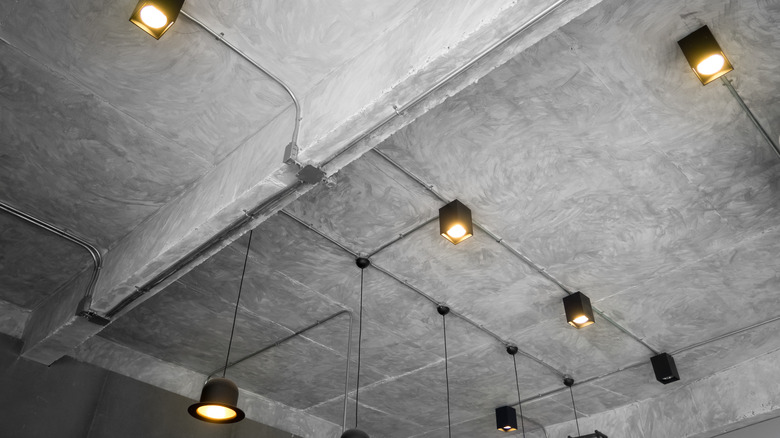 Pacharawan/Shutterstock
If your basement has a cold cement ceiling, you could always cover it up. However, an easier way to update the ceiling is by adding warm light sconces. This look may work exceptionally well in a rustic or industrial-style home. The balance of cool concrete with warm lighting will add interest and personality to your space.