Francesca Grace From Fix My Flip Shares The Best Tips For An Eclectic Vintage Look
There was a time when virtually all you saw were chic, minimalist homes with sleek, modern lines, neutral colors, and little to no ornamentation. While there's nothing wrong with that look if that's the aesthetic you truly enjoy, nowadays, more and more designers are stepping outside the box and embracing an eclectic vintage look. This means they're swapping out those neutral pieces for items with a bit more flair, incorporating vintage finds and unique patterns and textures in order to create a space full of visual interest. While this aesthetic may have certain characteristics, as Masterclass explains, it's also highly individual and can be tailored to your exact preferences — and the unique pieces you find.
However, if you've been hesitant to embrace the eclectic vintage aesthetic for fear of transforming your home into a chaotic mix of things that really just don't go together, fear not — interior designer Francesca Grace, who HGTV fans may recognize from the show "Fix My Flip," has a few tips for pulling the look off.
The first is simple — as Grace advises Realtor, make sure you're mixing style and function. After all, no matter how many gorgeous vintage chairs you find and artfully place throughout your home, they won't do you any good if you have nowhere to comfortably sit. Bring elements of style into your functional pieces by selecting fun fabrics, such as textured plush upholstery or velvet for a big piece like a sofa, as Grace once did in a West Hollywood condominium.
Have a clear point of view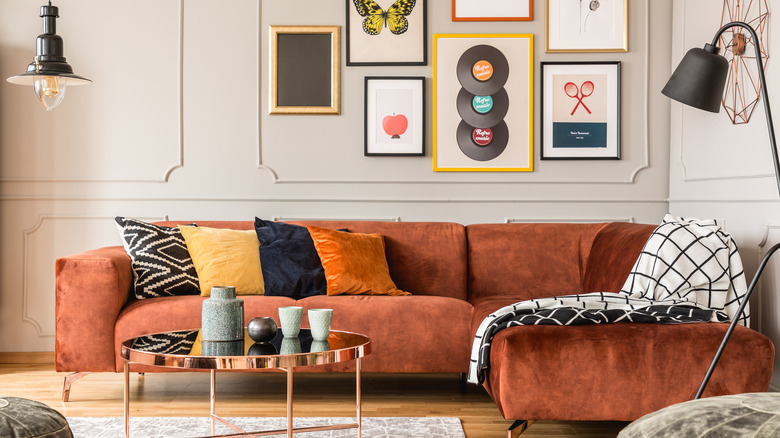 Photographee.eu/Shutterstock
At first glance, many eclectic vintage or maximalist spaces may not seem to have any kind of unifying thread. They're often a riot of different shapes, colors, patterns, and even eras, all mixed into one. However, if you more closely analyze the spaces that seem to work and the spaces that seem to be a jumbled mix of disparate pieces, you'll see one thing the successful spaces have in common — they have a point of view. This is a key thing to consider when planning an eclectic vintage space, Grace tells Realtor.
This doesn't mean you have to go all "matchy-matchy" with your selections or even restrict yourself to a certain palette, era, or pattern. Instead, you just need to have certain themes or unifying elements. For example, in a space Grace designed, she wanted the entire home to have a theme of "organic movement." To achieve this, she selected furniture pieces throughout that had natural curves. You could opt for pieces that have a rustic feel, no matter the era, or repeat geometric shapes like triangles or circles — the options are endless.
Retro Den advises trying to repeat colors and patterns for a cohesive home. This doesn't mean restricting yourself — you can embrace the eclectic feel while adding some unity by using hues from the same color, such as shades of blue from light to dark, with a variety of different patterns and textures.
Find statement items to take center stage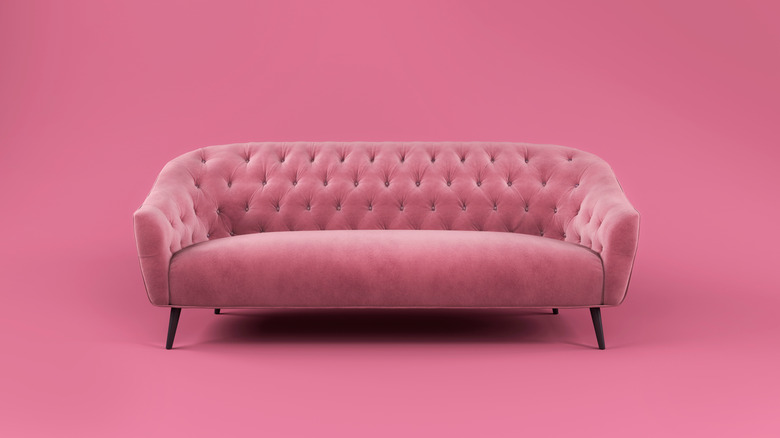 Arkhipenko Olga/Shutterstock
If you're trying to cultivate an eclectic vintage home, chances are you're not just buying every single element at your nearest home decor retailer. You likely love the thrill of the chase and enjoy looking through thrift stores, flea markets, or antique stores in order to find those truly one-of-a-kind pieces.
Perhaps you collect a certain type of item, and you want to display that collection throughout your home. Maybe you're a huge art lover and add a piece or two from local artists in your area every year. Or, furniture might be your thing, and you may be constantly on the hunt for unusual end tables or chairs to place throughout your home — the older, the better.
As Grace tells Realtor, you definitely want to select items that really reflect your own interests and style. You also don't want those incredible pieces to get lost amidst all the other decor, so find ways to really highlight and allow them to take center stage. This may mean clearing some of the clutter off a shelf or credenza so that you're allowing a certain piece of art to really be the focal point, or it could even involve rearranging your furniture in order to better display an unusual side table or chair. After you went through all that effort to find a particular show-stopping piece, you don't want it to just disappear amidst the other decor elements in the space.