We Tried The Cheapest Rubber Gloves At Home Depot. Here's How It Went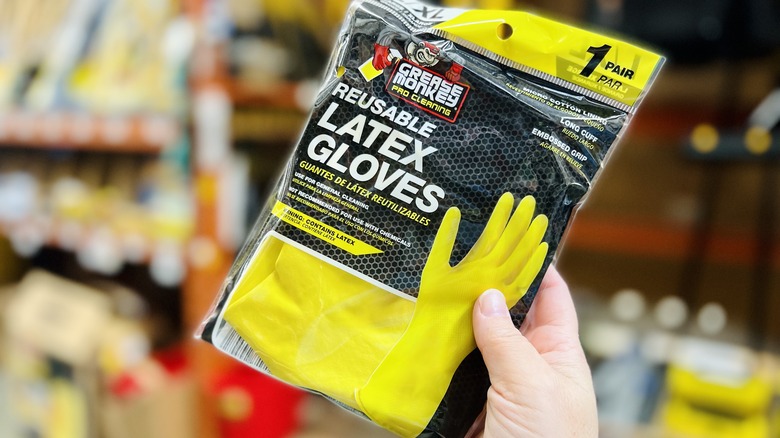 Sandra Lee/House Digest
Rubber gloves are one of the most-used cleaning products of the household, and for good reason: Expert Home Tips notes that gloves help to create a barrier between your skin and other elements, protecting it from whatever chemicals or work you are doing with your hands. With gloves on, washing dishes doesn't dry out your skin, manicures stay on longer, and you can prevent infections caused by coming into contact with germs.
With multiple purposes from tough cleaning to gardening, almost every home has a pair of gloves stashed in a drawer somewhere. Options start from those that are simple and only cost a few dollars, and go all the way up to customized gloves that can run pretty high in price. With so many reasons to use them (there is a reason home dye kits include gloves), we had to try some out. To that end, we went to our local Home Depot and bought the cheapest rubber gloves we could find to see if they could hold up to the standard of a household essential.
The cheapest rubber gloves at Home Depot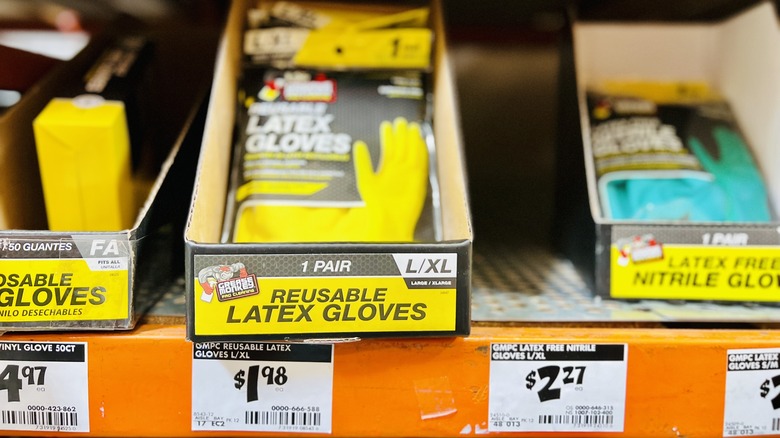 Sandra Lee/House Digest
Walking into Home Depot, it took some searching to get to the right aisle, and while there were sale stands and end caps with gloves, we wanted to get to the spot where we would have the most options to choose from. The section was tucked towards the back of the store next to the cleaning tools and supplies. We decided to focus on the price point and find the cheapest rubber gloves the store had to offer. At a cool $1.98, we came home with a winner.
The gloves are made by Grease Monkey – and they claim that their products can handle anything from light household cleaning to heavy-duty work — so it was interesting that the price point was so low. Grease Monkey is also a popular brand with a strong marketing campaign behind it, so we were excited to try these gloves out (instead of an off-brand pair) because they were the least expensive. The reviews are mostly positive on Home Depot, and rave about their durability, while also noting that they can be slippery and not suitable for work that requires you to feel anything intricate. We were ready to put these gloves to the test.
A multipurpose essential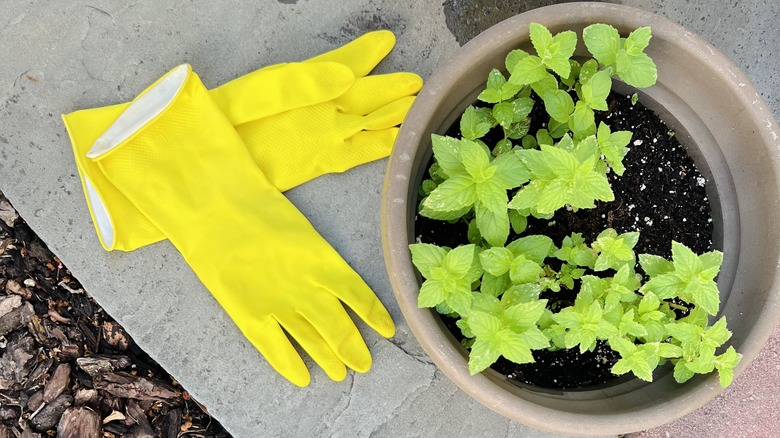 Sandra Lee/House Digest
With the gloves being under $2.00, we were a little skeptical if they would work at all, given that testing would consist of two kinds of tasks. Since there are disposable and reusable gloves for both cleaning and gardening, as well as those with grip, could these really do the job for all of the above? According to Grainger, gloves need to have the material, comfort, and fit that match the type of work you are doing.
Specifically, we wanted to see if this pair of gloves could sustain both outside work and inside cleaning. We were mainly looking for any reaction to the latex, how slippery they would be, and if they could replace gardening gloves in a pinch. We also wanted these gloves to fit properly, to be able to do the job easily without getting frustrated, and be comfortable. The testing was done while planting herbs in garden beds and washing dishes.
Did the rubber gloves exceed expectations?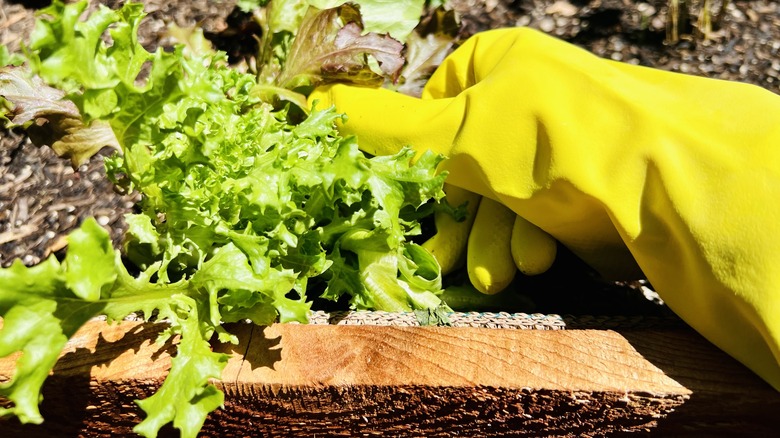 Sandra Lee/House Digest
The first thing we did was take the gloves outside for some gardening. According to 1 Stop Landscape Supply, it's important to use gloves when gardening because of possible outdoor hazards in the soil. 
While we were at Home Depot we got tomato, parsley, and lettuce plants that were ready to be nestled into some garden beds. The seed packets were difficult to open with the gloves (of course), but once we got them out planting them was simple. We also wanted to see how easy it would be to use gloved hands for pushing the dirt away to make a hole for the plant and patting it down. They worked wonderfully — there was no slippage, the grip was great, the task was easy to do, and our hands remained dirt-free.
The next step was to do some dishes and see if the gloves would hold up just as well. We didn't do anything strenuous for this test, either — we just washed a plate that had food stuck on it and loaded some dishes that needed to be put in the dishwasher. We were concerned that the gloves would slip off because of the dish soap, but that proved not to be the case when we tested them out; the gloves stayed put, and while there was a little wiggle room and they needed to be adjusted, that was nothing that would deter us from purchasing them again.
How they could be improved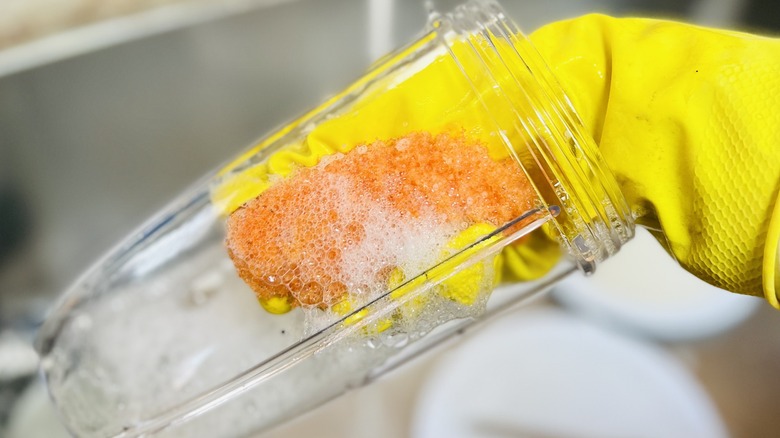 Sandra Lee/House Digest
The main negative of these gloves was the strong latex scent. Right out of the package the smell was intense, and it lingered even when washing dishes. The odor was also stuck on our hands and fingernails once we took off the gloves, so we needed to wash our hands afterwards. There was also a residue that stayed on our skin, particularly after washing dishes, that felt slightly sticky and filmy.
According to Gloves, latex gloves are usually lightly powdered (as these were as well), which is why they are easy to take off and on. That powder, however, can leave a film which can cause allergic reactions for some people. That's why latex is not great for everyone, so be aware if you're researching these gloves that they are made from that material. But in the end, while we did have to wash our hands a second time, as well as apply lotion, we did not have a reaction.
Would we buy them again?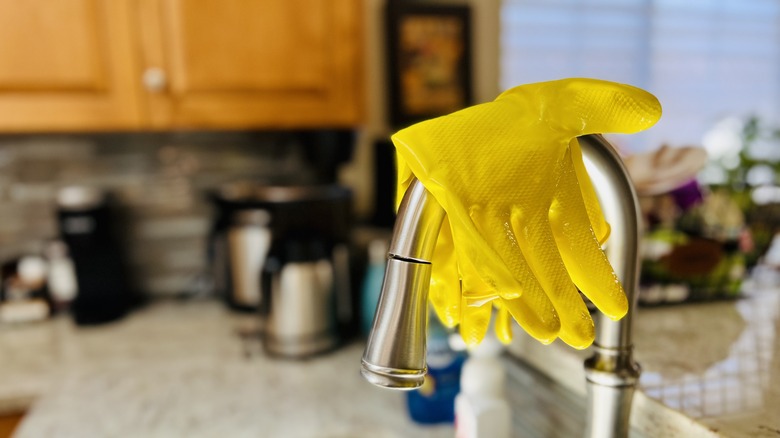 Sandra Lee/House Digest
Overall, we were very impressed by the cheapest rubber gloves that you can buy at Home Depot. They handled the task of outdoor gardening well, and held up nicely when washing dishes with soapy water. And while we didn't like the strong latex smell and the filmy residue that was left on our hands after use, those issues were by no means deal-breakers when it came to our overall satisfaction.
For $1.98, these gloves from Home Depot really get the job done. We recommend keeping them on hand for a rainy day as they can be quite helpful. For example, use them when you need to disinfect a washing machine and have to use strong chemicals like bleach that can really dry out your hands. Plus, for those afternoons when you have a big garden project and need extra protection for your skin, these affordable gloves will deliver.