Top Tips For Exposing Gorgeous Hidden Brick On Your Walls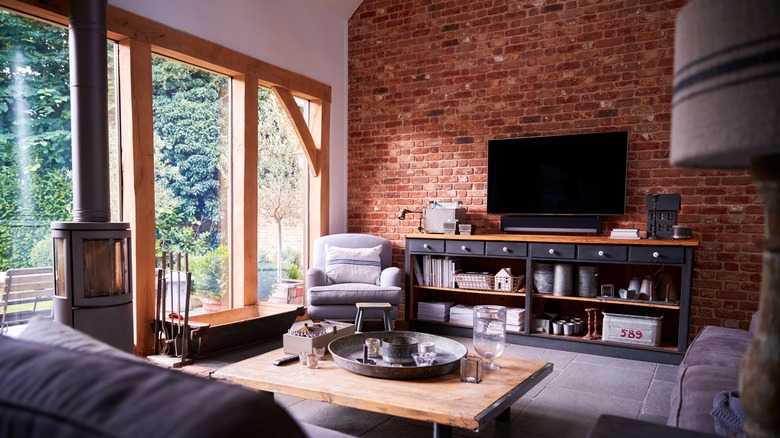 Monkey Business Images/Shutterstock
Exposed brick is all the rage, and for a good reason. An exposed brick wall can add character and a unique sense of rustic style to your space. According to Elle Decor, the design idea is timeless, easy to cover if you want to switch things up later, and adds warmth to any room, making it feel cozy and family-friendly. However, they also note that it can be difficult to put up art or photographs on an exposed brick wall without professional help.
We think the pros far outweigh the cons, and a brick wall is a great addition to your décor. We've compiled a list of tips and tricks you'll find very useful if you're thinking about exposing some of the lovely brickwork that might be hiding beneath your walls. In addition, an accent wall will do wonders for the ambiance of your space, says HomeLane, noting that it goes great with multiple design styles, including minimalism, cottage trend, vintage, or even industrial.
Prep that wall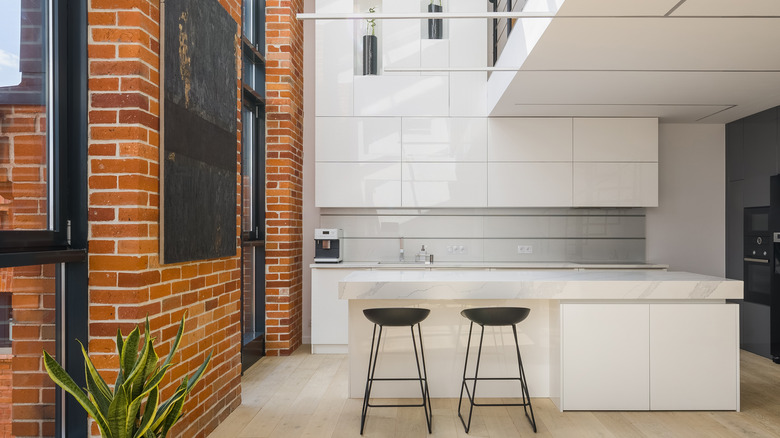 Dariusz Jarzabek/Shutterstock
Before you begin, there are a few things you should do to prepare. This will make sure your outcome is the best it can be. As Real Homes suggests, you must first pick out exactly which wall you want to expose. They recommend choosing one with fewer complications, like doors, windows, or plug sockets.
After you've selected it, you can begin prepping the wall. It is recommended that you drill a pilot hole first to make sure there is brick to expose. It's a good idea to uncover a small area of about 4.6 square inches to assess the quality of the bricks beforehand. If you're not satisfied, don't go any further, but if you like what you see, go ahead and with the project.
As Glowing Embers mentions, it is also important that you stay safe, noting that you should consult professional help if you don't feel confident about exposing the brick yourself. They also recommend wearing protective gear such as goggles, gloves, and a mask that blocks dust particles before beginning.
Expose the brick
AVN Photo Lab/Shutterstock
Once you're prepped and ready to give your room a new look, And Then We Saved suggests using a putty knife and a hammer to carefully start breaking the layers of plaster and paint that cover the brick, noting that you should do so with deliberate precision. After you get rid of the plaster and your brick is exposed, you should use a wire brush to scrub and clean the wall so the orangey blocks can be exposed fully in all their glory. You can then go ahead and clean up all the debris with a vacuum and clean your wall with warm water and a sponge.
After you're done, Checkatrade suggests using up to two coats of sealant so your wall is protected. They recommend following the instructions specific to the sealant you purchase for best results. You can also follow up with other décor elements like plants, mirrors, or paint to make your exposed brick wall extra special and unique.