Tiffany Brooks Shares Her Tips For Creating A Super Snug Bedroom
Having a cozy, comfortable living space, specifically your bedroom, is not an option; it's a necessity. Your bedroom is your haven, and considering it's where you spend a lot, if not most of your time; it should look and feel as such. This is where HGTV's Tiffany Brooks comes in. If you're not familiar with her, you want to get familiar because the interior design guru has some of the most useful tips for transforming your bedroom into a cozy space.
With over fourteen years of experience in interior design, according to Estate Envy, Brooks' decor style is an equal balance of modern and contemporary vs. traditional and old-fashioned. She finds value in adding a sense of flair and personality to the most simple home decor, and she is not afraid of stepping outside of people's comfort zones and pushes her clients to do the same. She loves to add a twist, and she always aims to please. So, if you're looking for the best ways to create a warm place to snuggle up and bundle up, get into these tricks from the home design connoisseur herself.
The cozier, the better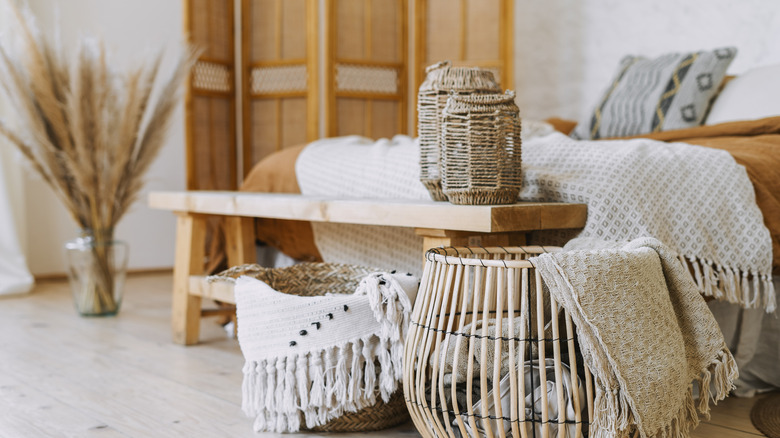 brizmaker/Shutterstock
When it comes to creating a cozy bedroom, the "$50k Three Ways" reality host recommends thinking outside the box. What color or texture are you going for? Don't go for what's simple or expected, and avoid hard surfaces if you can. Consider a headboard with a soft covering, and go for textured drapes that add a surprise element to your curtains to bring attention to them. Color is all up to you, but if you're going for a more dramatic decor look, incorporating black is recommended, as are different tones of white for a lighter, more peaceful feel. 
Black can make your space feel larger than it is and less stuffy, according to Romanza Interior Design, so if you're working with a small room, it's a good way to go. Your colors may vary depending on the season of the year, so you can always change colors as you see fit. Next, always pay attention to the ceiling. This is something that's extremely easy to forget, but when you're in bed, it's one of the first things you look at. Tiffany Brooks recommends prioritizing the ceiling as you would the other walls; create a unified front by painting it the same color as the other walls. 
Make it a haven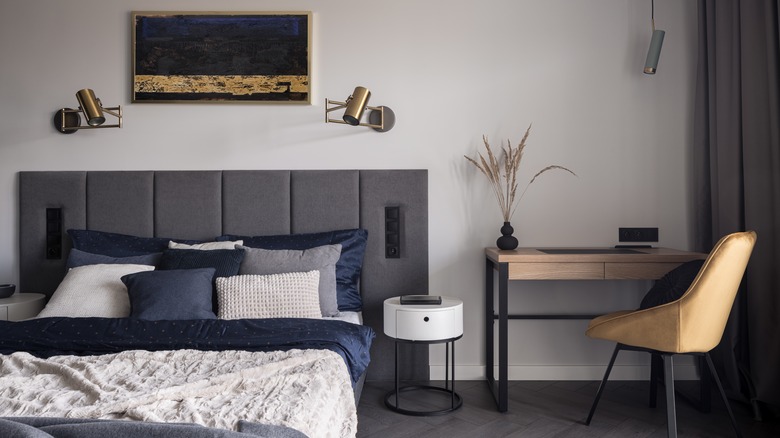 Dariusz Jarzabek/Shutterstock
Lighting is a major component of your bedroom, according to Architectural Digest. You'll want general overhead lighting for the room and task lamp or bedside lighting on both sides of the bed. If you're someone who enjoys being in their bedroom, but not being in bed, create a small corner nook of your own to get work done or relax and vibe. It all depends on the aesthetic you're going for. 
Plan it all according to your personality. Also, keep in mind that bed placement is super important, and it can make or break your room vibe. Don't place your bed in front of your window if you know you're not a morning person who doesn't like light. If you're the opposite, the more natural light, the merrier. If you want to go all out to create the coziest bedroom possible, painting is the way to go. Whether you're a self-made DIYer or you're hiring a professional, it's not the easiest job to get done, but it'll sure transform the space. Tiffany Brooks recommends going for dark colors such as charcoal or navy blue, which are perfect colors for winter or all year round.