Jasmine Roth Shares How She Created The Perfect Backyard Oasis For Less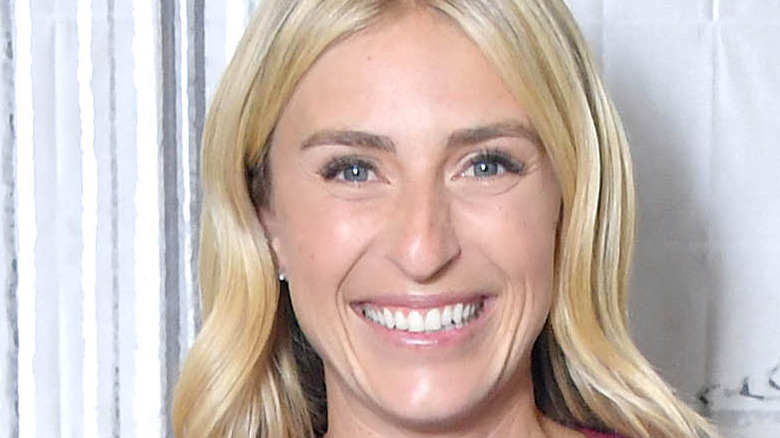 Michael Loccisano/Getty Images
Summer isn't over yet, which means you still have time to turn your backyard into the relaxing hangout spot you've always wanted it to be. There are plenty of backyard activities we love doing during the summer; swimming, barbecuing, playing ball, or just hanging out and watching the sunset with a glass of wine. However, in order to enjoy all those things, your backyard needs a relaxing design for you and your family to enjoy. Lucky for you, the host of "Hidden Potential," Jasmine Roth, has provided some rather helpful advice to get you started, per My Domaine.
If the current style of your backyard is lacking, you may only need to add a few design pieces to give it that update you're looking for. Roth has transformed a boring backyard into something amazing, and you can too. Take a look at some of the steps she followed to see what you can implement into your own space.
Comfort and functionality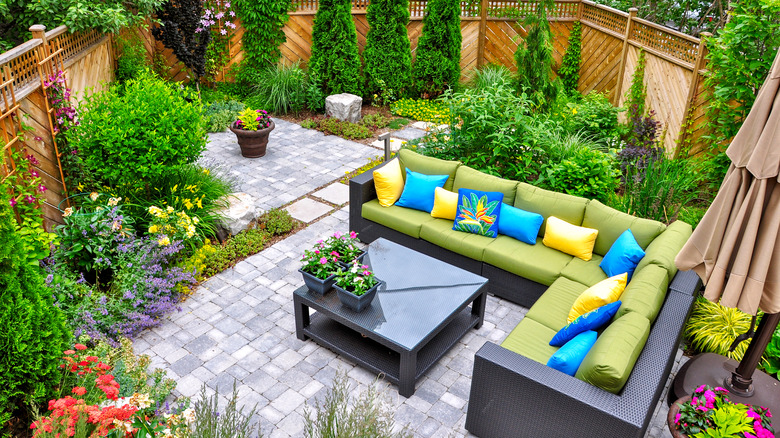 Joanne Dale/Shutterstock
Your backyard should be a place where you can sit, relax, and enjoy being outside while you eat or do any other activity. Roth believes that your backyard should be a place where you can find a comfortable seat with a table to place your drink or food down, per My Domaine. She worked on an empty backyard and filled it with everything necessary for it to be beautiful and inviting. 
She pulled in a large sectional, covered in pillows to provide extra comfort. To ensure that there were no worries of damage from varying weather patterns, the fabric was made to resist any damage in order to prolong its beauty and quality. Adorable nesting tables were also added to the area, creating a space where you can set your food and drinks down. They are made of wood and iron, adding a mixture of nature and industrial materials to the space.
Soothing colors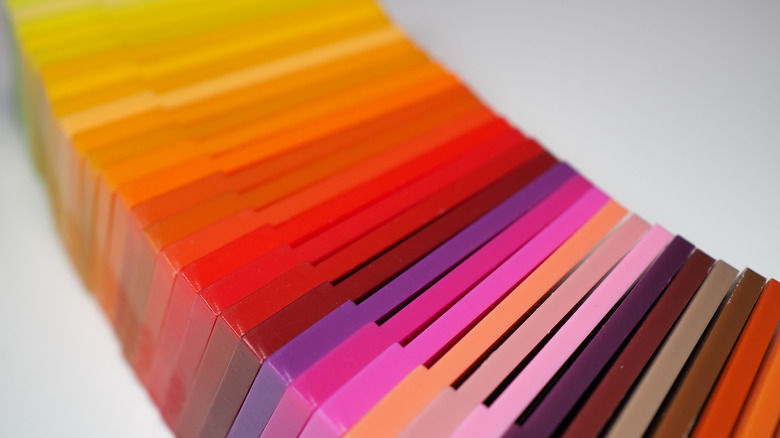 MC MediaStudio/Shutterstock
The colors in the space were a mixture of soothing neutrals, creating a relaxing visual, per My Domaine. There are different shades of off-white and beige in the space, as well as bits of mustard yellow and bright pink. The color scheme is simple yet warm and inviting for the family to enjoy. Roth also added a complimentary color with the blue area rug beneath the sectional, adding more interest in the space.
Warm colors are probably best used for outdoor spaces as these colors best remind us of nature, such as the sun, per Renk Etkisi. These colors create a sense of energy while also maintaining a soothing visual. So if you use a warm yellow, for example, then you are invoking a color best used for spaces of entertainment to stimulate your brain and better your ability to concentrate. If you use a cool blue, then you are introducing a color best for an area where you want to relax and maybe meditate.