15 Ways To Landscape Your Yard On A Budget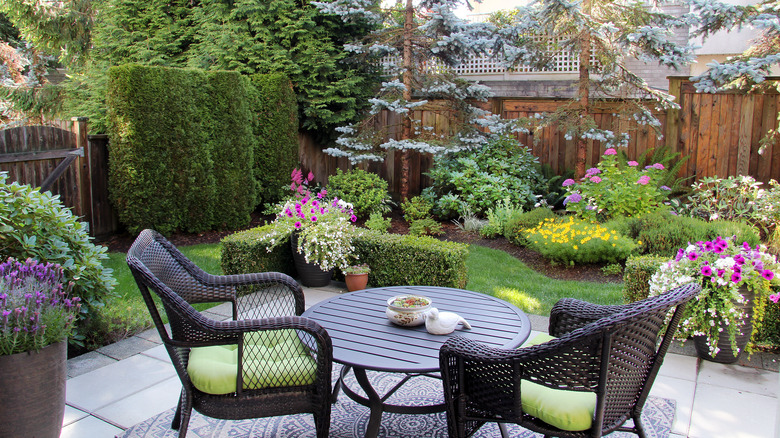 Hannamariah/Shutterstock
If you have a yard, you definitely have some ideas of how you would want it to look in the future. You don't need to break the bank to achieve this, whether it is to make your yard more functional or even improve the curb appeal. It goes without saying that landscaping can be quite an expensive project and most likely the reason stopping you from breaking ground. According to Happy DIY Home, the minimum cost of landscaping a lawn is about $8,000. 
No doubt this is a huge figure, and not everyone can afford it; however, the good news is that you don't have to spend this much to give your yard an upgrade. While beautiful landscapes can appear expensive, there are plenty of budget-friendly options that you can implement right in your backyard. With a bit of creativity and experimentation, you can create the yard of your dreams without digging too deep into your pockets. Here are a few options that you can take inspiration from.
1. Consider perennials
How about an all-season plant in your yard? Well, perennials are a lovely landscaping option that will help reduce costs in the long run. They bloom almost every season and help save you the time and money you would have spent planting annuals every year. What's more, given time, perennials often grow, filling up more space in your yard. However, perennials have a relatively higher initial cost of between $10 and $30, via The Celeb Times, but they will save you a lot of money down the line.
2. Opt for native plants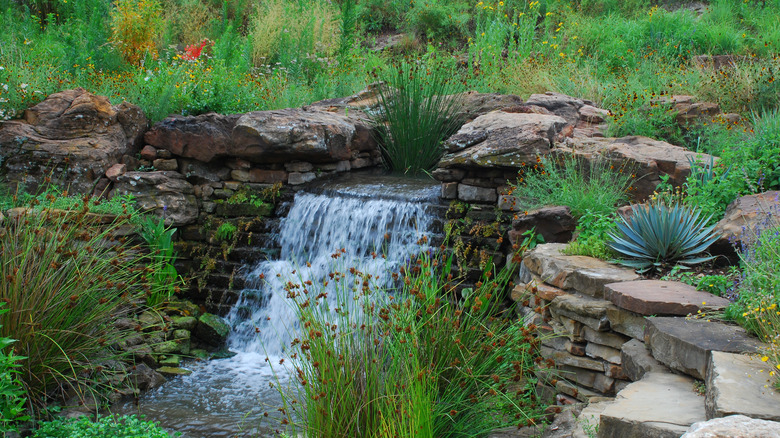 Jeanne Crockett/Shutterstock
You should be pretty deliberate on the types of plants you choose for your yard. Plants native to your region naturally do well in your climate, meaning you don't need a lot of maintenance in the way of fertilizer application to keep them in tip-top shape, via the United States Department of Agriculture. Other than helping you improve the appeal of your yard, native plants are also essential to the local environment. They are ideal for new gardeners since they save you money that you would have wasted on plants unsuitable for the particular climatic conditions.
3. Rejuvenate your lawn
The traditional green lawn never gets out of style. Instead of splurging on professional landscaping, why don't you nurse your lawn back to health? It is not only relatively cheap but is a worthy project that is satisfying in the end. First, get rid of the weeds either by hand or use an environment-friendly weed killer. Encourage the grass to grow by adding fertilizers, or you can reseed where there is no grass. However, you need to be sure the specific grass growing on your lawn matches the hardiness of your zone, says the United States Department of Agriculture.
4. Utilize mulch
One way of introducing contrast and color to your garden is by adding a rich layer of mulch to the flower bed. Other than that, mulching is also a great way of keeping away weeds from your lawn. In addition to making your flower bed pop, mulch also locks in moisture and adds nutrients into the soil once it decomposes. According to Porch, the average per square price of installing mulch on your lawn is between $0.20 and $0.60. Compared to the cost of a professional landscaping job, mulching is a budget-friendly option.
5. Plant trees
Planting trees on your lawn doesn't require any special skills to pull off. All you need is some maintenance in the early stages and a lot of patience. However, before planting any tree, you must consider how big it will grow. Will it get in the way of any utility lines? Arbor Day Foundation emphasizes that you should only plant a tree that suits the specific needs of your yard. Trees take a while before they grow to maturity; however, it remains a low-cost investment for any property.
6. How about a functional garden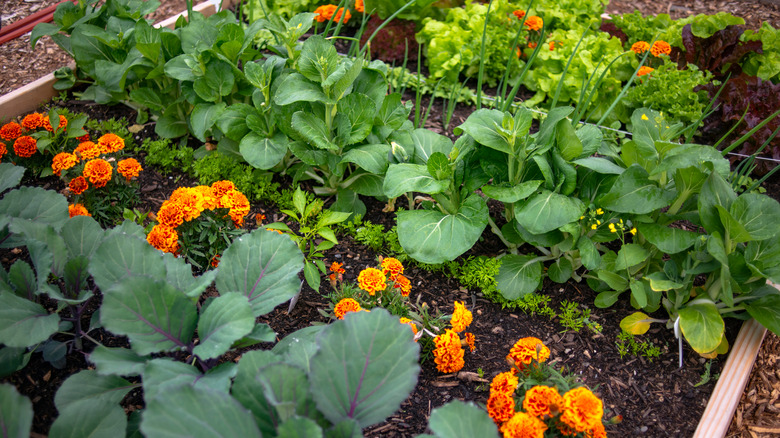 Gina Lee Rodgers/Shutterstock
Incorporating a garden is a brilliant way of improving the curb appeal of your yard. However, you might not know that this garden can help you cut down on the cost of groceries and herbs, especially during the summer. DK landscaping maintains that your garden doesn't have to be for aesthetic or functional purposes; you can create just the perfect balance to have the best of both worlds. You can plant them separately or combine the ornamental and edible plants.
7. Edge treatment
Sometimes all you need to do to give your lawn the much-needed makeover is using what you already have. Instead of going for expensive landscaping options, you will be surprised what the right edge treatment will do for you. Its function extends further than just aesthetics; edging also helps prevent erosion. While there are plenty of expensive and cheap edging options, reclaimed stones are free resources that will help you cut costs by a considerable margin, per Hadley Reclaimed.
8. Rock the garden
Implementing a rock garden in your yard is one way of adding texture and contrast for a more visual appeal. Stone pebbles are popular types of rocks available in different sizes and colors for extra design detail. Despite how functional these rocks are, it is quite astonishing how inexpensive they sell. Whoat Where Why notes that river rocks or stone pebbles costs between $50 and $130 for every ton. You can use river rocks as ground cover or even as edging material.
9. Carve a creative path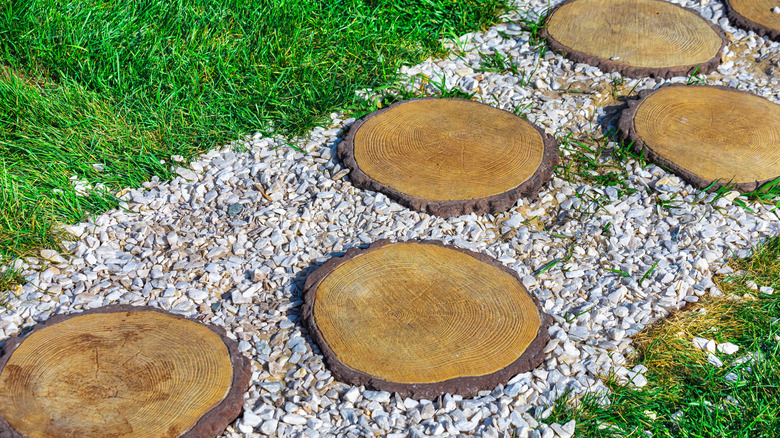 Danil Bukharov/Shutterstock
A beautiful yard deserves an equally appealing pathway leading to various places around the backyard. Paths add both beauty and functionality to a yard. And they lead the feet to the various places around your backyard or garden, via University of Florida Gardening solutions. Combine different materials to make your yard pathways pop. A good example is the pebble and tree stamps demonstrated above. The white pebbles form the perfect background for the tree stamps, making them visible and appealing.
10. Factor in a sitting spot
Including a simple yet ample sitting spot right in your yard might be all you need regarding landscaping. A seat in the yard gives you a place to kick back and relax with friends and family on the weekend. You don't have to go for expensive pieces of upholstery; instead, consider a simple bench that won't hurt your budget. Backyard Landscape Ideas mentions that outdoor benches not only give you extra sitting space in your yard but also give you the luxury of customization for extra personality.
11. Grow flowers from seeds
If you intend to add flowers to your yard, consider planting from seeds instead of buying established plants. However, it is important to mention that growing from seeds will require some background knowledge of the care and maintenance necessary for individual plants. There is more seed variety than there are established plants; therefore, you are more likely to find seeds of the specific plant you are looking for. What's more, the New Life On A Homestead mentions that it is much cheaper to buy seeds than individual plants.
12. Make your own compost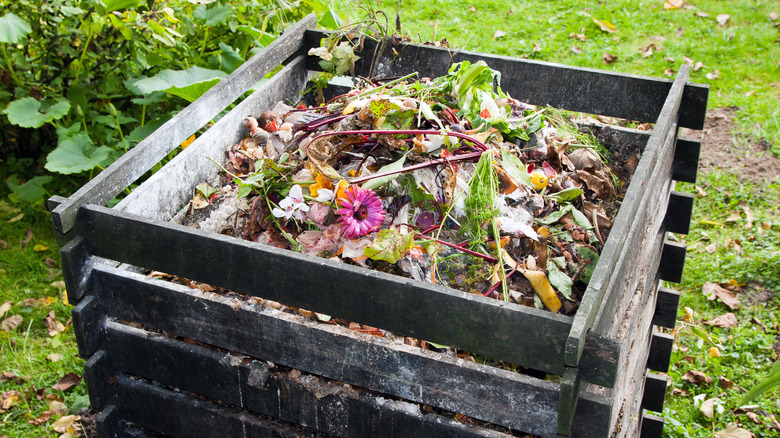 Evan Lorne/Shutterstock
Compost has a lot of benefits for your outdoor garden. It is responsible for improving soil fertility and adding the necessary microorganisms. You don't have to spend money buying compost for your yard; you can easily make your own and save yourself a couple of bucks. Making compost is not only affordable and easy but also helps you in reducing the amount of organic waste in your home, via the United States Environmental Protection Agency.
13. Spruce up your yard with string lights
String lights are an affordable accessory that will turn your outdoor patio, deck, or garden into an outdoor hangout, especially during the summer. Contrary to popular beliefs, string lights are quite affordable. Fixr notes that the average cost of a 50 ft. string light is between $50 and $200 depending on quality. What's more, installation is a breeze since they are connected to the same line and incredibly fast to install. You can carve these lights around trees, over patios, or even light up a path in your yard.
14. Install a fire pit
Your yard should not only be aesthetic but also functional. One way to make your yard more practical, especially during the colder months, is to install a fire pit. There are several types of fire pits, and some can be quite costly. According to Hot Fire Pits, the labor cost of building a fire pit is $55 per hour. However, with a few handy skills, you can create your own outdoor fire pit, saving a lot on labor costs.
15. Consider concrete planters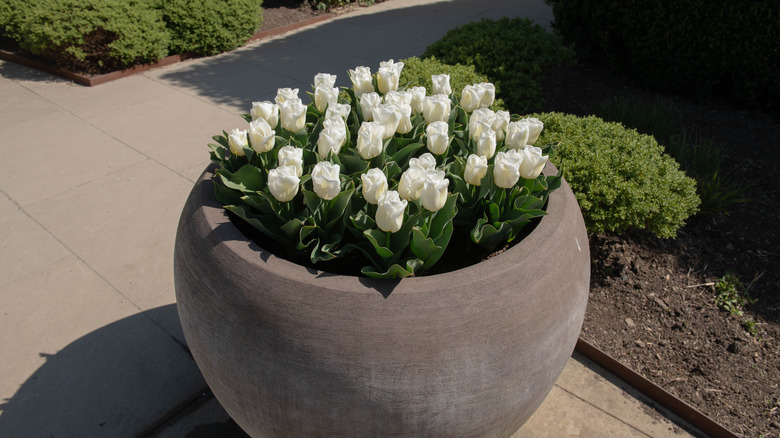 Peter Turner Photography/Shutterstock
Building concrete planters for your beautiful flowers is a brilliant and budget-friendly landscaping option. What makes concrete planters attractive is more than the budget factor; it gives you the luxury of choice when it comes to the design and shape, via Gardening Mentor. Just like a regular flower pot, you can build more than one planter and place them in different spots in your yard. When it comes to the type of flowers or plants to grow in your planter, consider native plants that are ideal for the particular climatic conditions.