Should You Add A Low-Pile Carpet To Your Home?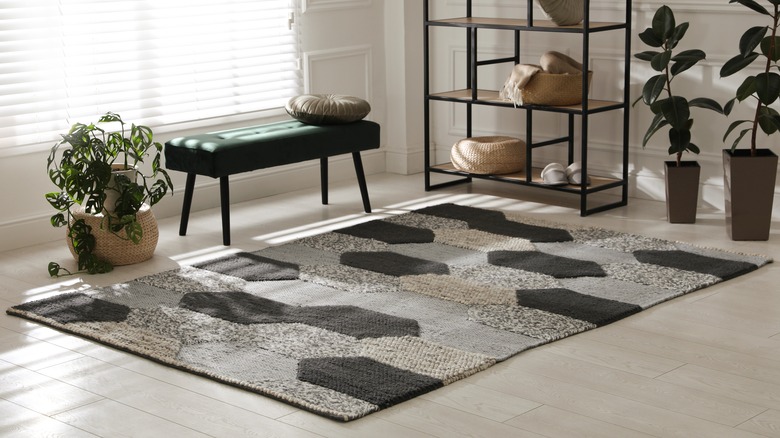 New Africa/Shutterstock
One of the most important aspects of a room's interior décor is its flooring. There are a whole variety of flooring choices you can opt for, including carpet, hardwood, and tile. As Heritage Custom Builders explains, carpet flooring is a popular choice among many homeowners for a number of reasons; namely, it's quite inexpensive, noise absorbent, faster to install, and comfortable to walk on.
When deciding on which carpet you should pick, there's a lot to consider. According to The Home Depot, it's important to assess a carpet's pile height, face weight, fiber material, and how it's constructed along with its padding. The home improvement experts explain it's best to consider the room and its function, too.
We understand this is a lot of carpet information to process, so let's start with pile height, one of the most important facets to consider before you pick a new carpet. What exactly is "pile height"? And which of the two main types — low pile or high pile — is best for your home?
A breakdown of carpet piles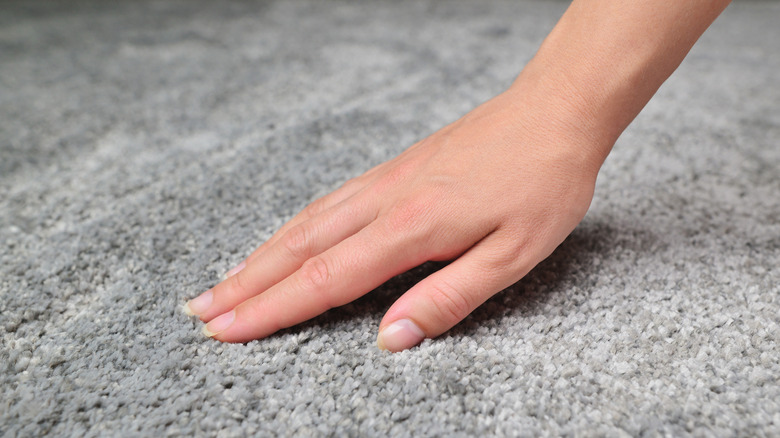 Dmytro Melnyk/Shutterstock
According to Carpet Guides, pile refers to a carpet's fiber. Carpet fiber is available mainly in two types — synthetic and natural. The carpet pile type, density, and face weight are all factors that determine the quality and feel of a carpet.
Per the flooring tips resource, a carpet's pile height refers to the height of its fibers, whereas its face weight refers to the weight of a carpet's fibers without its backing. When you add its face weight and the weight of the carpet backing, you get the total carpet weight. However, its face weight is what you should pay attention to.
50 Floor says there are two main types of carpet pile: high pile and low pile. High-pile carpets are those with taller fibers, whereas low-pile carpets have shorter fibers or looped fibers. As the website notes, low-pile carpets are easier to clean and are typically less expensive.
Carpets with higher pile heights, on the other hand, are a lot more comfortable and attractive and provide great insulation.
Choosing between a high- and low-pile carpet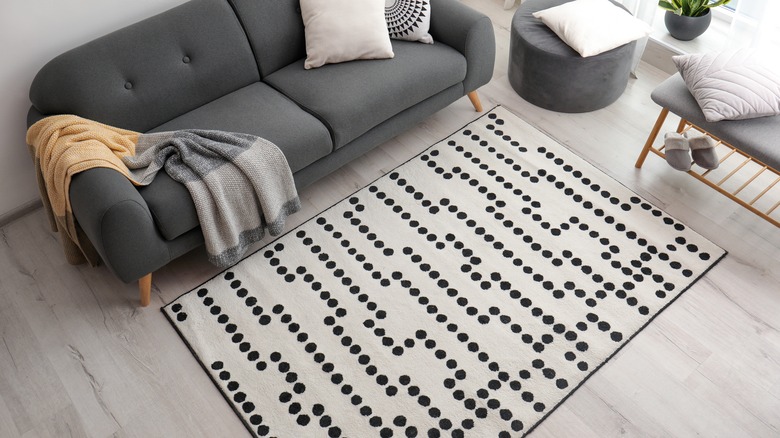 New Africa/Shutterstock
So which one should you go with: low pile or high pile? Well, both types of carpeting carry their own pros and cons. Per Floor Coverings International, a high-pile carpet is best for those who want a lot of comfort and warmth out of their carpet. They're a lot cozier than carpets with a low pile height. They're also known for a much more luxurious and opulent look.
However, if you're looking for something practical, low-pile carpeting might be the way to go. They're much easier to clean and are more compatible with furniture. Carpets with taller pile heights might also carry a higher risk of trapping allergens compared to carpets with shorter fibers.
According to Living Spaces, carpets with longer fibers are best for rooms with low traffic. low-pile carpets, meanwhile, are ideal for rooms with higher foot traffic. In the end, it all depends on how you'll use your carpet. Even with different piles from room to room, you can still tie your décor together through color, design, or pattern.