Are Your Gutters And Downspouts Big Enough To Handle A Storm?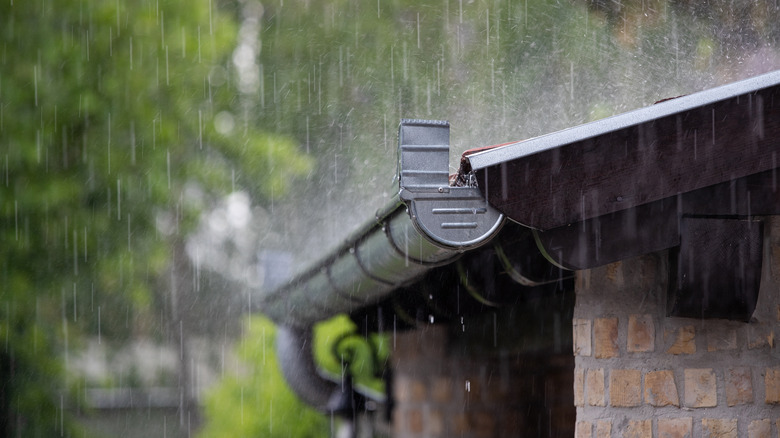 Budimir Jevtic/Shutterstock
Are your gutters and downspouts prepared for a heavy storm? While you might be tempted to say yes based on past weather encounters, things aren't quite so simple. According to the United States Environmental Protection Agency, climate change has made it all the more common to deal with large amounts of rainfall — and more regions in the States are dealing with extreme weather. Plus, there's the issue that, according to Titan Siding and Roofing, many homeowners prefer smaller gutters for aesthetic reasons, regardless of the fact that larger gutters may be much more useful. Together, these can create the perfect storm to exacerbate clogging.
While we aren't advocating for every single homeowner to suddenly rip out their existing gutter system and install tsunami-worthy aluminum, it's a good idea to keep these issues in the back of your mind so you can prepare more effectively — especially if your gutter system is already too small or needs replacing soon.
Figuring out volume requirements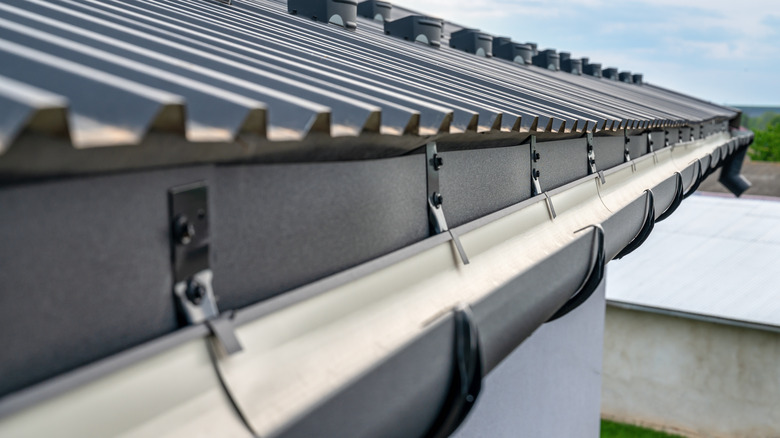 Axtem/Shutterstock
Fortunately, it's easier to calculate gutter and downspout requirements than you might imagine. Essentially, you'll need to find out your roof's surface area, then multiply it by the area's maximum rainfall and your roof's slope ratio, explains Good to Go Gutters.
Figuring out your roof's slope ratio, also known as its pitch, is surprisingly straightforward. Thompson Creek recommends figuring out the pitch by placing a spirit level on the top of your roof and measuring the space underneath at 1-foot along the level. The window company then provides the following numerical equivalents for each ratio:
Rise of 12+ inches — 1.3

Rise of 9-11 inches — 1.2

Rise of 6-8 inches — 1.1

Rise of 4-5 inches — 1.05

Totally flat roof up to 3 inches — 1
Once you've figured out your pitch's numerical equivalent, multiply it by your roof's square footage and the maximum rainfall for your area (measured in inches/hour). This will give you the amount of volume your gutters and downspouts will need to be able to handle.
Gutters and downspout sizing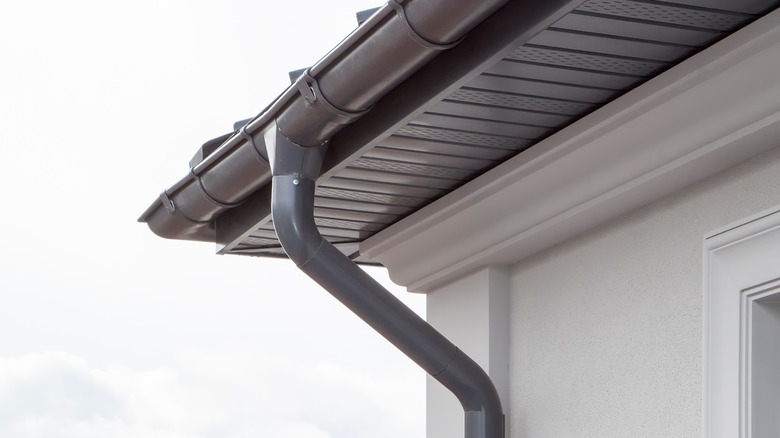 sommthink/Shutterstock
You'll want to consider size, shape, and volume when choosing gutters and downspouts. In general, gutters run all along the roof while downspouts are placed every 30 to 40 feet, notes Findlay Roofing. Luckily, since placement is relatively standard, it's easy to figure out which sizes you'll need.
Half-round gutters are visually appealing and easy-to-clean, due to the lack of nooks and crannies, but they aren't the most effective option for holding rain. According to Good to Go Gutters, if your gutter volume requirement (the number calculated above) is under 2,500, you can safely use 5-inch half-round gutters. Likewise, 6-inch half-round gutters are required for a volume of 3,840.
If you're in need of a larger alternative, you might want to consider K-style gutters. While they aren't as visually attractive, K-style gutters are far more effective than their rounded cousins. If your gutter volume requirement is 5,520 or under, you can use a 5-inch K-style gutter. Otherwise, a 6-inch gutter can handle up to 7,960. When you're choosing between downspouts, you'll generally have two options, 5 inches or 6 inches. According to Classic Gutter Co, 5-inch gutters are perfectly acceptable for most homes, while 6-inch gutters are better for more extensive or steeper roofs.