How To Maintain An Old Aluminum Gutter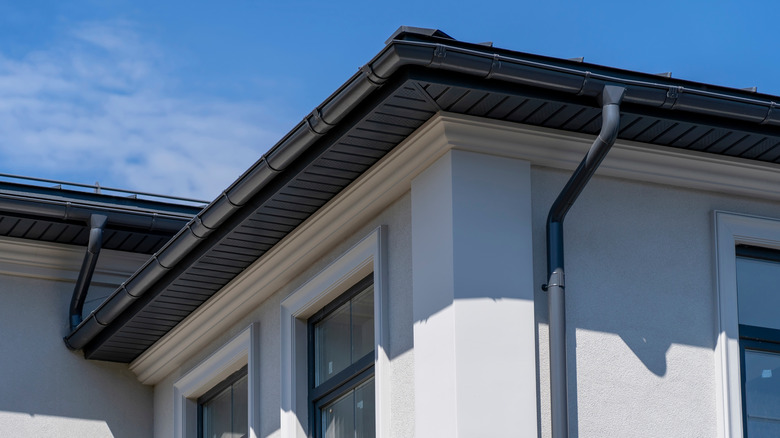 sommthink/Shutterstock
Aluminum gutters have been used on homes for decades and continue to be a popular choice because they are durable and economical. Like any product that is subjected to the elements year-round, gutters require maintenance and repairs over the course of their lives. Sometimes they require attention because of damage caused by extreme weather or tree limbs and other times they just get worn out and need an update. Regardless of how long the aluminum gutters have been on your home, they require frequent cleaning.
Gutters come in a variety of materials, according to Rain Gutter Pros. Vinyl, steel, and even copper gutters are options for your home, but aluminum is a homeowner's favorite because it is inexpensive and long-lasting. Aluminum gutters also come in a variety of colors and shapes to match your home's façade. With so many different options, it's no wonder people keep these gutters on their homes for decades.
Frequent cleaning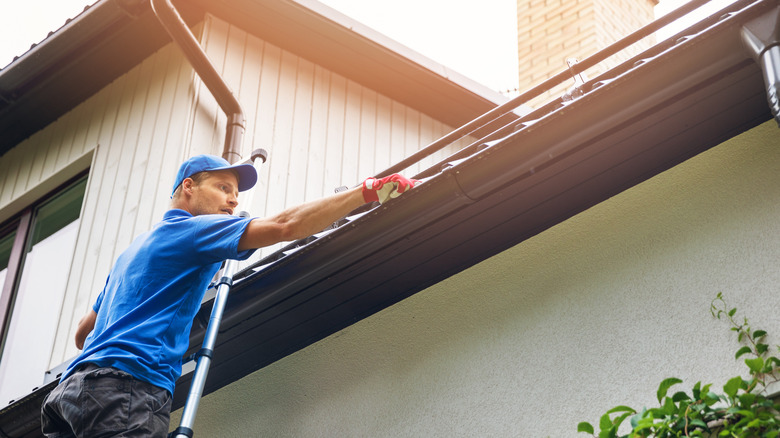 ronstik/Shutterstock
To keep your gutters looking their best, they need to be regularly cleaned inside and out. AHC Gutters & Painting suggests removing the leaves and other organic waste from your gutters two or three times a year. Failure to clean them regularly will cause damage to the gutters themselves and possibly your home. Gutters filled with debris are more likely to clog and sag, which could cause water to seep inside your home. This type of maintenance not only keeps the exterior of your home clean but will also save you money in the long run.
You should also clean the outside of your gutters a few times a year. According to The Leaflet, dirty gutters can attract mold, dirt, and possibly even algae, which is not good for your curb appeal! Cleaning the outside of your gutters may be as simple as using a power washer; however, if you have neglected this task for too long, you may have to get up close and personal. For extra dirty gutters, use a ladder to clean the gutters with a scrub brush and a heavy-duty cleaner.
Regular maintenance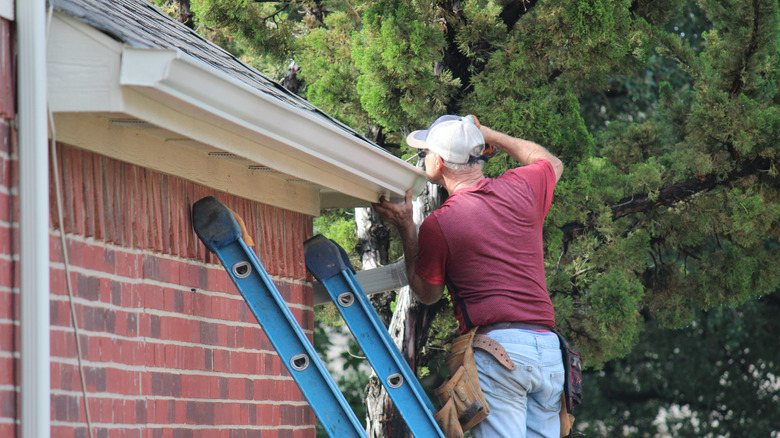 Jasmine Sahin/Shutterstock
While you are cleaning your gutters, pay special attention to the condition of the aluminum and check that all joints and connections are in good shape. Also, make sure no part of the gutter is sagging. Since sagging can cause damage to your home, consider calling a professional to repair that portion of the gutter.
One of the benefits of aluminum is that it does not rust, but it can corrode, states Rain Gutter Pros. You can usually repair these spots yourself by scrubbing the area with a wire brush and painting on metal primer to stop the damage from getting worse. Leaks are also a common problem in older aluminum gutters. For leaks in joints, Home Depot recommends sealing those areas with silicone caulk. You can patch small holes with roofing cement. Downspouts are also an area that needs cleaning and maintenance. Routinely cleaning your downspouts and replacing any worn-out gaskets or connections should keep them in good condition for many years to come.