Why People Aren't Spending As Much Time In Home Depot As They Once Did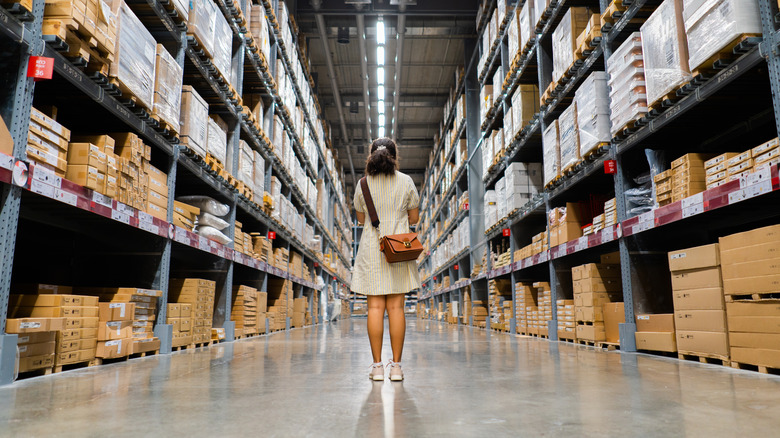 Prachana Thong-on/Shutterstock
Home Depot is one of the most popular and well-known home improvement and hardware stores, offering a variety of items in departments including flooring, paint, garden care, and construction tools. According to You Gov America, Home Depot is the eighth-ranked specialty retail store, and occupies the 137 spot among most-popular brands.
Visiting a home improvement store like Home Depot is a great way to assess what you need in person, using your own eyes to determine what paint color, wood finish, trim size, etc. you want as opposed to guessing by looking at a computer monitor. However, these large box stores can often be overwhelming to shop in. With so much inventory to peruse and sort through, discerning what is located where can be very difficult. There are also global health crises at play that make in-person shopping an unsafe and/or uncomfortable experience for many people, too.
It seems that something is definitely dissuading folks from shopping at Home Depot stores across the country, as new data shows a shocking decrease in the amount of in-person shopping there.
Home Depot foot traffic is at its lowest point in more than 3 years
New data from SafeGraph shows the steep and recent decline in how much foot traffic there is at Home Depot. The store tends to be more popular in the spring and summer months, gradually peaking and declining throughout the seasons. In the summer of 2020, however, Home Depot experienced record-breaking peaks, with 1.4 million total in-person shopping visits in June alone. Yet, recent numbers are significantly lower; Home Depot had less than 1 million in-person visits last June, and this June just 600,000.
The lack of in-person shopping isn't correlated with the store's sales, though. Insider reported in February of this year that Home Depot made over $40 billion in sales since 2020, which is more than nine years of growth when looking at the company's previous earnings. According to NPR, the COVID-19 pandemic resulted in lots of people seeking out home improvement projects to work on while stuck inside, which is reflected in the major spike of in-person visits in 2020.
What it doesn't account for, though, is why people aren't shopping as much in person anymore despite Home Depot's continued financial growth. As it turns out, this shift likely has a lot to do with the popularity of online shopping. Internet purchases are responsible for 14.1% of global purchases, with that number expected to rise to 22% in 2023, per OptinMonster. With online shopping being safer, more affordable, and easier, in-store visits are falling to the wayside, especially at Home Depot.