Why You Need Outdoor Solar Lights For Your Yard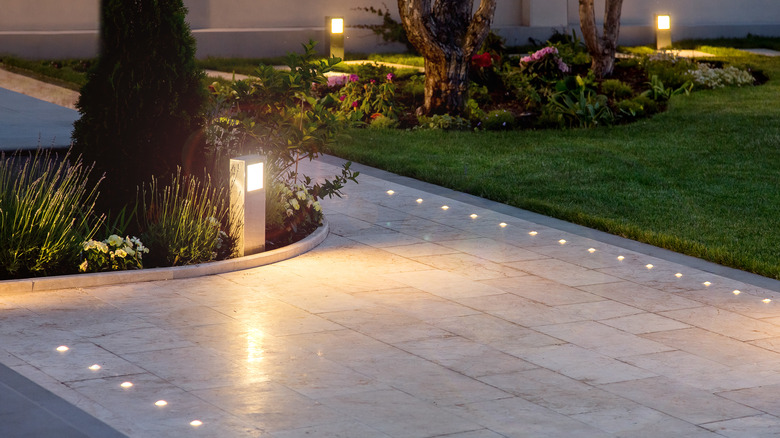 Bespaliy/Shutterstock
When homeowners research how much it costs to outfit their yard with outdoor lighting, they might be shocked to hear quotes that are considerably more than they anticipated. Luckily, solar lights have come a long way in recent years and provide an eco-friendly and affordable alternative to electric outdoor lighting. Additionally, outdoor solar lights are incredibly versatile, explains TouchStone Accent Lighting, and can be used to illuminate gardens, decks, walkways, and other areas of your yard that you'd like to emphasize.
One of the biggest benefits of outdoor solar lighting is its affordability. While high-end solar lights may cost a little more than comparable electric alternatives, they don't add to your monthly electric bill or require a lot of costly maintenance, notes the U.S. Department of Energy. However, there are also plenty of budget-friendly outdoor solar lights on the market that will still look great while saving you money. If your fruitless search for convenient and affordable electric outdoor lighting is darkening your outlook, read on to see what solar light displays can do for your yard.
Illuminate your garden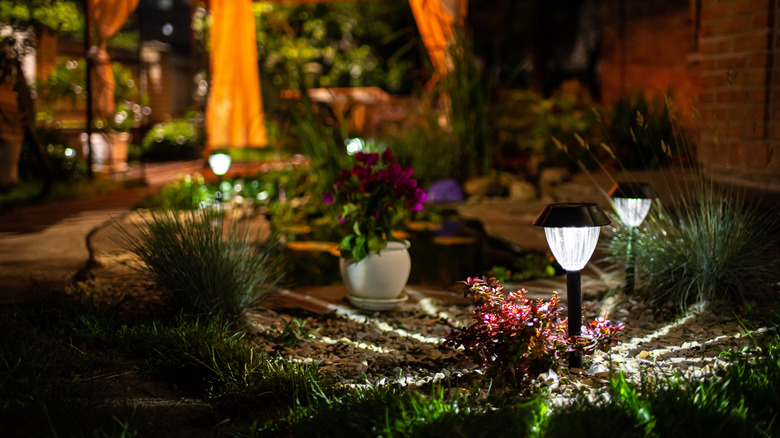 Stenko Vlad/Shutterstock
One area of your yard that probably gets plenty of sunlight is your garden. As such, it's a perfect candidate for outdoor solar lighting. According to Lohas LED, high-end solar lights for your garden usually last for over a decade, with some models being able to survive for over twenty years of reliable service. Thankfully, outdoor solar lights are every bit as adept at braving inclement weather as their electric counterparts, so the same elements that help your garden thrive won't spell doom for your lighting display.
While professional installation of high-end solar lights can be quite expensive, there are plenty of affordable outdoor solar lights that can be found at your favorite hardware store for under $10. You can use solar lights to form a perimeter around your garden for nighttime visibility or utilize string fairy lights in your favorite bushes for a touch of whimsy. Of course, a well-positioned solar spotlight can be used to illuminate a wide area of your garden, and if you host summer parties during the evening hours, investing in solar lights is a no-brainer.
Lighting your hardscapes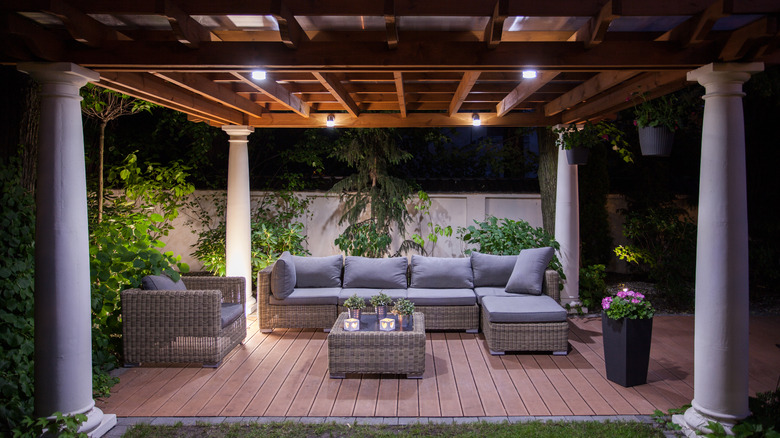 Photographee.eu/Shutterstock
Investing in hardscapes is a great way to boost your home's curb appeal and add functionality to your yard. That being said, your outdoor items can be taken to the next level by integrating solar lights. For instance, illuminating your patio with subtle spotlights may produce a much more welcoming and comfortable atmosphere than a single electrical lamp that creates long shadows. Alternatively, many homeowners with pergolas love to attach stringed solar light bulbs or flickering solar fairy lights to illuminate the covered area with a magical effect.
Moreover, many homeowners illuminate their hardscapes for practical as well as aesthetic reasons. Per TouchStone Accent Lighting, certain features of your home can be tricky or dangerous to navigate on particularly dark nights. As such, if your yard features steps that can be tripped over or a walkway that veers dangerously close to your koi pond, solar lights can help ensure the safety of both your family and your houseguests. Even better, outdoor solar lights are ridiculously simple to relocate, so you can always upgrade your hardscape's lighting whenever you feel there's room for improvement.