The 30-Year Fixed Mortgage Rate Is Rising At An Alarming Rate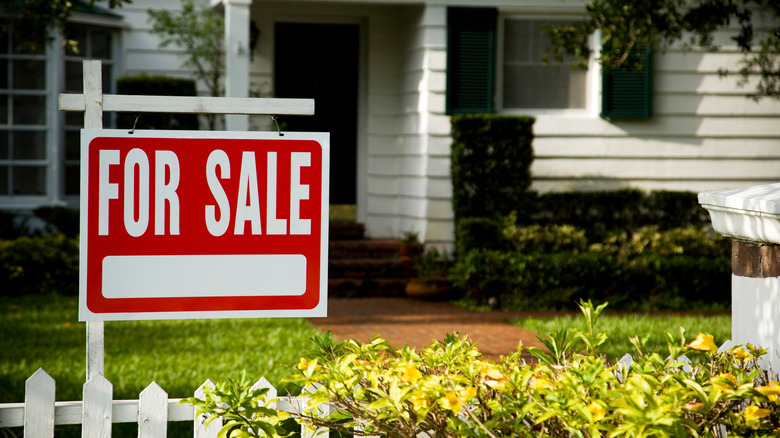 Juice Flair/Shutterstock
Prospective homebuyers with their eye on month-to-month 30-year fixed mortgage rates have some cause for concern given recent data from the Federal Reserve. While 30-year fixed mortgage rates reached a historical low at the tail end of 2020 (per Rocket Mortgage), their precipitous rise from January 2022 to the present day has some experts sounding the alarm bell. And, with inflation becoming a word that is on the tip of nearly everyone's tongue, most financial analysts are predicting the trend to continue through the bulk of 2023.
While rising interest rates will make purchasing a home less affordable for the average homebuyer in the short term, certain upsides may be gleaned for prospective borrowers, according to Full Beaker. Reduced rates of buyer demand and home appreciation are bound to be a welcome change of pace for homebuyers who are testing the market in 2023 and beyond, assuming they are not among the large contingent of renters who are waiting for inflation and interest rates to settle down before they begin house hunting.
An alarming rise
For those who have been tracking 30-year fixed mortgage rates since the turn of the new millennium, the meteoric uptick that started in late 2021 (and has not abated) feels like uncharted territory. However, some may argue that it represents a relative return to normalcy, especially considering that rates have been trending downward at a drastic rate since the 1980s. One thing is for sure, though: When considering the historical peak of 30-year fixed mortgage rates of 18.45% in 1981 (per Rocket Mortgage), the current readjustment toward 6% feels much less drastic.
Nevertheless, as the above graph illustrates, a rate increase of this magnitude is in stark contrast to anything that has been seen since 2018. In fact, one would have to go back to the 1990s in order to see rate spikes that come close to the current trend. According to The Washington Post, young prospective homebuyers may need to start re-thinking how to decorate their apartment if they are waiting for rates to fall dramatically before buying a home. With inflation at a nearly unprecedented level that predates the birth of many new homeseekers, most industry experts are not anticipating 30-year fixed mortgage rates to drop anytime soon.