The Best Green Paint Shades At Home Depot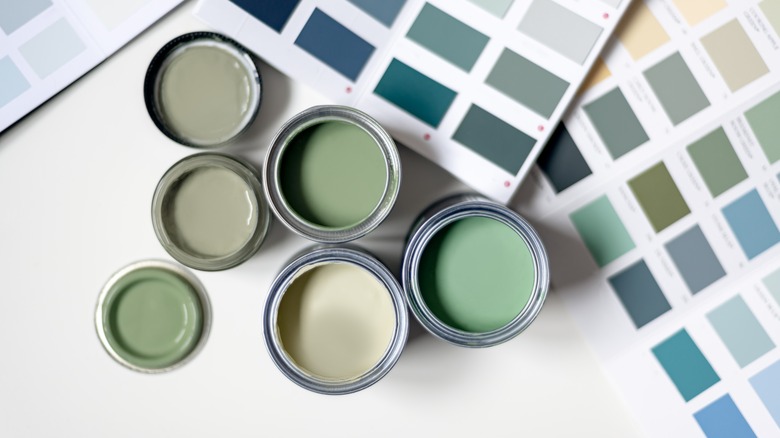 Anna Mente/Shutterstock
Due to the growing popularity of modern styles, you may feel inclined to stick with popular neutral colors when styling the walls of your home. Although neutral styles are currently a major hit, there are a variety of proven benefits you can gain when adding touches of color to your home. Full Moon Loom specifically shares that the colors you choose around your home can set a tone and adjust the way you feel when you are in that area. For example, a pink room can help you destress, allowing you to thoroughly relax and find a moment of peace when you enter that pink area of your home. Similarly, green can also create a calming area as it is popularly known for connecting you to nature.
Beyond simply creating a calming, nature-oriented area, Dunn-Edwards Paints states that using the color green inside your home is also a great way to promote freshness and fertility. Unfortunately, even with the wide variety of green shades and all their different benefits that are available in home improvement stores, like Home Depot, the color green still remains a rather rare color to find inside homes. If you are interested in giving the color green a try in your home, we're here to help you get started with some of the best shades of green paint you can find at your local Home Depot.
Glidden's essentials afternoon martini olive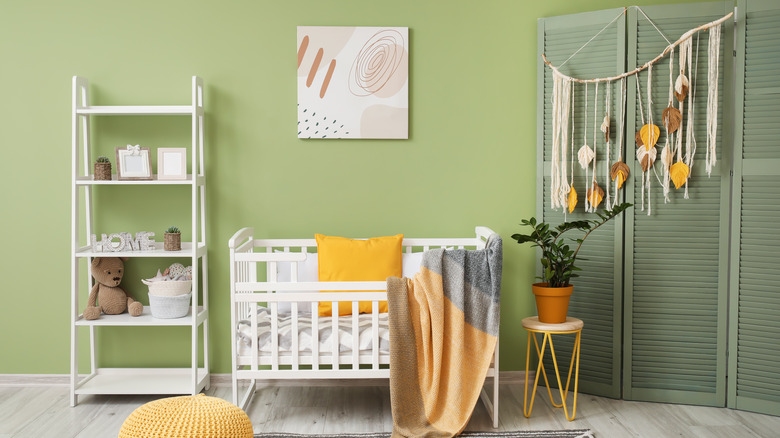 Pixel-Shot/Shutterstock
One of the most popular shades of green you can incorporate into your home is Glidden's Essentials Afternoon Martini Olive. Home Depot advertises that beyond the beautiful color, by purchasing Glidden's paint, you are ensured a great wall coverage with long-lasting color. Its scrubbable and washable qualities also make it the perfect paint to use in your hallways, kitchen, bathrooms, or even kids' rooms.
Further proving the quality and popularity of Glidden's Essentials Afternoon Martini Olive, out of nearly 130 reviews, this shade of green was given a solid 4.7 out of 5 stars. Many reviewers also shared a variety of positive comments after using the paint for themselves. For example, one reviewer claims that along with the cheap price and great coverage, the color and texture of the paint made the perfect touch to their daughter's new bedroom. Several other reviewers also shared praise with claims that the paint exceed their expectations and that they are very happy with the color.
Glidden's essentials night watch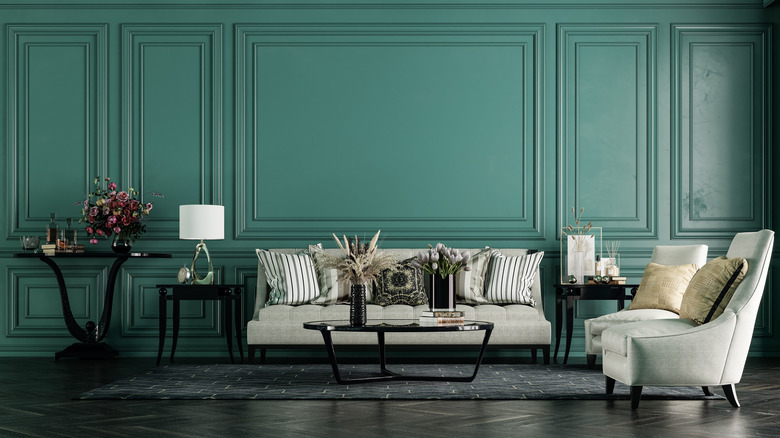 mixphotos/Shutterstock
As the name suggests, Glidden's Essentials Night Watch is a rather dark shade of green but still comes very highly rated in terms of Home Depot's top shades of green paint. In fact, Glidden's Essentials Night Watch green paint won the PPG Color of the Year in 2019. Home Depot further explains that not only is this shade of green perfect when wanting to bring a touch of the outdoors into your home, but it also works as a beautiful accent for walls, doors, and even shutters both inside and around your home.
Although this shade of green paint only received 4.1 out of 5 stars, there were only a total of 81 buyers who decided to give the product feedback. General comments about the paint state that the color was beautiful, but the coverage of the paint itself was lacking. A few reviews, however, only had positive experiences to mention.