30 DIY Desks That Anyone Can Build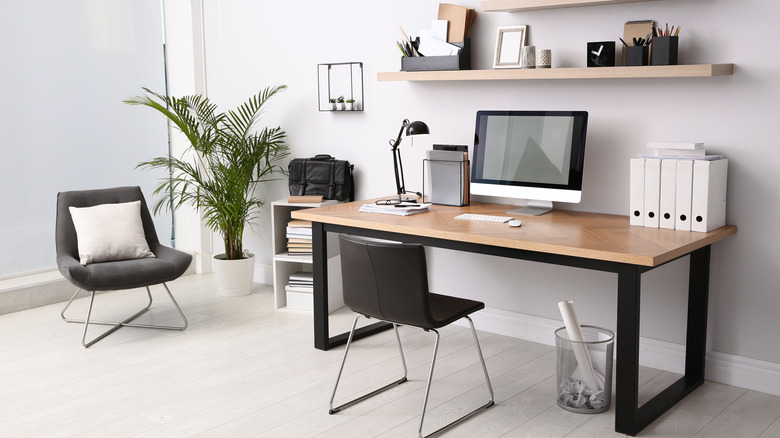 New Africa/Shutterstock
With more companies offering remote schedules, working from home is more popular than ever. Once you figure out where your home office will be, it's time to think about what kind of desk best suits your needs. FurnishingTips notes that desks can be expensive, so you might want to think about DIYing one yourself. The outlet explains that there are plenty of styles on the market to get inspired by, so consider your home's aesthetic before you get started!
Simplified Building showcases several popular desk styles, from an L-shaped corner desk to a wall-mounted option. These styles are excellent if you need ample space to store lots of paperwork or other office necessities that you can't live without. You can even think about going for different heights if you want a standing desk, decide on color or wood finishes, and more! Here are stunning DIY desks that anyone can build.
1. Get Creative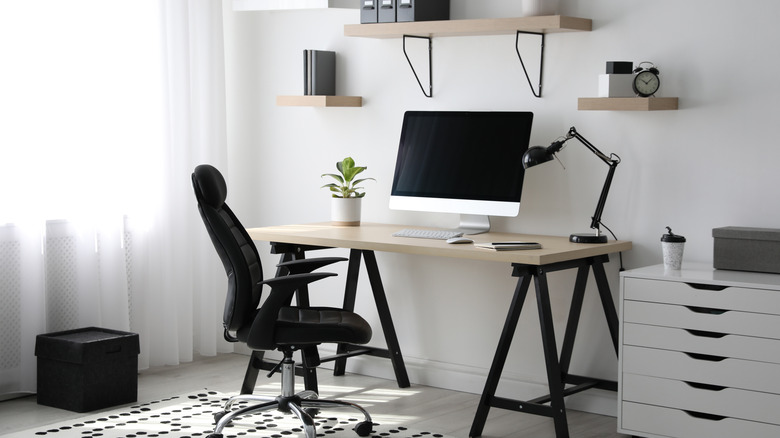 New Africa/Shutterstock
This home office reminds you that you don't need to have a boring office when working remotely. The homeowner opted for black legs for the base and natural wood for the table; we think it couldn't look any better! Go for a black and white color palette and DIY a desk that stuns.
2. An oversized option
Yuganov Konstantin/Shutterstock
This massive light wooden desk gives you plenty of room to spread out and get creative. It's a beautiful addition to any home office or when placed in the corner of a living room and set against a white brick wall.
3. A rustic look and feel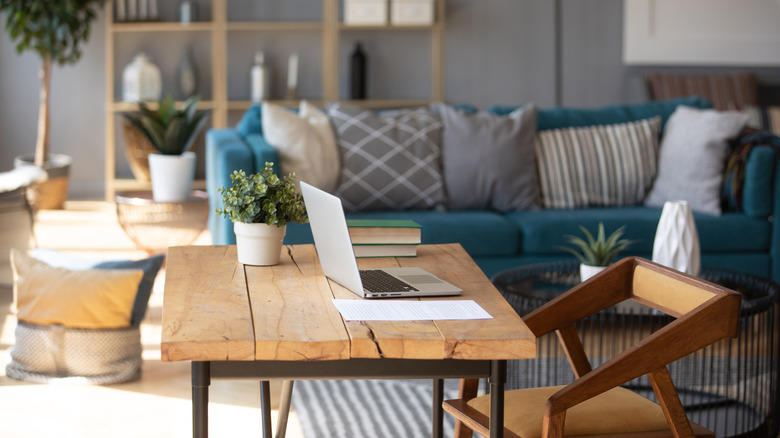 fizkes/Shutterstock
One of the best parts of decorating your home is mixing different aesthetics. We love how this homeowner used a rustic piece of wood for this stunning DIY table that nests with modern furnishings.
4. A desk with storage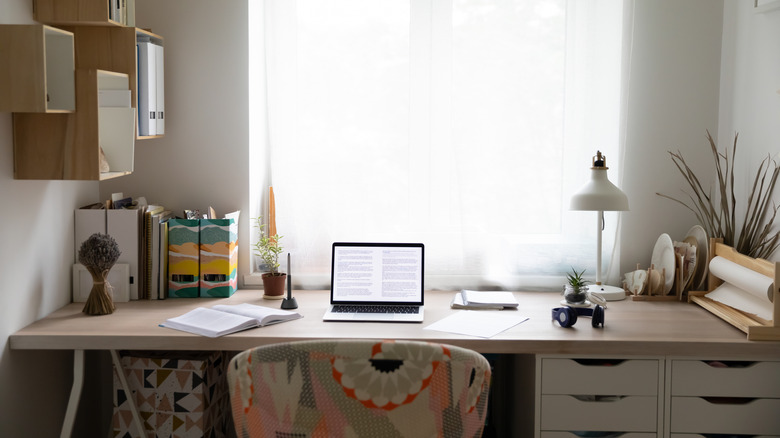 fizkes/Shutterstock
This large desk lets you get the most out of your workspace with much room for your projects. There's a spot for several storage drawers, so storing all your necessities wouldn't be an issue!
5. A chic style with an open front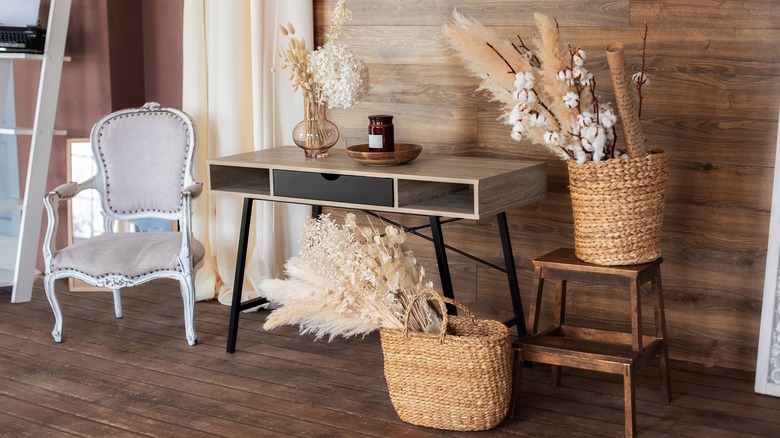 stock_studio/Shutterstock
This pretty style borrows inspiration from your school days with an open front perfect for books, paperwork, and so much more! Add some baskets filled with pampas grass, and you have a relaxing space.
6. Small and mighty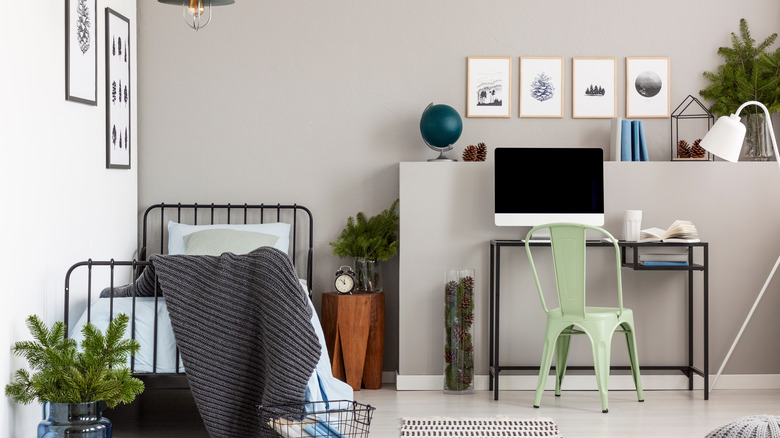 Photographee.eu/Shutterstock
This stylish desk is the epitome of simple design. It has just enough room for the basics, like your computer, and then a spot for necessary paperwork or a good book, but it gets the job done! A mint green chair brings in some interest, that's for sure!
7. Shelf life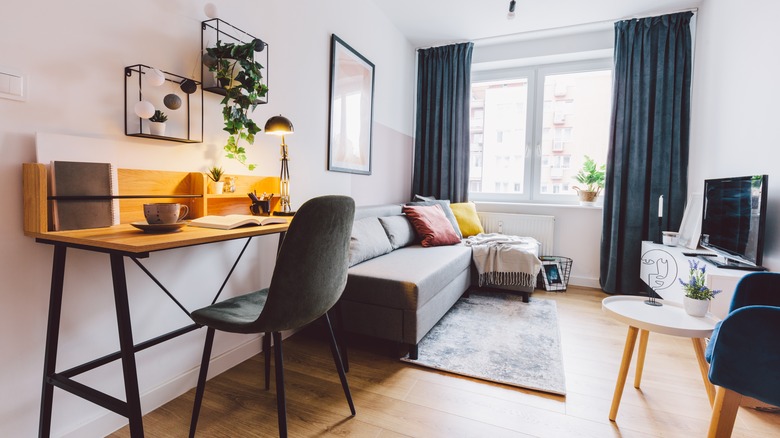 PHOTOCREO Michal Bednarek/Shutterstock
This foldable desk is the perfect spot to do some work, all you need is your laptop, or you can indulge in a good book. We love the natural wood color, slim black legs, and the small shelves perfect for holding cute, potted plants.
8. Coordinate colors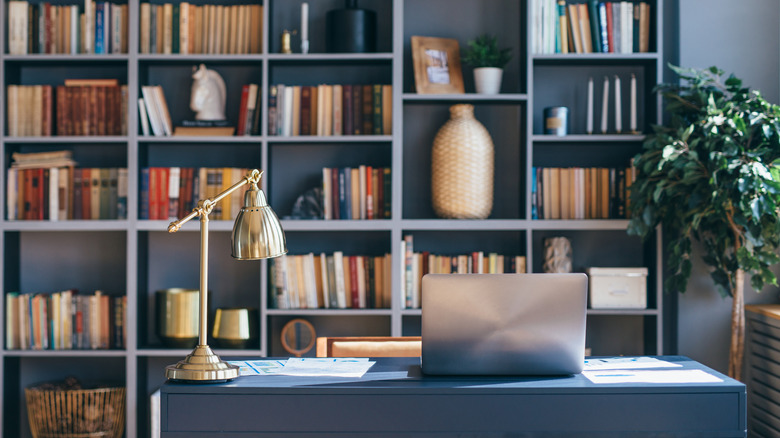 Undrey/Shutterstock
This small wood desk is painted in the prettiest blue hue that matches the wide bookshelf that displays books, stately statues, and pots. It is undoubtedly a style that would turn heads — plus, we love that stunning gold desk lamp with the Midas touch.
9. Double duty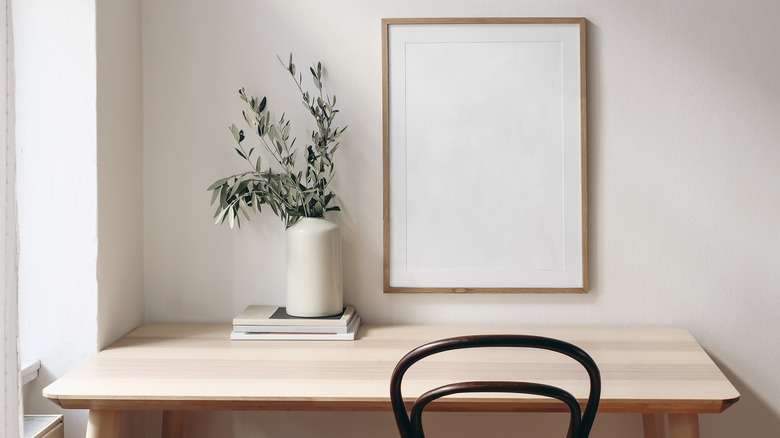 TabitaZn/Shutterstock
If you're in a tiny apartment like a studio in a large city, then space-saving options are essential! We love this light furniture that can function as a dining room table or large desk to complete your work.
10. Strong lines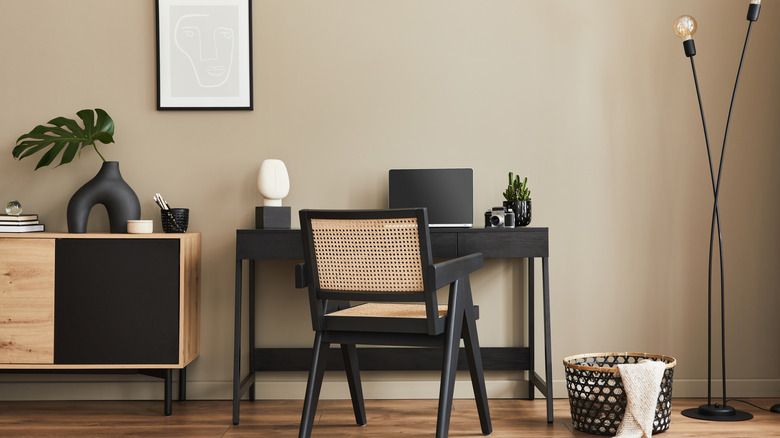 Followtheflow/Shutterstock
Clean lines are one design detail we can't get enough of. This black desk is totally chic and looks beautiful mixed with tan furniture.
11. Boho stunner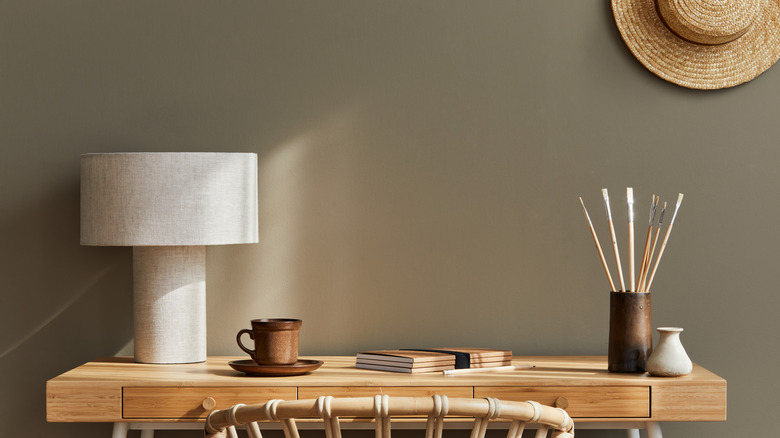 Followtheflow/Shutterstock
This Bohemian-style living room looks stunning with light wood colors. The small desk is totally functional and has a small drawer to keep paperwork stored away.
12. Heavy on inspiration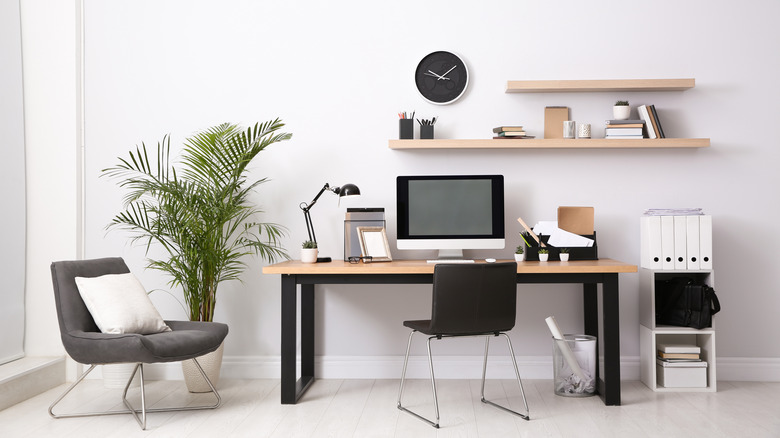 New Africa/Shutterstock
This office space has everything you need to be productive. First, the desk features thin black legs with light wood for the table. The shelves are excellent for displaying your favorite items, and a comfy gray chair makes for a comfortable spot to hang out.
13. Bamboo dreams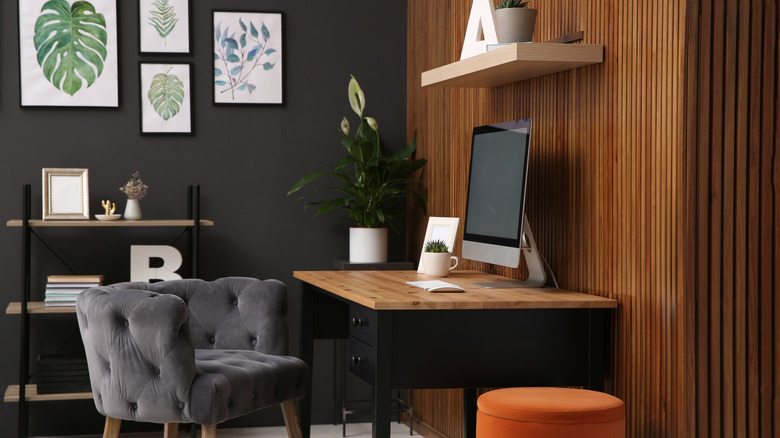 New Africa/Shutterstock
Bamboo wood has a beautiful texture and looks stunning on the wall and desk's surface. A dark accent wall in gray gives the room a decidedly decadent feel.
14. Slim and trim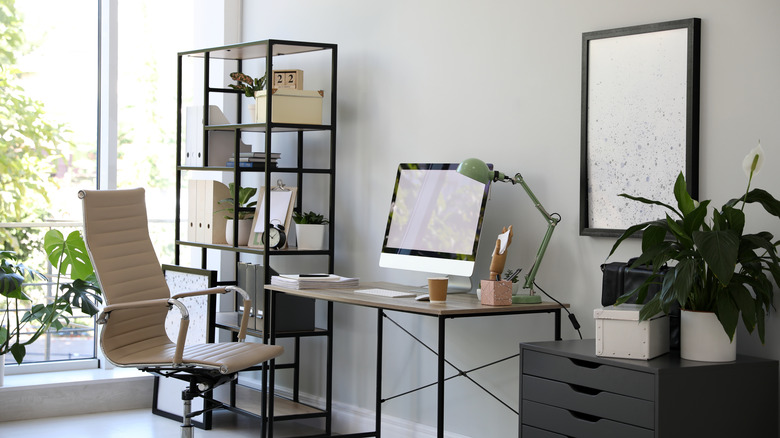 New Africa/Shutterstock
This desk has extra slim black legs, and the table is pretty minuscule as well, but we think this style table would be great if you want to move around your desk a lot, giving you different views whenever you feel the urge.
15. Office simplicity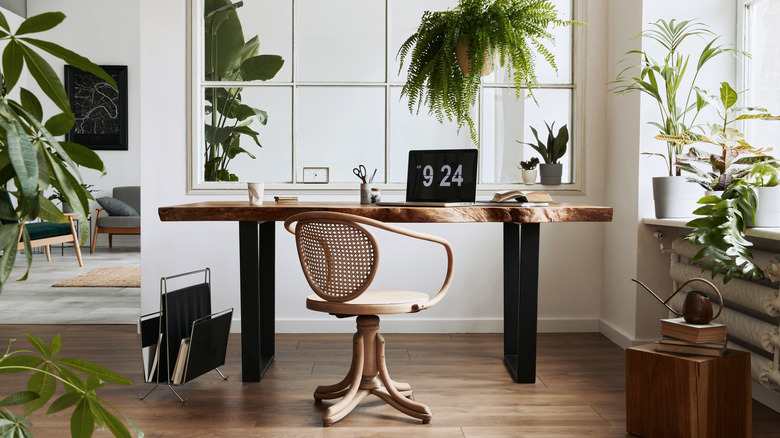 Followtheflow/Shutterstock
This office features an effortless style for the light wood desk. The massive size is ideal for your computer, a unique statue, flickering candles, and even potted plants.
16. A total classic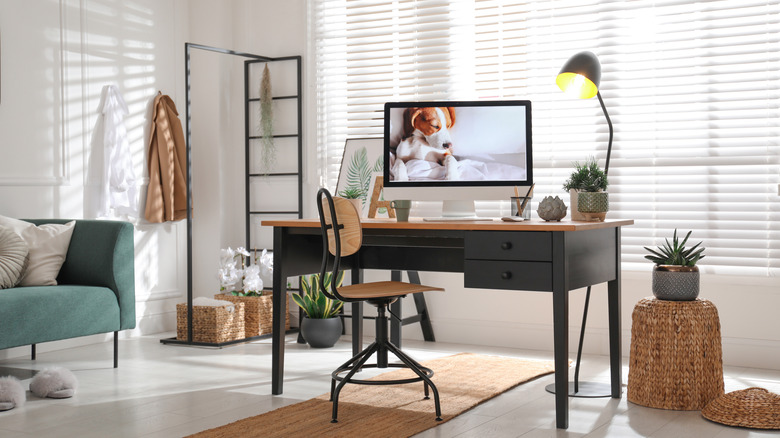 New Africa/Shutterstock
This desk reminds us of the classic styles from years ago. Opt for a dark green shade to bring it into the 21st century for a totally functional standout office.
17. An L-shaped dream desk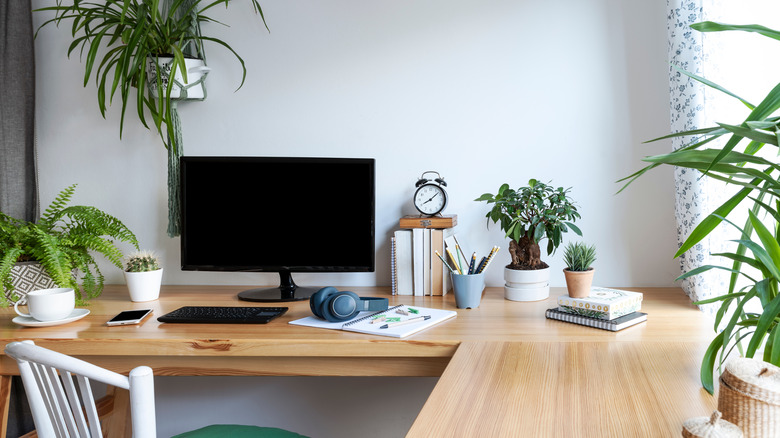 liloon/Shutterstock
If you'd like to spread out, we suggest taking inspiration from this homeowner and building yourself an L-shaped desk in a plank of natural wood such as this. You'll have plenty of room to fill it with potted plants and, of course, your paperwork.
18. For the minimalist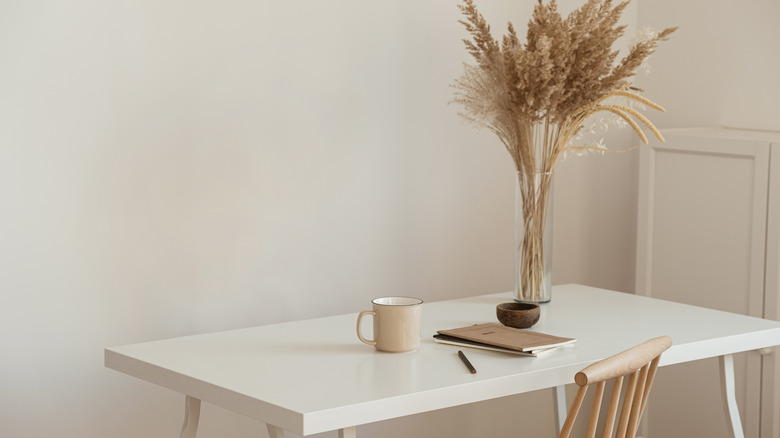 Floral Deco/Shutterstock
This simple desk is tiny, but it would be an ideal spot to write letters or read, and since it's so small, it could fit perfectly in the corner of a bedroom or living room.
19. Get elevated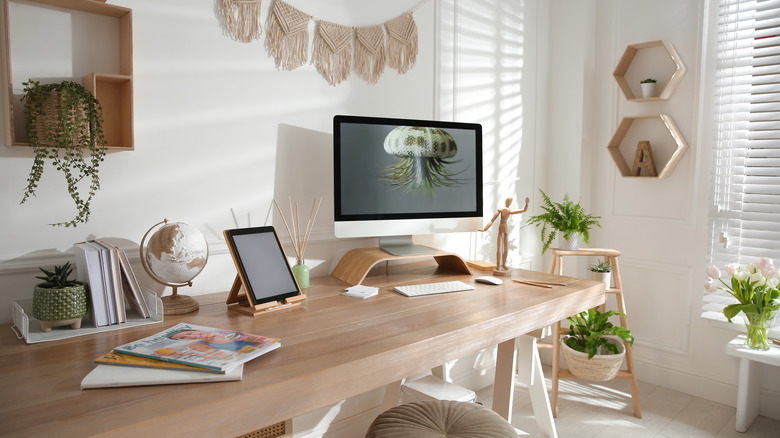 New Africa/Shutterstock
This sizeable light wood desk isn't the only thing that catches our eye. If your computer needs extra height for all those zoom meetings, then be sure to DIY a stand to elevate it, ensuring it is in the perfect position for work calls.
20. Shining bright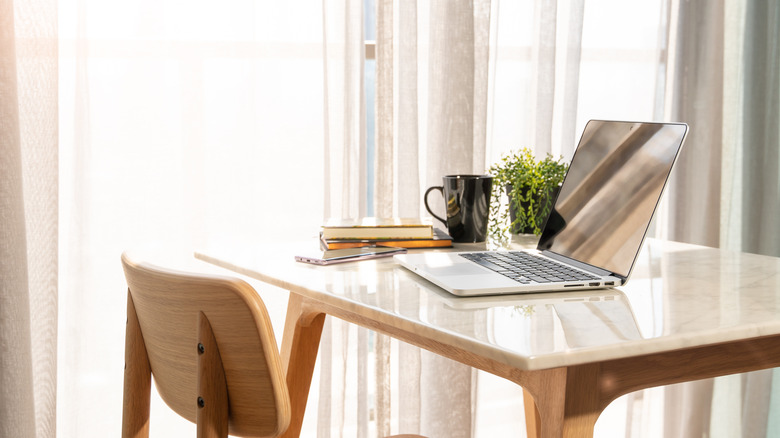 myboys.me/Shutterstock
A little sparkle and shine can go a long way in any home, so consider a topper for your desk that does just that, from gleamingly beautiful marble to quartz.
21. A mid-century modern option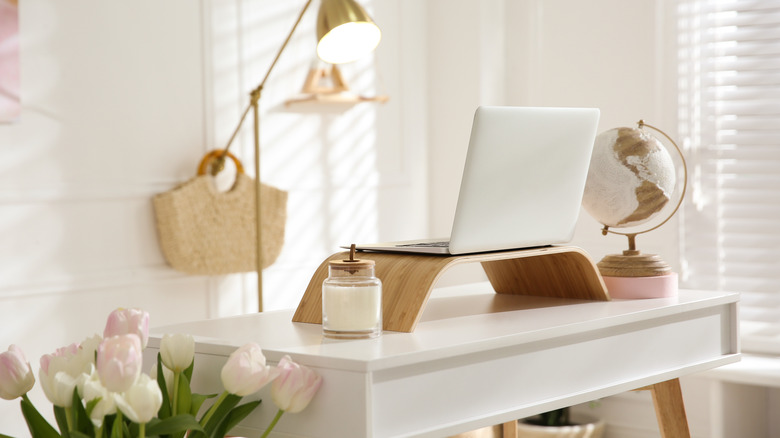 New Africa/Shutterstock
This compact white mid-century modern desk is so inspirational. It can fit an extra-large computer and even has two drawers to store away all of your important personal items.
22. A simple wooden desk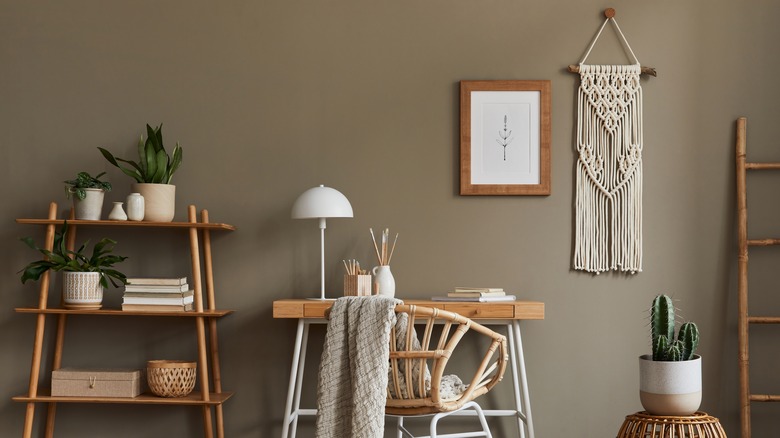 Followtheflow/Shutterstock
Wood elements and neutral tones are the central themes throughout this room, but the best focal point is this desk with a natural wood top paired with white legs.
23. A modern delight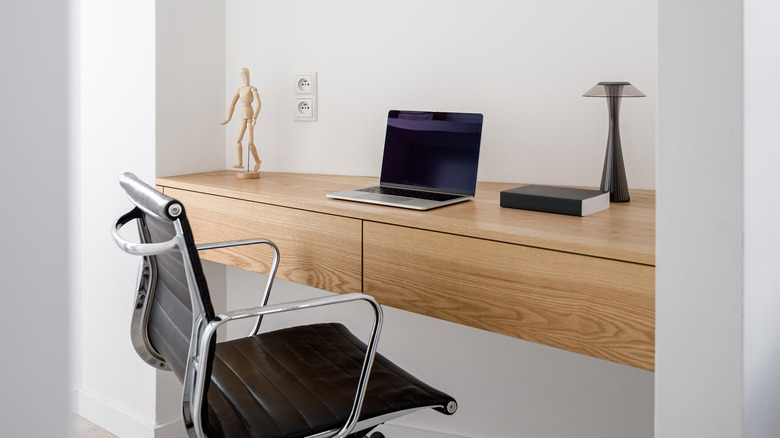 Dariusz Jarzabek/Shutterstock
This desk is completely streamlined, and while it's pretty thick, those two drawers that open in the front will give you plenty of space to store away any items to keep it clean and clutter-free.
24. Light and bright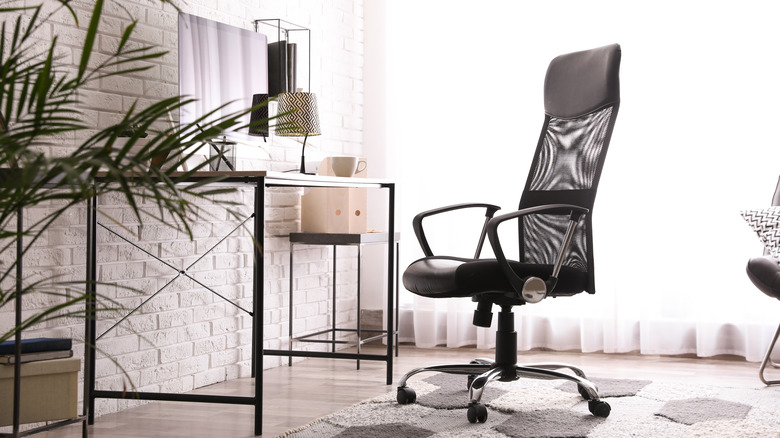 New Africa/Shutterstock
This light-filled room has the perfect feel to get through strict deadlines at work. The gorgeous desk with clean lines is the perfect inspiration for any home office.
25. Stylish and functional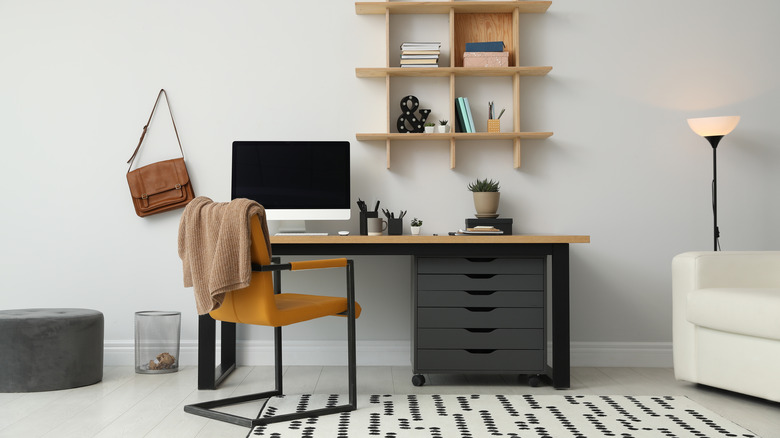 New Africa/Shutterstock
This simple desk is functional by putting a large set of drawers directly underneath. The color scheme of neutral tones makes this office completely appealing for long days at work.
26. Custom-made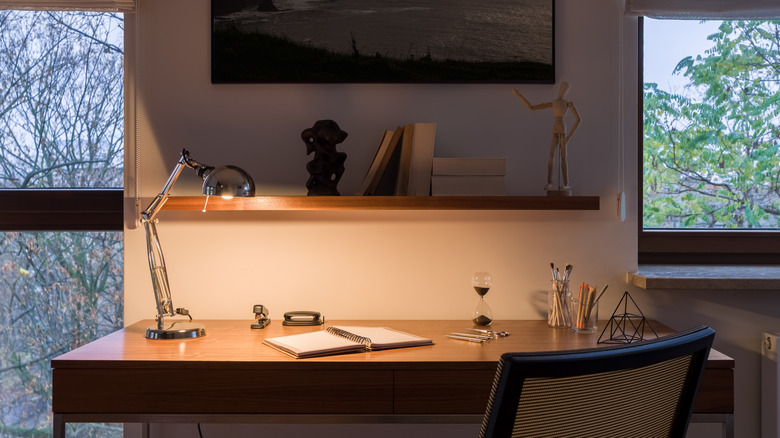 Dariusz Jarzabek/Shutterstock
Sometimes DIYing your furniture is your best bet to ensure the right fit. We love how these homeowners ensured that this desk fit precisely between the windows. Not only does this allow you to take breaks with a view, but it gives the room a custom feel.
27. A true classic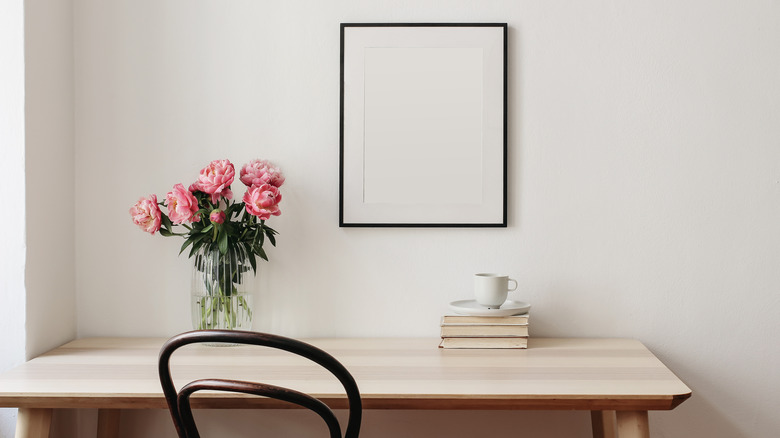 TabitaZn/Shutterstock
This corner desk is in a light hue and could function as a desk or even a small dining table. The beautiful flowers are a nice added touch, don't you think?
28. Crisp white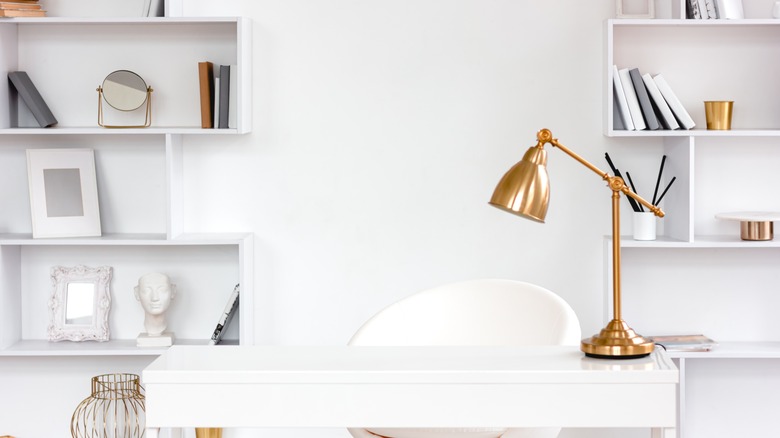 Yana Iskayeva/Shutterstock
This bright white office has great built-in shelving for your favorite knick-knacks, a small desk ideal for homework, or another place to work with your laptop.
29. Color of life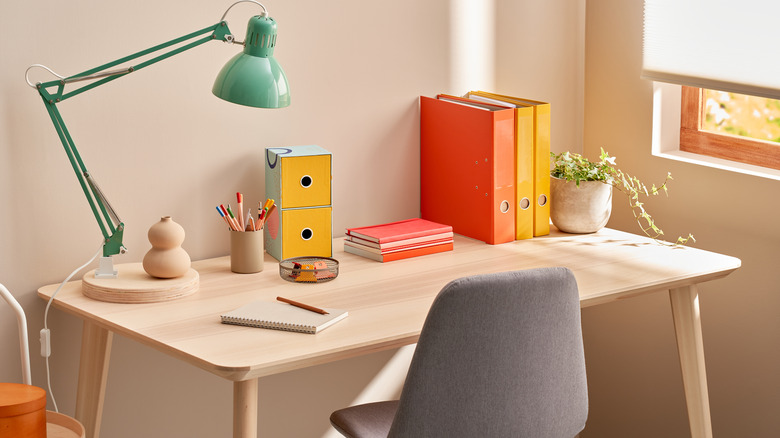 Raimunda-losantos/Shutterstock
Let the color decorate your plain wood desk to make your workday just a tad more interesting. Add colorful books, a lamp, and a potted plant for a look that truly inspires.
30. A mix of metallic and graphic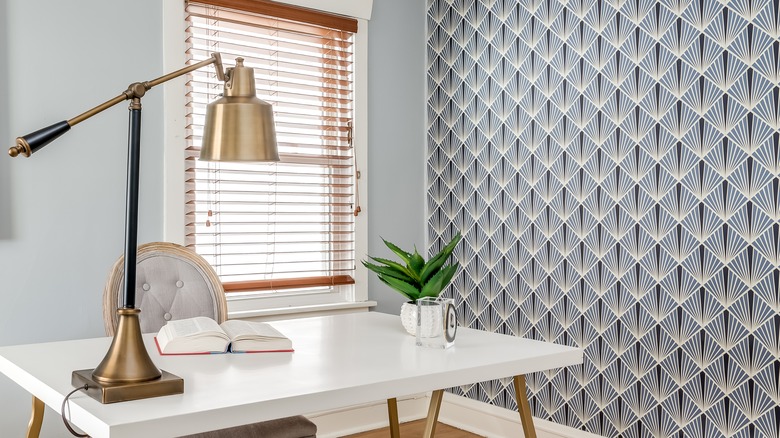 Fio Creative/Shutterstock
This white desk looks stunning in this office with bold graphic wallpaper, but what we love most is the gold legs that give it a bit of glamour.