The Best Ways To Protect Your Basement From Flooding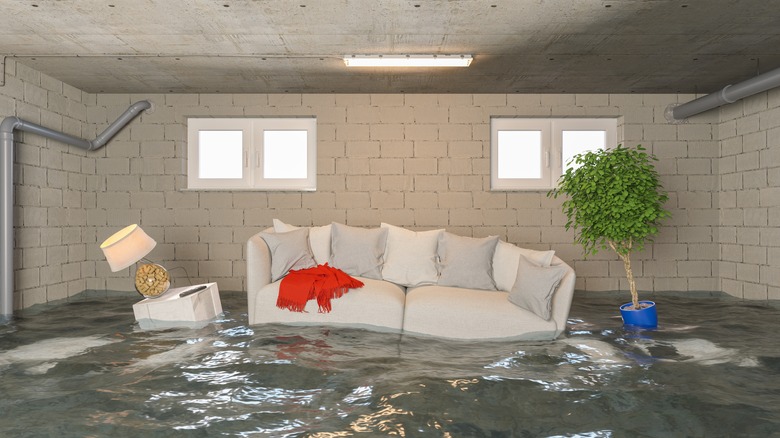 r.classen/Shutterstock
Basement flooding is a common crisis that many homeowners worry about. As Larry and Sons explain, it can bring about a lot of unnecessary trouble, for example, apart from the obvious water damage, basement flooding can also wreak havoc on your foundation and your home's structure and stability. If your home contains any wooden elements, such as beams or columns, they can be subject to rot due to excess moisture from flooding. They also note that, as most homes have their heating and ventilation systems installed in the basement, flooding can cause damage and might require you to replace your HVAC components.
These are all situations that could potentially cost you a lot to repair or replace, so preventing basement flooding must be a top priority for all homeowners. Thankfully, even if your home is located in an area that is more prone to flooding, there are a number of steps you can take to protect your basement from water damage.
Gutter maintenance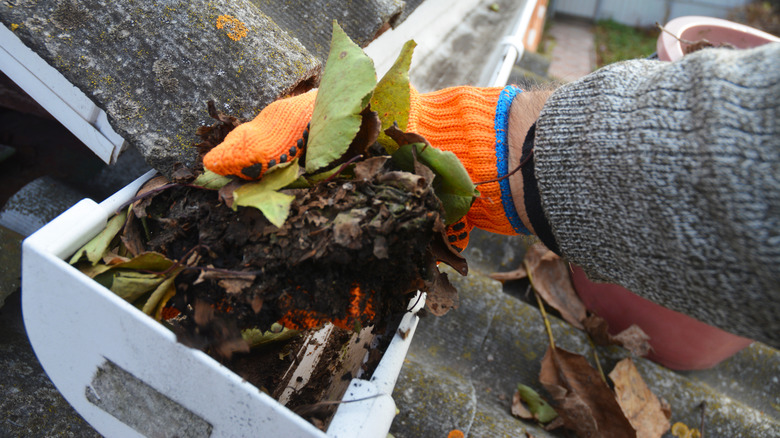 Radovan1/Shutterstock
ServiceMaster Restore notes that one of the main causes of basement flooding in the first place is gutters that don't function properly. Gutters can easily get clogged up with debris, leaves, and other organic material that blows onto your roof and into your gutter. This prevents the water from correctly flowing through your gutter and prevents the effective disposal of stormwater.
According to Out of this world plumbing, the rainfall and snowmelt that runs off your roof and into your gutters and downspouts are intended to be collected and safely directed away from your home's foundation by your gutters and downspouts. Therefore, gutters should be cleaned three to four times a year, especially just before the spring thaw, to ensure that they are functional. They also recommend checking that downspouts have the appropriate angle so that the water will be directed at least three meters away from the home's foundation.
Waterproof your basement
This may sound obvious, but according to Gutter Helmet, many homeowners don't make sure that their basement is sealed. In order to properly seal any potential openings for water entering your basement, you should caulk the windows and make sure the weather-stripping around the doors is in excellent shape. 
However, they also note that if water is leaking through the walls of the basement, it's best if you get in touch with a professional that specializes in waterproofing basements. Triad recommends thinking about both interior and exterior basement waterproofing. Interior waterproofing is generally easy to carry out and won't break the bank, and there are plenty of waterproof sealants available that will get the job done for you. Exterior waterproofing is, however, often the source of the problem, and they recommend consulting a professional as exterior waterproofing is a more labor-intensive and time-consuming task, which requires professional knowledge. They note that in a perfect scenario, exterior basement waterproofing should be taken care of at the construction stage.