The Best Way To Measure For Wallpaper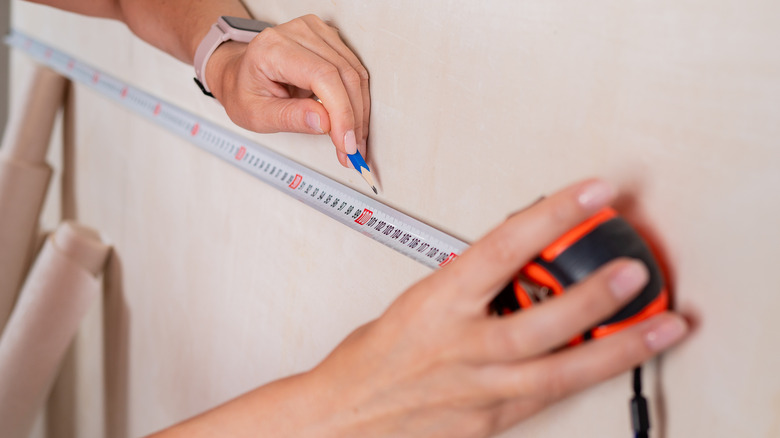 Dmitriy Utlanov/Shutterstock
Wallpaper can bring in many design elements into one space, such as texture, warmth, and color. You can also use wallpaper to create an accent wall and focal point to bring balance to any room. In addition, wallpaper is available in pretty much any pattern to complement any design aesthetic. There are a plethora of benefits to using wallpaper — it can last for over 15 years, lasts three times longer than paint, can hide imperfections on your walls, and it is easy to clean, explains 1838 Wallcoverings.
If you are someone who wants to decorate their home with wallpaper, you must first take the proper steps for preparation. It's important that you know how to measure for wallpaper, as it comes in a long roll (sometimes two single rolls in one,) per Wallpaper Boulevard. Single rolls come in different sizes, such as 28, 30, and 36-square feet. So, if you're ready to install some beautiful wallpaper, first take a look at how you should measure your wall.
Measure for wallpaper like a pro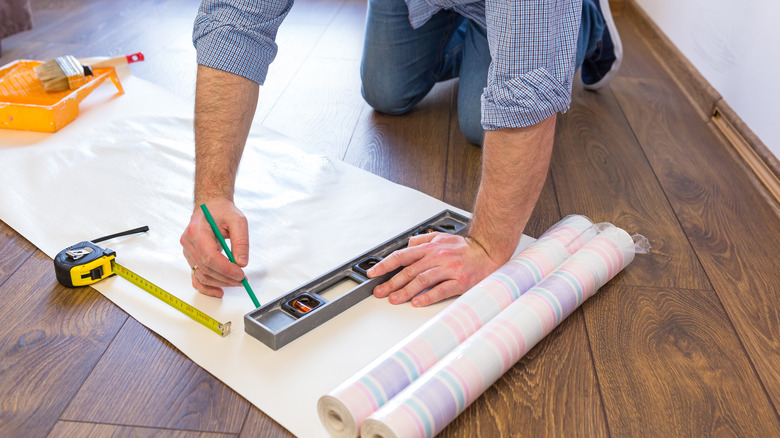 Patryk Kosmider/Shutterstock
As you prepair a room for wallpaper, you need to take note of three things: the wall dimensions, the wallpaper roll size, and the pattern repeat, notes Steve's Blinds and Wallpaper. Start off by measuring the width of the walls you want to cover then add those figures together to find the combined width. You'll also need to measure the height, then multiply that by the combined width to find the total square footage. To ensure you don't run short, include the widths of doors and windows to allow for wastage. To find out how many single rolls you'll need, divide your square footage by 23 if your pattern repeat is 18-inches or less, or by 20 if the pattern repeat is 19 to 25-inches.
A pattern repeat is how often the pattern repeats on a sheet of wallpaper. So if your wallpaper says 18-inches, that means the pattern repeats every 18-inches. In order to properly install your wallpaper, each sheet of wallpaper should be lined so that the pattern repeat is located correctly. If your repeat is bigger than 18-inches, then you'll need more wallpaper.
Types of wallpaper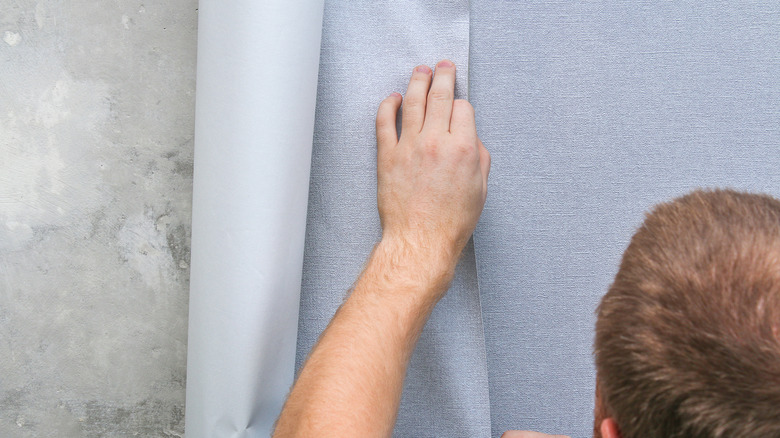 Olya Detry/Shutterstock
Before purchasing your wallpaper, you should be aware of the different kinds available. The most durable is vinyl wallpaper, and can handle more damage than non-woven wallpaper, per Wallpaper Boulevard. It's typically made of recycled plastic, and you can either purchase solid vinyl, vinyl coated, or fabric-backed vinyl — which is the strongest of the three. 
There are plenty of other options to choose from, such as prepasted wallpaper and peel and stick wallpaper. Prepasted doesn't need glue, as it already has glue immersed in the back. But it won't be sticky until you've applied water to the back. You won't notice the difference, either by look or feel, until it becomes activated by adding water. Some people do this by spraying the back with a spray bottle or you can submerge each sheet into a body of water. Peel and stick wallpaper also doesn't require glue, and is great as a temporary option, especially for those who are renting.