30 Tantalizing Mint Green Rooms That You'll Fall In Love With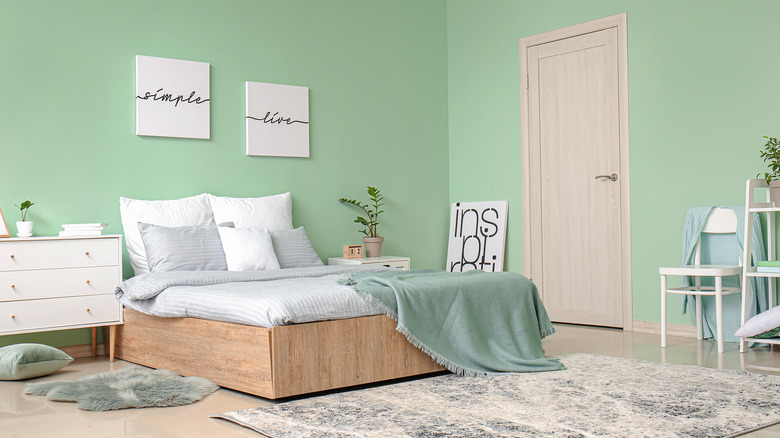 Pixel-Shot/Shutterstock
Green is a popular home décor color. Any shade of green reminds the viewer of a serene nature scene. While emerald green seems to get all the attention, many are still in love with lighter hues. One of these lighter shades is mint green.
Mint has connotations with newness, per Color Psychology. As the flavor mint tastes fresh, the color mint serves to bring freshness to any living space. This bright pastel color is a great choice to use in spaces where relaxation or creativity are prioritized. Mint is typically mixed with neutrals, but it could also be paired with bright colors like yellow or pink. Mint is also a popular color used in cottagecore spaces. The Vou describes cottagecore as a style that mixes rustic elements with tranquil pastels. Drawing inspiration from both nature and homey cottage designs, this style is unique and peaceful. If you're thinking about incorporating the color mint into your home décor, here are 30 room designs you're sure to love.
1. Fresh accent wall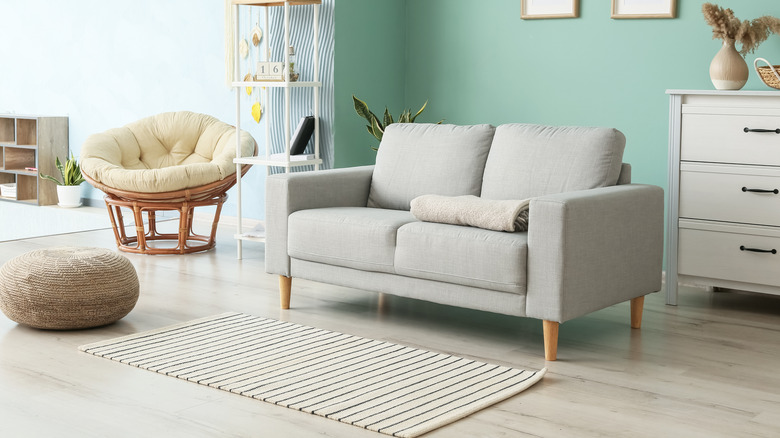 Pixel-Shot/Shutterstock
When decorating with mostly neutrals, adding a mint wall can add a fresh feel to a space. This space has a bright green wall that adds extra interest to the mostly gray, white, and wooden room. 
2. Unite with natural light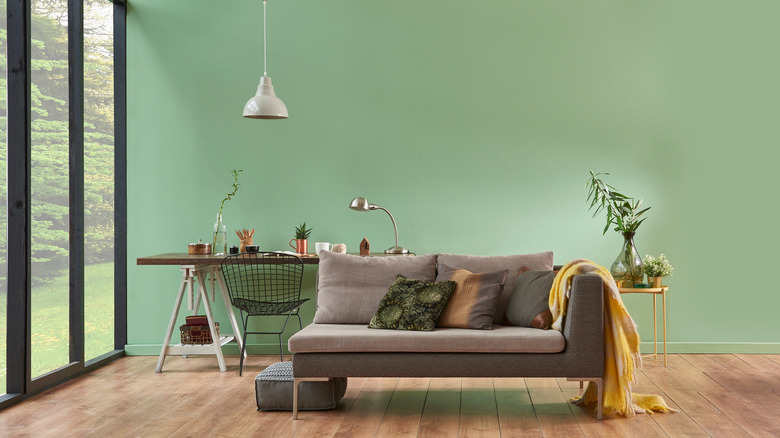 united photo studio/Shutterstock
Adding light green to a room with lots of natural light can create an extra tranquil and natural feeling space. The above living room has large glass windows that allow lots of natural light to filter into the mint space. 
3. Mix with a deeper green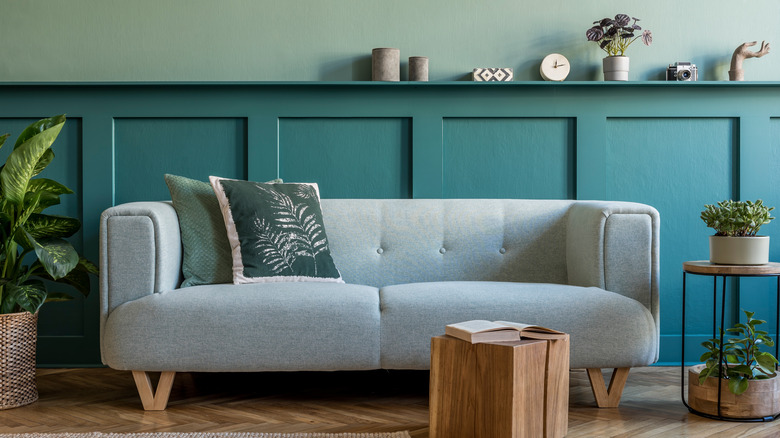 Followtheflow/Shutterstock
When mixed with a deeper green, mint will look extra fresh and bright. The above room has a two-toned wall that features both mint and a dark teal shade. 
4. Promote relaxation in the bedroom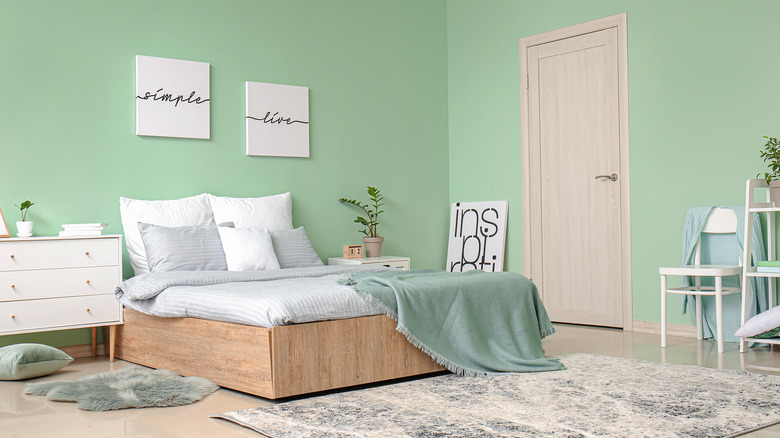 Pixel-Shot/Shutterstock
This green bedroom feels extra relaxing. The mint pastel shade is paired with bright whites and wood tones in this space. 
5. Pair with yellow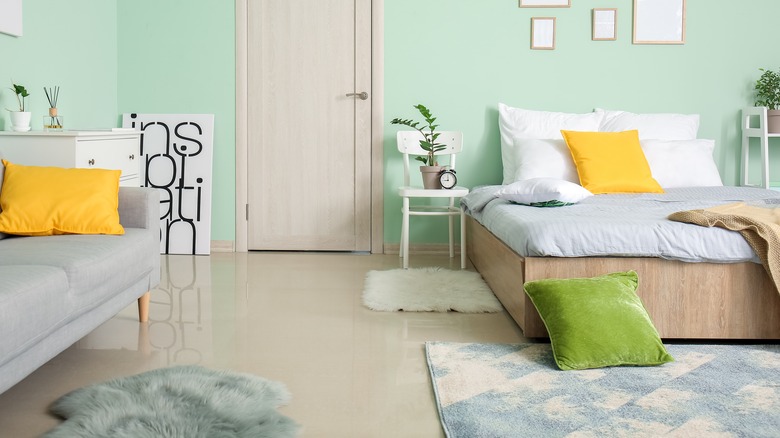 Pixel-Shot/Shutterstock
You may be surprised to discover that mint green can actually look gorgeous when paired with bright pops of yellow. Yellow can bring out the creativity and energy in this pastel hue.   
6. A unique entryway color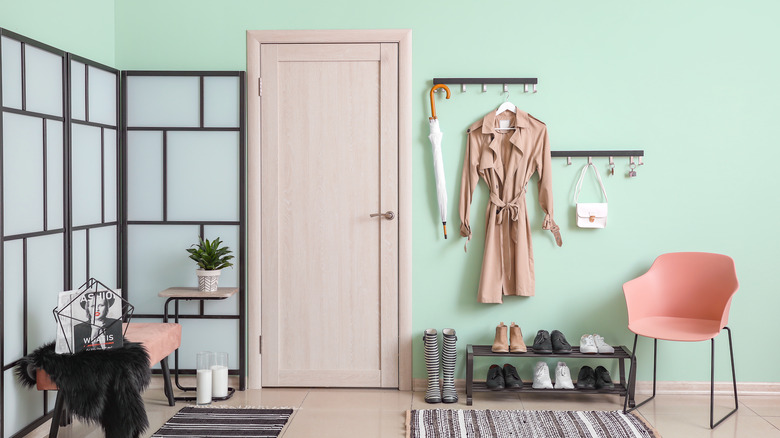 Pixel-Shot/Shutterstock
Mint green could also be used to wake up a dull entryway space. In the above room, mint has been combined with lots of neutrals and a beautiful salmon pink chair. 
7. Get creative in the closet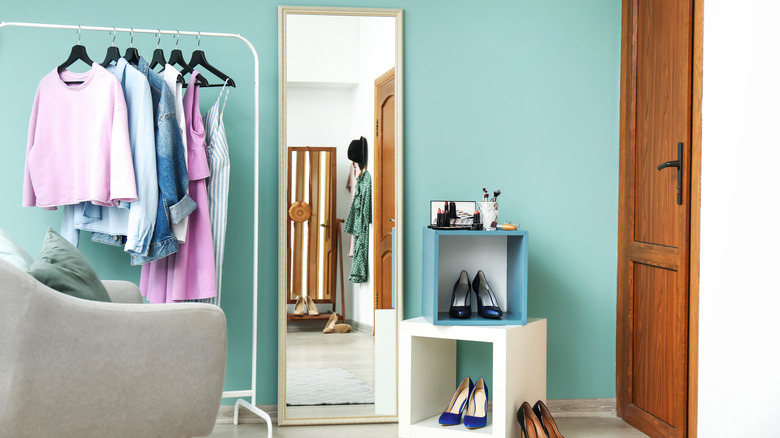 Pixel-Shot/Shutterstock
If you're into fashion, a space that requires lots of creativity is your closet. Painting your closet mint green could help foster more outfit ideas in the morning. 
8. Mix with deep orange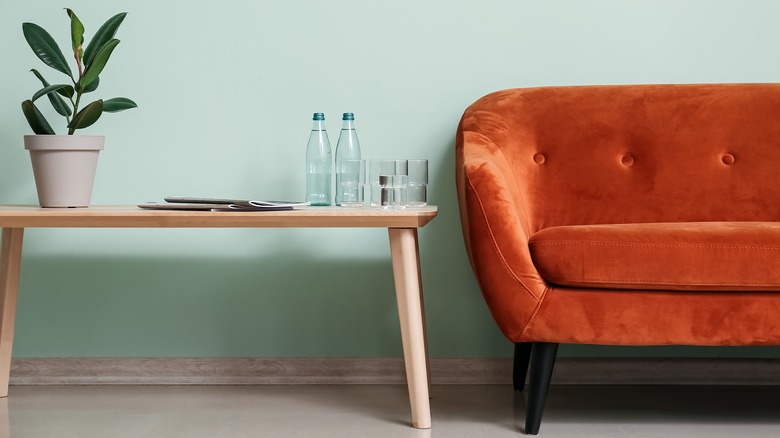 Pixel-Shot/Shutterstock
Because mint green is a light color, pairing it with a darker shade can create interest in a space. Mint could be paired with a deep orange to create a nice contrast. 
9. Pop of color in the kitchen
In a neutral kitchen space, a light green shade can look very attractive. This mostly white and black kitchen has been painted a gorgeous mint shade. 
10. Accent pillows
In the bedroom, pairing mint with a mustard yellow and muted pink can look stunning. This bedding mixes all three of these shades for an unpredictable combination that still looks cohesive. 
11. Bright and light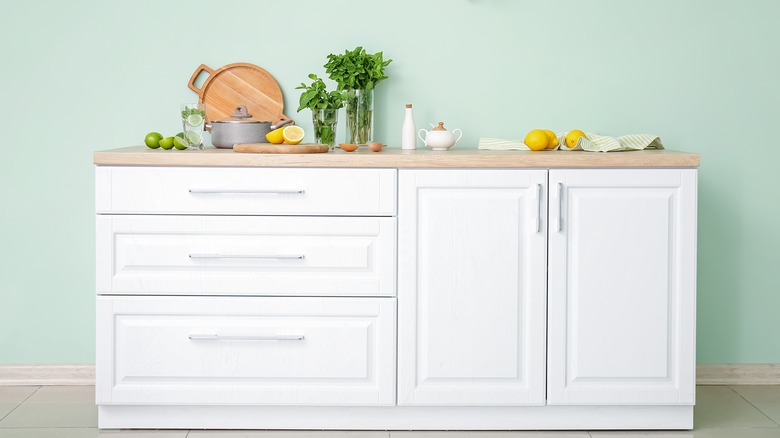 Pixel-Shot/Shutterstock
When paired with bright white, mint green will appear extra lively. This small kitchen space grabs the attention of the viewer.  
12. Throw blanket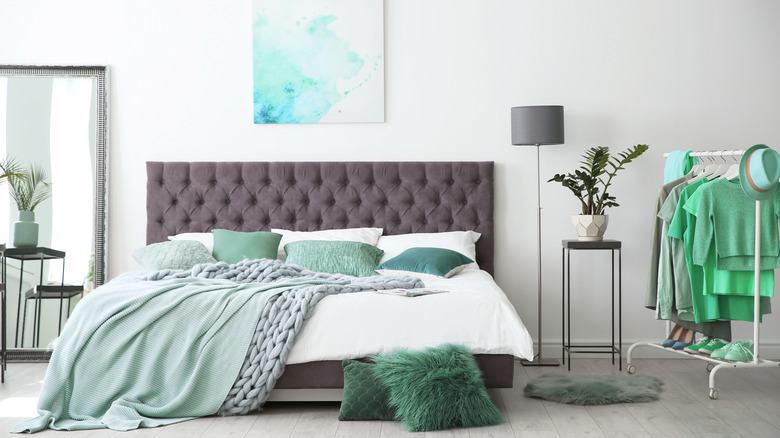 New Africa/Shutterstock
To add a subtle pop of light green, try adding a mint throw blanket or pillow to your bedroom or living space. This room combines many different green shades to add texture. 
13. Lively playroom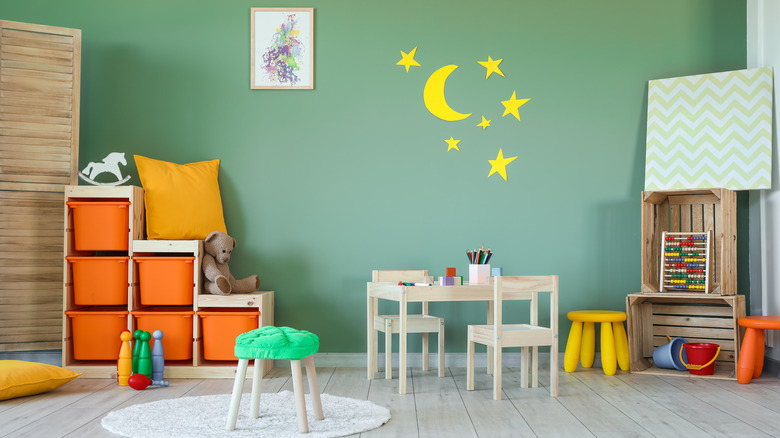 Pixel-Shot/Shutterstock
Light green is also a great color to use in a child's playroom. This space has three accent colors: yellow, orange, and mint. 
14. Accent color in a white room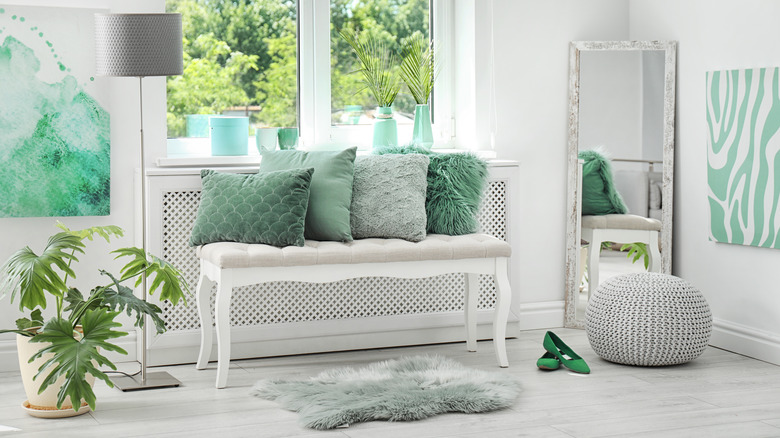 New Africa/Shutterstock
In an all-white room, mint could be used to brighten the space and add dimension. This otherwise monochromatic space has been enlivened with lots of different green décor pieces. 
15. Colorful furniture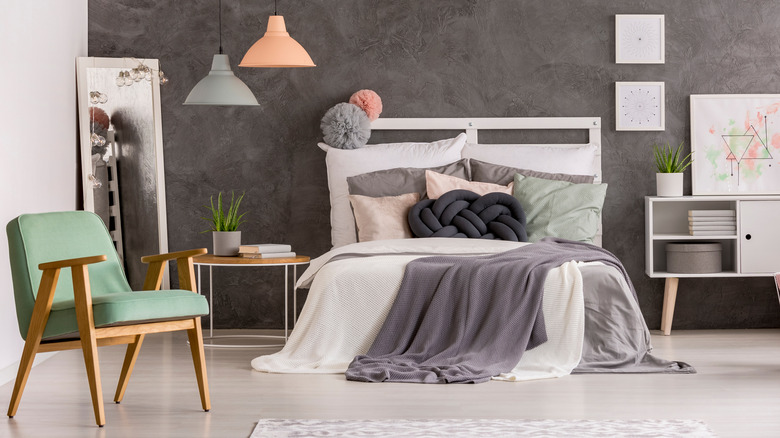 Photographee.eu/Shutterstock
Mint green will really pop in a darker room. This dark gray space mixes pastel pink and mint together beautifully.  
16. Plant wall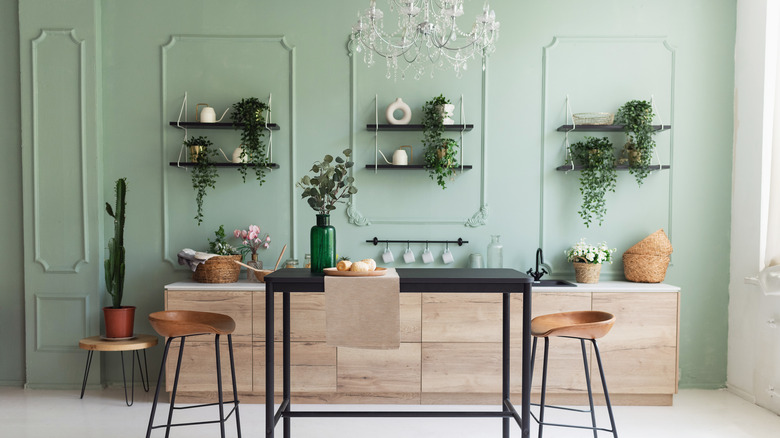 Lysikova Irina/Shutterstock
To bring out mint's nature vibes, add plants to a cottagecore living space. This accent wall features floating shelves with many different types of plants. 
17. Airy living space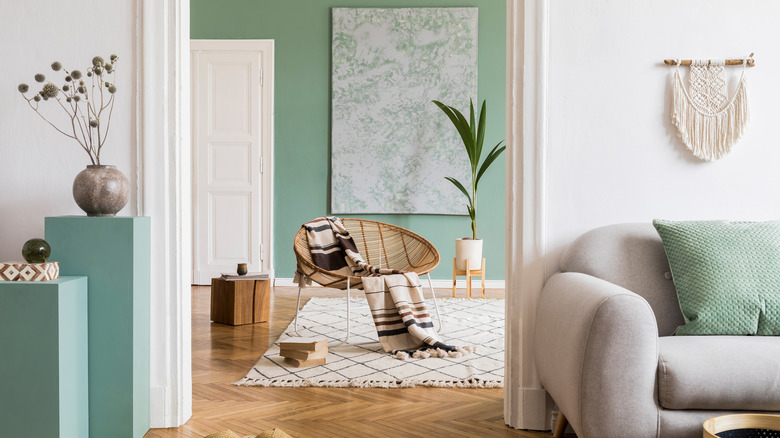 Followtheflow/Shutterstock
Mint will breathe life into your home. This neutral space is given color and interest with the addition of light green accents. 
18. Kitchen cabinets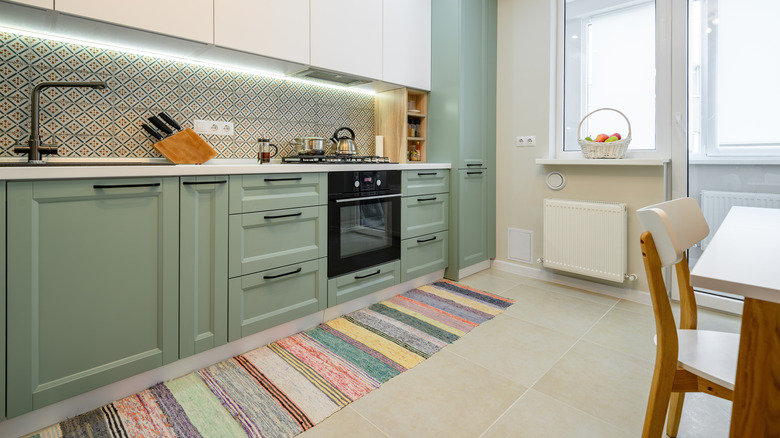 Serghei Starus/Shutterstock
For a unique and cottagecore-styled kitchen, paint your cabinets mint green. To add even more color, you could incorporate a rainbow rug or colorful backsplash tiles. 
19. Muted mint kitchen cabinets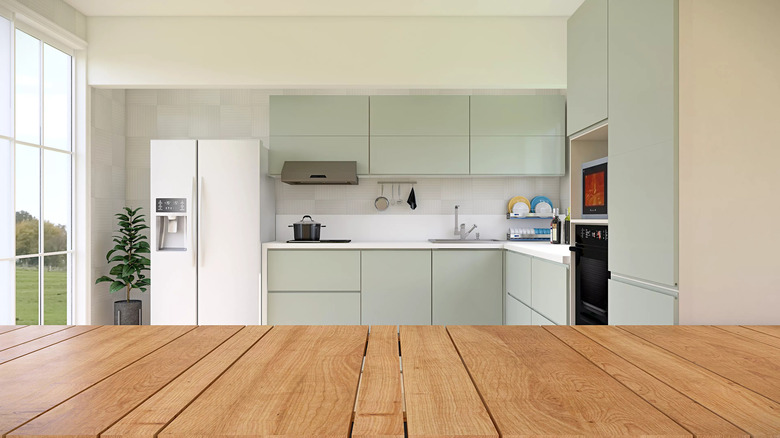 myboys.me/Shutterstock
If you think mint looks too bold in the kitchen, this image may change your mind. Using a toned-down shade can still add interest to your kitchen cabinets without making the space appear too vivid. 
20. With a wooden accent wall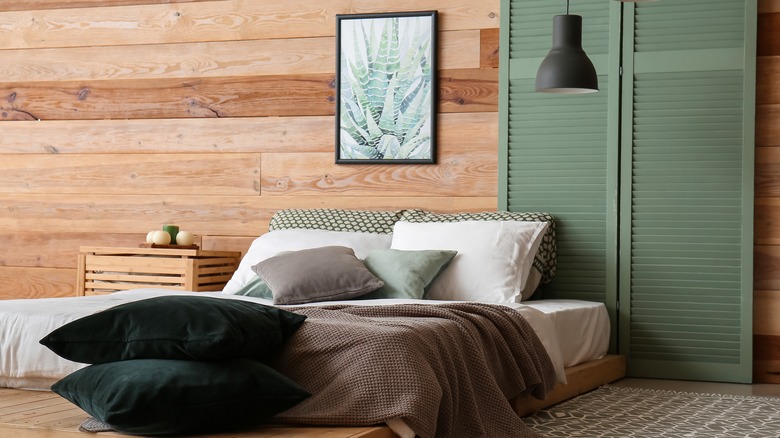 Pixel-Shot/Shutterstock
To create serene vibes, mix wood with mint green. Both these elements will remind the viewer of nature and tranquility. This mixture can be perfect for a relaxing bedroom. 
21. Mint couch
A green couch will brighten up a room and provide some beautiful color. This mint couch and lamp shade are surrounded by lush plants for an extra cozy vibe. 
22. Muted mint living room
For a subtle green look in the living room, use a muted mint shade. This space only utilizes white, neutrals, and mint green. 
23. Combine with emerald and gold
To create an elegant space, pair pastel green with emerald and gold. This mint room features a velvet emerald green couch and gold accents.
24. Match with colorful accents
Matching mint with bright colors like pink and yellow will adds lots of interest and creativity to a space. 
25. Unlikely pair
An unlikely pair is red-pink and mint. Because mixing these two colors is surprising, they're great for creating an eye-catching space. 
26. Airy playroom
This mint playroom feels open and airy. The white clouds emphasize the wall color and give the space an inviting feel. 
27. Light bedding
For a more neutral-looking space, mix light green with gray. This bedroom has light gray walls and mint bedding. Mint is carried throughout the room through the desk chair and curtains. 
28. Paint furniture
To give life to an old furniture piece, you could paint it a bold color. To add a lively and fun feel, choose mint green. 
29. Nature elements
When combined with plants and wooden furniture, mint looks extra earthy. This space subtly combines many different natural elements. 
30. Join with coral pink
While definitely not expected, coral pink and mint green can look great in a space. This bathroom successfully mixes these two bold colors together.