Restore Your Old Outdoor Furniture With These Tips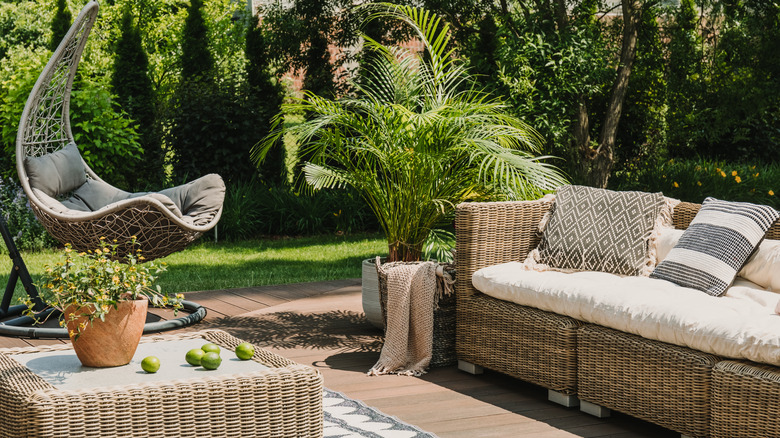 Photographee.eu/Shutterstock
Your outdoor furniture takes a lot of wear and tear during its life. Being continually exposed to the elements can leave it looking lackluster over time, but that doesn't mean it isn't salvageable. Restoring outdoor furniture is one of the best ways to keep your home environmentally green and save money at the same time. Why invest in brand new pieces when you can update the existing ones and breathe new life into them?
Restoring outdoor furniture can be as simple as throwing on a coat of paint or finding new fabric for weathered cushions. For instance, Home Depot and many other retailers sell chalkboard paint that is rust resistant and makes pieces look brand new, protecting them from oxidizing and other weather elements that could otherwise make them look shabby. In addition, according to Home Decor Bliss, you can sand away rotted wood to make a surface that is ready to hold fresh paint, avoiding cracks or chipping down the line.
Reupholster your cushions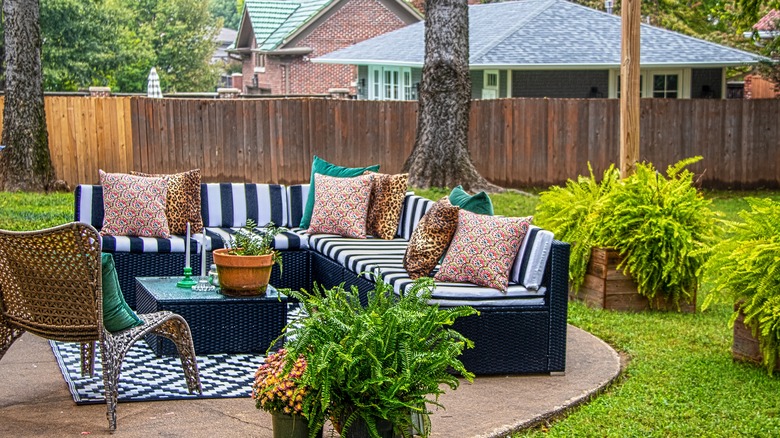 Vineyard Perspective/Shutterstock
If your outdoor furniture has begun to look weathered or worn, reupholstering any cushions that sit on your pieces is one of the easiest fixes. Fabric is easily affected by rain, snow, sunshine, and other elements. Even if it is built to withstand these factors, the colors on your cushions might fade, patterns diminish, and tears may appear over time. Phifer recommends measuring the cushions before buying new fabric, starting with the width and also noting the height of each one as well as the depth.
Once you have added up all the measurements, you can head to a local craft or fabric store to purchase your materials. It is better to invest in material that is outdoor friendly and weatherproof so it will last longer in the elements. If you're new to sewing and crafting, you can choose to use a machine or hand-held needle and thread, but it is also useful to have chalk, measuring tape, sharp scissors, and pens on hand. These will help you make an outline of the area you need to cut and sew, as well as allow you to create the new cushion covers.
Add several paint coats to your furniture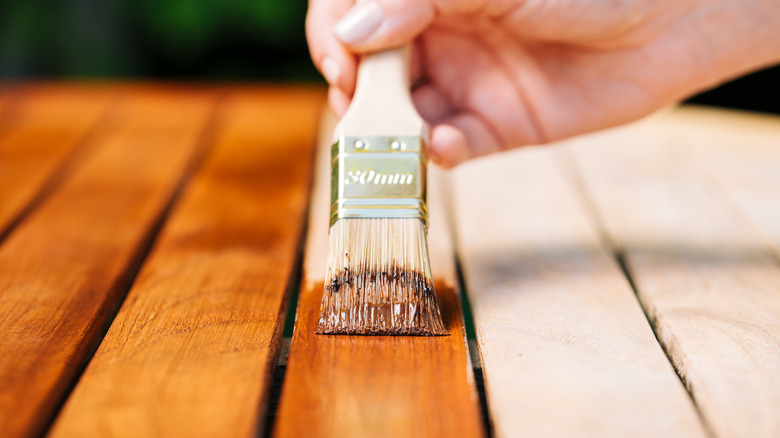 bubutu/Shutterstock
When it comes to repainting metal or wood furniture, you want to add several coats of paint to ensure it stays on and protects the base. Outdoor paints or chalk options are made to help deflect water and other intense elements, but the thicker the layers, the better they will withstand nature's curveballs. Choose a color that will match your current theme, as well as one that is easy to transition should you want to reupholster or redecorate the yard down the line.
For instance, several furniture paint brands you can find at your local Home Depot are popular thanks to the buildable solution that allows you to add several coats while ensuring everything looks clean and aesthetically pleasing. In addition, finding a paint option that enables you to protect and cover existing furniture is one of the easiest ways to restore old pieces while giving your patio area a makeover.
According to Ace Hardware, using a scraper to remove existing paint from certain surfaces will allow for a better application of the new solution, so prep your pieces before beginning. Likewise, using a brush can have better results than spray paint, but experimenting will allow you to find the best method for your furniture.