20 Creative Ways To Use Mirrors That Will Make Your Space Look Bigger
Pixel-Shot/Shutterstock
Mirrors are an essential part of your everyday routine, whether that's fixing your hair or looking at the outfit you put together for the fourth time, hoping it's the one. They not only remind you that you look good but can fill any space on a wall and tie a whole room together. Central Glass Company claims that incorporating mirrors in your home can make any room look better and bigger, especially if you live in a smaller home or apartment. They also work to hide imperfections such as a hole or stain on your wall you've been meaning to fix.
There are various styles, shapes, and sizes that mirrors come in, which can change an entire room by giving it more depth and life, and making it brighter, according to Thistlewood Farms. Since mirrors are extremely versatile, you can put multiple in every room if you wanted without worrying too much about whether or not they fit in. Here are a few ways you can use mirrors to make any room in your home bigger.
Mirror in the kitchen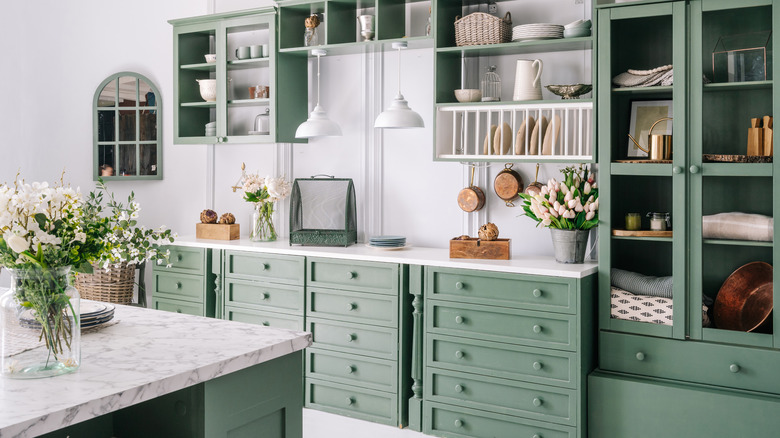 brizmaker/Shutterstock
A mirror in a kitchen can be uncommon, which is why it's the best place to put one. If your kitchen and dining room share the same space, add a mirror to the wall facing the dining room in your kitchen to add depth.
Entire mirror wall
Using an entire wall as a mirror will give the illusion you have a larger space. It'll reflect all the furniture and décor items that will elongate the entire room and make it brighter. Just be careful about being tricked and try not to walk through the mirror.
Leaning mirror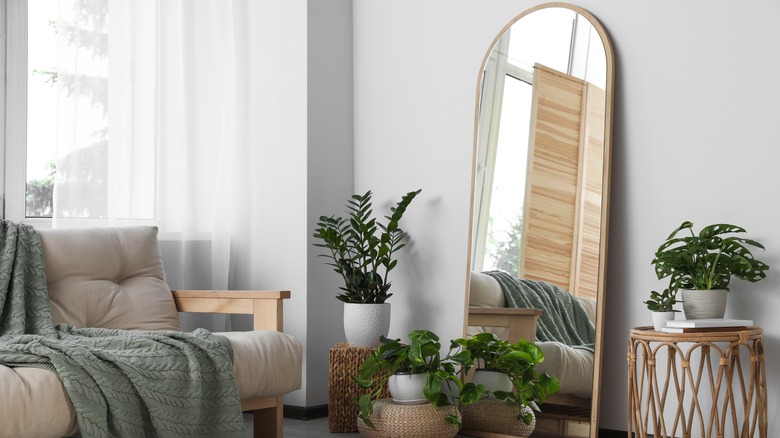 New Africa/Shutterstock
If you're struggling with an empty corner space, using a large leaning mirror will be of good use to that space. It'll give your room more depth and make the room look taller. Leaning mirrors also have beautiful framing — perfect if you want it to stand out, or you can get a mirror without framing to make it appear minimalistic.
Paneling mirrors
A great way to have fun with mirrors is placing multiple ones on one wall if you don't want to hang one large mirror. You can find equally sized mirrors and place them side by side as a panel, or find different sized ones with various frames and place them around in different patterns for an avant-garde look.
Multiple mirrors on one wall
Scattering mirrors along every wall can make a room look bigger since they reflect everything in the room, including each mirror at once. You can add a couple of mirrors to two different walls or one mirror per wall that are different styles to make it versatile.
Large mirror in hallway
Adding a long simple mirror to one of the walls of your hallways can add depth to it, making your hallway look longer. Since hallways sometimes don't get enough bright lighting, the mirror will help reflect it to make it brighter. You can always use an old hanging mirror and hang it horizontally in your hallway.
Mirror in dining room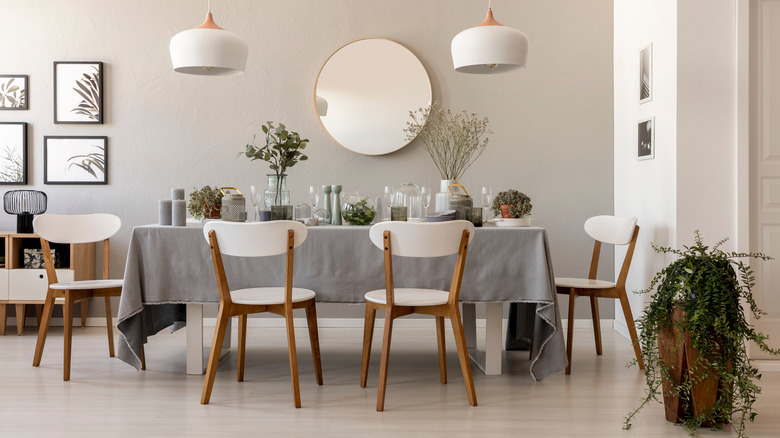 Photographee.eu/Shutterstock
A mirror in your dining room can make it look elegant and offer a great way to check if you have anything stuck in your teeth after eating. They don't have to be large mirrors; even a small mirror can make a huge difference. Small mirrors can still provide brightness to a dull room, making it appear bigger.
Backsplash mirror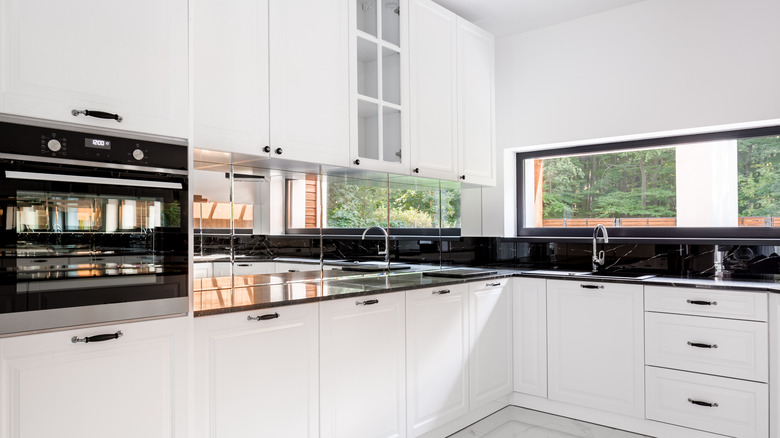 Dariusz Jarzabek/Shutterstock
If your kitchen and dining room don't share the same space, you can use a long horizontal mirror as a backsplash. It'll make your kitchen brighter, especially if it doesn't get enough natural light. The mirror will also reflect the entire space, adding depth, so it'll make it appear bigger as well.
Reflective furniture
Reflective mirrors on furniture are a subtle way of incorporating mirrors into a room without having to hang them on a wall, and they'll still make your room look bigger since it creates a flow and open feel. You can buy a coffee table with a mirror countertop or DIY one yourself.
Mirror instead of ceiling
Using a mirror as a ceiling is possibly one of the most idiosyncratic ways you can use a mirror in your living room, bedroom, or dining room. They not only make your room brighter since they're closer to light fixtures, but they can make any room look taller.
Any framed mirror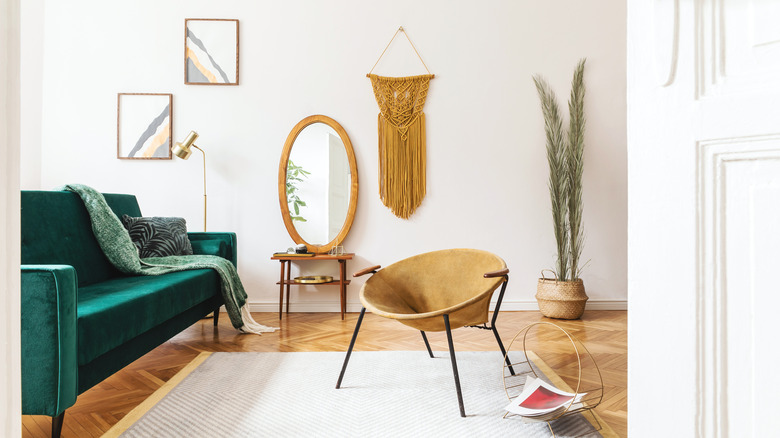 Followtheflow/Shutterstock
Buying mirrors that have gorgeous frames can add personality to your space and extra décor in a simple way. Since framing takes up more space around the mirror, it'll take up more space on your wall making it look complete, luxurious, and larger.
Mirrors behind furniture
When you place mirrors behind sofas or side tables, they reflect the furniture along with the rest of the room, making it look bigger. It works great for smaller rooms like bedrooms if you don't have much space; stacking furniture is an easy way to create the illusion that it's bigger.
Mirrors as closet doors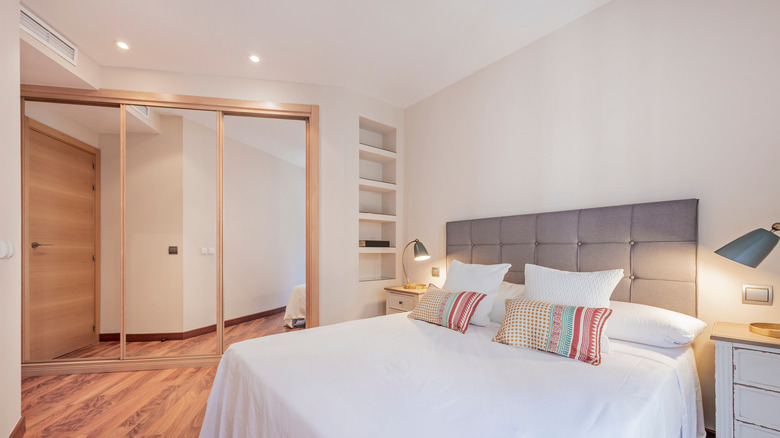 Toyakisphoto/Shutterstock
Using mirrors as your closet doors is perfect when you don't want to take up floor space or want to hang up a mirror. Most closet doors usually aren't decorated, so you can use mirrors to check out your outfit and hide all your clothes while making your room look bigger.
Mirror behind bed frame
Not a fan of bed frames? Using a large mirror with a naked edge can work just as well as a regular bed frame. Instead of having extra furniture against a plain wall, the mirror will reflect the room, adding more depth. If you don't mind a bed frame, you can put it behind.
Mirror above fireplace
Placing a mirror above your fireplace can take up empty space if you don't want to put any artwork or television above it. The mirror will elongate the wall and make the space brighter. It will reflect anything you have on the opposite wall, which can be other art, décor, or plants.
Mirror at the end of hallway
Another way to make your hallway look bigger is by adding a tall mirror at the end of it if you have a blank wall and don't want to hang it horizontally. It'll make it seem as though it continues like a tunnel by reflecting the rest of the walls. You can add some light fixtures nearby to make it brighter.
Mirrors and art
You can create your own art wall by mixing in a few mirrors, which will make the entire wall stand out while doing its job of making the room appear bigger. It'll feel as though you have your own museum wall in your home.
Dresser with mirror
In a smaller bedroom, having a dresser that comes with a mirror can help make your room look bigger without taking up any floor space, just like having mirrors as your closet doors.
Place mirror opposite a window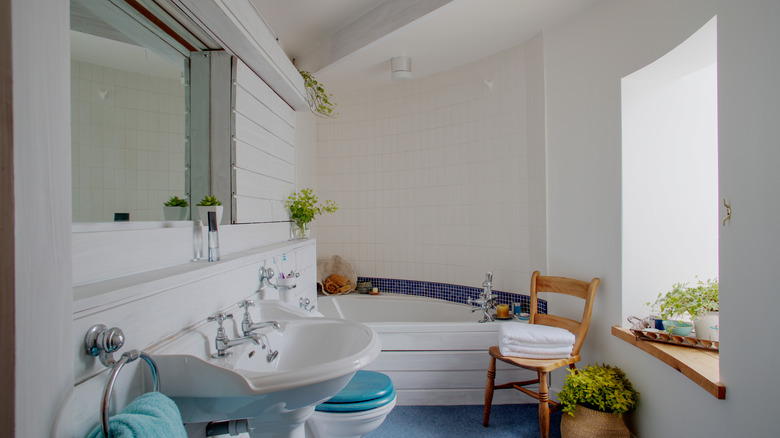 DGLimages/Shutterstock
If you have a big window in your bathroom, placing any sized mirror opposite the window will make it seem as though there's another window in the room. It'll add depth to the space reflecting the outside inside the bathroom. You can do this in any room.
Mirror in the middle of wall panel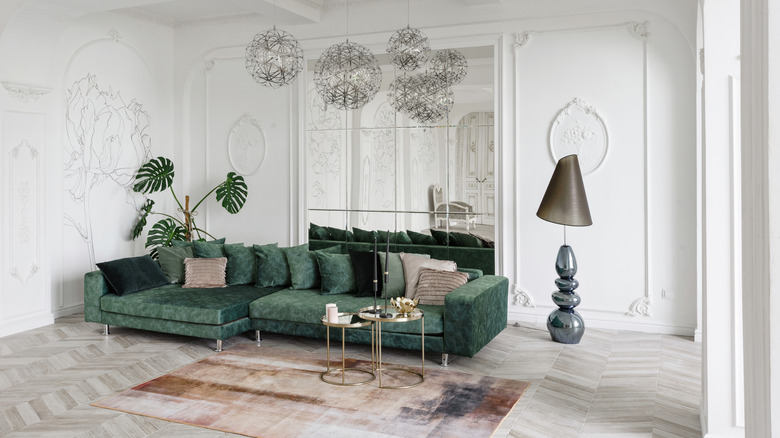 Fusionstudio/Shutterstock
Incorporating a tall mirror onto one of your wall panels will make it look lavish along with adding height to the room, elongating the walls to the ceiling. It'll work best with mirrors that have a striking frame that fits with the interior.