The Best Dupe For A Dyson Vacuum On The Market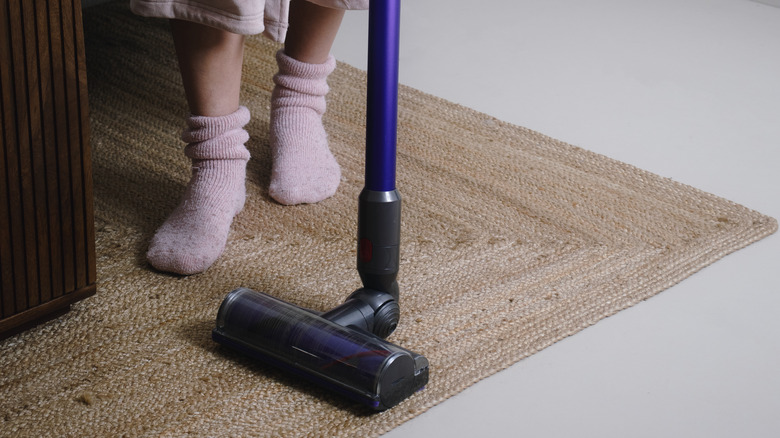 Lenti Hill/Shutterstock
We may receive a commission on purchases made from links.
Dyson is known for delivering high-quality products, from hair care to air purifiers, but most of us associate the company with having the best vacuum cleaners on the market. According to Wired, one of Dyson's best-selling products is the V15 Detect, a cordless vacuum that emits lasers for a more accurate cleaning. Additionally, the V15 Detect has been scientifically proven to provide a deeper clean than its competition, Dyson claims. Unfortunately, a vacuum with this much hype doesn't come cheap.
With a hefty $700 price tag, the Dyson V15 Detect may not be your first choice for your new vacuum, and thankfully, it's not the only choice you have. Before you shell out a bunch of cash for the Dyson V15 Detect, keep in mind the dupes on the market that work just as well but for half the price. Luckily, we know the best dupe for a Dyson vacuum on the market, and we're going to let you in on the scoop.
Black+Decker Powerseries Extreme Cordless Stick Vacuum Cleaner for Pets
At $200, this Dyson dupe will give you the home cleaning you've been searching for. The Black+Decker Powerseries Extreme Cordless Stick Vacuum is equipped with an angled floorhead with v-shaped bristles, which can be used on various surfaces, according to Amazon. Additionally, it has an anti-tangle brush bar to collect the pet hair piled onto your sofa cushions. The bristles of the bar are made of rubber, which is known as an efficient hair-collecting material, Window Genie says. For the hard-to-reach spots in your home, the Powerseries Extreme provides a handheld feature as well.
The Powerseries Extreme contains three speeds that you can cycle through, depending on what type of surface you're cleaning (hardwood floor, carpet, etc.). If you're dealing with a tough job, don't worry; the Black+Decker supplies 55 minutes of battery power, so you can take your time to ensure your furniture and floors are clean. If you're unsatisfied, Black+Decker offers warranties at an additional cost.