Peppa Pig And Her 'Designers' Reveal What Inspired Her New Clubhouse
Hasbro
We may receive a commission on purchases made from links.
Peppa Pig and her friends are always imagining all sorts of new games that they can play. When the animators from Astley Baker Davies sat down to decide what the young pig should play next, these clever 'designers' had the perfect idea in mind: Why not build a Clubhouse for all her small friends — no grown-ups allowed? "The Clubhouse came to life out of true collaboration," Pete Kellond, the Vice President of Content and Commercial Development at Hasbro, said during an exclusive interview with our sister site The List.
While deciding what exactly to include in a kid's dream Clubhouse, the team turned to the children that they knew best. "Peppa and her playgroup friends were the true inspiration for the Clubhouse," Kellond continued. "The team wanted to create a world just for kids where they can imagine, play, and pretend." From the bright paint colors to all the products inside, every piece of the Clubhouse was carefully thought through.
The bright and colorful 4-year-old pig inspired the look of the Clubhouse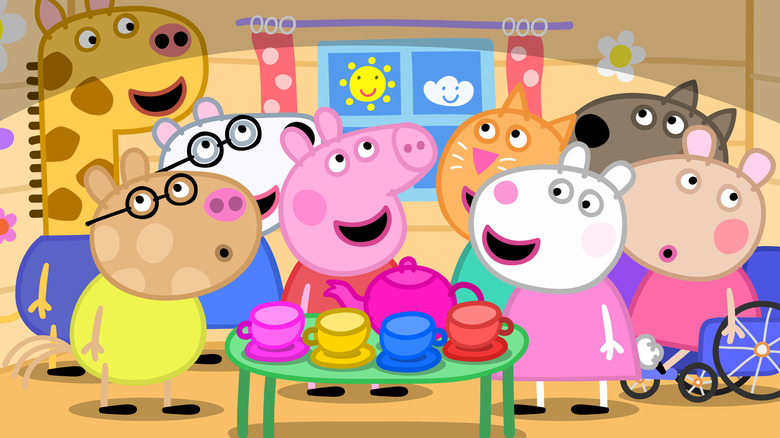 Hasbro
From the outdoor swing to the two-story slide to the telephone that can call anywhere in the world, the 'designers' really seemed to think of it all while creating Peppa Pig's Clubhouse. "Everything is an adventure to Peppa and friends, and we wanted the Clubhouse to reflect that," Pete Kellond revealed. "There's a slide, swing, and balcony for outdoor fun, plus a whimsical interior filled with floral patterns."
The place was truly made with Peppa Pig — and all the children watching — in mind; the animators were inspired to choose bright, funky colors "by streaming Peppa's 'Rainbow, Rainbow' song at the start of each brainstorm," Kellond joked. They also wanted to include Peppa's favorite color, red, too. "But seriously, the color works so well on screen," Kellond continued.
The bright pink roof, polka-dotted curtains, and small blue door leading into the Clubhouse blend seamlessly into the world of Peppa Pig. "In my opinion," Kellond added, "it's oinktastic!"
The "Peppa's Club" four-part Special is now available to stream on NickJr.com. Catch "Peppa Pig" live on Nick Jr. on Saturday and Sunday mornings from 9 a.m. to 12 p.m. ET. The Peppa's Kids-Only Clubhouse Playset is available now on Amazon.