14 Coastal Paint Shades That Will Bring Cape Cod Vibes To Your Home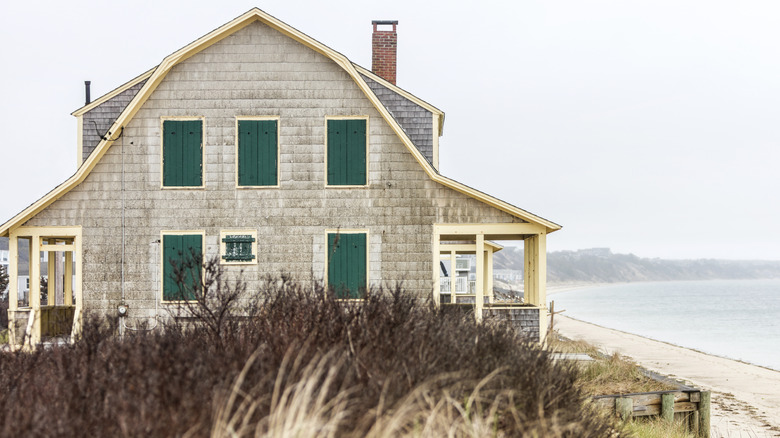 Stuart Monk/Shutterstock
Cool and bright, there are many paint colors to consider that might encapsulate an aura of the Cape Cod coast. Known for its breathtaking beaches, charming villages, and captivating lighthouses, Cape Cod is a popular destination for beach farers each summer. Constructed in the late 17th century, oceanside houses on the hook-shaped peninsular were inspired by English cottages and featured pitched roofs with sizable windows and wooden shutters. A classic beach house, surrounding elements like driftwood, grass, sand, sky, sun, and water often reflect the essence of a Cape Cod house. According to CertaPro Painters, many Cape homes feature a brilliant white interior, natural complementing brown and wood tones, and a weathered gray shingle or clapboard exterior.
A typical coastal color palette might include an array of neutral yet tranquil pastel colors — from white, cream, or pink, to blue, green, and gray; there are several shades to explore when capturing the mesmerizing Massachusetts seascape into your home. With a neutral palette, you might add color to your accent wall, walls, front door, floors, or porches, including covering white shiplap or wainscot for that perfect Atlantic coast vibe. Keep reading to discover how to transform your home — Cape Cod style!
Cool blue-gray
Like an overcast beach day, a captivating bluish-gray is a cool yet complex color, which works well as an accent or full room wall shade. Reflecting the sky, this wall pairs well with white, gray, green, and tan, as seen above. Complete a coastal vibe with brown or beige elements like leather chairs, baskets, or planters.
Natural gray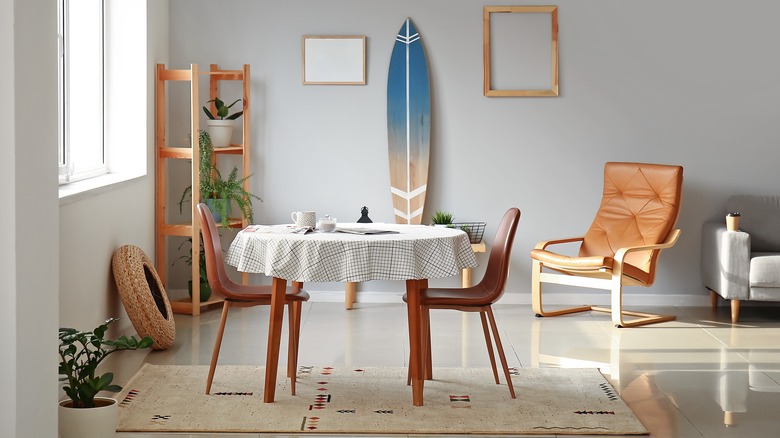 Pixel-Shot/Shutterstock
Whether light or dark, gray is a classic neutral inside and out of a Cape-style house. As seen here, gray can mimic stone, rough waters, or a cloudy sky to complement other beachy tones like blue, brown, green, and yellow with the chairs and decor.
Welcoming red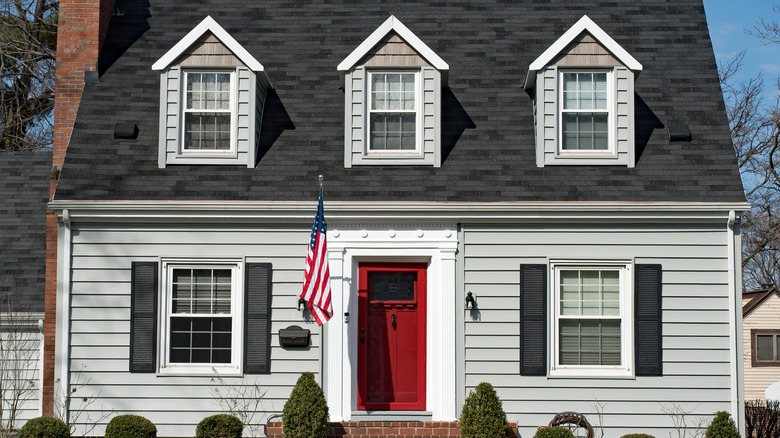 Susan Law Cain/Shutterstock
Often seen on Cape doors and other colonial-style homes in the northeastern U.S., a red door is inviting and hospitable for guests and tourists. The vibrant shade makes a statement on this charming coastal home, as it stands out from the neutral gray exterior and is accompanied by black and white trim.
Sky blue
Pixel-Shot/Shutterstock
Not all Capes are gray. Blue is a light and airy hue to display on the exterior of your house or throughout the interior in a bedroom, bathroom, or kitchen. This Cape Cod home features a sky-blue shade that contrasts nicely with white trim and a gray roof.
Tranquil turquoise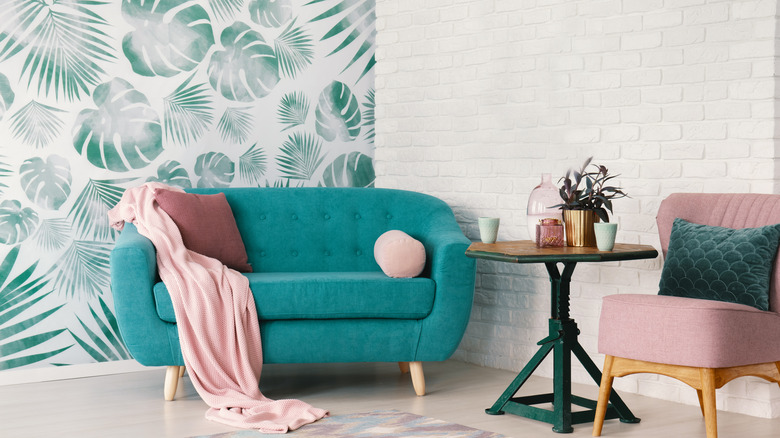 Photographee.eu/Shutterstock
Somewhere between blue and green, turquoise emerges as a lush color that is energetic and coastal. You might implement its verve through a patterned wallpaper, as seen above. Pair it with a teal piece of furniture, including other beachy hues like green, pink, tan, and white.  
Nautical blue
Synonymous with the U.S. Navy, nautical blue, or navy, is a classic color to enhance your walls for a sophisticated Cape vibe. Here the dark shade stands out dramatically against white wainscot-style dining room walls. The brown wood table suggests the natural, along with a pink bench and light fixture that resemble a soft sunset. 
Mint green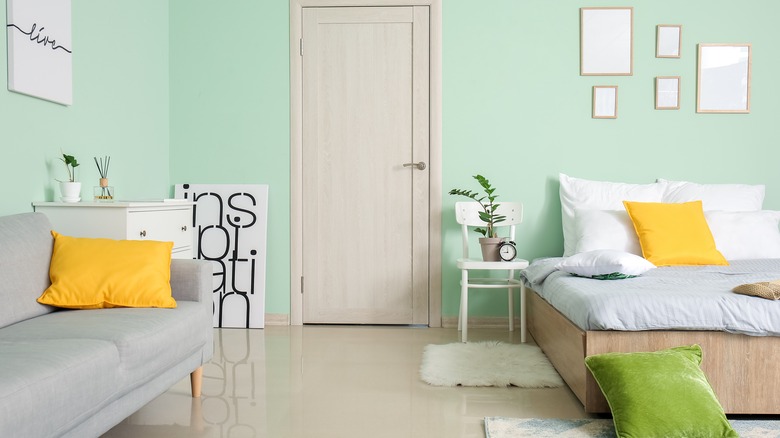 Pixel-Shot/Shutterstock
A light mint or seafoam green brings natural serenity to any room. Pictured above is a fresh and lively bedroom with mint green walls that blend well with white furnishings, including a taupe-colored door, warm yellow pillows, and subtle plant life.  
Sandy beige
Beige is as neutral as it gets. A soothing color reminiscent of sand dunes and beach grass, a beige painted wall is a soothing shade for a living room, bedroom, or other living space. While keeping things pale and calm, this faintly colored bedroom fuses complementing white, tan, brown, and black accents. 
Earthy taupe
PhotoMavenStock/Shutterstock
A combination of brown and gray, taupe is a versatile color to apply most anywhere within your coastal makeover. Dark and earthy, taupe resembles beach elements like driftwood, sand, or shells. As seen here, taupe can accompany warm or cool colors with orange, ivory, black, and white furniture and decor. 
Creamy yellow
Sunny, joyful, and fun, yellow is a vibrant color no matter what shade it is. A light creamy yellow on the front door radiates happiness and cheer at this Cape Cod-style house, as it contrasts well with the toned-down gray and white throughout the exterior.
Saltwater white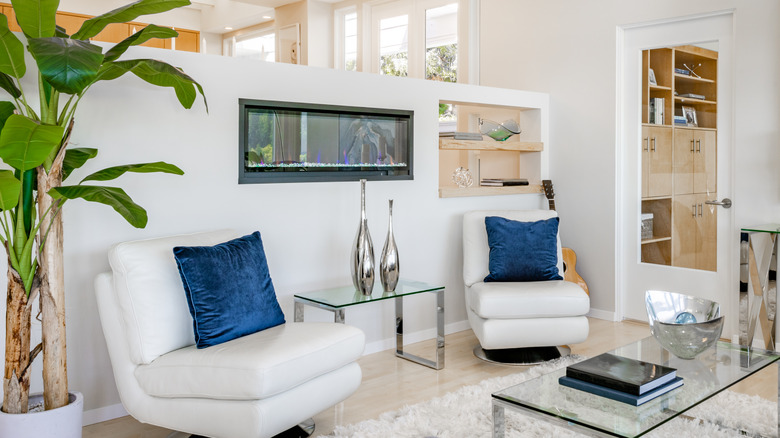 Sheila Say/Shutterstock
Spacious and clean, white is a popular choice among modern farmhouses and other contemporary designs. With thousands of white shades to choose from, white is a classic canvas of potential for saltwater-style walls, trim, and furniture. White provides the ultimate dichotomy with most colors, especially these cobalt blue pillows, along with a green plant and tan cabinetry.
Classic ivory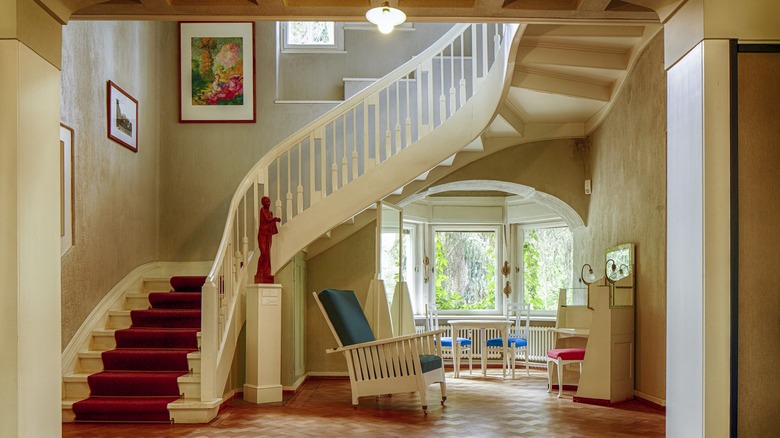 Heritage Images/Getty Images
Ivory has warmer undertones than white, yet it is an elegant choice for walls and floors. Sometimes with a yellowish, antiquated tint, ivory can reflect the color of beach sand and shells, as seen in this foyer and sitting area. These ivory hues also mix well with the blue and pink chairs and red touches up the staircase. 
Pale pink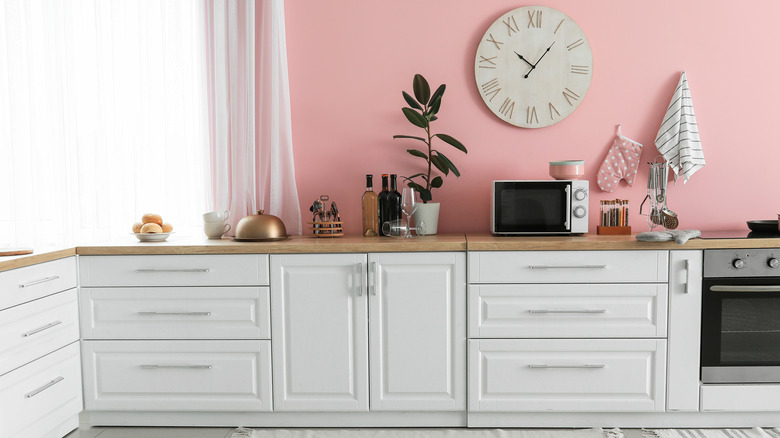 Pixel-Shot/Shutterstock
A light shell pink often resembles the intense colors of a sunset. You might incorporate a pale pink as an accent wall in the bathroom, shower, kitchen, or bedroom. Keeping with a coastal style, this pink wall works well with white, tan, gray, silver, and black, as seen through the appliances, cabinetry, and decor.
Beachy peach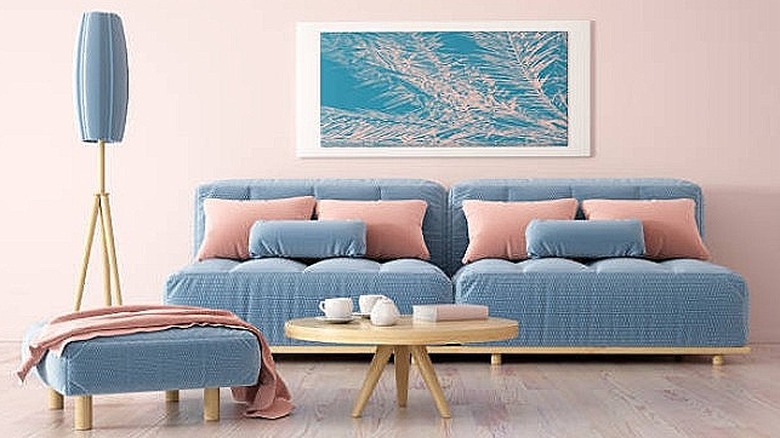 Peach, or apricot, is a delicious color that could be used on accent walls, frames, doors, or other parts of your Cape-inspired home. A faint peach wall looks beachy yet sophisticated as it blends well with blue, tan, and white pictured here through the cozy living room furnishings.