Shea McGee Reveals The Secrets To Making Your Living Room Work For You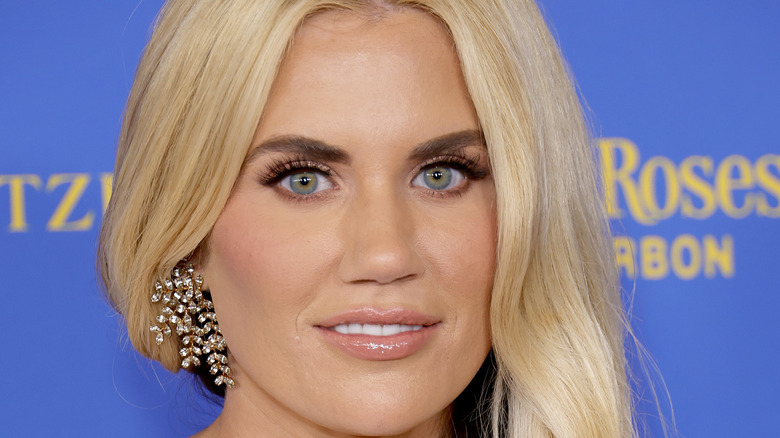 Frazer Harrison/Getty Images
Shea McGee knows a thing or two about how to put together a room. The interior designer co-hosts the Netflix series "Dream Home Makeover" with her husband Syd, as they take the ideas and wishes of families and turn them into reality to create the home of their dreams. The husband and wife duo also have a successful interior design company called Studio McGee. The company was founded in 2014 and offers complete home design services to clients all over the United States, as well as an online shop, McGee & Co., where customers can grab their brand of stylish home decor.
With experience under her belt and a community of happy followers, McGee can feel confident when it comes to giving advice on how to help make the most out of your living space. From how to create a traditional minimalist area to sharing her own experience with designing living spaces, McGee gives helpful tips to anyone who wants to recreate her personal brand of the modern lifestyle in their own home. For those with smaller spaces, she offers some favorable tips via Studio McGee in order to maximize the liveability of a minimally sized environment. Let's take a look at a few of her secrets.
Make multi-use of your space
One of the best ways to make the most use of your living room is to not limit its capabilities. Interior designer Shea McGee suggests that by carefully planning smaller areas to have multiple purposes, you are able to utilize the whole space appropriately, as per Studio McGee. For instance, in the bedroom, you could turn a smaller closet into a simple work environment by adding a desk and taking away the closet door. When it comes to the living room, you could also double it as a home office by introducing a small corner desk with stylish lighting. If you don't have the space for a separate dining room, then a minimalist table can be set just behind the couch to make it a living/dining room.
If you need to make your living room into stylish separate sleeping quarters, then there is no reason that a couch can't act as a bed as well. Without beneficial extra sleeping quarters, the living room can double as a spare bedroom just in case you have guests visit, according to HGTV. Another idea on how to make the living room work for you is to have a coffee table that has extra storage inside or even make use of a large ottoman that can work as counter space and then separates into additional seating when needed. With a little planning and imagination, you can prioritize what you need from the space and introduce elements to make it happen.
Create different zones within your living room
Another way of creating extra space in your living room is to designate a variety of zones. Separating different areas in one space can make more use of the environment while also giving it more purpose. Shea McGee reveals via Studio McGee that simply adding smaller rugs can be a sure way to divide one side from another while also keeping to a general theme so as to not introduce a juxtaposition that may seem jarring to yourself and guests. For example, a living room can have the seating arrangement positioned around a cozy rug and located just behind can be a quiet play area for the kids. This way, the whole family can enjoy their own space within the same room.
Other ways of creating these types of zones can be to use creative furniture placement. While couches and coffee tables typically define a living room motif, if you place a comfy armchair with a small bookcase and side table off to the corner, you have then introduced a reading nook. This can be enjoyed by those who don't want to be right in the mix of the hustle and bustle of the lounge area but still want to be near family and friends. McGee even suggests that furniture used for storage can help to keep the area clutter-free while also dividing up the space. Trunks and benches can be expertly placed to quarter up your living room without it seeming crowded.