How To Boost Up Your Old Attic Insulation On A Budget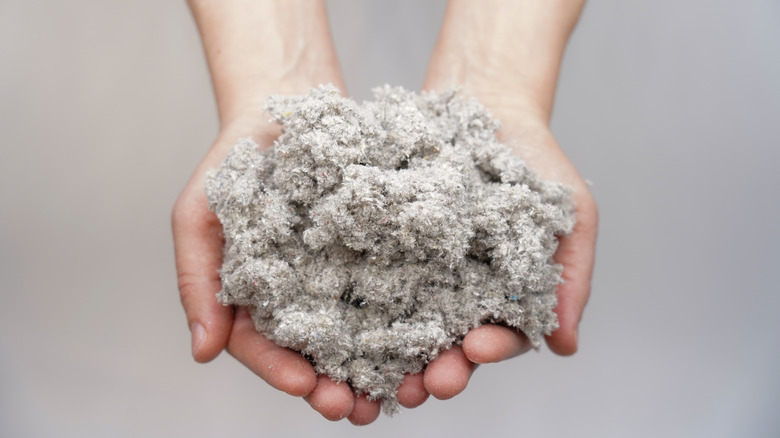 Marco Lazzarini/Shutterstock
The attic is one of the most important and easiest places to add insulation to your home. Per ENERGY STAR, the attic in particular is an area of the home that offers a large opportunity to save energy. Doing so can help you to reduce overall heating and cooling costs, and make your home more comfortable.
You know you need to focus on attic insulation, but you're on a budget. Installing new insulation and starting all over can be expensive. What can you do? Depending on what's in place now in your attic, if anything, there could be a few simple ways for you to improve the quality of your existing insulation and gain some of those energy-saving benefits.
This project will be especially cost-effective if you are able to do the work yourself, but don't shy away from a professional service that may be able to offer alternative solutions to reduce overall costs. So, where do you start to improve efficiency?
Add more insulation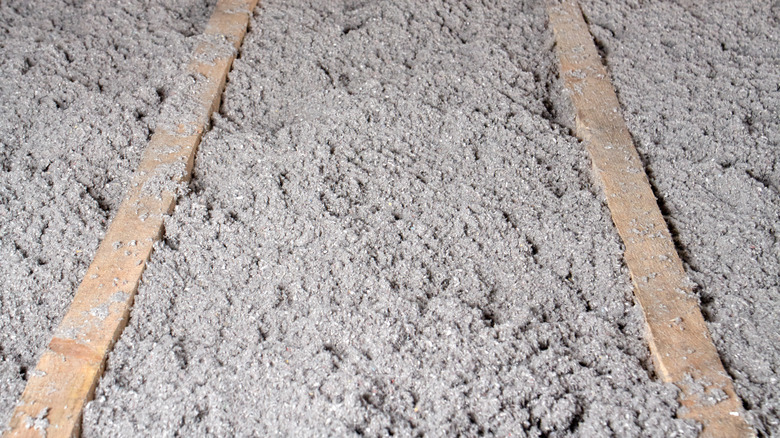 Mironmax Studio/Shutterstock
ENERGY STAR recommends 10 to 14 inches of insulation in most attic spaces to provide the best level of protection. Using that as a guide, measure how much material is already in place. Material that is wet or damaged, or completely disintegrated from years of being in place, is a sign you need to replace your home's insulation. If the material is in overall good condition though, you can leave it in place and add to it.
You can add insulation to your attic using blow-in or loose cellulose material. Insulation Institute describes cellulose as a material composed of ground-up paper and fabric. It's perfect for filling in the gaps between the floor joists. When you fill in these cavities with cellulose, you can then add more batt insulation (more on that in the next section) or flooring over the top to reach the desired level. According to the Insulation Institute, you can also use cellulose insulation to fill in open spaces between roof trusses to further enhance energy efficiency.
Add batting to increase the insulation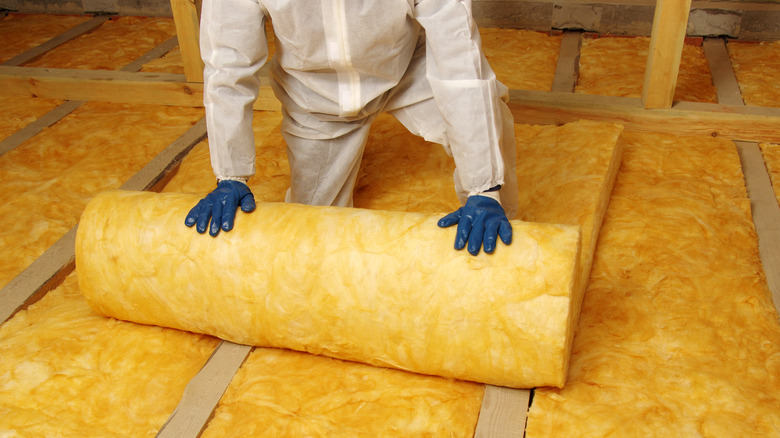 irin-k/Shutterstock
The next step is to lay batts of insulation over the top of the newly filled cellulose material to bring it up to code, which typically should be at that 14-inch mark or higher. Purchase high-quality batting and lay it perpendicular across the floor joists. Be sure to cut the material and place it very close together to get the best overall results. Continue until the entire area is covered. This adds more protection to the space, according to the Insulation Institute.
If you plan to store things in your attic, it's important to understand that you cannot place items directly onto the batt layer. Compressing the batts makes the insulation ineffective. In this situation, consider building a platform that rests on the joists. A simple design will work fine, such as making a platform using 2x10 pieces of wood. You can then stack the items you wish to store on the flat surface of the raised platform while the underside is filled with insulation.