The Least Expensive Desks At Urban Outfitters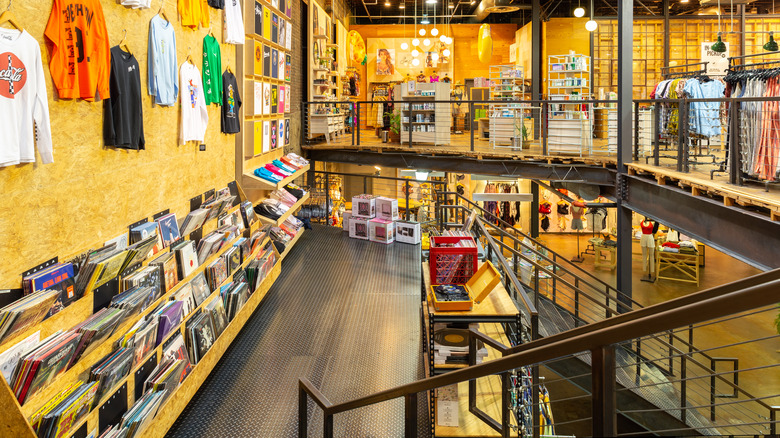 Mihai_Andritoiu/Shutterstock
According to URBN, Urban Outfitters developed from an idea between college roommates: Dick Hayne, Scott Belair, and Judy Wicks. Their first store opened up in West Philadelphia in the early 1970s and was called "Free People." They started by selling a variety of second-hand clothing, jewelry, and household items before providing the unique and engaging items their customers love today. By 1998, their name also changed to the popularly known "Urban Outfitters."
In this day and age, Urban Outfitters has over 200 stores across the United States, Canada, and Europe. They are best known for their modern and trendy clothing items and accessories, but also have a wide selection of decorations and furniture items that you can use around your home or any other type of living space. Unfortunately, purchasing from this popular and modernized company doesn't always come cheap. Luckily, there are plenty of inexpensive items Urban Outfitters now provides to help you style or restyle your new or life-long home. To give you a better idea of what Urban Outfitters can provide for you and your home, let's explore some of the least expensive desks you can find at Urban Outfitters.
Elegant glass desks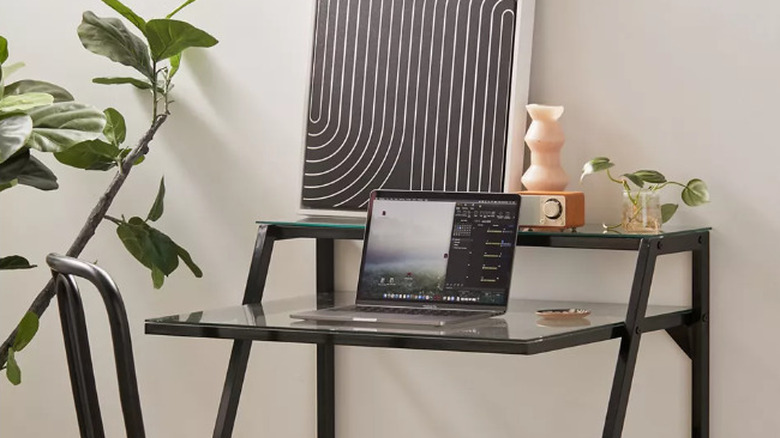 Urban Outfitters
Whether you are a student or a home office worker, a desk is an essential part of your home. With these Urban Outfitters desks, you can provide your home with a comfortable and stylish workspace without breaking your wallet. In fact, for only $179, you can get Urban Outfitters' Two-Tier Glass Desk. This beautiful desk is made with strong and durable glass panels and can provide you with a 31 by 23.5-inch workspace with the addition of a 21 by 6-inch shelf for storage. Fitting a variety of home designs, this desk is available in both white and black for your convince.
For a somewhat more expensive price of $199, Urban Outfitters' Mod Glass Desk is another elegant glass desk you can add to your home. Although this desk is only available in one color, it is still just as beautiful and durable as the Two-Tier Glass Desk. The Mod Glass Desk also doesn't have any shelves for extra storage space, but that is easily made up with the large 44.5 by 22.75-inch workspace that provides more than enough space for your school or work projects.
Industrial desks
Urban Outfitters
Along with their wide range of elegant-looking desks, Urban Outfitters has a selection of industrial-styled desks, as well. For example, their Industrial Desk, which can be purchased for only $199. This desk introduces a sturdy metal frame topped with a smooth weathered wood table top that provides a perfect industrial look. The 39.5 by 19.75-inch workspace also provides you with plenty of working space for whatever tasks or projects you need to accomplish.
For a similar industrial style at a cheaper price, Urban Outfitters also presents their Kirby Desk for $149. Although they share the same industrial look, unlike the Industrial Desk, the Kirby Desk also comes with two side shelves that are perfect for providing storage that helps keep your desktop clear. The Kirby Desk's 41.5 by 18.5-inch workspace is also slightly larger than Urban Outfitter's Industrial Desk. To top it all off, the Kirby Desk's duel color options allow the desk to match a variety of different designs you may have within your home.