Most People Agree That This Feature Is What They Want In Their Dream Dining Room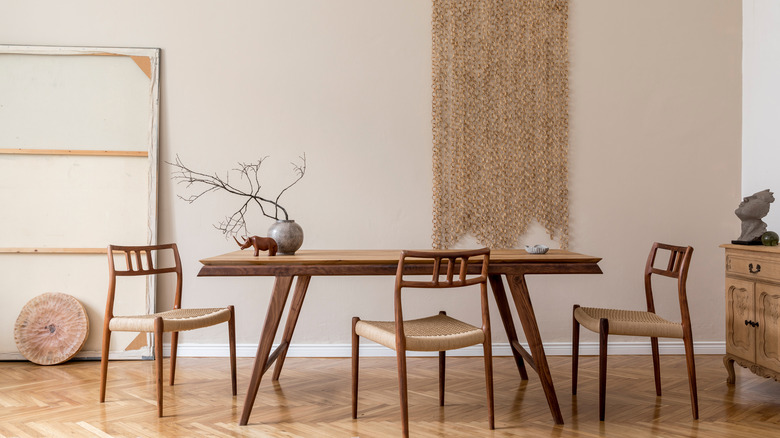 Followtheflow/Shutterstock
It can be very enjoyable to let yourself envision what the perfect home would look like for you. Perhaps your kitchen comes with a quaint breakfast nook, quartz countertops, or chic modern hardware. In the living room, you could picture a large comfy sectional, fun built-in shelves, or a hanging boho chair surrounded by lots of greenery. Maybe your bedroom is complete with a bottom-of-the-bed bench or a beautiful chandelier.
Allow yourself to envision what your dream dining room would look like. What elements would you need to incorporate to create the perfect space? House Digest sought to discover what people consider a necessary feature in their dream dining room. 596 people participated, and they could pick from a number of options. These included bench seating, built-in cabinets, a farmhouse table, unique lighting, and modern dining chairs. 197 participants (over 33%) agreed that one of the above features was the obvious winner.
The most necessary feature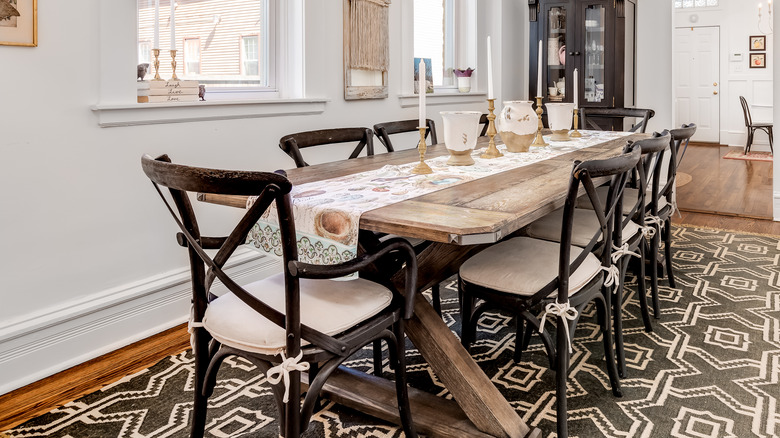 Hendrickson Photography/Shutterstock
Most people agree that a farmhouse table is necessary to complete their dream dining room setup. Of course, a farmhouse table will look beautiful in a farmhouse-styled home. But this table could also look great in many other styles as well. Designthusiasm says that these tables have a long history that dates back to before the modern farmhouse style's popularity, meaning that they've been used in lots of other styles. They also come in many different options, so finding one that fits into your space shouldn't be difficult.
Grain & Frame says that farmhouse tables are rustic-looking and bring in lots of natural elements. They're typically big, bold, and beautiful, just like the country-inspired farmhouse style. Typically, these tables are made from wood and can look distressed or aged. These sturdy and durable tables bring lots of warmth and comfort to the dining room. And, because they're usually large, they can fit lots of people around them, which could create an inviting atmosphere in your home.
How the other options faired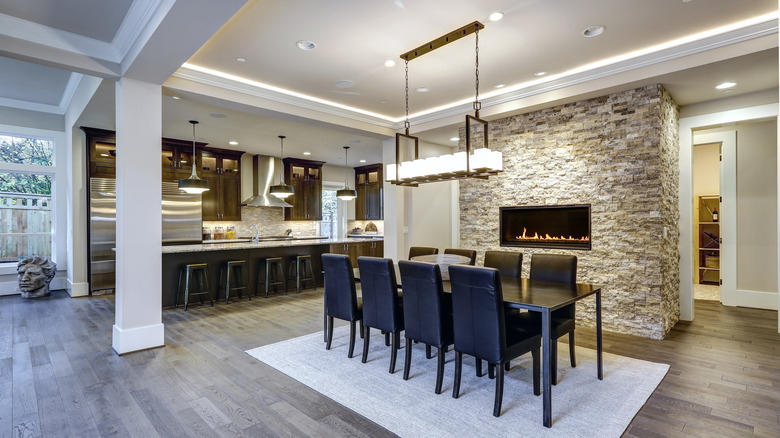 Artazum/Shutterstock
However, maybe a farmhouse table isn't your style. Perhaps you agree with the 137 people (about 23%) who chose unique lighting as a necessity for their dream dining room. A unique light fixture can really elevate a dining room space. Lumens says that a bold look can be created either with one large fixture or with many smaller pendants. A long rectangular table may look especially beautiful with multiple pendants to illuminate the whole space. Also, when choosing what fixture is best, consider the mood you want to create. This will determine both the style of the lighting as well as the lightbulbs you choose, whether they are bright or dim and moody. 
The next most popular choice was built-in cabinets, which 110 participants (over 18%) chose. J.T. McDermott Remodeling Contractors says that built-ins in the living room can be placed in the corner or along the wall. They are elegant, make entertaining easier, and create more storage space. They can also be a great place to display beautiful dishware.
98 participants (over 16%) chose modern dining chairs as their most needed feature. Finally, coming in last was bench seating, which 54 people (over 9%) chose.