25 Rustic Kitchens That Are Warm And Inviting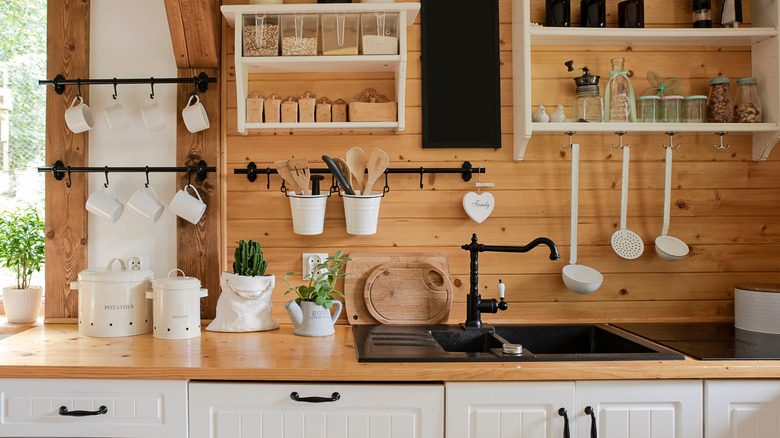 liloon/Shutterstock
Having a cabin or simply indulging in lake life is a lifelong dream of many. Rustic decor is down-to-Earth, cozy, and the opposite of the modern designs we've come to know and love. This timeless aesthetic just so happens to be popular right now, and lucky for us, we love the look! According to Homes & Gardens, there are a few key trends you may want to consider when going full-on country in the kitchen. The design experts suggest focusing on quality handmade cupboards, getting an oversized rustic-style dining table for family gatherings, getting creative with your pantry, and bringing in a dose of warm woods. Meaghan Hunter, Stylist at Neptune, tells the outlet to make nostalgic accessories and aged furniture a highlight in the room. You can also showcase mismatched dishes, specialty china, and other vintage kitchen must-haves.
Love rustic with a tad of modern inspiration? Add the latest appliances alongside rustic touches like wood and stone on the countertops and flooring for a look that is a combination of both. If a country kitchen is for you, keep scrolling to get inspired by 25 rustic kitchens that are warm and inviting!
A kitchen with a view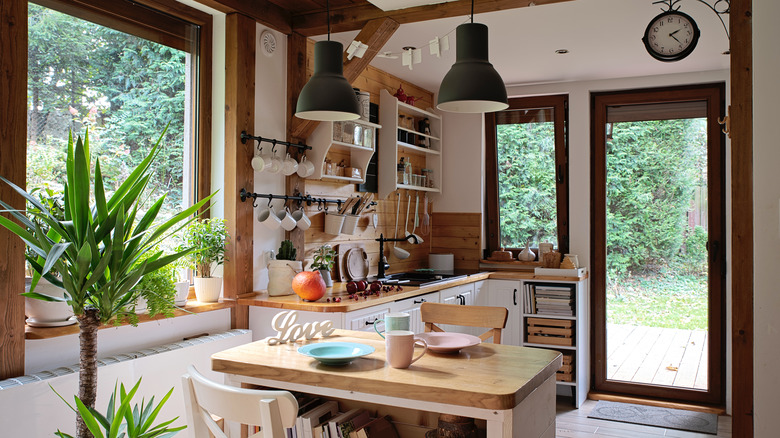 liloon/Shutterstock
This kitchen has all the elements you want in a country kitchen. It has warm wood, a center island with a built-in cutting board, and the cutest rack with plenty of hanging coffee cups! But the best part has to be those serene views.
White and woodsy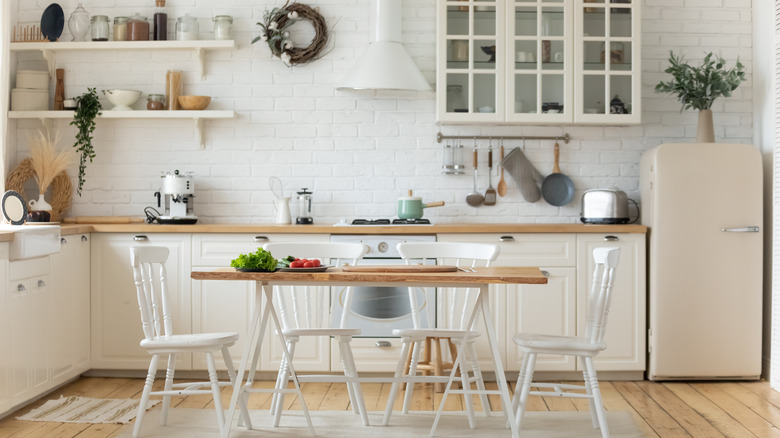 fizkes/Shutterstock
An all-white palette is always an excellent decor move. The exposed painted brick, gorgeous glass cabinets, and open shelving make this kitchen a total standout. To give it a bit of country flair, the light wood table, vintage chairs, and wood countertops are another fabulous touch.
Open concept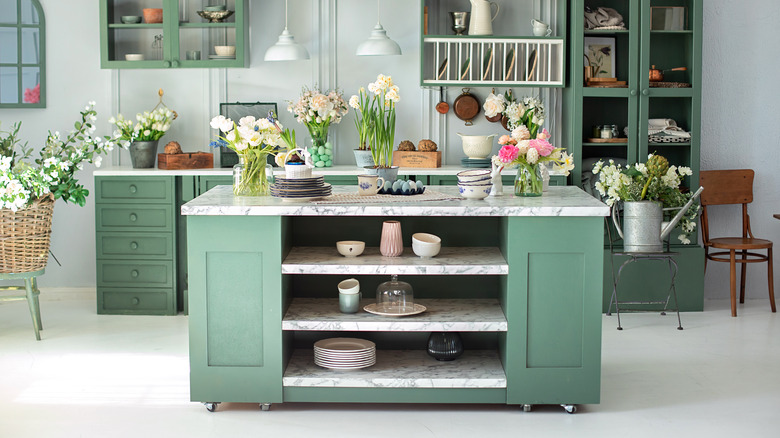 stock_studio/Shutterstock
This green oasis is taking the popular open-concept layout to the next level. The cabinets are all open to showcase stylish pitchers, bowls, and cups, which would definitely motivate us to keep things clutter-free.
Incorporate rustic accessories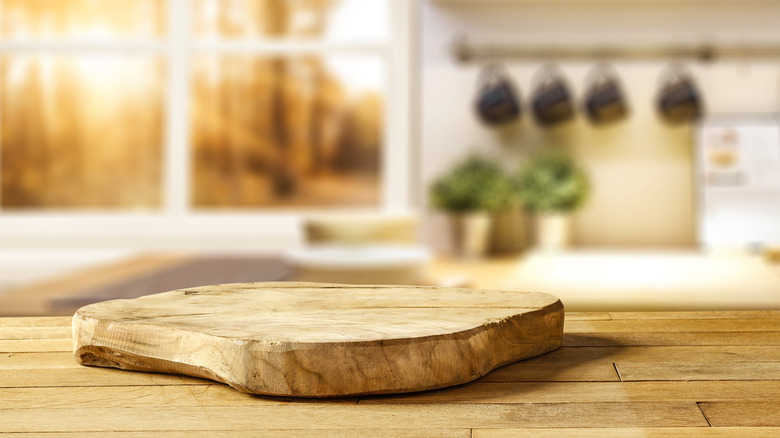 S_Photo/Shutterstock
Warm woods are a key component to nailing a rustic-style kitchen, and we love the imperfect shape of this cutting board atop a natural wood kitchen counter.
White and bright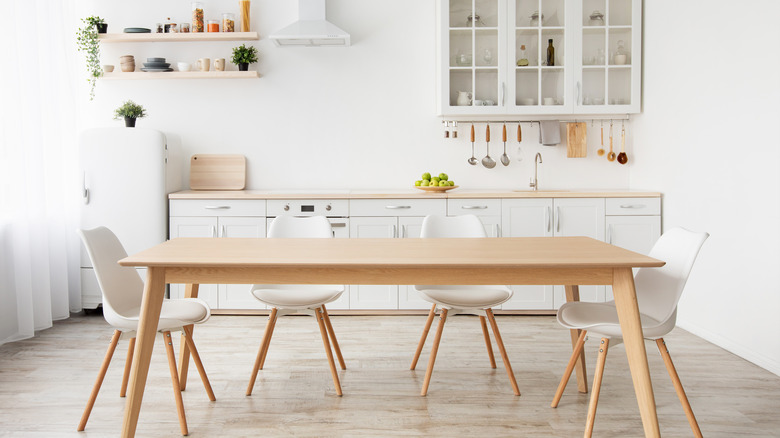 Prostock-studio/Shutterstock
This bright space features white walls and cabinets and has a large light wood table perfect for large family gatherings. We can't think of anything better than a country-style meal with loved ones!
All-star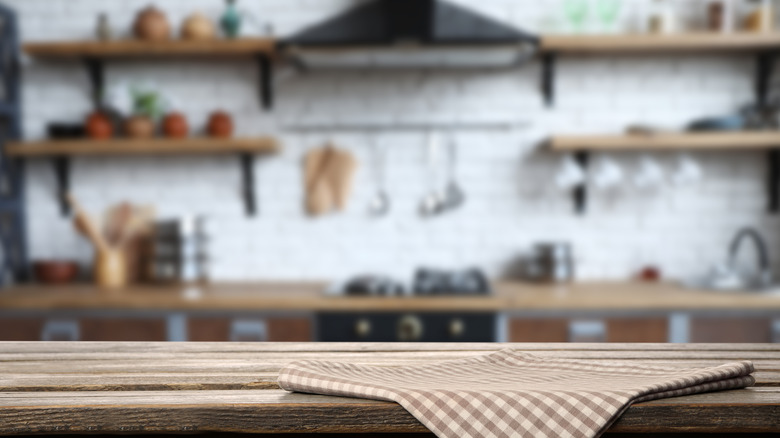 New Africa/Shutterstock
Checkered print accessories like this hand towel can give a rustic vibe to any kitchen. Plus, everything you need is at your fingertips in this kitchen with open shelving, which is the perfect spot to hold your favorite accent pieces!
A modern-rustic look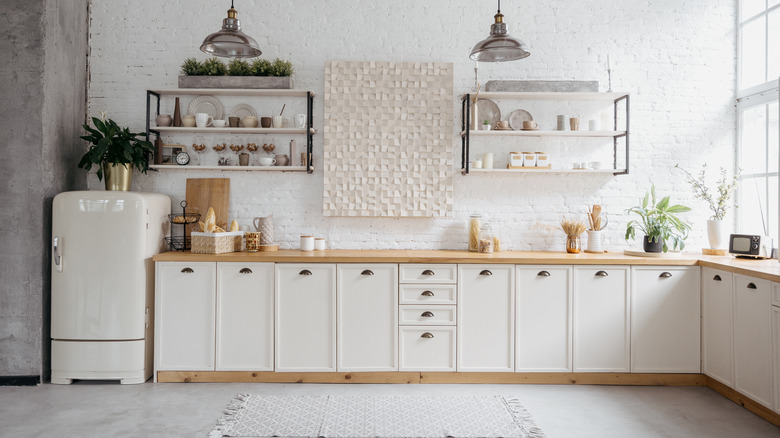 brizmaker/Shutterstock
This spectacular kitchen mixes the unique elements of modern and rustic. The lighting is modern and hip, but with the country decor style found in the light wood countertops.
Wood beams are a must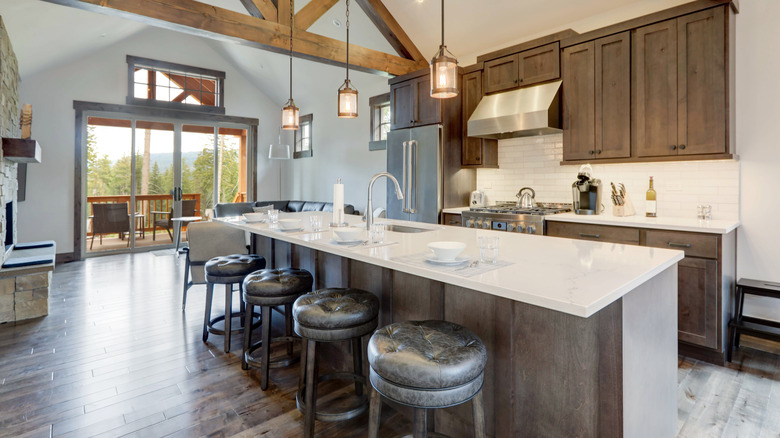 Artazum/Shutterstock
While we love the large luxury island mixed with country cabinets, the wood beams make us pause. They add so much dimension to this kitchen!
A unique kitchen island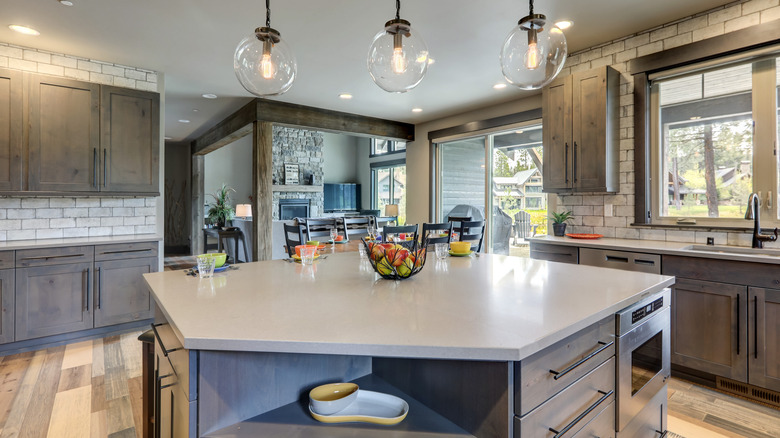 Artazum/Shutterstock
This oversized kitchen island has a beautiful hexagon shape, which is so unique and really gives this space a design edge.
A comfortable retreat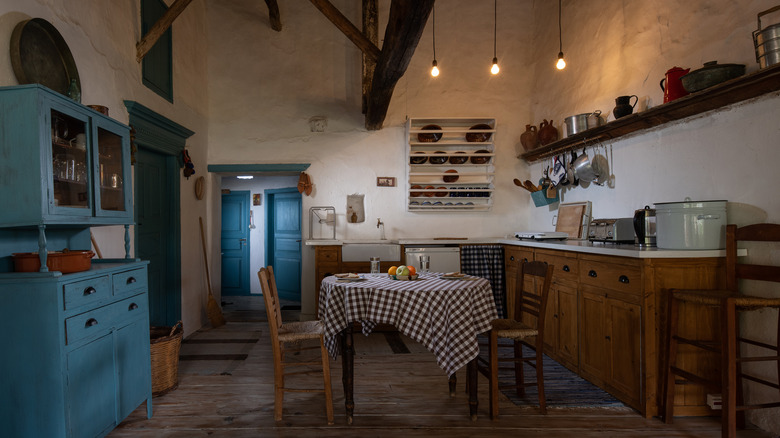 George Tsamakdas/Shutterstock
This space couldn't be cozier! It truly has it all, including warm wood cabinets, vintage repurposed furniture, and a gorgeous table setting for two. We can affirm that we wouldn't mind a date night at home with this dreamy scenario.
Warm tones and pots as art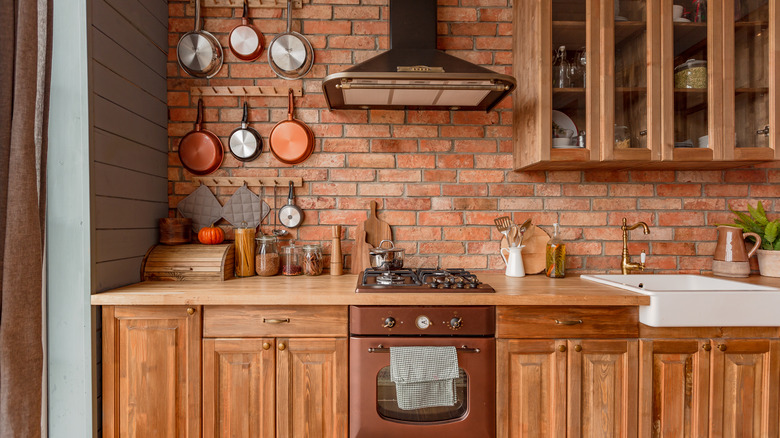 Pinkystock/Shutterstock
These warm wood tones are utterly stunning in this rustic kitchen. Found in the cabinets, countertops, and even the stove, these warm woods are indeed a sight to see. Plus, we love how the homeowner displays their copper and silver pots.
Dream pantry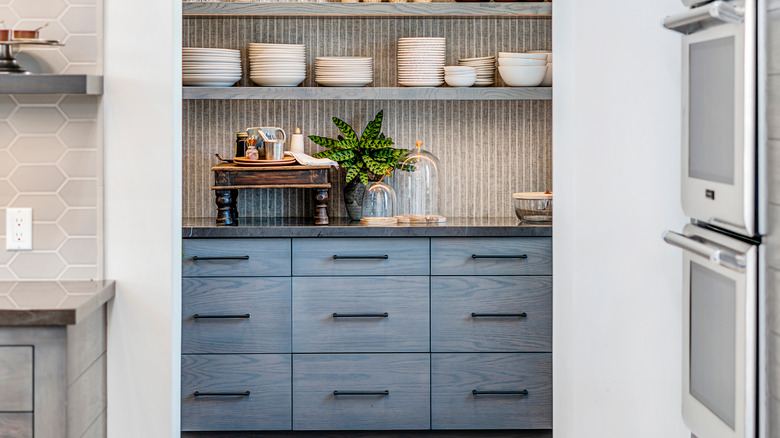 C Woods Photography/Shutterstock
This pantry adjacent to the kitchen is a downright dream. Not only is it massive (an entire room), but we love how it has many shelves for plates, bowls, and cups. This pantry area couldn't be more dreamy with plenty of blue drawers.
All country kitchens must have this ...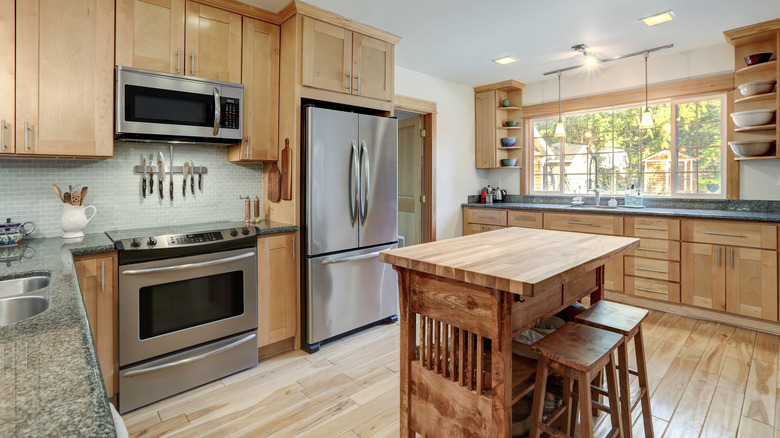 Artazum/Shutterstock
An island, of course! While this one is tiny, it does the job and can either be used to chop up vegetables for a savory stew (ideal for those chilly nights by the fire!) or to eat your breakfast while reading the morning paper (or scrolling Instagram!).
Open shelving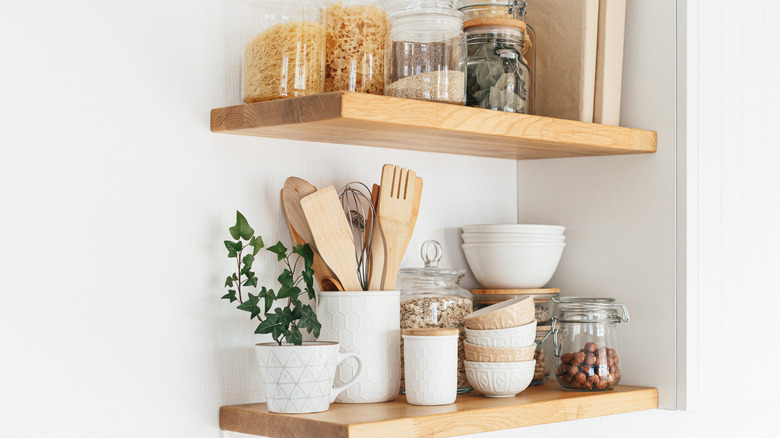 Switlana Sonyashna/Shutterstock
These light tan shelves are always an excellent idea. Not only are they perfect for displaying your favorite items, but you can keep your necessary kitchen accessories handy, from spoons to coffee cups.
Fresh flowers in a pitcher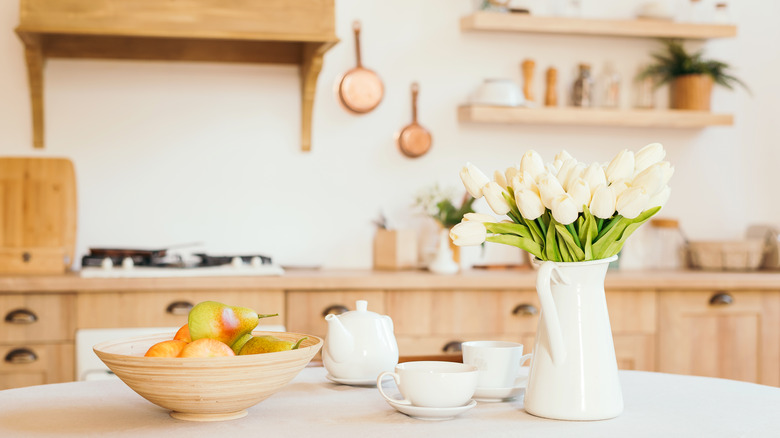 Yarrrrrbright/Shutterstock
A country kitchen looks even more beautiful with fresh-cut white tulips — although any flowers that you find in your garden would look beautiful. But, the finishing touch has to be the white pitcher to hold them in.
Set up the scene
Sentelia/Shutterstock
This set-up might have become a beautiful painting if we were alive hundreds of years ago. A pitcher with a single tree branch, white bowls with freshly picked mushrooms, and wood and plastic cutting boards make this the perfect inspiration for a rustic kitchen.
A pop of color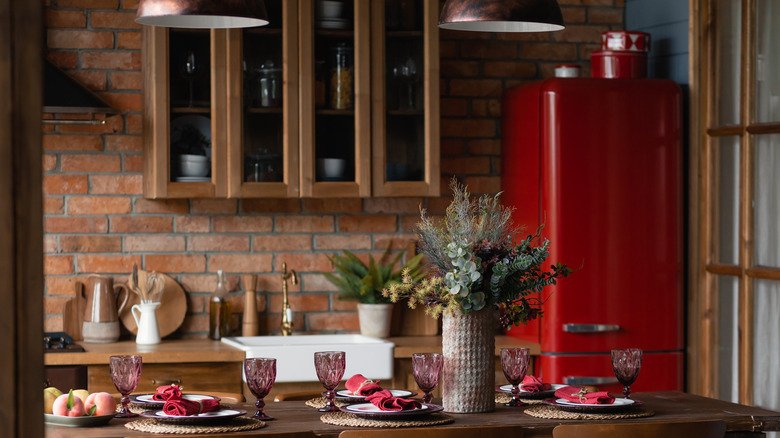 Sakharova Anastasia/Shutterstock
This country kitchen looks even more stunning with a bright red vintage fridge! There's no need to keep everything in neutral tones because one item in a bright color really makes the entire space!
Shabby chic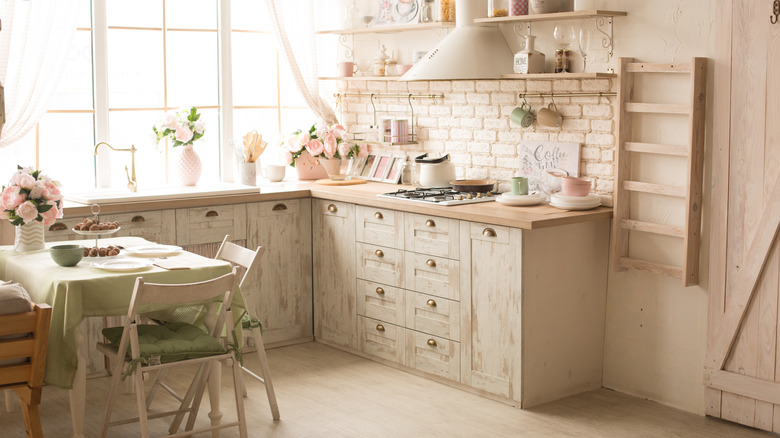 Svetlana Satsiuk/Shutterstock
This white kitchen in a shabby chic style is absolutely gorgeous. With plenty of bright light, it's a space we could easily spend hours in. One of the parts of the kitchen we love most is the distressed cabinets with brass handles.
Pale green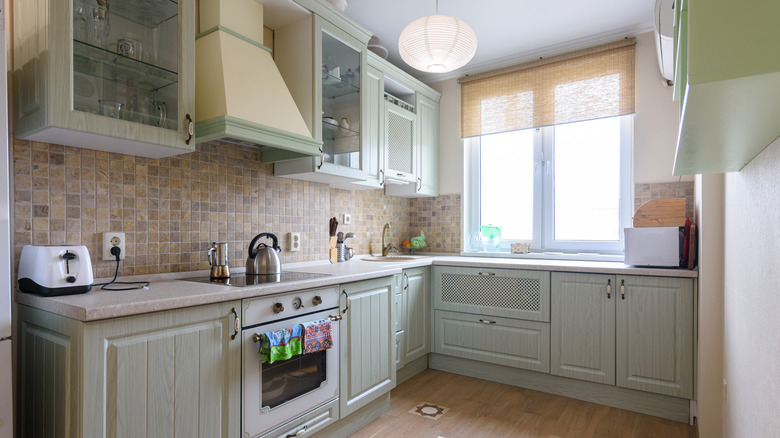 Madhourse/Shutterstock
The cabinets in this rustic kitchen are painted the lightest shade of pale green, which is a beautiful look to consider.
Color blocking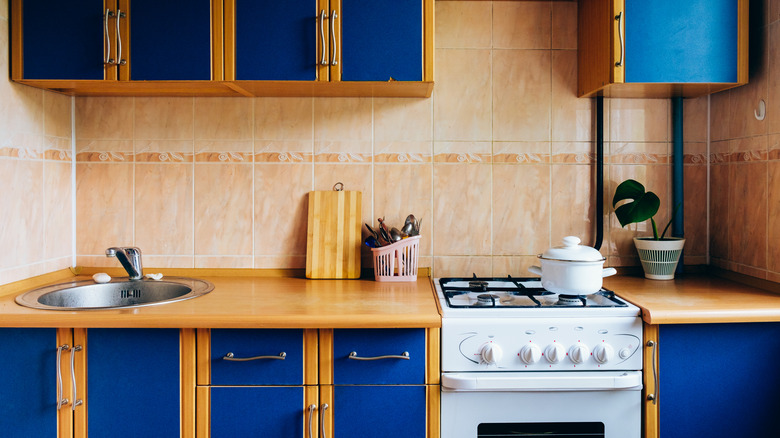 Savanevich Viktar/Shutterstock
If you weren't aware, cobalt blue looks great with warm light wood, so it's entirely possible to play with color for a rustic kitchen.
A collection of tea cups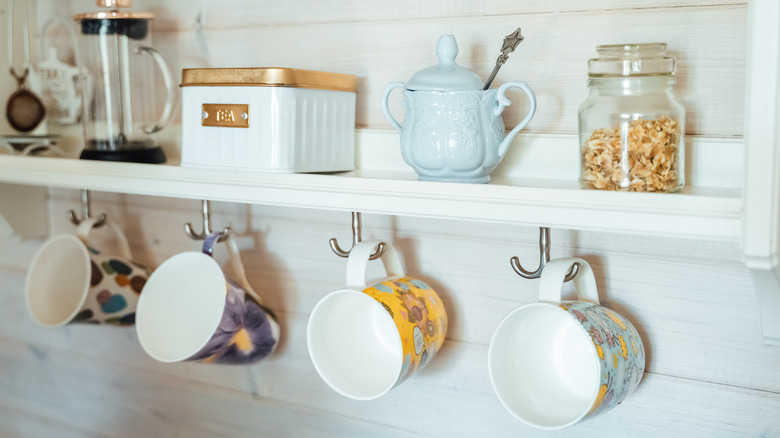 Ira Lichi/Shutterstock
One of the most compelling aspects of a country lifestyle has to be a slower pace, a chance to pause and sip your tea. We can't think of anything better than proudly displaying your prettiest teacups right under an open shelf!
Clean lines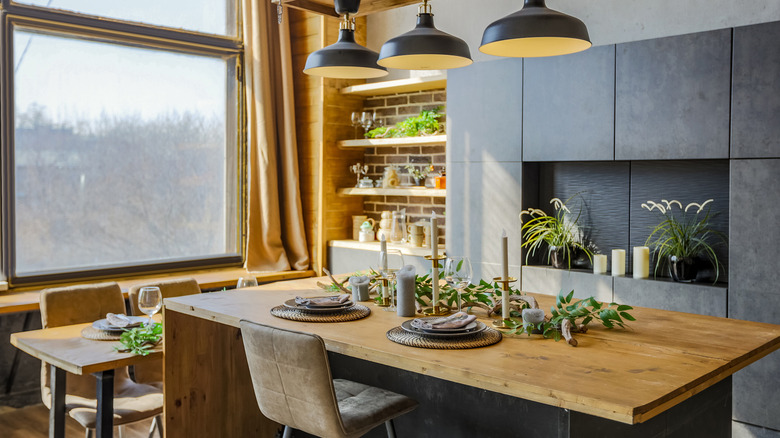 Pinkystock/Shutterstock
We love a space with clean lines, which couldn't be more true when admiring this space. The room's highlight is the large wood table dressed up for a family dinner.
An accessible open shelf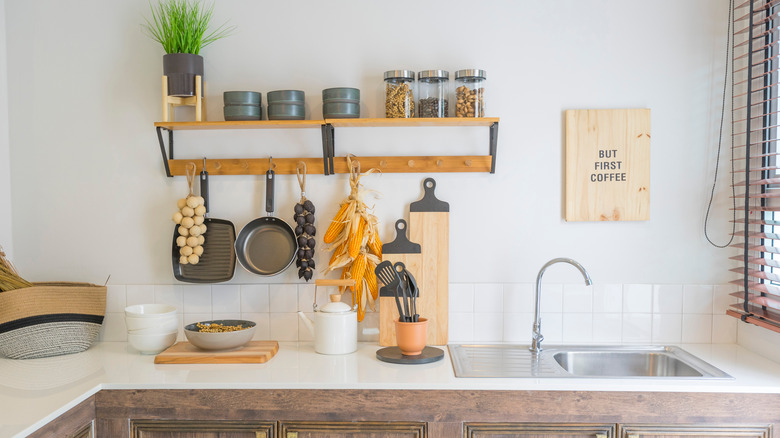 ben bryant/Shutterstock
This open shelf features everything you need in your kitchen, including bowls, pans, and some rustic decorations.
Hang tight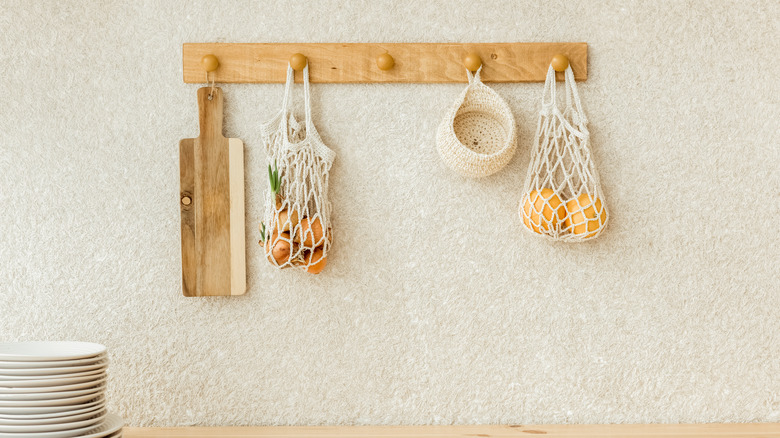 Iren_Geo/Shutterstock
This light wood wall mount is perfect for hanging your favorite in-season fruit, wood cutting board, and more!
Pops of yellow
Svetlana Satsiuk/Shutterstock
This white kitchen brings in bright pops of yellow with curtains and a tablecloth, which happens to look divine with a soft lilac table setting.