Why Having A Bathtub Increases The Resale Value Of Your Home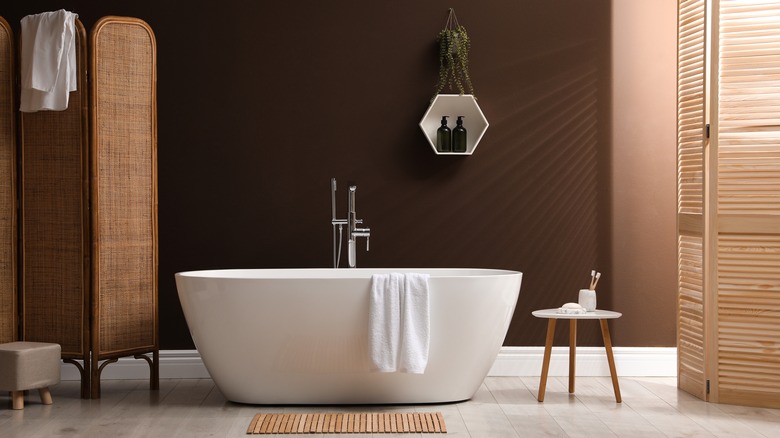 New Africa/Shutterstock
If you are considering a bathroom remodel, you may be thinking of removing the existing bathtub and replacing it with a walk-in shower. There's a lot of convenience that comes with having a walk-in shower in your home. It can be visually appealing, while providing a fast and easy way to start the day. Other benefits to a walk-in model include the ease of mobility it offers and the potential for additional features like a bench.
According to Multi-Trade Building Services, some walk-in showers showcase custom tile work, thereby becoming the focal point of the bathroom. A shower like that may seem like a great upgrade, but to get to that point, you may need to budget for a much larger renovation. It's also essential to consider what unexpected consequences could occur if you ditch the bathtub, even if you don't use it.
Does a bathtub matter all that much when it comes to your home's resale value? It really depends on a number of factors. Here's what to consider.
Planning to sell?
PH888/Shutterstock
There's no doubt a high-end remodel of a bathroom will increase in value with the addition of a walk-in shower. However, this may not be the best decision you make if this is the only bathroom in your home with a tub. That's especially true if you plan to sell your home at some point in the future.
For many home buyers a bathtub matters, especially those with small children, according to Angi. For those buyers, a bathtub is actually an essential component of the home. It's true that many adults don't take the time to soak in a bath, but for younger kids, it's often the easiest washing up solution at the end of a long, hard day.
If you plan to live in your home long-term, of course you can do whatever you want to the property, including installing the walk-in shower you desire and removing the bathtub. Making it your own is one of the benefits of buying a home.
The best of both worlds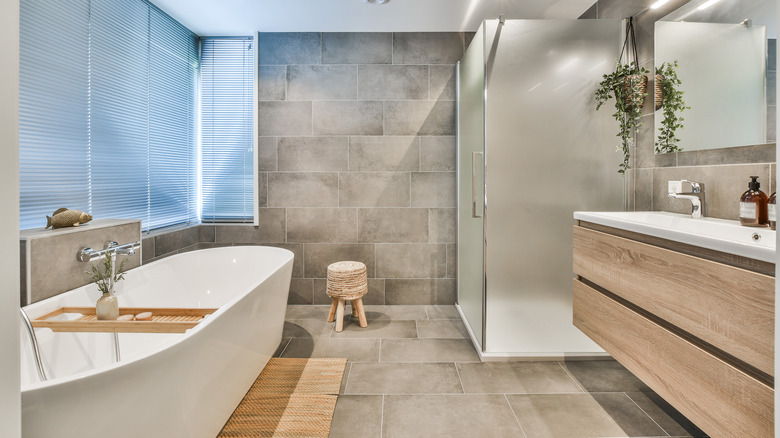 Procreators/Shutterstock
When you have the space, consider the addition of both a tub and a walk-in shower. Having two separate areas not only appeases everyone who uses the space, it helps to protect your resale value. In terms of upfront costs, adding a walk-in shower to your bathroom runs between $4,200 and $8,500, according to HomeAdvisor, though upgrades with high-end tile or benches add to that cost. HomeAdvisor also states that the cost to install a new bathtub ranges from $4,124 to $10,744, depending on the style and features you choose.
When you have the space and the budget for both, this could be an excellent route to take. If budget is no problem but you simply cannot fit them in the same space, try getting creative by installing a bathtub in another area of the home. In the meantime, you decide how to make your bathroom a place you enjoy being in, even if that means keeping your original bathtub or no longer having one in the home.