The Return Policy At Bed Bath & Beyond Explained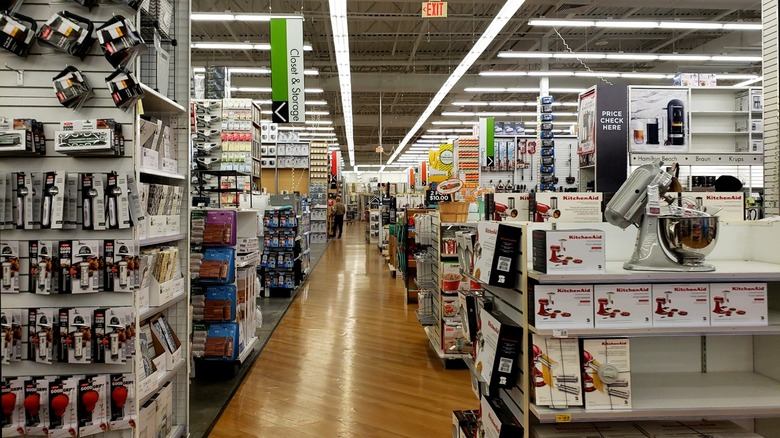 Retail Photographer/Shutterstock
Bed Bath & Beyond seems to sell just about everything home-related, from kitchen utensils to blankets. Unfortunately, this means that it's easy to purchase more than you really need on a particularly enthusiastic shopping trip. After all, who hasn't impulsively bought a scented candle or two?
Fortunately, if you're planning on making a return, Bed Bath & Beyond's policy is relatively straightforward. According to their website, most purchases can be returned within 90 days if you have the original receipt. If you don't have your receipt, the store can try to look up the transaction through your credit card number, but they make no guarantees that they'll be able to find a record of sale — and if they can't, they'll give you 20% less than the lowest possible sale price (which will assume that you used coupons) in gift cards.
Depending on the nature of the product, some purchases may have shorter or longer return windows. Smart home accessories and seasonal goods can only be returned for 30 days, so make sure to take that Santa plate back quickly if you're having second thoughts. On the other hand, children's items (i.e., kids' clothes, booster seats, etc.) have a 90-day return window but must be in original packaging. Items personalized, custom-ordered, or marked "As-Is" are all final sale.
Returning a mattress is a bit more complicated
VGstockstudio/Shutterstock
Unfortunately, Bed Bath & Beyond's return policy gets a little more confusing when dealing with mattresses.
Returning an air mattress? Get out the calendar: according to the Bed Bath & Beyond website, you'll have 90 days to return unopened air mattresses. However, things change the second you open the box. If your air mattress has been opened, you've got 60 days from the purchase date to exchange it "for a similar item only" — no returns allowed. If you're between the 60 and 90-day mark and haven't tried your air mattress yet, we'd recommend returning and repurchasing it. That way, you'll have a little more flexibility if things don't work out.
If you're unhappy with a regular mattress, things get even more strange. According to the returns FAQ, you have 120 days to exchange a regular mattress (no returns allowed) — but Bed Bath & Beyond requests that you wait until day 30 to initiate an exchange. Unfortunately, it isn't clear if this is a polite request or a hard company policy. Plus, even though you'll have slept on the mattress for 30 days, it'll need to be "undamaged, unsoiled, and free of stains with law tags attached" — a reasonable request for returns in general, but a bit odd when they're making you continue using the mattress. You'll also have to pay $99 for the exchange (which covers pickup/processing fees), plus the price difference between the mattresses.
Watch out when returning gifts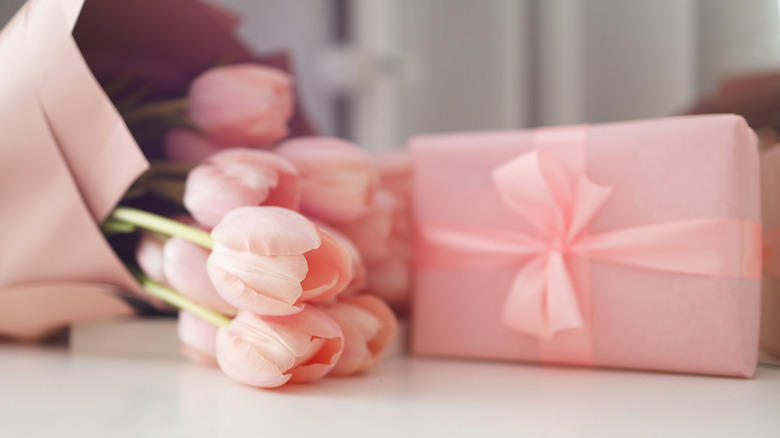 shine.graphics/Shutterstock
If you're thinking about returning an item purchased via your registry, you might want to be careful.
According to the return policy, you'll have 365 days to return purchases made from a registry (note that the timer begins from the purchase date, not the event date). As with standard purchases, baby-related items must be in the original packaging.
Since you won't have access to the original payment method, Bed Bath & Beyond will provide registry refunds via store credit. This process also prevents your loved ones from seeing that you've returned their gift (i.e., they won't see any refunds on their credit card statement).
That being said, it's always wise to expect the unexpected. In a WeddingWire forum post, Bed Bath & Beyond customer CaliforniaDreaming86 described her experience returning a wedding registry gift via mail, only to find out that registry items returned by mail were processed onto the gift giver's card. Reddit user istar had a similar experience. To be fair, both posts were at least several years old, so the process may have changed, but still — we'd recommend steering clear of mail-in returns to minimize potential conflicts.