The New Bed Bath & Beyond Line With Decor Items Starting At $1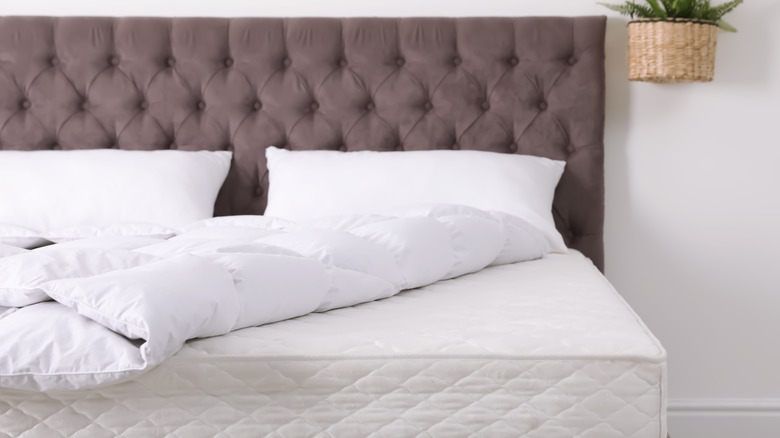 New Africa/Shutterstock
Need new essentials for your home and more? Over the years, Bed Bath & Beyond has reinvented itself with various in-store brands like Our Table, Squared Away, or Wild Sage, including the latest one called Simply Essential. Launched in 2021, the popular domestic retail chain has created a basic home collection with a variety of practical products that includes bath, bedding, curtains, pillows, pots and pans, sheets, and towels, among other home décor items. Additionally, each category features sensible prices, with some starting as low as $1 to $5, per Cision PR Newswire. On average, individual items, including some seasonal, may be priced around $3, while small sets and pillows start at about $6.
In business for a little over 50 years, Bed Bath & Beyond is known for its range of affordable houseware brands, including elongated offers with the "Big Blue" 20% off mail-out coupon. According to The Washington Post, the promotion lasted nearly 30 years, although they've taken a new direction with their new Beyond+ membership, which offers 20% off every purchase. Typically built on user-friendly coupons, the houseware chain aims to become more exclusive by implementing affordable contemporary concepts like Simply Essential while keeping customers engaged and happy. Keep reading to discover more Simply Essential items!
Affordable décor from the Simply Essential Collection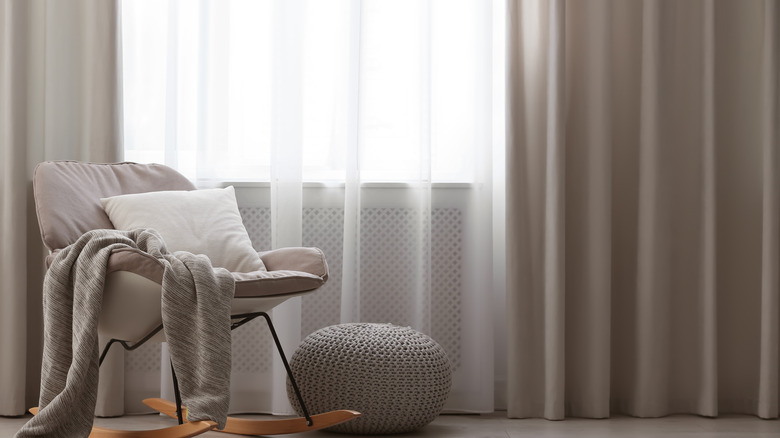 New Africa/Shutterstock
Whether decorative pieces are placed indoors or outdoors, it takes time and money to establish your home's sense of style. Bed Bath & Beyond offers reasonably priced décor products within their Simply Essential collection. Depending on the length and type, string lights can cost anywhere between $10 to $50 a box, with prices typically running higher during the holidays ($80 to $300), per Home Advisor. You might find Simply Essential 50-Count Outdoor LED café string lights for roughly $15. The home furnishings brand also features decorative pillows for around $5 or plush throw blankets from $14 to $20. SE solid comforters go for about $30 for twin, queen, or king sizes.
Depending on how luxurious, curtains can also be an added expense. According to Somfy Systems, drapes can cost about $100 to $250 per panel, depending on the type, length/size, and brand. Whether they're fitted for your bedroom, living room, or other window space, you might find SE curtain panels priced between $10 to $25, even in sets of two. Additionally, light-filtering panels may range from $10 to $55.
More budget-friendly basics from Simply Essential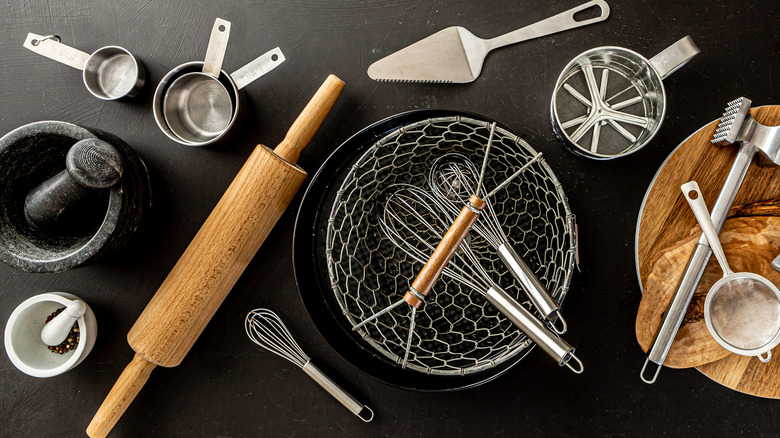 Pinkyone/Shutterstock
From bedding to bath to kitchen, Simply Essential brand products are integrated within Bed Bath & Beyond's inventory and are worthy for everyday use. Designed for happiness, current kitchen products starting at $1 might be kitchen utensils and gadgets such as a can opener or a 3-piece stainless-steel strainer set. A current best seller is a featured nonstick aluminum cookware set ranging from $4 to $28. Bath towels and sheets are known to be a bit pricey without being budget-friendly. According to MyDomaine, the elevated cost of towels mainly depends on the brand, material, and size, which can generally range between $50 to $60 (each) or more. In comparison, Simple Essential cotton bath towels may range from $3 to $18 each, while a 4-piece hand towel set currently goes for approximately $8.
Let's talk about sheets. Bed sheets can range from the hundreds to the thousands, especially silk or Egyptian cotton types. Simply Essential's Truly Soft microfiber solid sheet set ranges from $4 to $25. Pillows as well can vary in price depending on the internal fibers and type of support. The SE collection offers adjustable memory foam, cotton blend, and microfiber options in standard queen and sometimes king sizes that range from about $6 to $15. You can easily browse their website for more simple finds.